Steamed Sweet Potato With Asparagus And Mushrooms
Sweet, savory, and tender-sweet potatoes combined with rich and spicy side dishes: stir-fried asparagus; and mushrooms.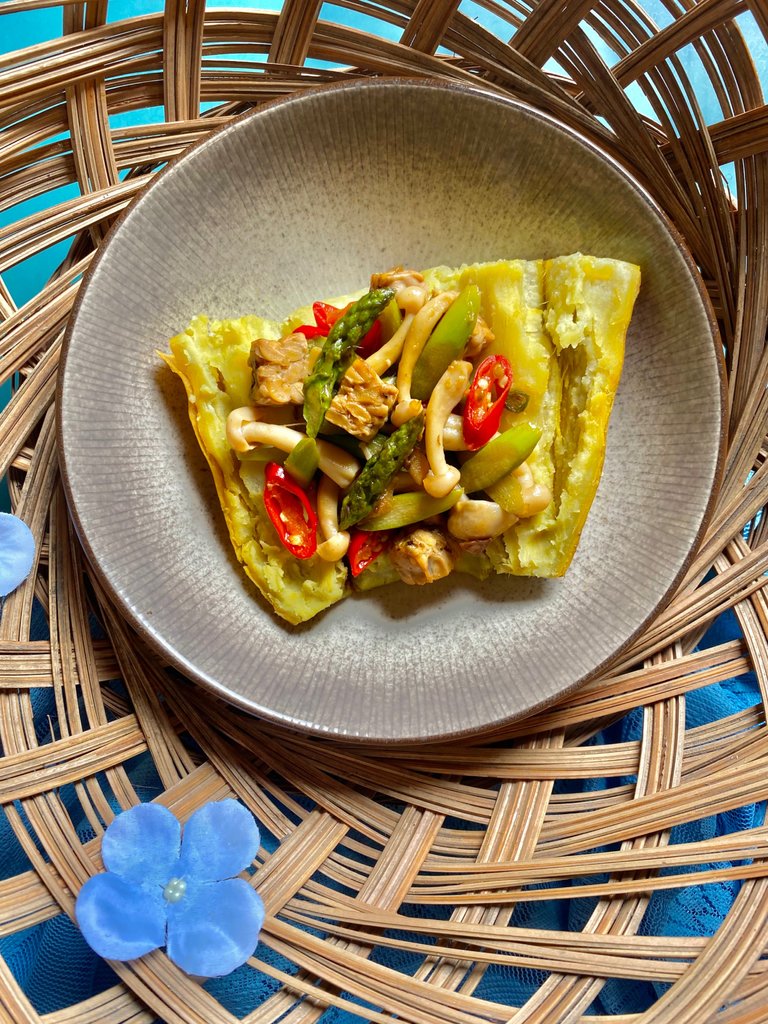 ---
We will never know if we never try. The popular saying is quite true. But, it does take courage to try. Well, sometimes courage alone is not enough to try new things to produce something good. At least something that even though it fails, we can learn a lesson from that failure.
That's exactly the situation in the kitchen. It's not just about having the courage to try, but also about creativity. Trying new things to serve food that works well. It's never an easy thing, if we never try. But, also it will never be a difficult thing if we are determined to try.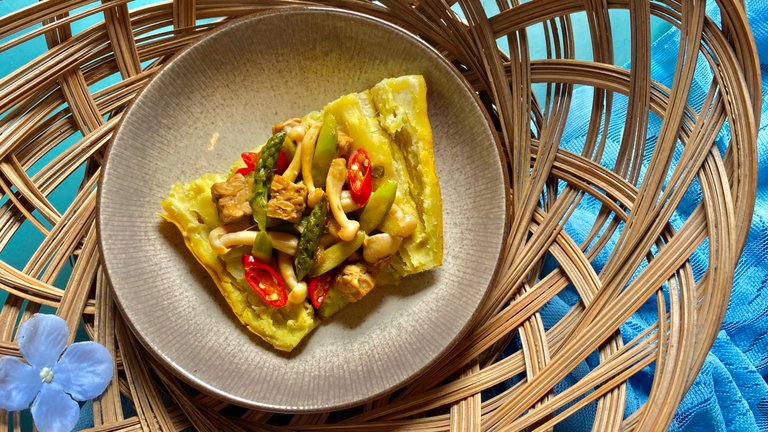 ---
I always find out about the food ingredients that I will use in the kitchen. About what combinations can be made of these materials. Don't just cook straight away. I need a lot of information on the suitability of the combination that I will do in my kitchen.
Even though some of the menus seem new, at least I have done research on the internet for these menus. Usually, there are several users who have done that.
---
---
---
Steamed Sweet Potato Served With Stir-fried Veggies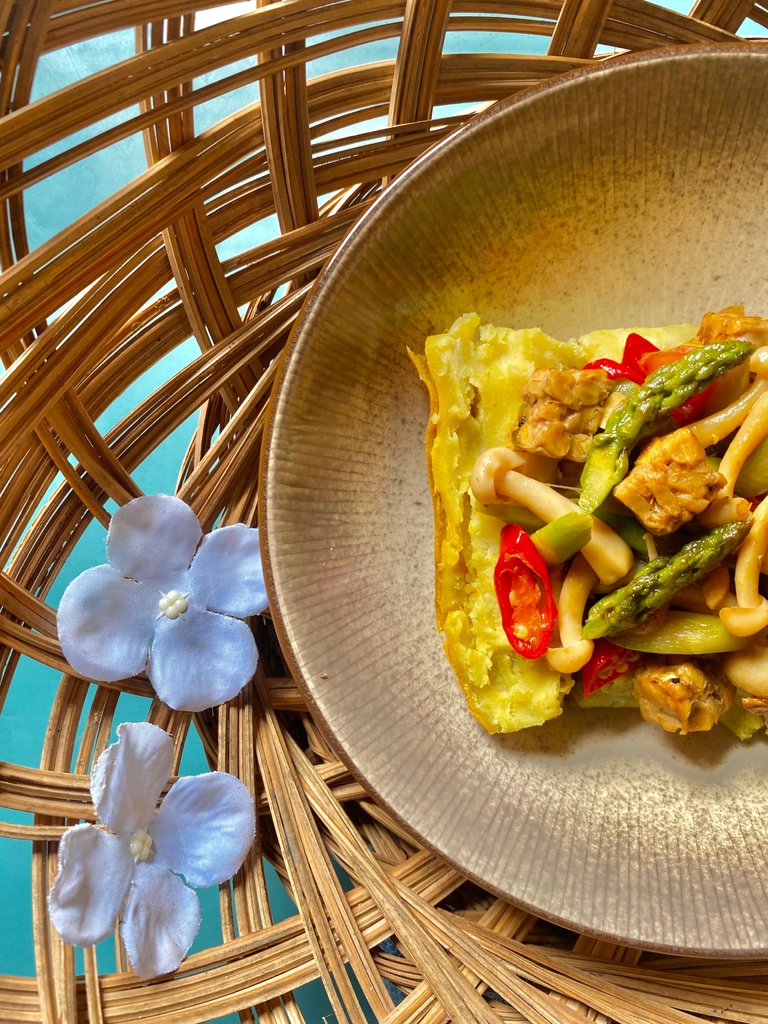 Serving sweet potatoes as a main meal is not something that is normal in my area. People only know how to serve sweet potato as a dessert or only eat it as a single food by steaming or boiling.
For me, serving sweet potatoes as a main meal is nothing new. That's because I use sweet potatoes as a substitute for rice because it is lower on the glycemic index.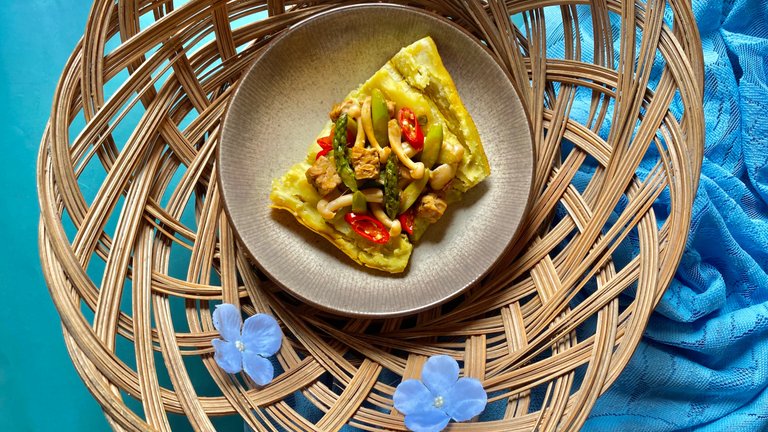 Thankfully, it turns out there are other people out there who also combine sweet potatoes with stir-fried veggies.
So, for this time, I will share with you how I serve sweet potatoes combined with stir-fried asparagus with mushrooms.
---
---
---
THE INGREDIENTS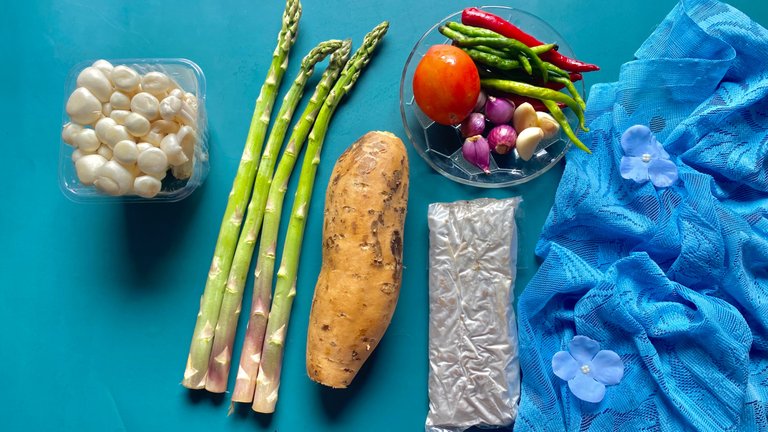 for 2-3 servings
a large sweet potato
100 grams of asparagus or more
150 grams of mushrooms
(optional) tempeh or other protein intake
garlic and red onion to taste, sliced
chilies to taste, sliced
a tomato, diced
1/2 teaspoon salt
1/2 teaspoon sweetener to balance the taste
---
---
---
COOKING INSTRUCTIONS
STEP 1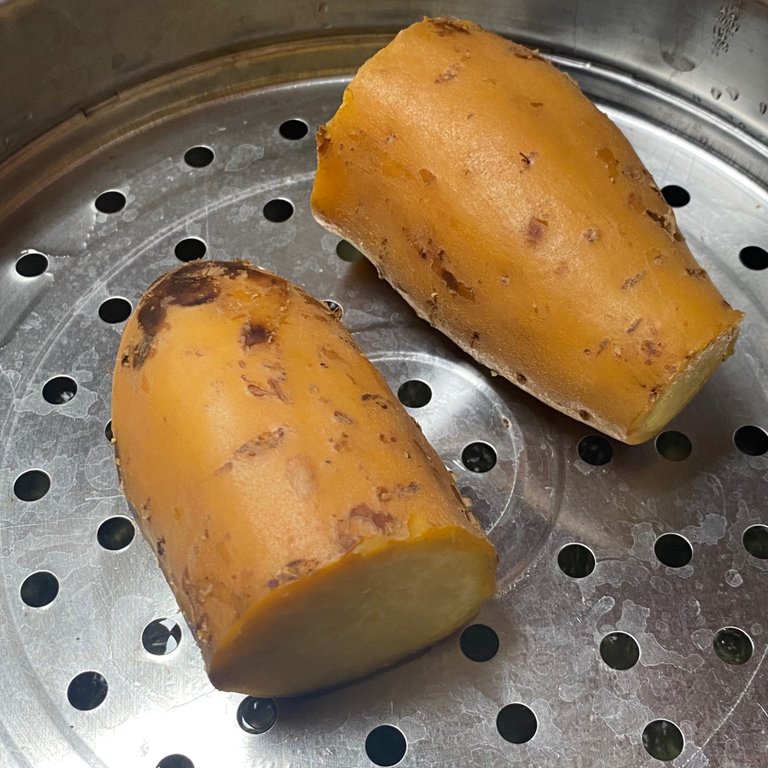 Heat the steamer. Then, clean the sweet potatoes without peeling them. Once the steamer is ready, add the sweet potatoes and steam for about 25-30 minutes (until tender).
---
---
---
STEP 2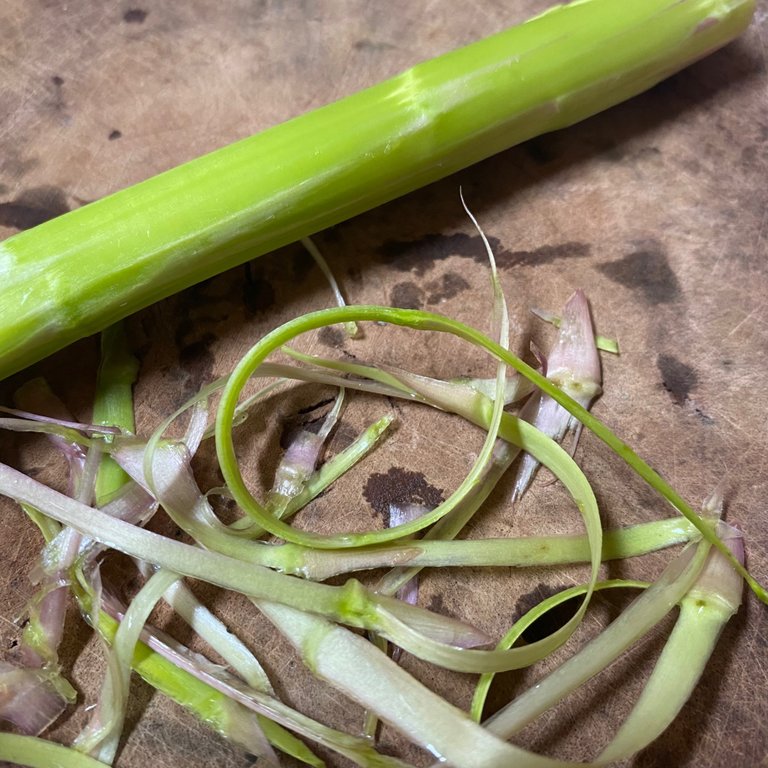 Clean the asparagus by removing the thin skin, also cutting off the tough bottom part. I used a potato peeler to remove the papery skin on the asparagus.
---
---
---
STEP 3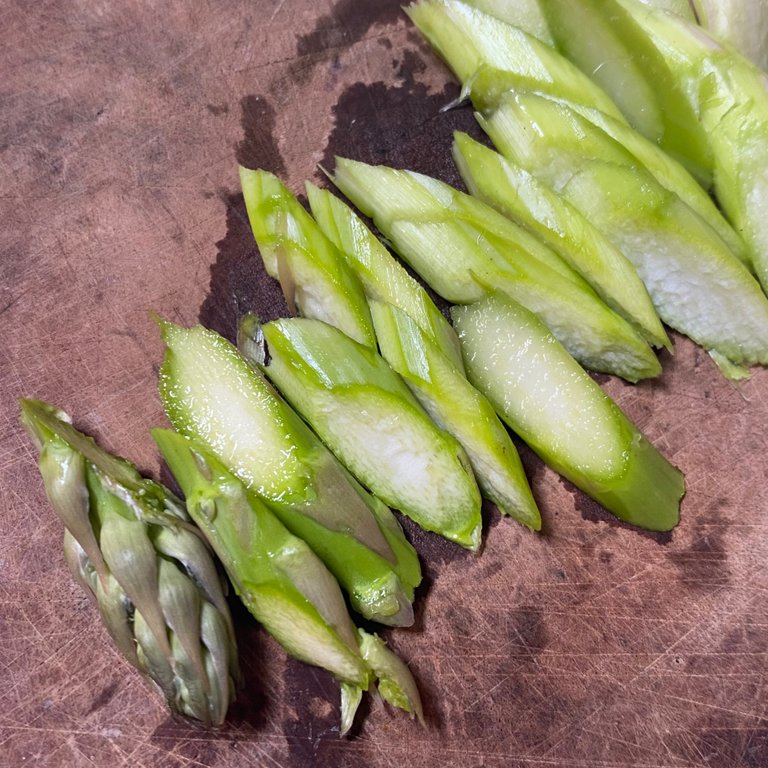 Cut the asparagus at an angle lengthwise. Don't make it too thick.
Don't forget to cut the tempeh. Also, clean the mushrooms according to the type of mushrooms you use to mix with the asparagus.
---
---
---
STEP 4
---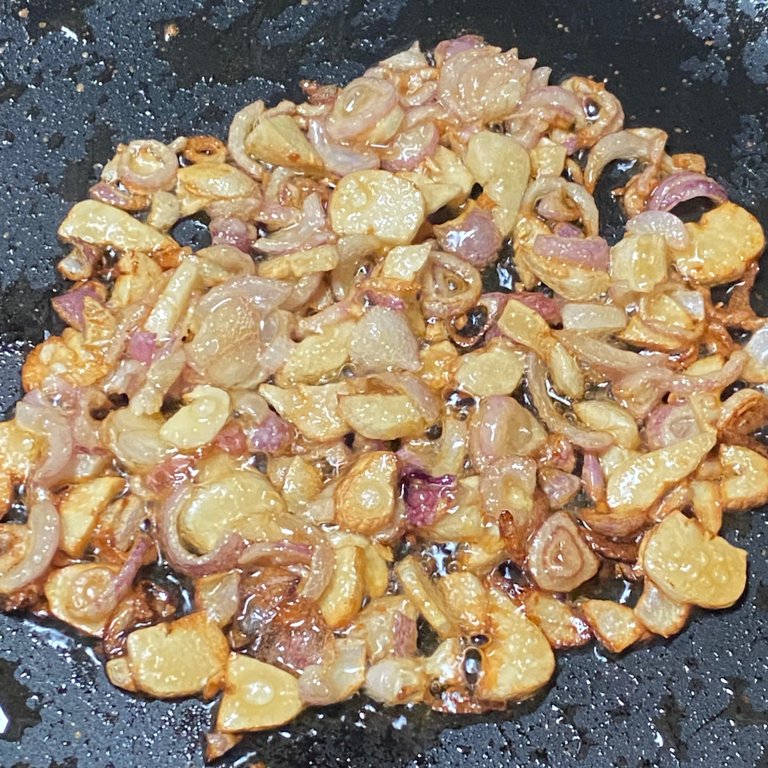 ---
Stir-fry garlic and red onions first, then follow by chilies. Stir-fry for a while.
---
---
---
STEP 5
---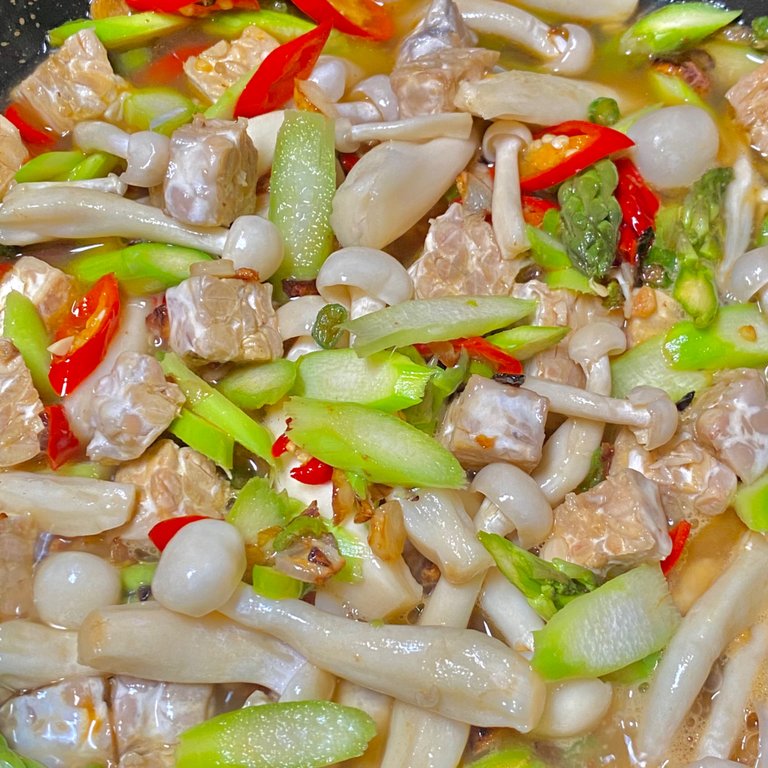 ---
Add asparagus, mushrooms, and tempeh. Add a little water to make them easier to cook, also to avoid burning. Cook them for about 5 minutes.
---
---
---
STEP 6
---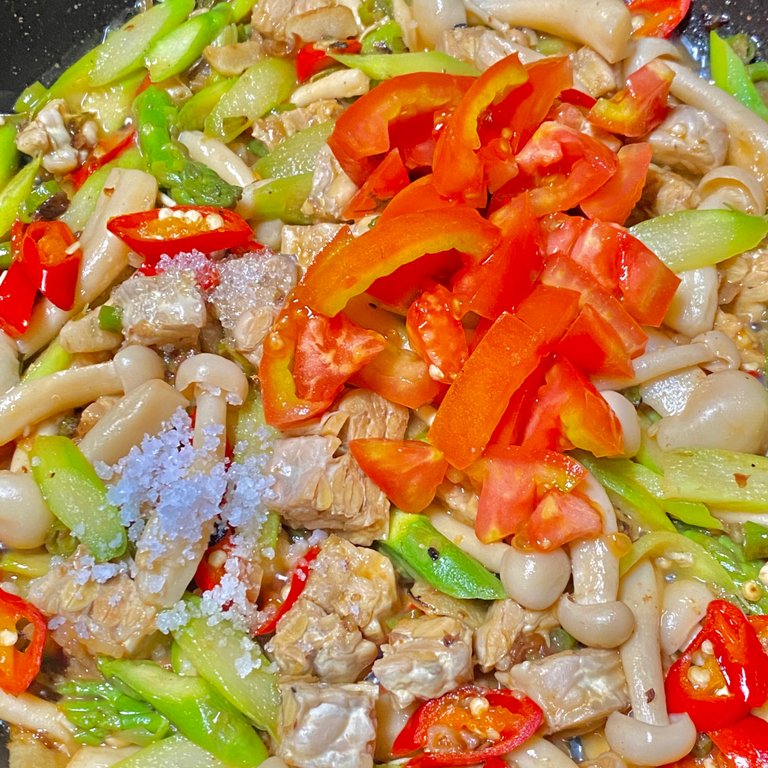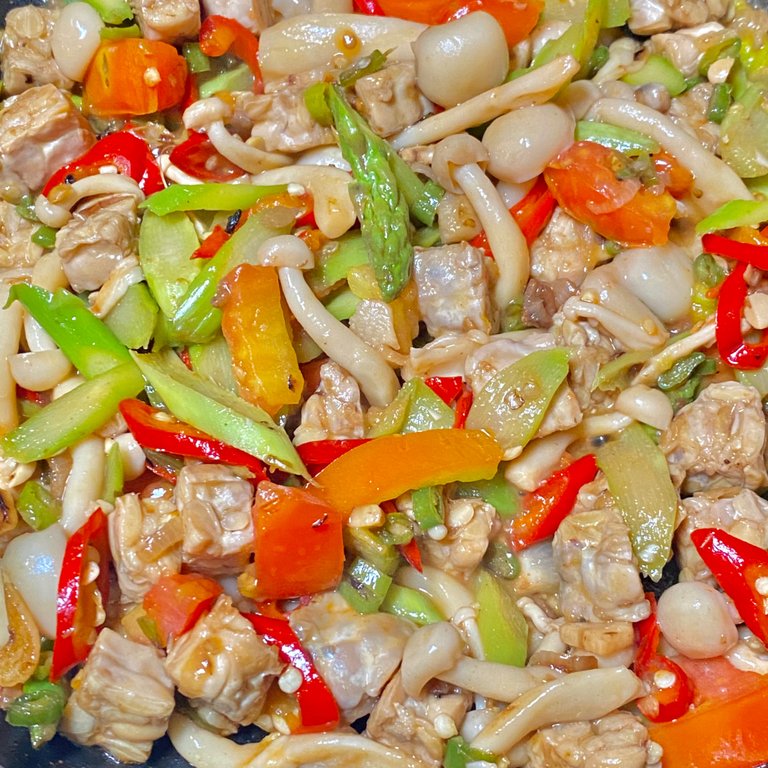 ---
Before removing them, add tomatoes and seasoning. Stir-fry for a while and don't forget to taste them before removing them.
---
---
---
SERVING
Serve stir-fried veggies over steamed sweet potatoes. First, I cut the steamed sweet potatoes and arranged them on a serving plate.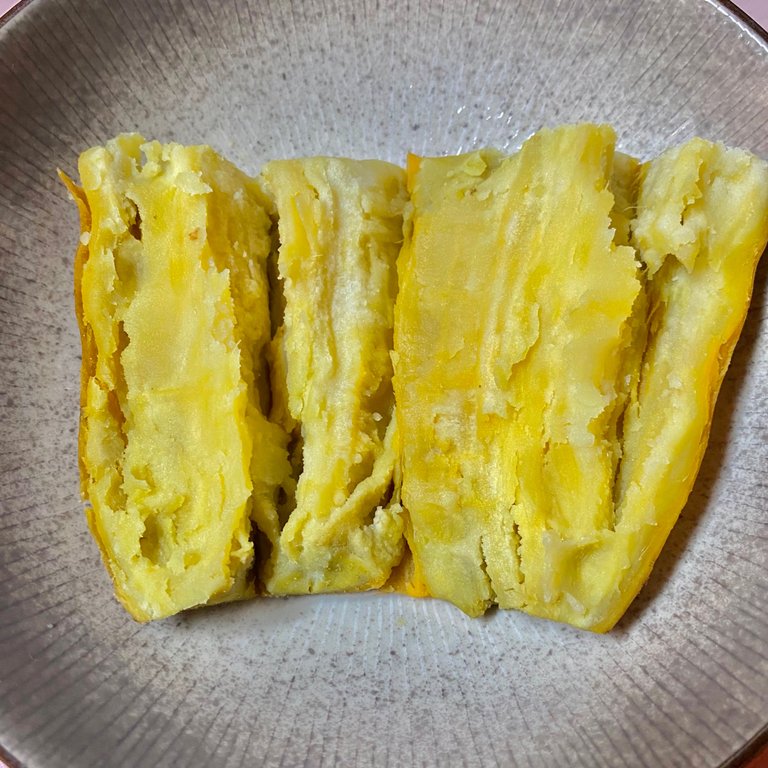 Steamed sweet potato looks so tender in texture. Oh, so delicious in front of me. Don't worry, I'm used to not eating them before I finish my food photography task.
---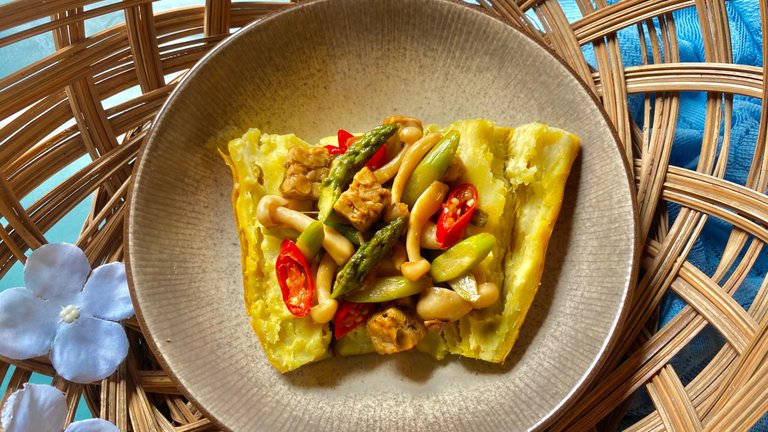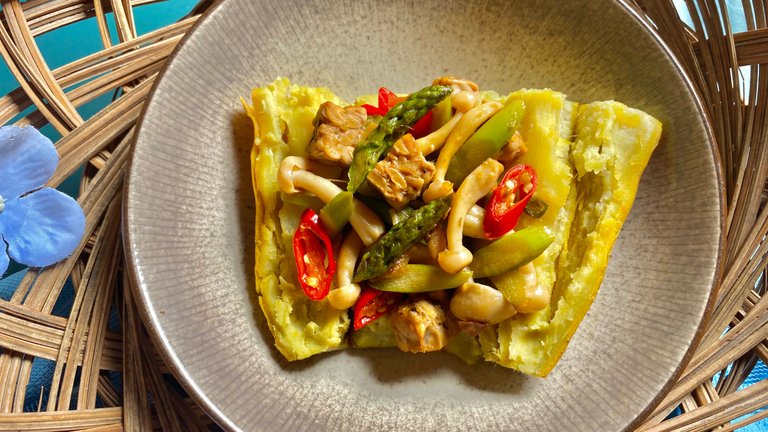 ---
Then, I added stir-fried veggies on top of steamed sweet potatoes. They look beautifully blended and perfect for each other. Perfect!
---
I love how sweet and savory steamed sweet potato pairs so well with stir-fried vegetables. Not too sweet. Also, it's not bland like steamed potato. So, it is more suitable for those of you who are used to rich-flavored food.
---
❤️❤️❤️ See you, Veggie Lovers!
---
---
---
Thank you for reading my blog and reblog if you want my blog this time worthy of reading by others.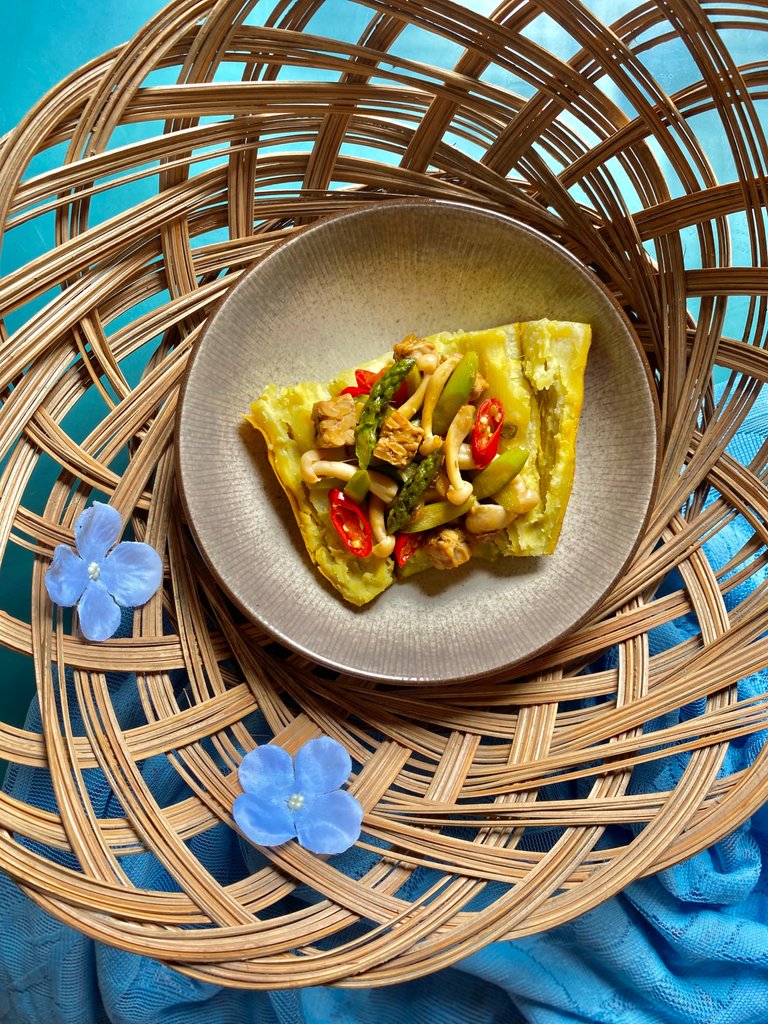 ---
---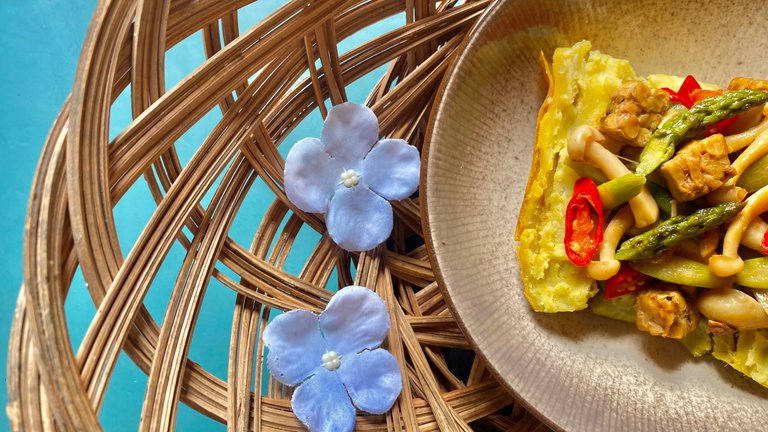 ---
---
---
Best Regards,
Anggrek Lestari
---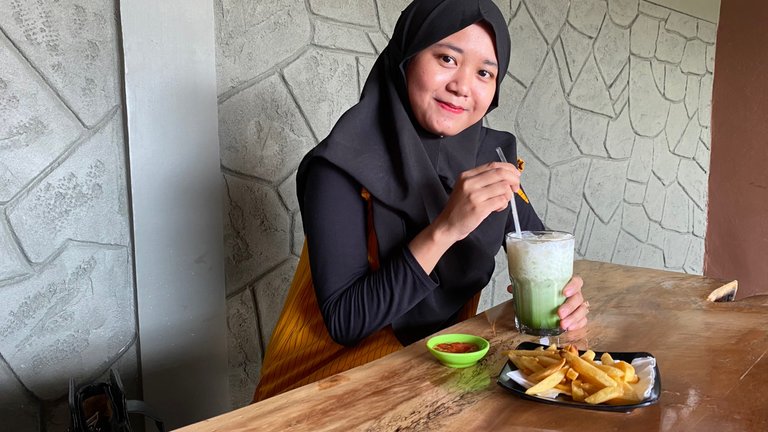 Who is Anggrek Lestari?
Anggrek Lestari is an Indonesian fiction writer who has published two major books. Now She is a full-time content creator. She has a goal to share life, poem, and food content that makes others happy and can get inspiration.
---
Contact Person: [email protected]
Discord: anggreklestari#3009
---
---
---