Seasoned Rice With Bitter Melon
Just mix the veggies with the cooked rice and add seasoning for a simple dish that's quick and easy to cook.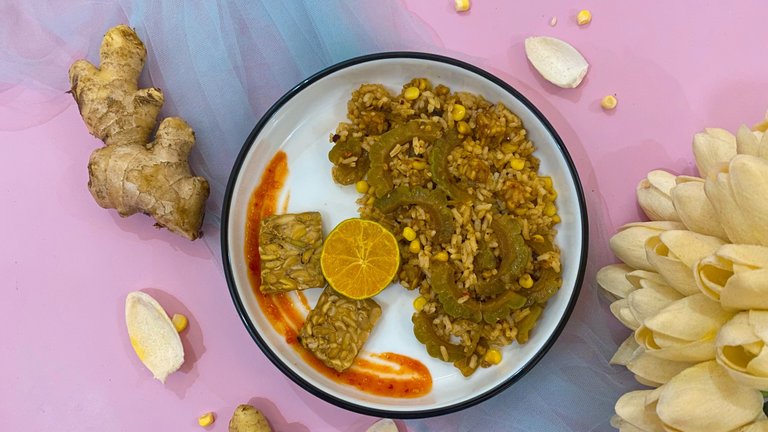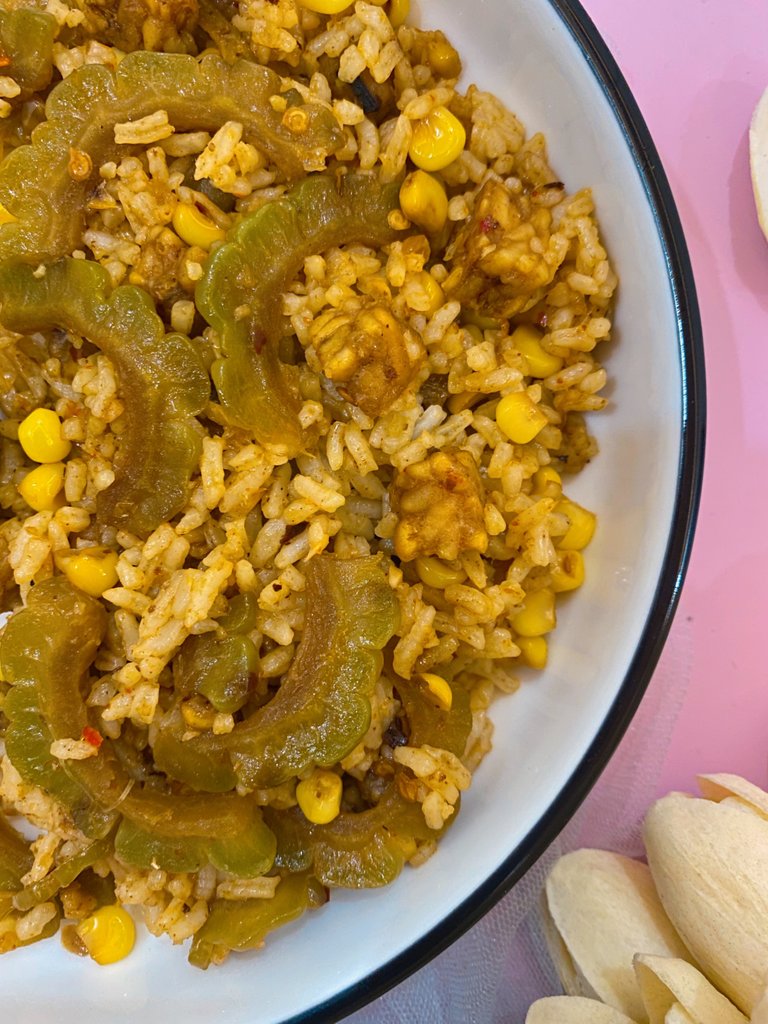 Bitter Melon isn't my favorite because of the bitter taste but that doesn't mean I can't eat it. Even so, sometimes I cook bitter melon if I have stock from my family's garden. Fortunately, my husband actually likes bitter melon.
I am reminded of my late mom's advice before. My mom said eating bitter melon will make our blood hated by mosquitoes and our brains will become smart.
I have two bitter melons in stock in my refrigerator. My husband saw that and asked me to cook bitter melon with seasoned rice.
All right, request accepted. I love to cook bitter melon for my husband.
Well, I only use half of one bitter melon because I only use it to mix the seasoned rice.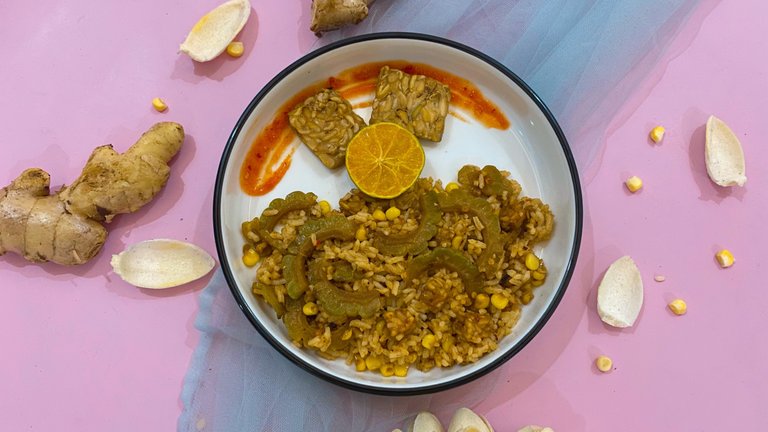 Seasoned rice means fried rice, or stir-fried rice. So, we can add a lot of vegetables to the seasoned rice. Also, with bitter melon.
For this variation of the seasoned rice recipe, I use corn and fried Tempeh. So, it will add a lot of flavor to cover the dominant taste of the bitter melon.
---
---
---
The Ingredients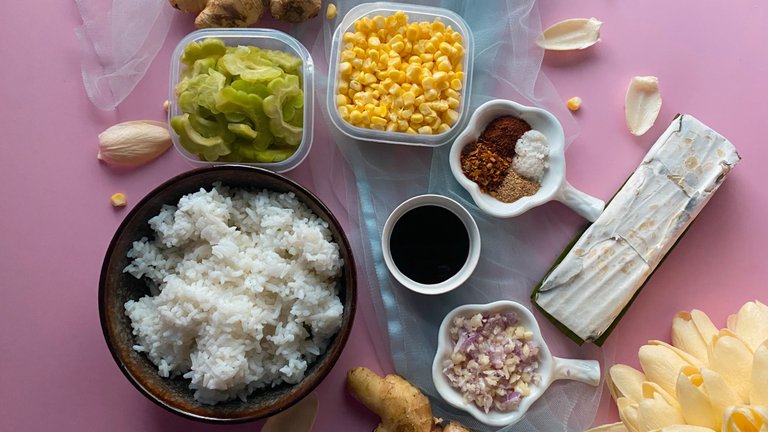 2 cups of cooked rice
half a bitter melon
1 pack of tempeh
1 piece of corn cob, remove from cob
3 cloves of garlic, chopped
5 small cloves or 1/4 big cloves of red onion, chopped
1 tablespoon of soy sauce
1 teaspoon of chili flakes
1 teaspoon of chili powder
1/2 teaspoon salt
1/2 teaspoon of coriander powder
a thumb-size of flattened ginger
---
---
---
Cooking Instructions
Prepare Bitter Melon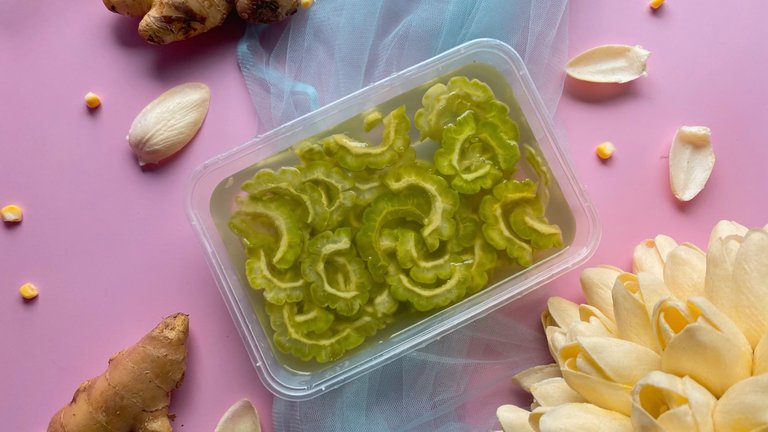 Split into two parts. So I only use half of it. Then, cut it in half again, to remove the bitter melon seeds.
After removing the bitter melon seeds, then slice the bitter melon. Then, soak into salt water for at least 15 minutes.
You can knead the slices of bitter melon with salt before soaking them in salt.
After soaking into salt water, don't forget to wash them with clean water to remove the salty taste of the soaked bitter melon.
---
---
---
Fry Tempeh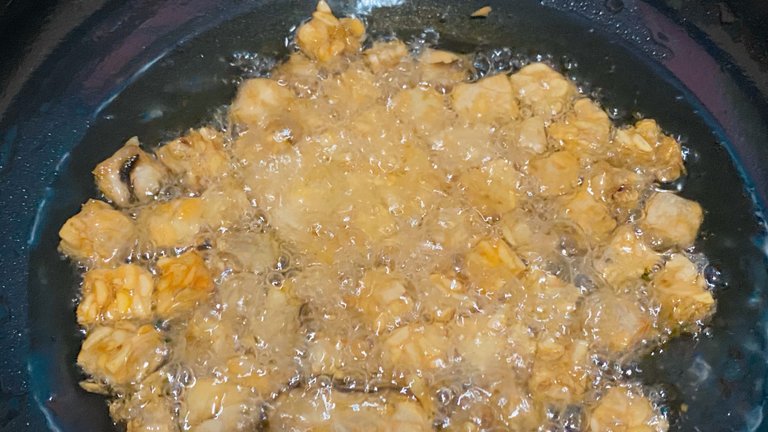 Cut Tempeh into cubes. Then fry them until golden brown.
---
---
---
Stir-fry Red Onion, Garlic, and Ginger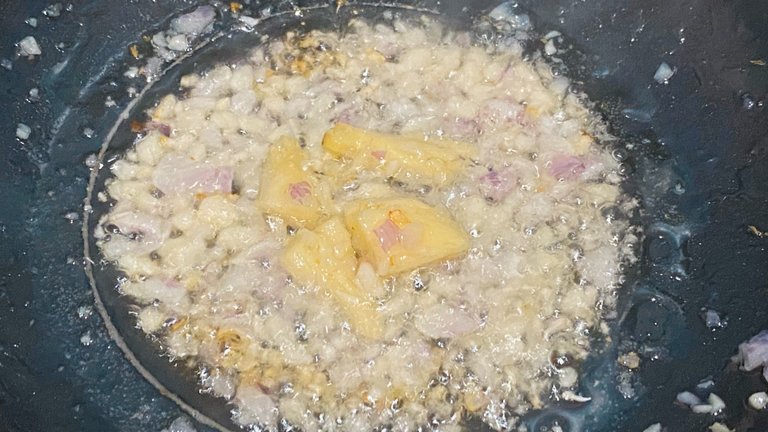 Heat cooking oil. Then, stir-fry chopped garlic, chopped onion, and flattened ginger. Stir-fry them until they smell good.
---
---
---
Cook kernels and bitter melon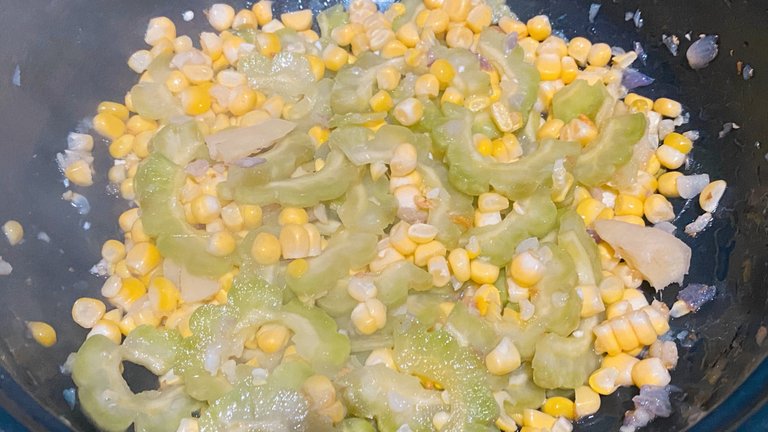 Then, add kernels and slices of bitter melon. Add a little water if you are afraid of burning them to a crisp.
After that, also add coriander powder, chili flakes, chili powder, and salt. Cook them for about 5 minutes or until no more water is visible.
---
---
---
Add cooked rice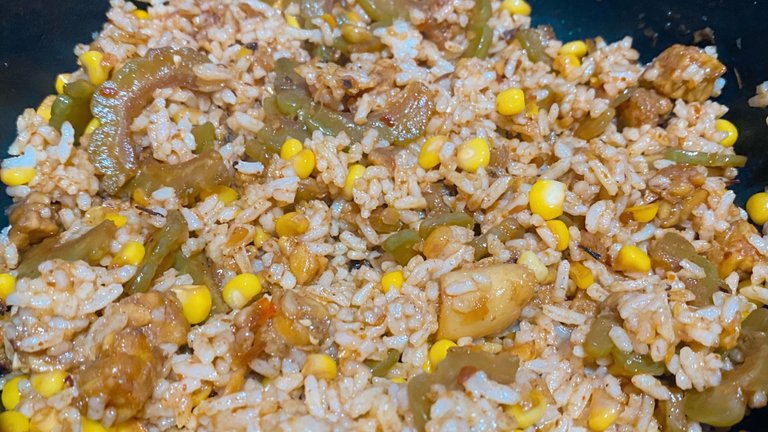 In the final step, add cooked rice and fried tempeh. Stri-fry until the texture of the rice looks dry and all the ingredients are evenly mixed.
Correct the taste before removing them. For me, I would love to add more chili sauce to reduce the bitter sensation.
---
---
---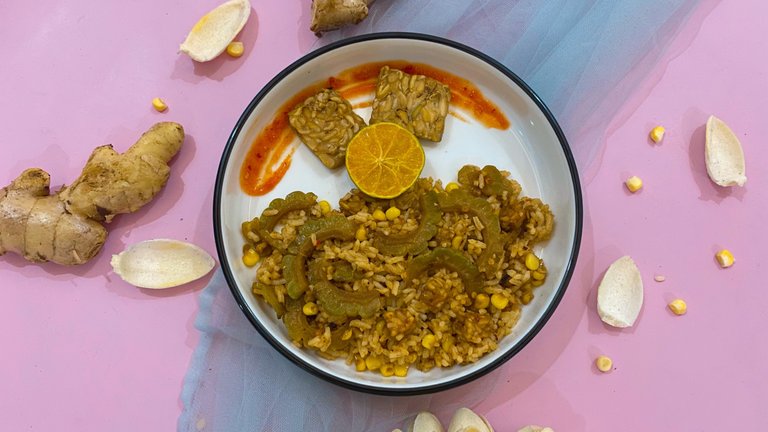 Serve seasoned rice with your favorite sauce. I added the sauce and fried tempeh to my serving plate.
Fried Tempeh and corn create a good taste to reduce the predominance of the bitter taste from bitter melon.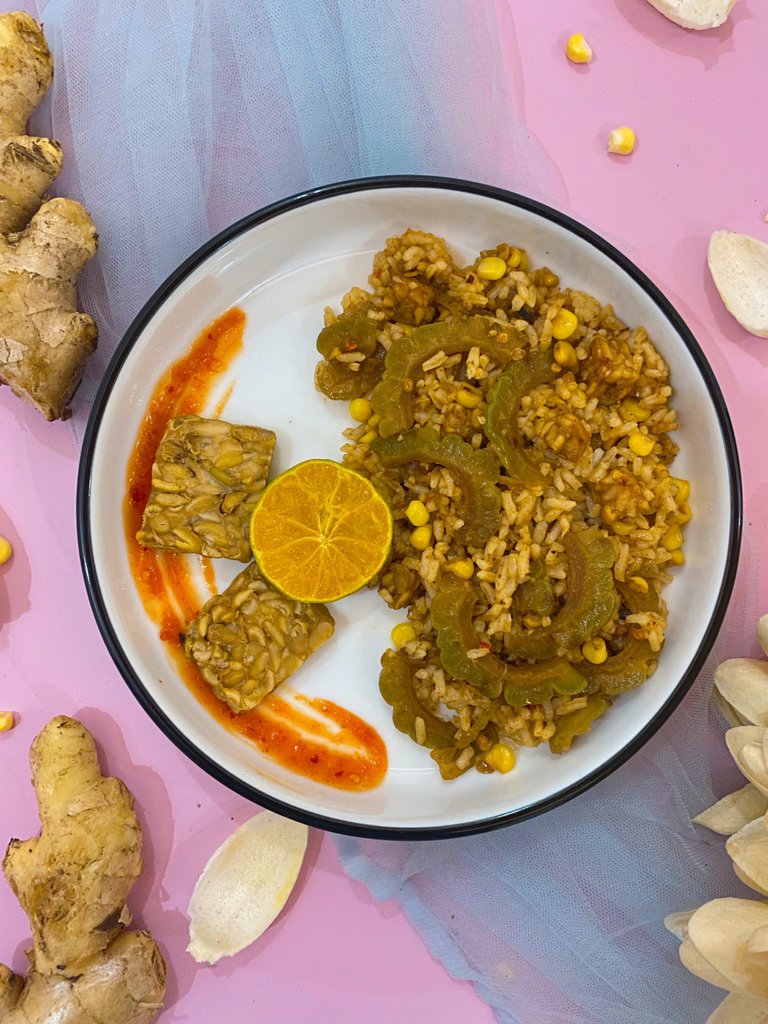 Surprise for me, my husband finished a plate of seasoned rice with bitter melon quickly. He loves warm seasoned rice! Oh, thank God! My heart is really happy to see the results of my cooking being consumed quickly by my husband.
---
---
---
Well, have you ever cooked bitter melon? What's a good version in your opinion to reduce the bitterness?
❤️❤️❤️ I hope you enjoy your day and see you.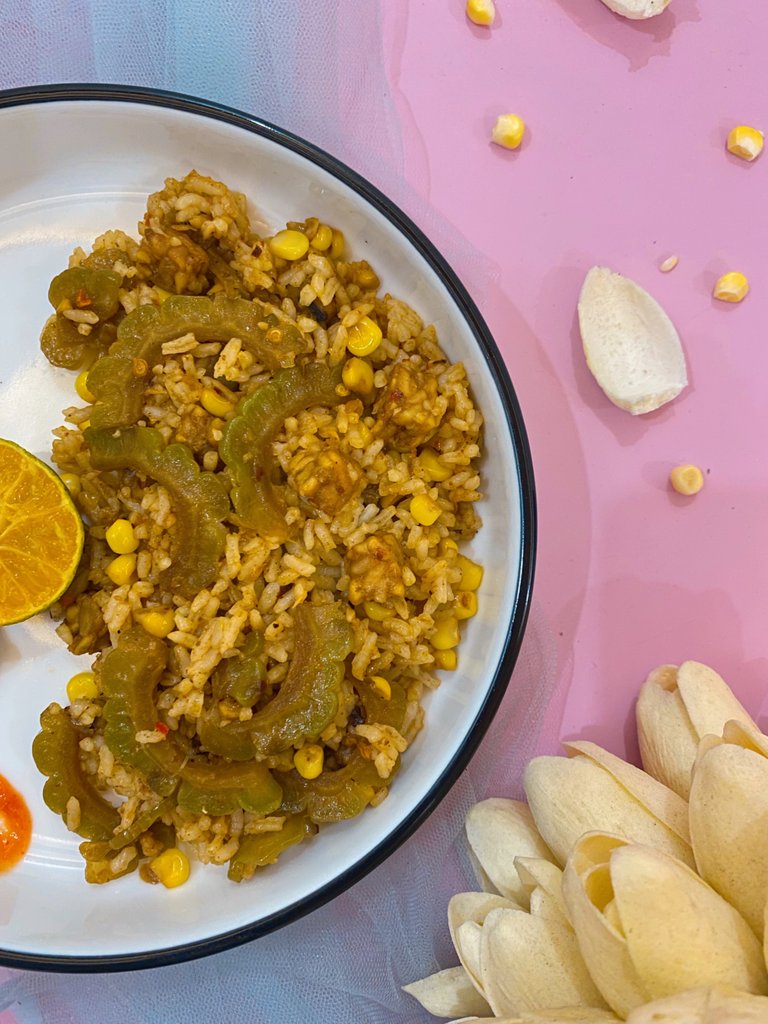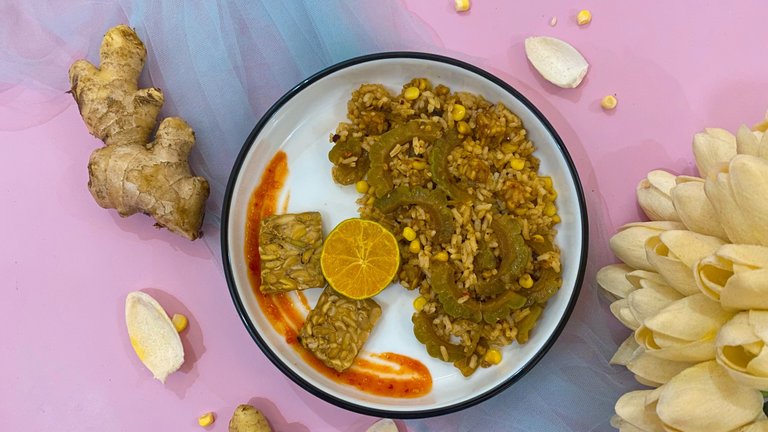 ---
---
---
Thank you for reading my blog and reblog if you want my blog this time worthy of reading by others.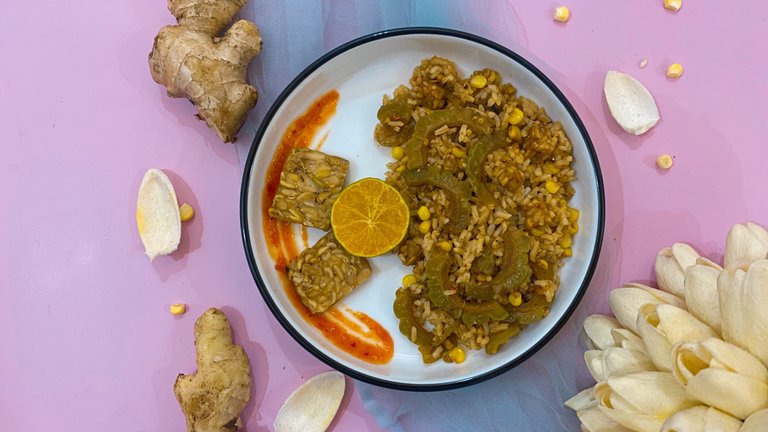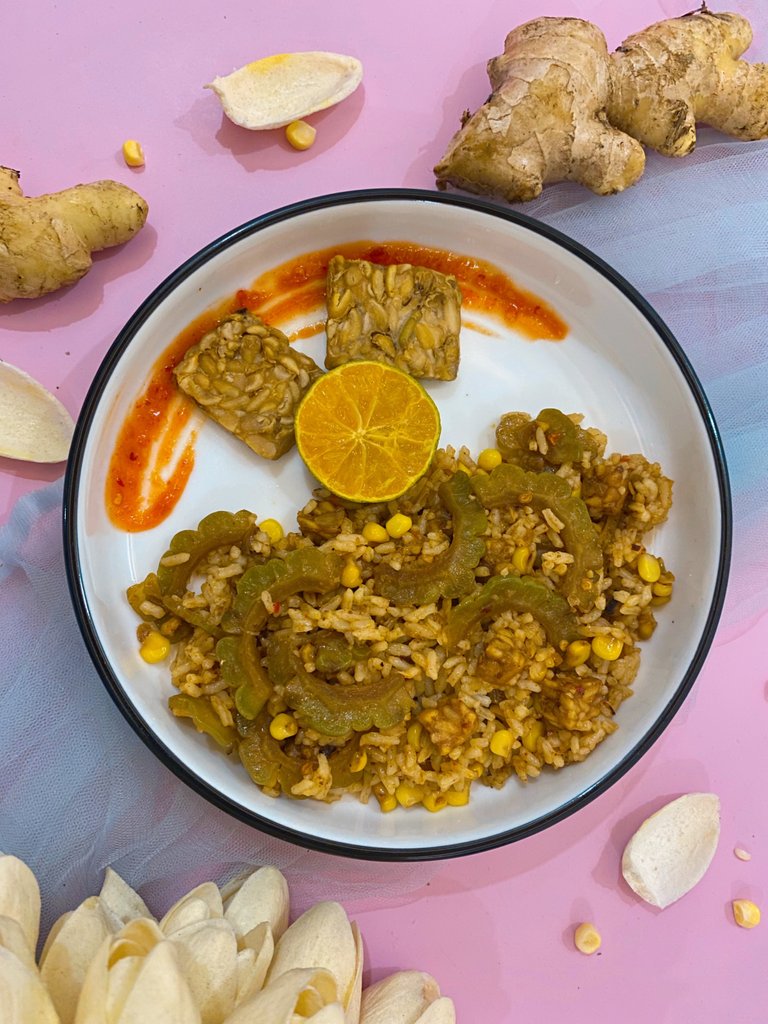 ---
---
---
Best Regards,
Anggrek Lestari
---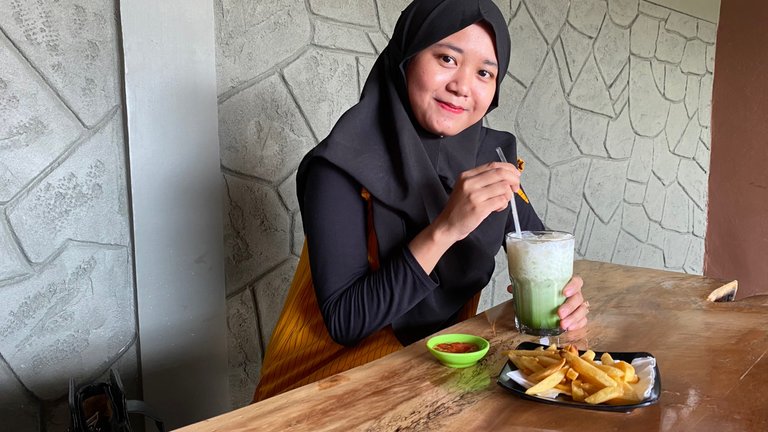 Who is Anggrek Lestari?
Anggrek Lestari is an Indonesian fiction writer who has published two major books. Now She is a full-time content creator. She has a goal to share life, poem, and food content that makes others happy and can get inspiration.
---
Contact Person: [email protected]
Discord: anggreklestari#3009
---
---
---