Night Culinary Before I Go To Sleep at Muda Burger and Coffee
Overthinking is what keeps you from sleeping, not coffee.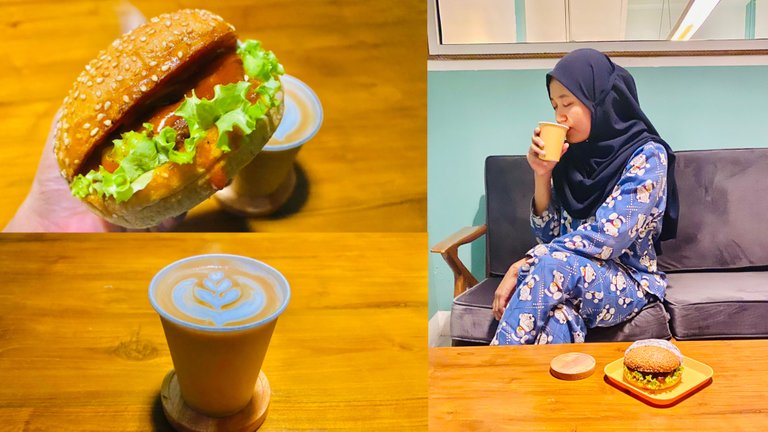 ---
---
---
Lately, I find it difficult to leave the house after my mother is recovering after being hospitalized. Most of my time is with my mother.
To anticipate finding free time to go home just to enjoy the air and maybe a cup of coffee, I finally chose the evening time.
My sister has some free time after taking a break from work around ten at night. So I can ask my sister to accompany my mother at home.
Because of this condition, I looked for coffee shops or dining in places that were open until midnight. Or at least until eleven o'clock at night.
---
---
---
Honestly, I also need space to enjoy the time. I don't want my busy work to take care of my mother, who has difficulty walking, to make me more stressed because I don't have me time. So even though it was night, I still chose to use that time to enjoy the moment, me time. At least I gave myself a chance to clear my head, not just in a tiring house box that left me so drained of energy.
I need to recharge my energy. For me, it's enough just to get out of the house, see the night lights, and drink coffee. If I have free time during the day, I choose to cycle, then soak in the bathtub with aromatherapy that soothes me.
---
---
---
How do you recharge your energy after being tired of taking care of your family? Everyone has their own way. But most importantly, me time is a gift for those of us who have worked hard to take care of everything strongly.
---
---
---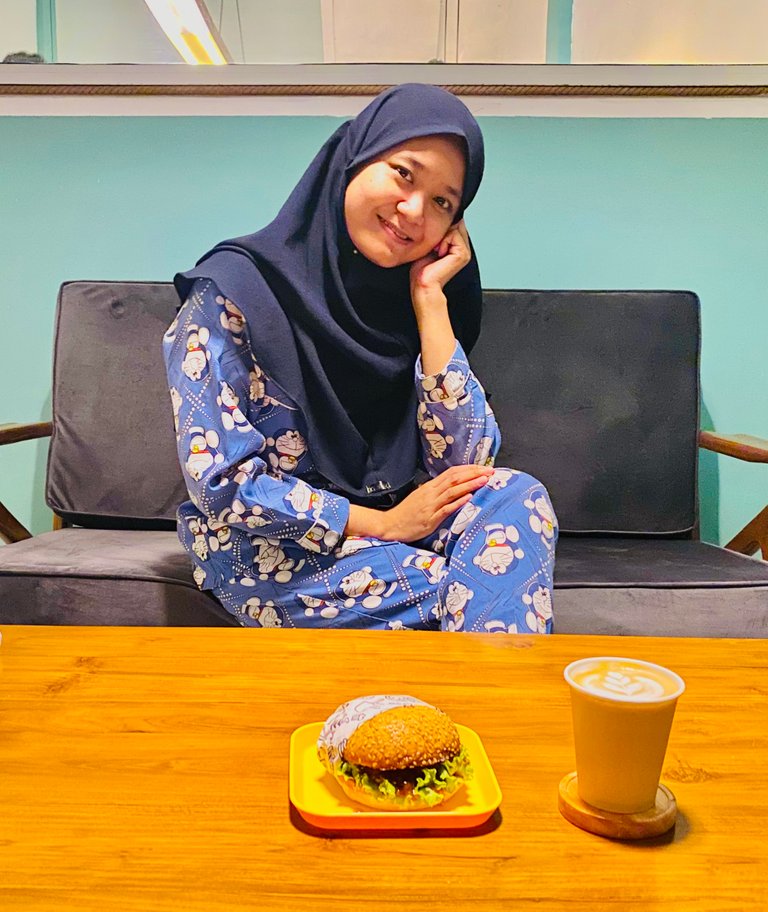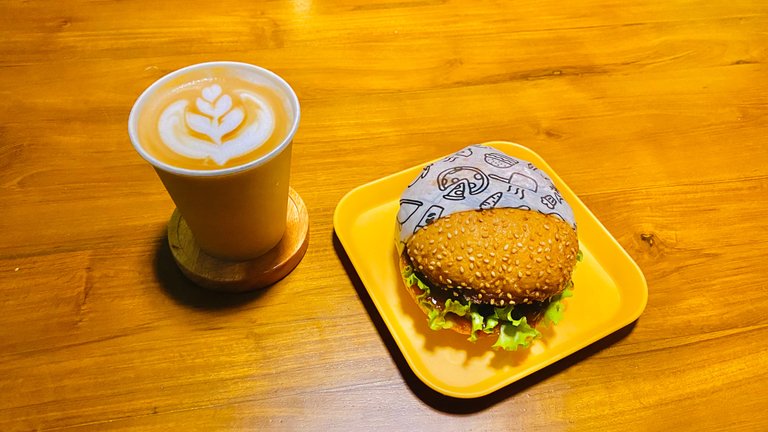 I'll take you to a burger shop and coffee shop that I've never been to before. The place is quite interesting, and I'm quite satisfied that it can give me new energy to get excited again. The place is called MUDA.
I went to the place around ten o'clock at night, and I put on my pajamas to sleep. lol. At first, I intended to sleep, but instead, I ended up going out for coffee. It does not matter. I'm not going to insomnia just because of coffee. In fact, I often have insomnia because of my overthinking attacks. Oops!
---
---
---
MUDA BURGER AND COFFEE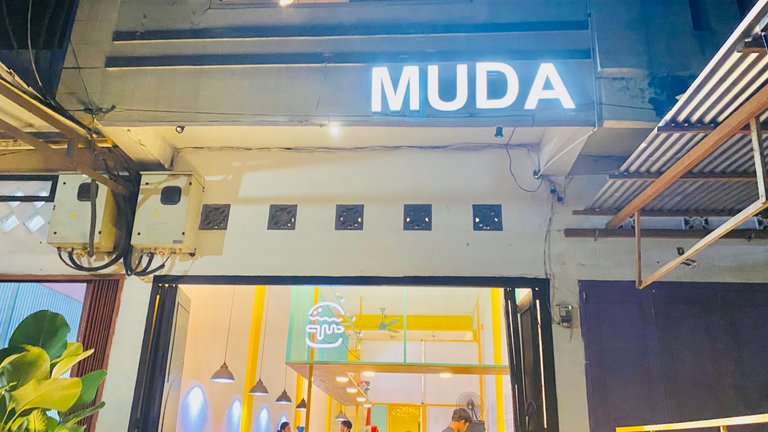 MUDA in English means young. Maybe they are targeting a market for young people, especially in the area where I live. Young people who like to drink coffee, also eat burgers. Young people who prefer to dine in while chatting with friends or loved ones are not takeaway.
In my area, burgers are more often bought on a takeaway basis to be enjoyed elsewhere than where they were originally purchased. For example, enjoyed at home, or at work, or at school.
Muda Burger at the location I visited, **(located at Jalan Sultan Hasanuddin No 77 E, Kartini, Binjai) has been operating since a year ago. Meanwhile, Muda Coffee in the second floor just opened a few days ago.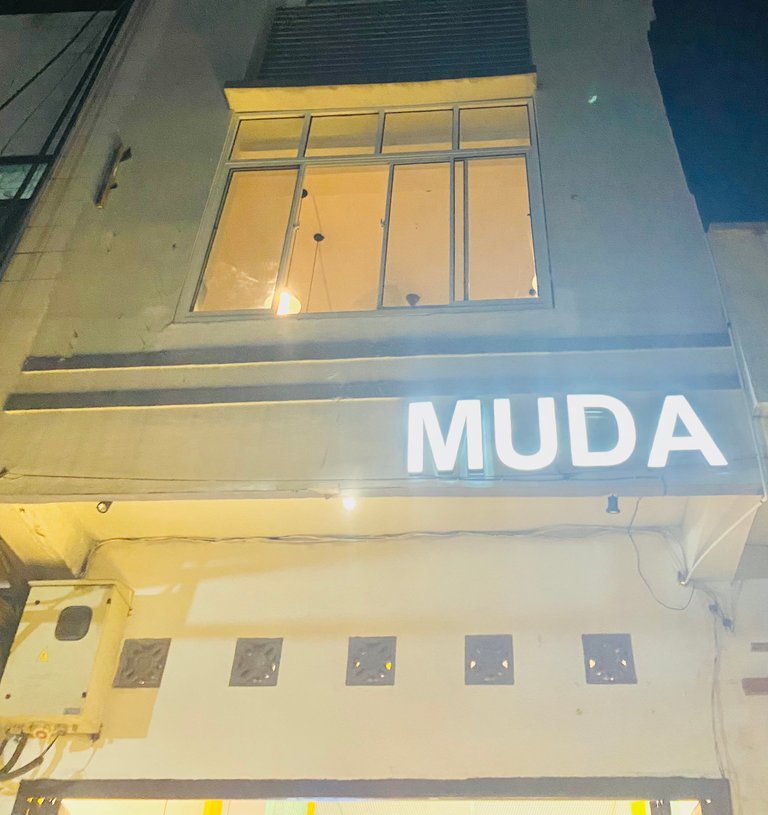 I know this place isn't about burgers. I'm here because it's about coffee, which they have just opened and promoted on one of the popular Instagram accounts in my city.
When I asked an employee at this place, they explained to me that the burger line had actually been open a year ago.
---
---
---
The First Floor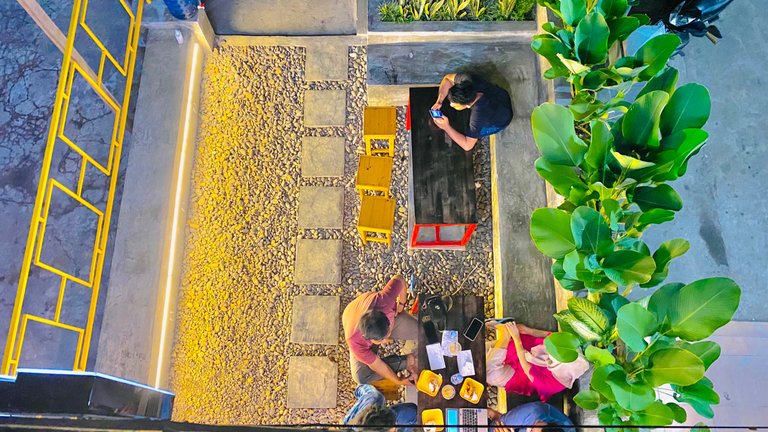 At the beginning of entering MUDA, we will be presented with an area such as a minimalist terrace, with bright color highlights that consistently lead us to the main bar area of ​​MUDA.
Consistently, they present red and yellow in their designs. It's kind of reminiscent of the appetizing colors of sauce and cheese.
Then in the main area, at the bar, we order the menu and pay for the order immediately. On the first floor area, we can also order coffee at once, not just burgers.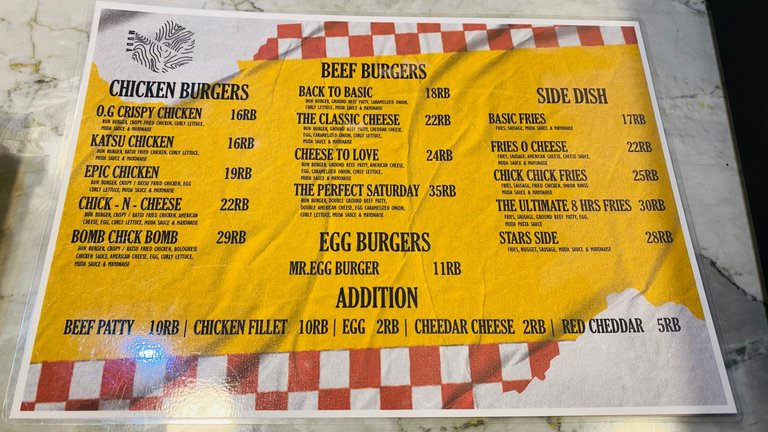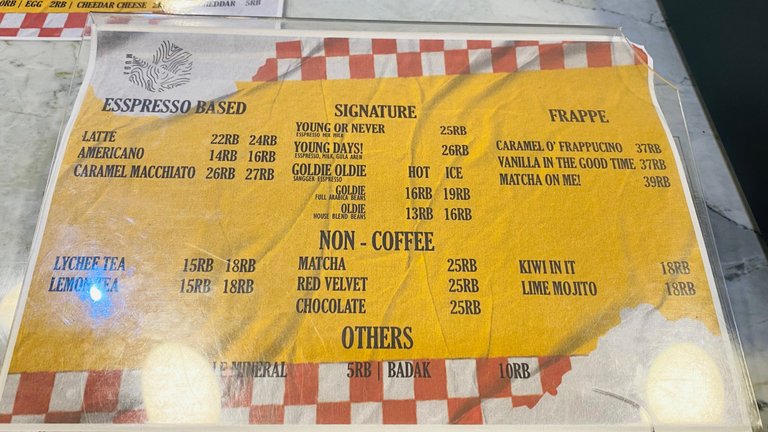 ---
---
---
However, if you order coffee in the first-floor area, don't forget to bring your proof of payment to the second floor. This is as a confirmation of our coffee order to the employees on the second floor for the coffee serving section.
---
---
---
The Second Floor
After paying for the order, I chose a seat in the MUDA second-floor area. Then I provide proof of payment for my coffee so that my coffee order can be processed.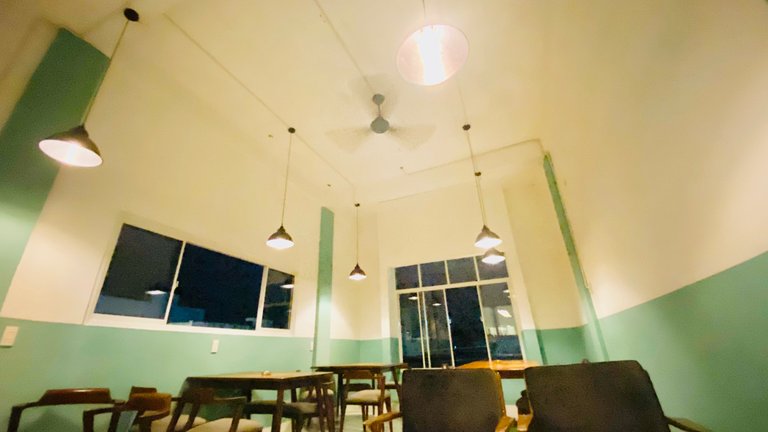 The design and vibes on the second floor are very different from the first floor. If the first floor is more bright with red and yellow, then on the second floor we will feel a calmer vibe with blue and white.
Another thing that is my favorite on the second floor of this place is the windows in certain corners. This point makes me calmer, and it feels like I have more space for my thoughts.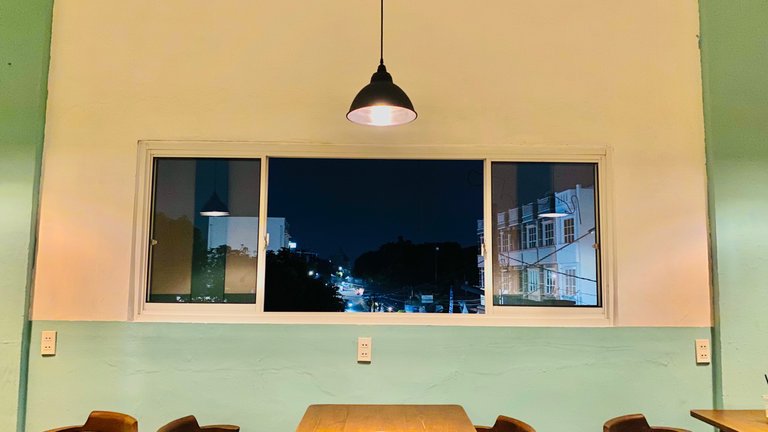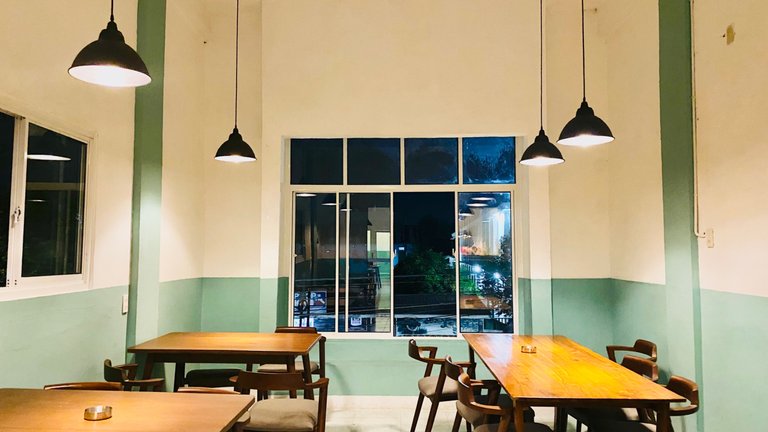 For the seat material, I chose a soft sofa. More space on the second floor is comfy compared to the first floor in my opinion.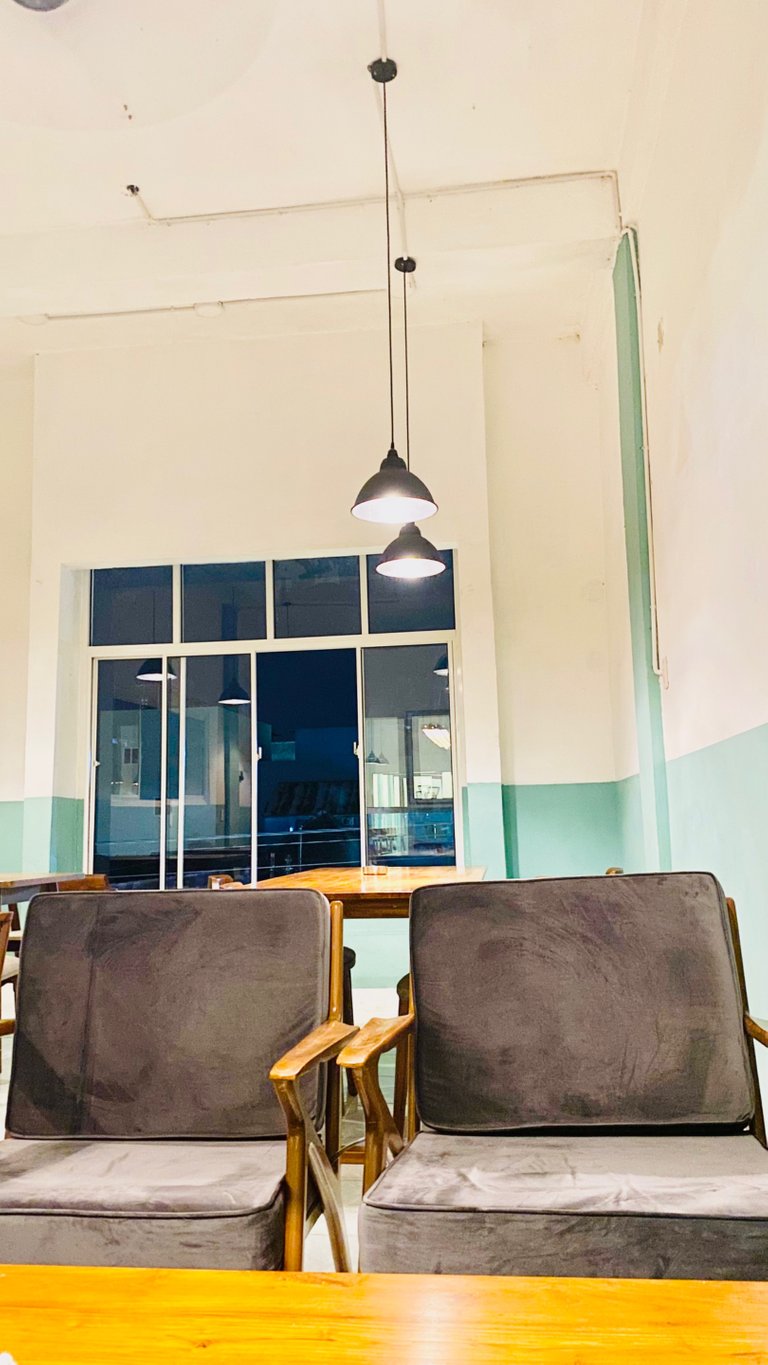 Then not long after my order arrived. A cup of coffee and a burger. From a glimpse of their appearance, it looked promising. Let's see!
---
---
---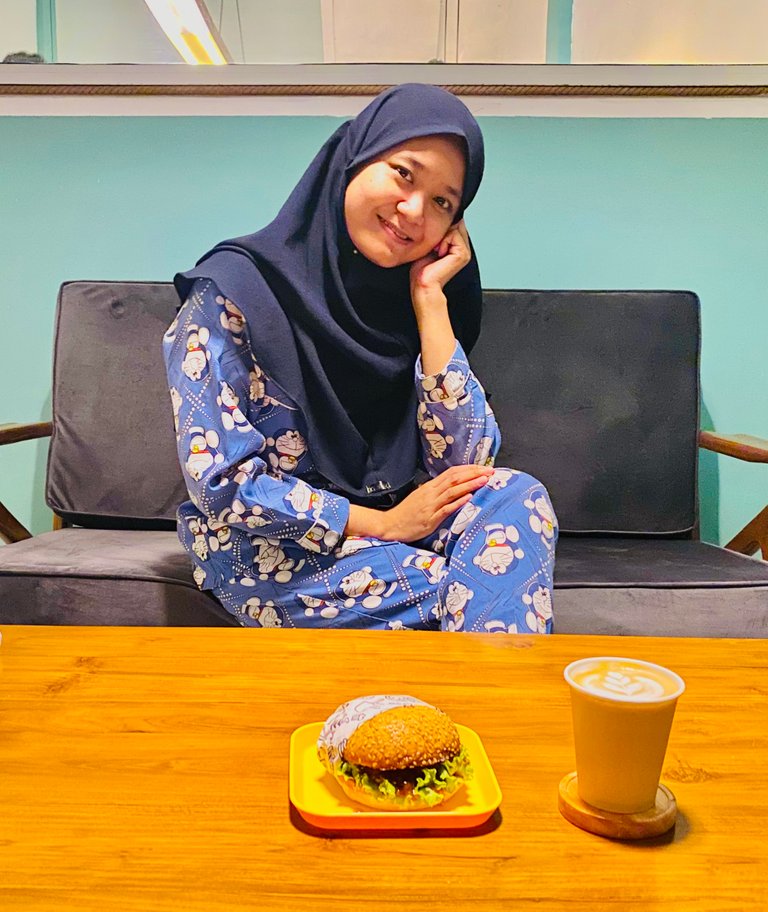 BACK TO BASIC BURGER
For my food, I ordered the Back To Basic Burger. Bun burger with ground beef patty, caramelized onion, lettuce, and sauce & mayonnaise.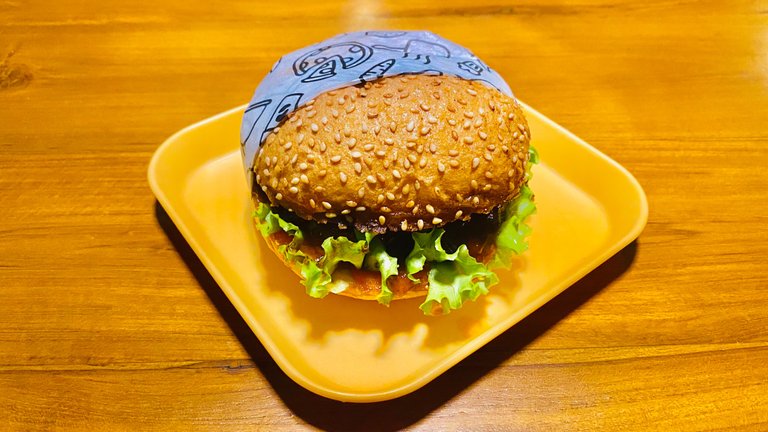 ---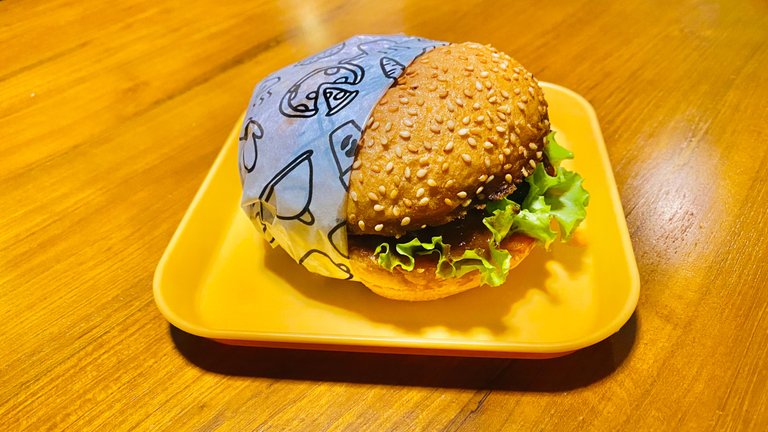 To be honest, at first my intention to order a burger was just a formality. Because my goal is just to drink coffee. I've never really liked burgers. But that doesn't mean I don't want to eat burgers. :)
---
---
---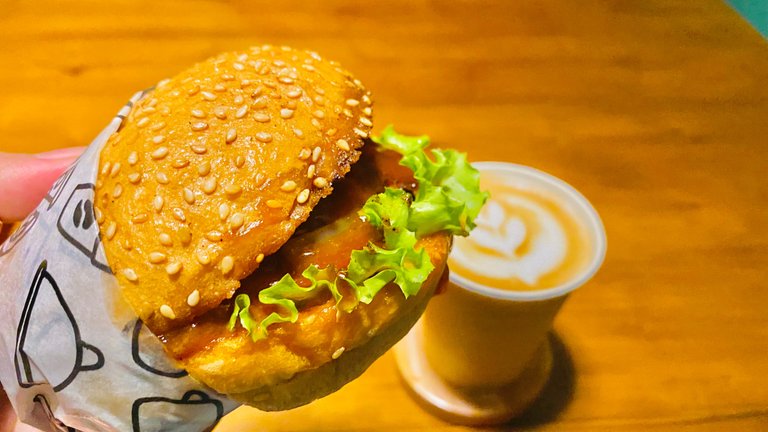 Then, something beyond my expectation happened. Back To Basic Burger by MUDA is really good! At the first bite, my tongue was greeted by the softness of the buns, and there was a sexy crispy texture to the beef buns. It's a mix that I rarely find on buns. That's why I found a good thing in this place. :)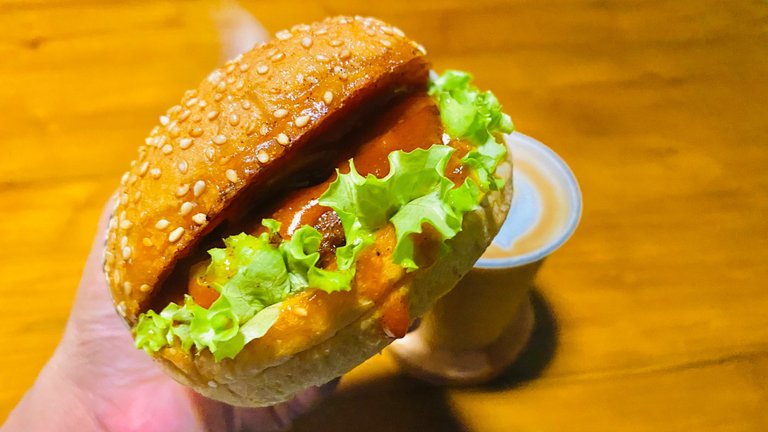 For me, the person who is not a burger lover, I can then finish this burger because this burger is really good and worth spending. At an affordable price, IDR 18K / $1.28.
For those of you who aren't even burger lovers, this place is well worth a visit, while looking for a good coffee spot with friends or loved ones.
---
---
---
YOUNG DAYS COFFEE
My coffee order was Young Days Coffee with the hot version. Actually, this menu is available in an iced version. But I asked for the hot version, and they agreed to my request. I am very happy and excited!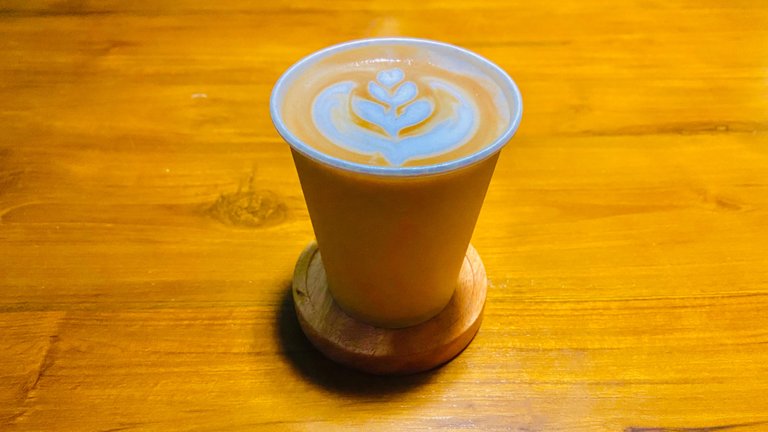 This is a beautiful cup of Young Days Coffee with a fragrance that is good energy for me. Perfect! <3
Young Days Coffee is a blend of espresso, milk, and palm sugar. One of my fav types of coffee.
---
---
---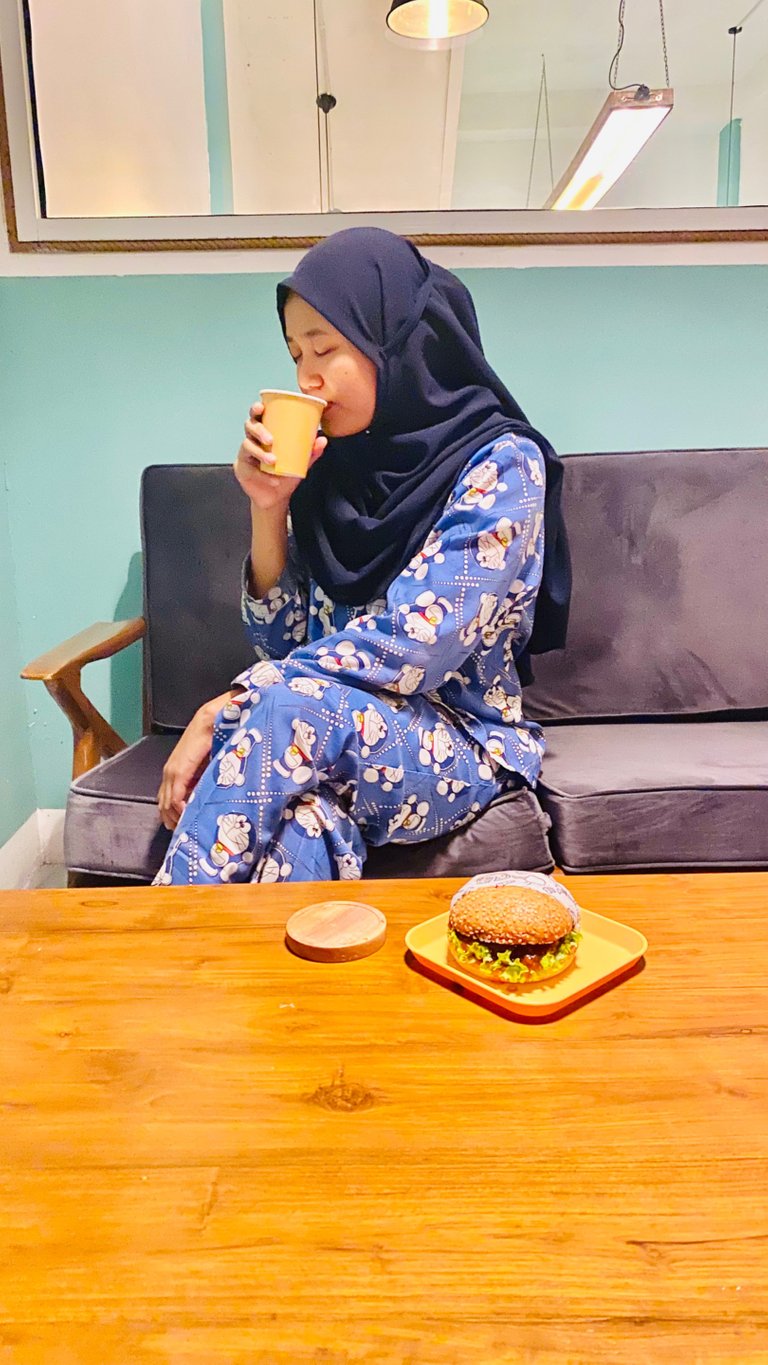 Young Days Coffee by MUDA has a strong coffee taste and a delicious level of sweetness from palm sugar. There is no reason for me not to recommend this place to coffee connoisseurs, especially young people in my city who like coffee just to unwind and be tired.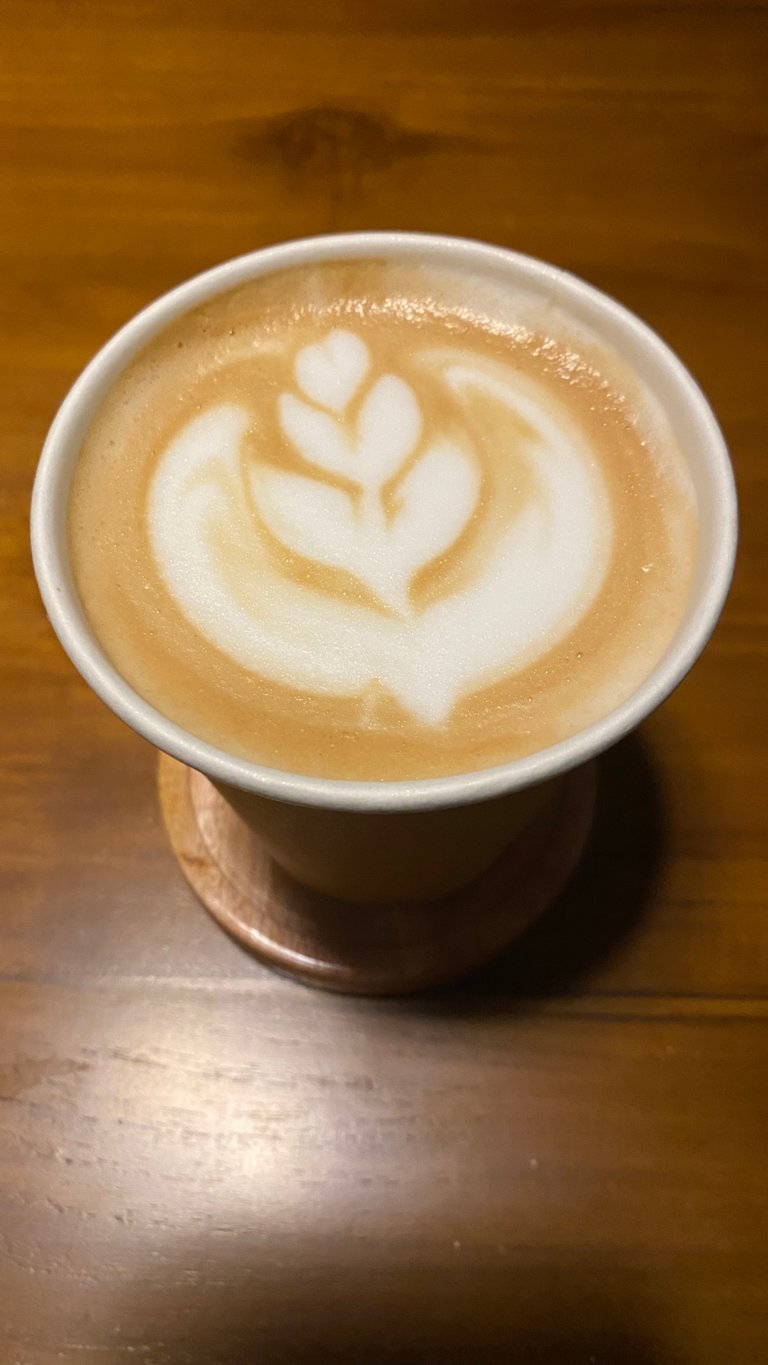 At IDR 25K / $1.78 it's a standard price for a cup of coffee in my city, and the overall taste is worthy. Coupled with the vibes of this place, it was more than enough to make me happy. :)
---
---
---
I hope you can find what you deserve to find today. Have a great day, good people, HIVE Lovers!
---
---
---
Thank you for reading my blog and reblog if you want my blog this time worthy of reading by others.
All pictures taken with Iphone 11
---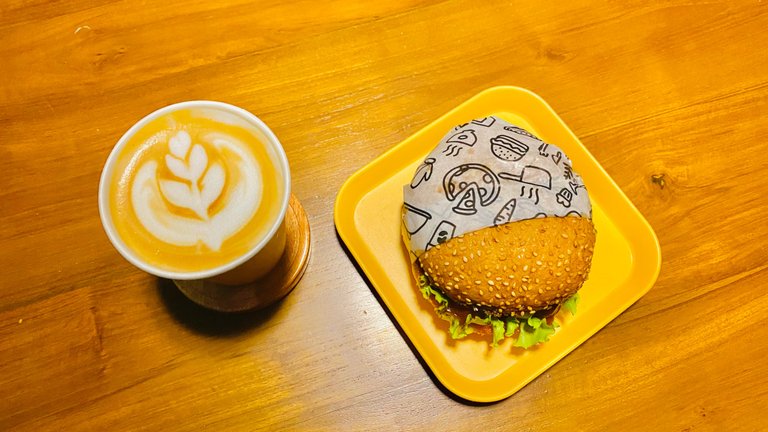 ---
---
---
Best Regards,
Anggrek Lestari
---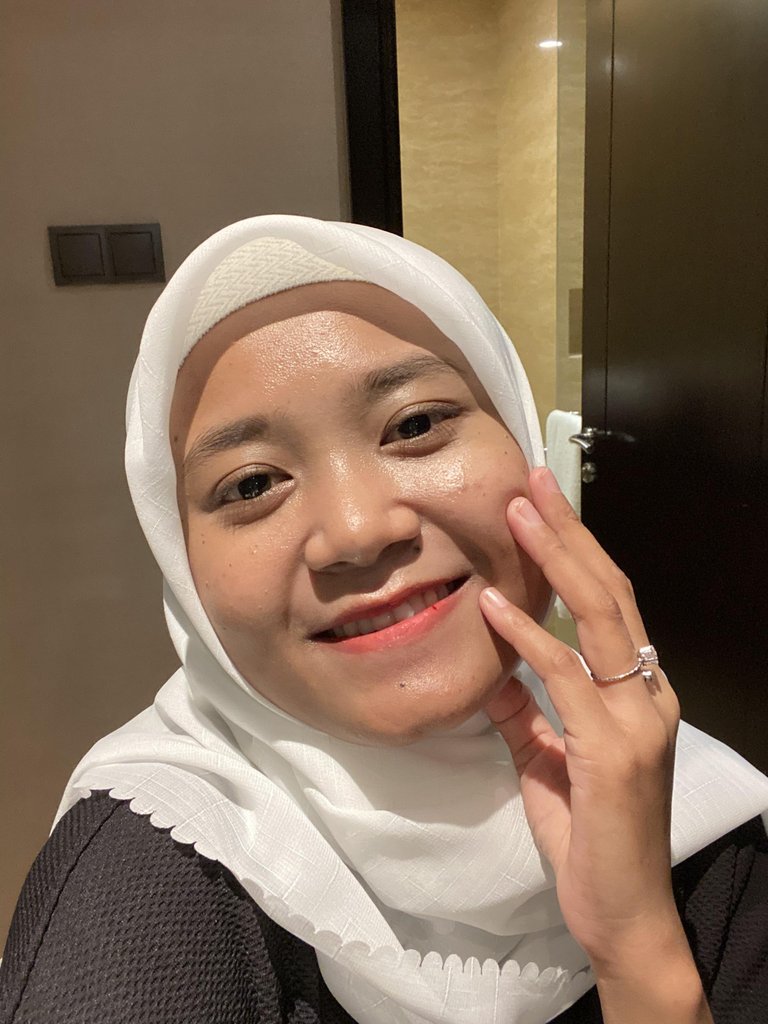 Who is Anggrek Lestari?
Anggrek Lestari is an Indonesian fiction writer who has published two major books. Now She is a full-time content creator. She has a goal to share life, poem, and food content that makes others happy and can get inspiration.
Make sure you follow her blog as well for some interesting discussions about life other than food.
If you need a copywriter for your projects, Anggrek Lestari will be ready to help you.
Contact Person: [email protected]
Discord: anggreklestari#3009
---
---
---