Fresh Mango Pudding With Coconut Milk
Treat yourselves to tropical vibes, one of which is ripe mangoes which are super sweet. Imagine the softness of the mango flesh, which is soft, sweet, and smells good.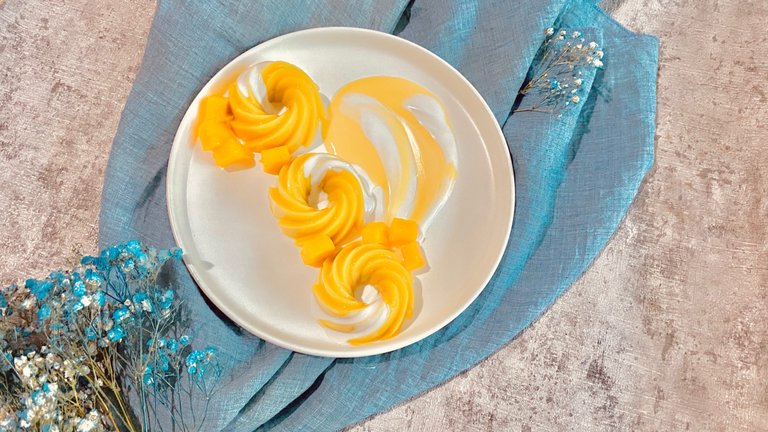 ---
---
---
The sweet, fragrant mango is one of the much-awaited favorite fruits in the area where I live. The price is quite expensive compared to other types of mango which are not too sweet and not too fragrant. Even so, it still has a lot of fans. Including me and my family.
Today I bought two ripe mangoes. One mango I gave to my mother to be eaten without being processed. Then one more mango I intend for me to make a super soft pudding.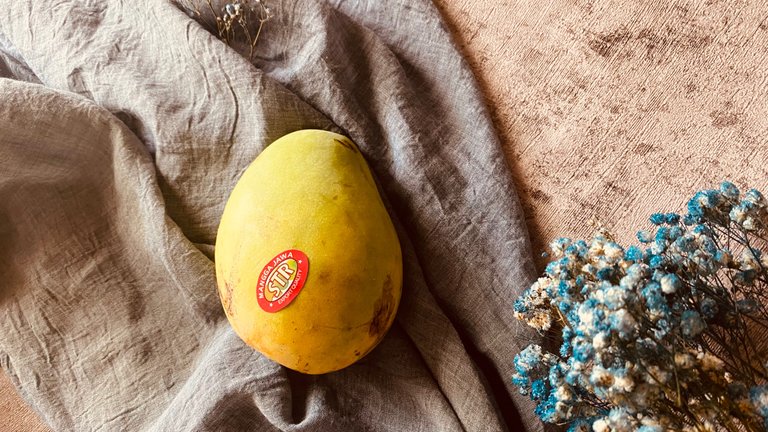 Inspired by the soft yet fragrant mango puree, I hope that the final mango pudding will become a favorite of my family members. I love giving food gifts to my nieces and nephews. Although it's not a big thing, but they are very happy because they like whatever I serve them. I am also very happy if anything I make is liked by them.
---
---
---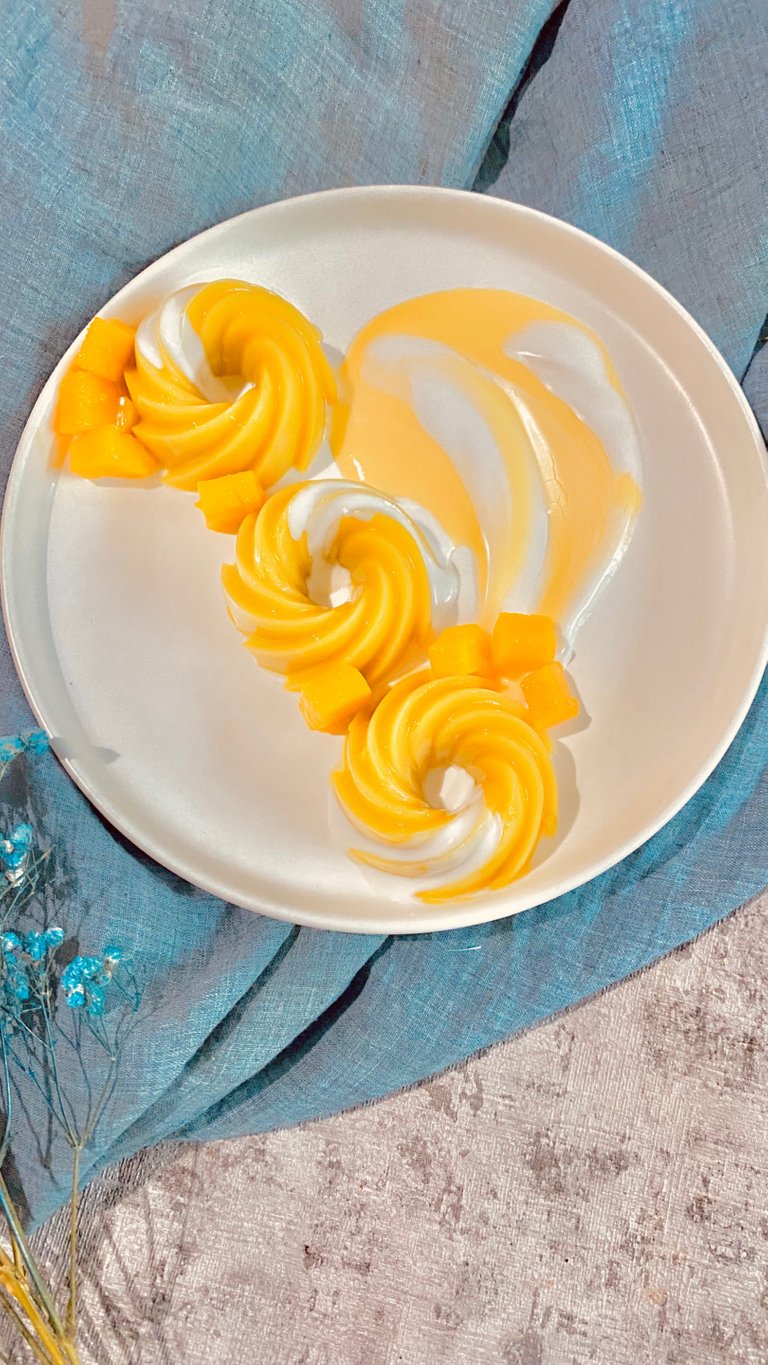 So this time I will share the recipe for "Fresh Mango Pudding With Coconut Milk". Indeed, pudding can be made with agar powder that has a certain fruity taste and color. But this time I focused on using fresh fruit. So this time I used mango puree.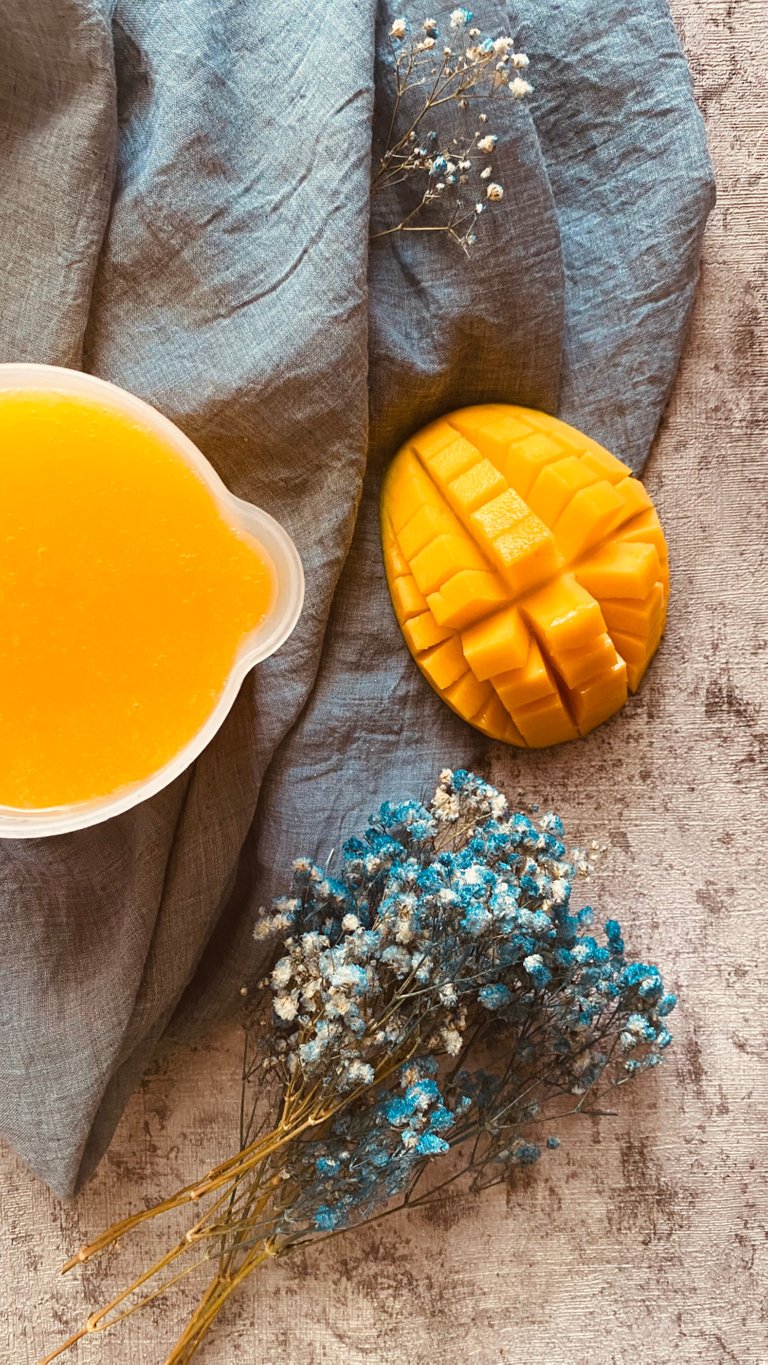 Mango Puree
---
As usual, I use all the ingredients, which are the plant-based version. To thicken the mixture, I use Agar Powder and Coconut Milk. If you don't have Agar Powder, you can also use cornstarch which can be a delicious alternative too.
---
---
---
THE INGREDIENTS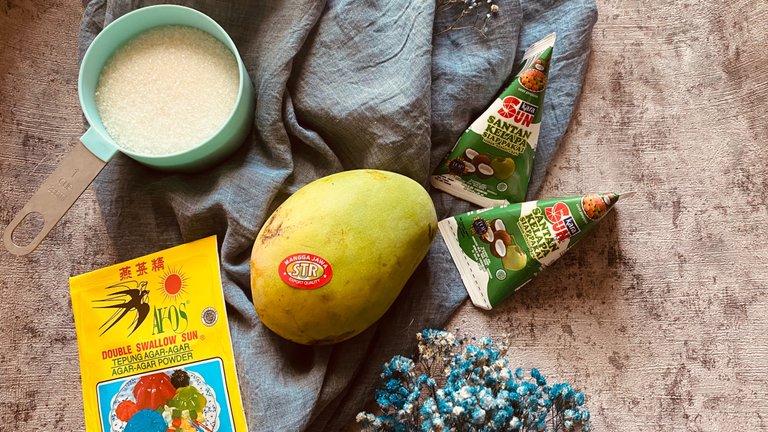 1 ripe mango to make 500 ml of mango puree.
1 sachet of Agar Powder or about 5-7 grams
200 ml of thick coconut milk
100 grams of sugar
a pinch of salt
---
---
---
COOKING INSTRUCTIONS
STEP 1
Make mango puree. Here I used about 400 ml of water. Then for the results, I only use 500 ml of mango puree. If it is still left, can be served as mango juice. Of course, it's also fresh to accompany us in cooking.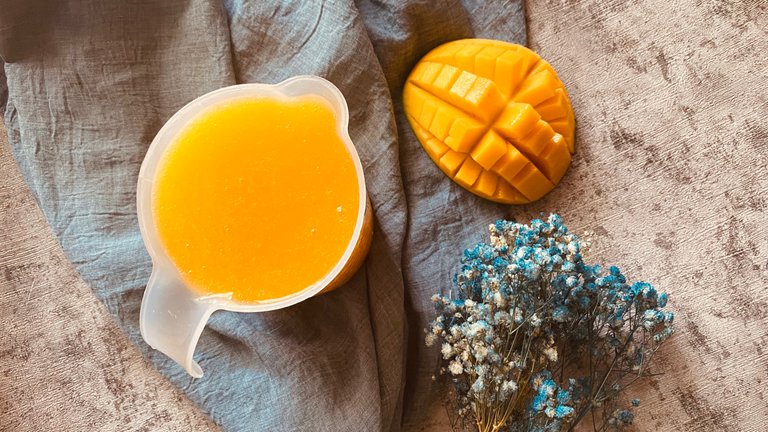 ---
---
---
STEP 2
When the mangoes have been blended with water and become mango puree, place them in a cooking pot while straining. This filtering process aims to avoid the texture of fine meat fibers.
---
---
---
STEP 3
Add to the pan the sugar, coconut milk and agar powder. Stir well before cooking. Before cooking on the fire, stir the mixture well so that the powder no longer clumps.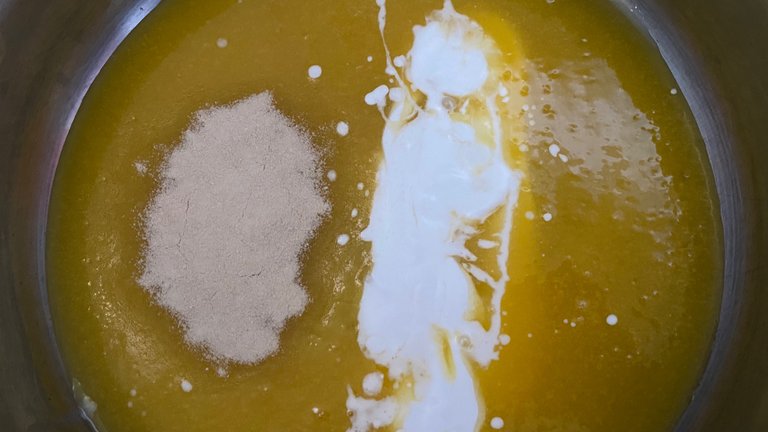 ---
---
---
STEP 4
After making sure there are no lumps in the mixture, cook, stirring constantly until it boils. It does look like a lot of foam on the surface of the pudding mix, but that's normal.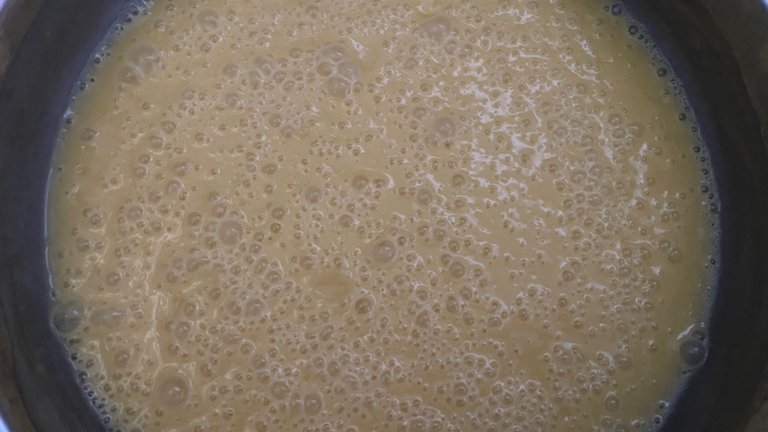 ---
---
---
STEP 5
Take off the pudding mixture when it boils. Turn off the heat, then continue to stir the pudding mixture to remove the hot steam to make the pudding even more beautiful when shaped later.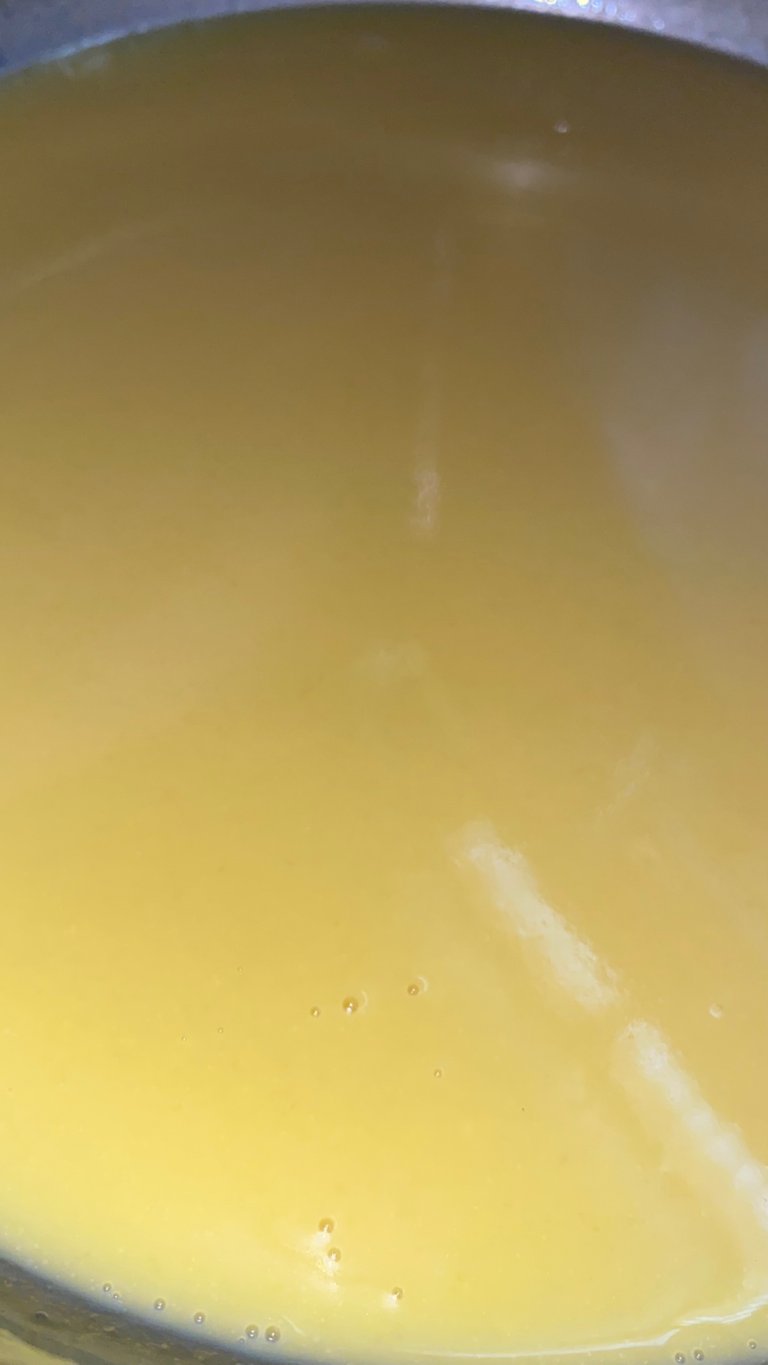 ---
---
---
STEP 6
Transfer the pudding mixture to the pudding molds according to your taste. Or you can just use a glass. Let cool to room temperature, then refrigerate until set before serving.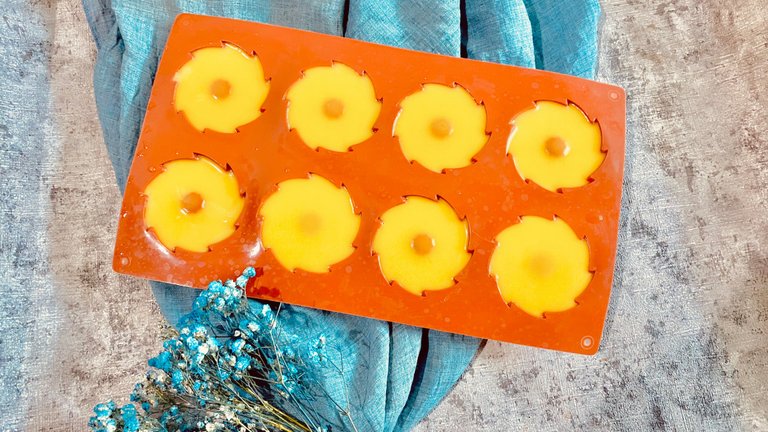 ---
---
---
Served With Coconut Milk Cream
After the pudding set, I served mango pudding with coconut milk cream. I really like the result. The texture is so soft that it will have a melt-in-your-mouth sensation. Yummy!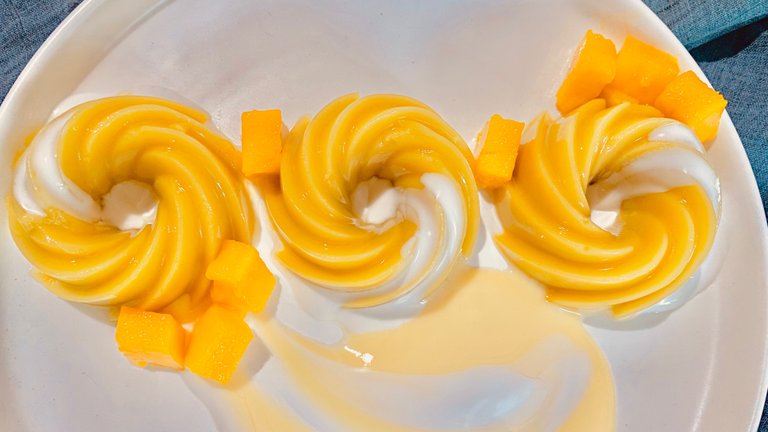 ---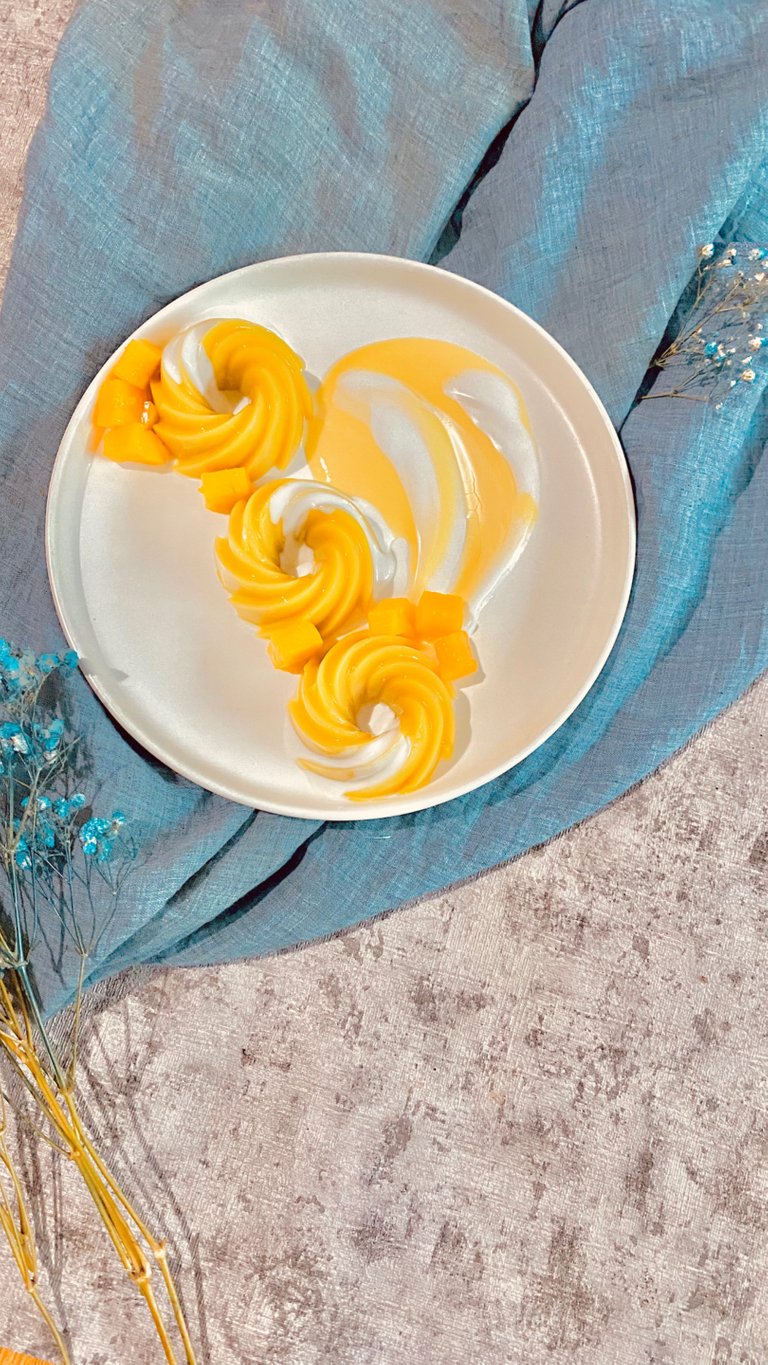 ---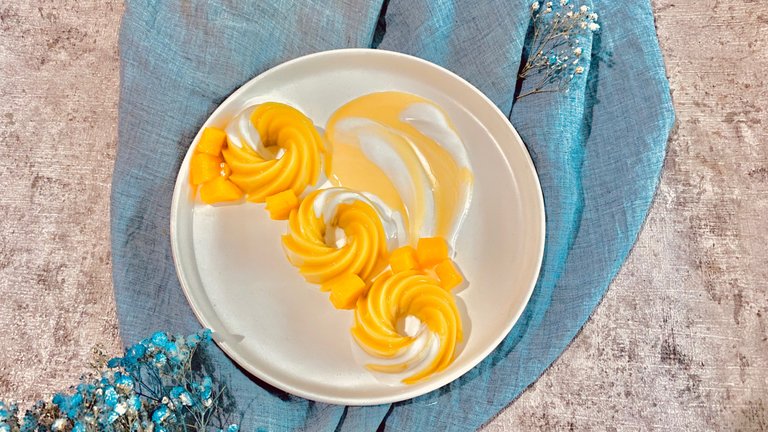 ---
---
---
How about you guys? Have you ever served mango for a super soft pudding? If you don't find a mango with a sweet taste, it should be replaced with another fruit.
---
---
---
I hope you guys get some new inspiration from my food blog this time, and until next on my food blog, HIVE LOVERS!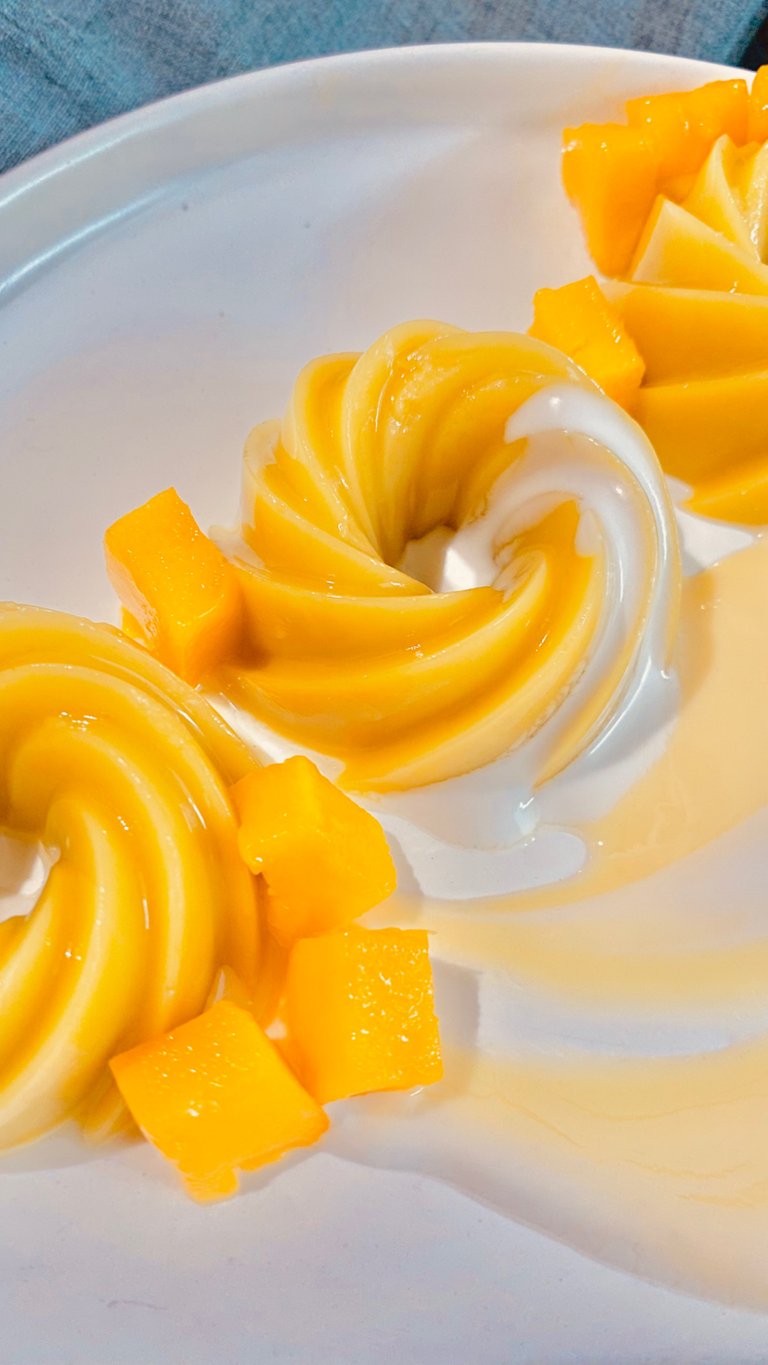 ---
---
---
Thank you for reading my blog and reblog if you want my blog this time worthy of reading by others.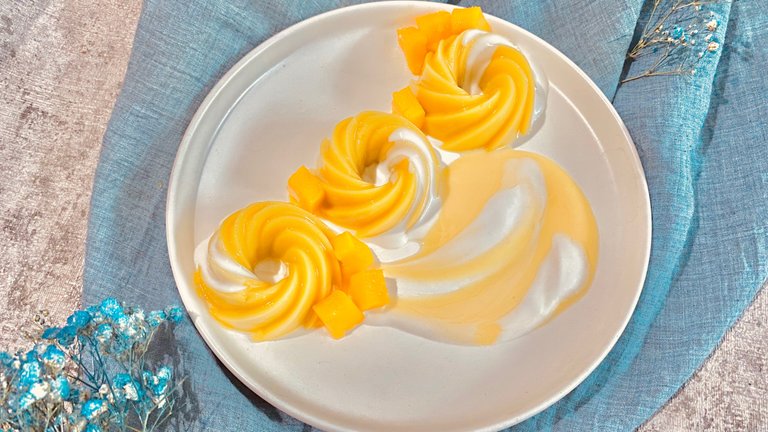 ---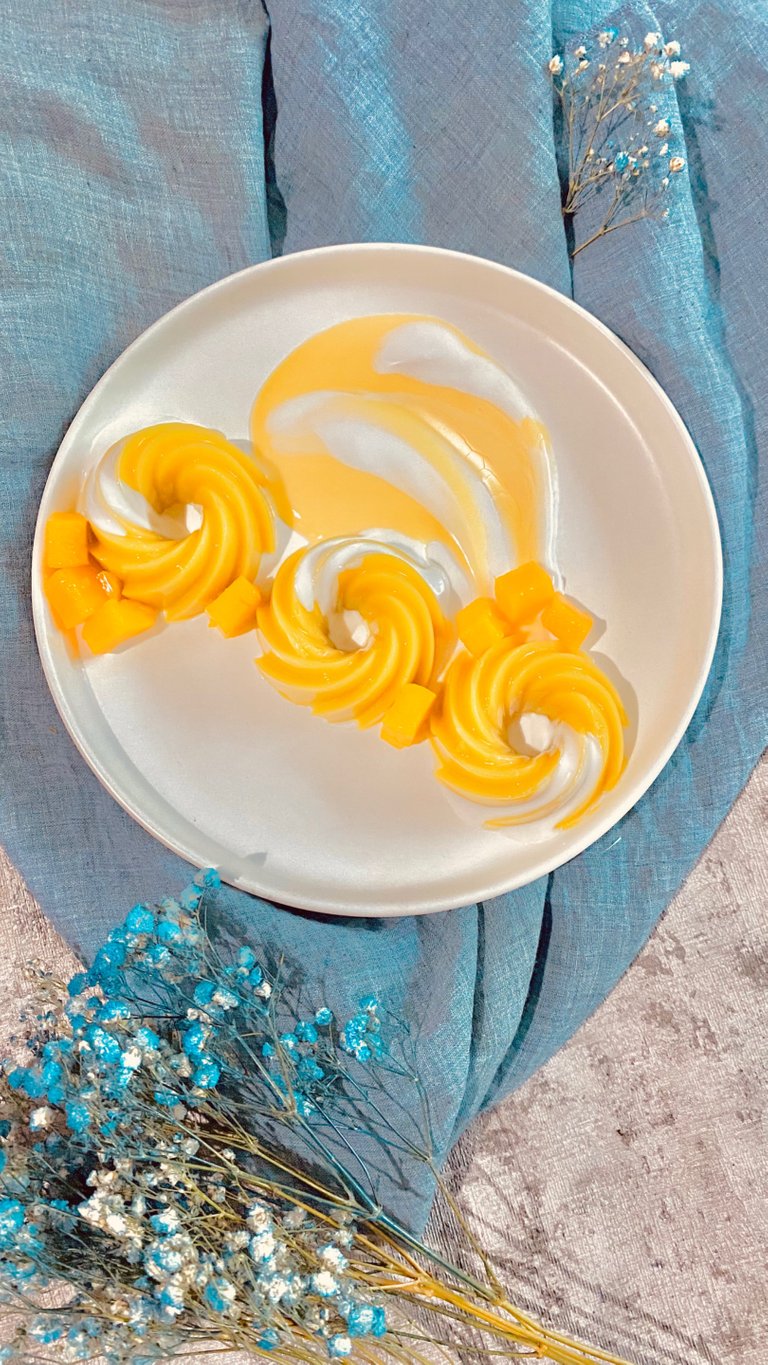 ---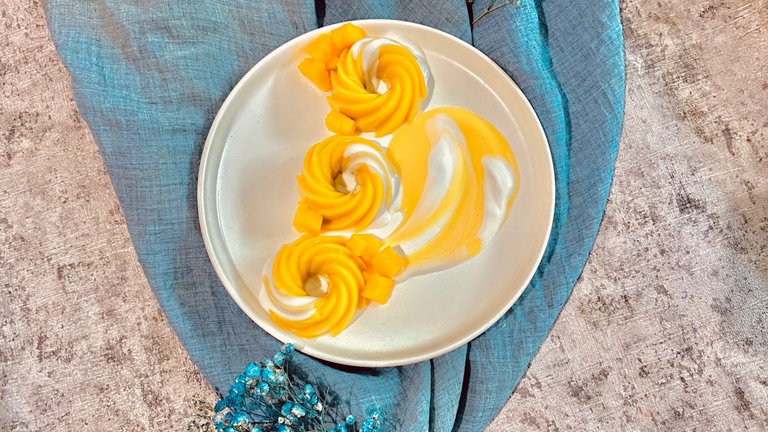 ---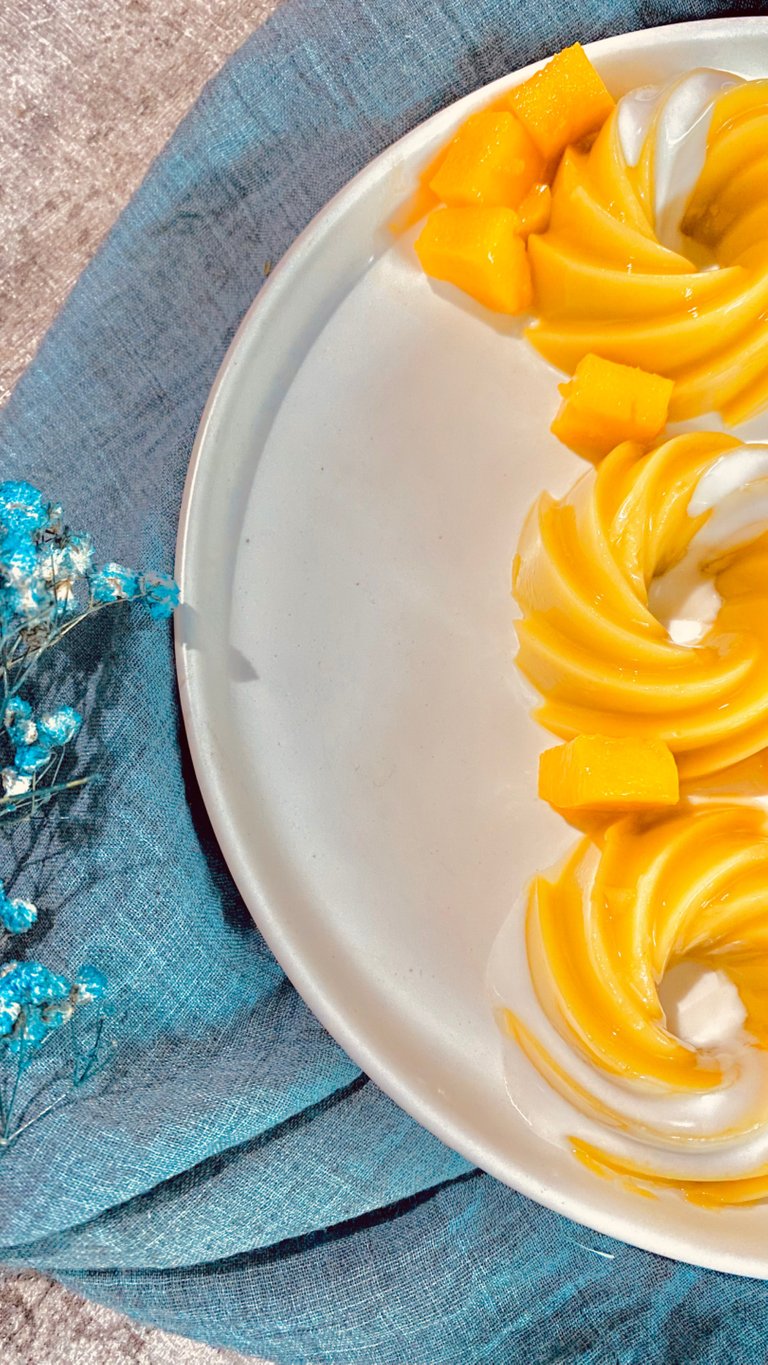 ---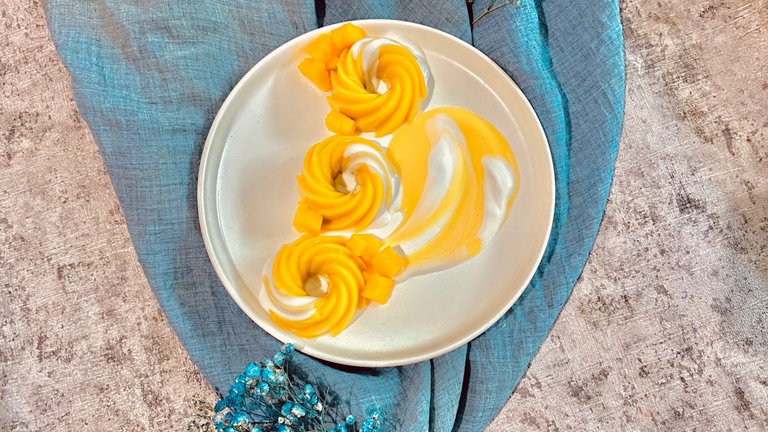 ---
---
---
Best Regards,
Anggrek Lestari
---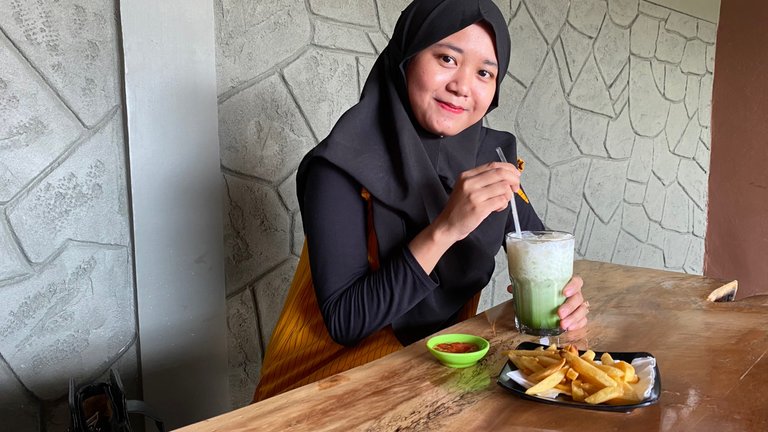 Who is Anggrek Lestari?
Anggrek Lestari is an Indonesian fiction writer who has published two major books. Now She is a full-time content creator. She has a goal to share life, poem, and food content that makes others happy and can get inspiration.
---
Contact Person: [email protected]
Discord: anggreklestari#3009
---
---
---