Comfort Food To Recharge Energy While On A Mountain Trip
I just need a hot dish. At least that's what I thought when my family and I were on our way from the mountains to the house.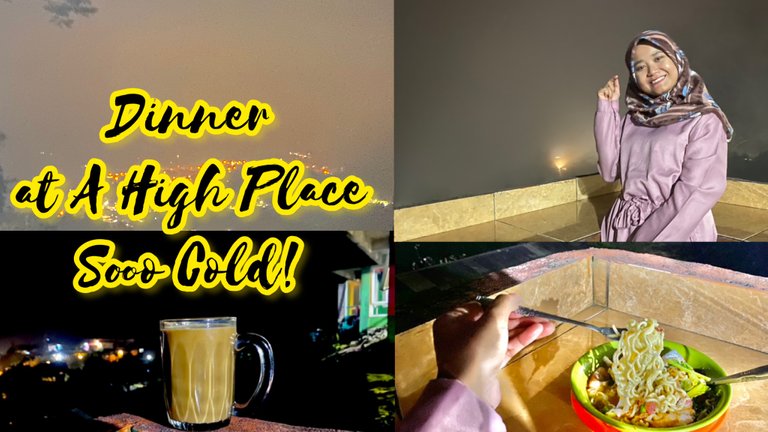 The day had just gone from sunset to completely dark. But we are still in a tourist area in the mountainous highlands. It still takes about 2 hours of driving to get home.
We need a place to rest for a while, to do worship, and also to eat. I was very hungry at that time. Maybe it's also because of the cold air and it makes my brain think about hot food.
Have you ever thought about just one meal, while on a trip? Well, it happened to me. I only think about a bowl of hot instant noodles emitting hot steam in the air! I imagined my mouth eating instant noodles voraciously to kill the cold air at that time.
We are looking for a place to stop praying and eating. Finally, on the recommendation of my sister, we stopped at Sakinah Restaurant, Berastagi.
---
---
---
SAKINAH RESTAURANT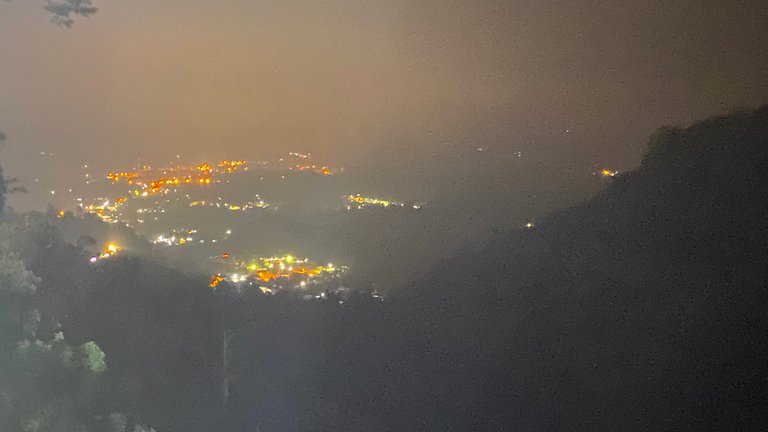 There are several popular restaurants for stopover locations in the Berastagi area. We chose Sakinah Restaurant. Indeed, this restaurant is not as popular as the restaurant that is in the same lane as this restaurant.
We considered the places of worship in this restaurant, as well as the food provided. This restaurant provides a place of worship. That was good because the main thing we needed was a place of worship at that time.
Another important thing is my sister told me, this restaurant is to have good food. Unlike other restaurants in the same area, another restaurant has food that is already cold when it arrives at the diner's table.
Because my sister had visited this place before, I believed and followed my sister's advice to stop at this restaurant.
---
---
---
The Place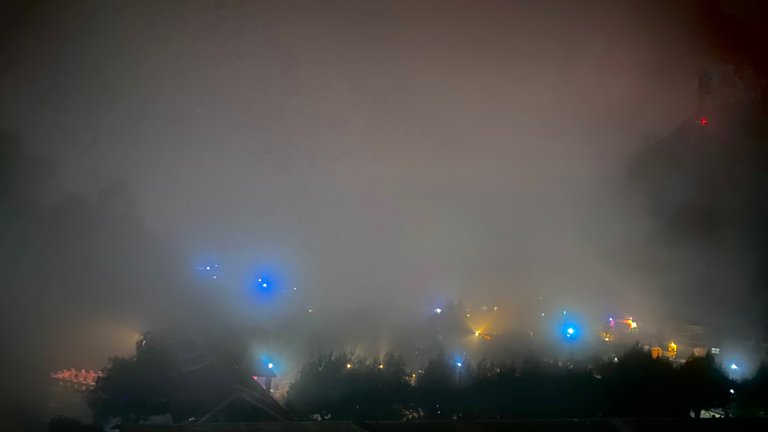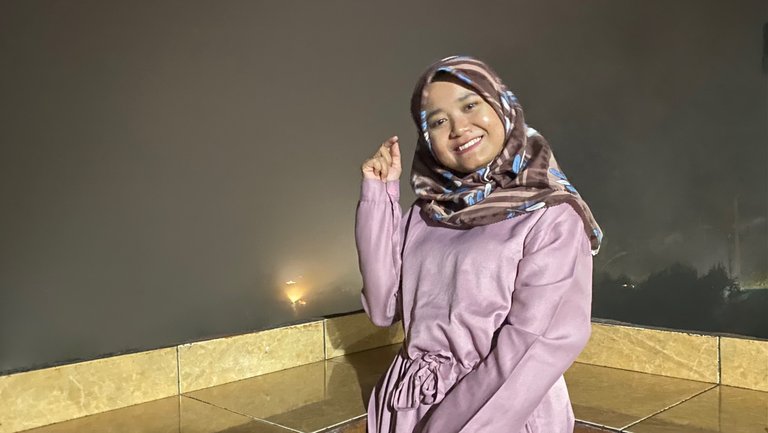 We can see a simple place. We chose to sit outside to see the mountainous area. Unfortunately when we arrived, the fog invaded the location.
The view before me was limited to fog and it was very dark! But lucky when exploring other angles, I can find points of light that make me happy in this place.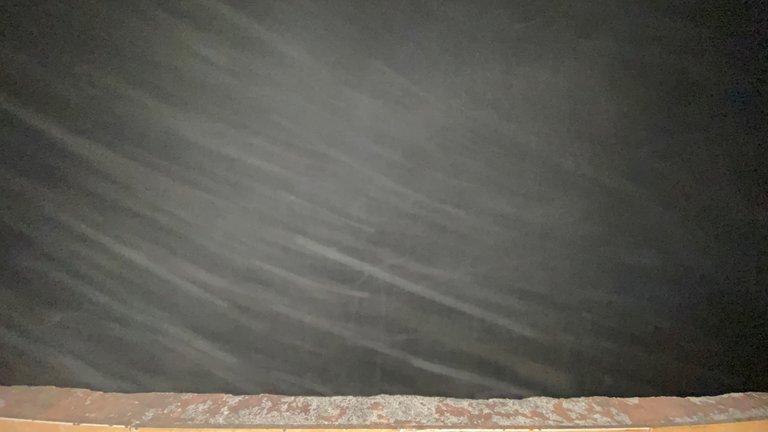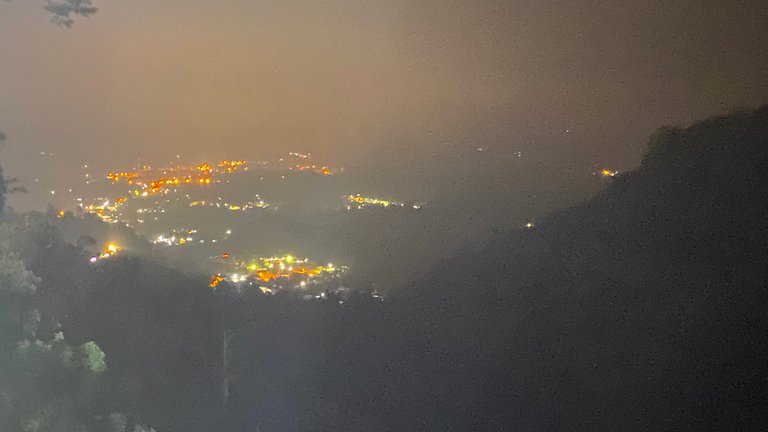 ---
---
---
Indeed, the design of this place is so simple when compared to other restaurants that are right next to this restaurant. It's just that, we still choose this restaurant because the food is delicious and also the price is cheap.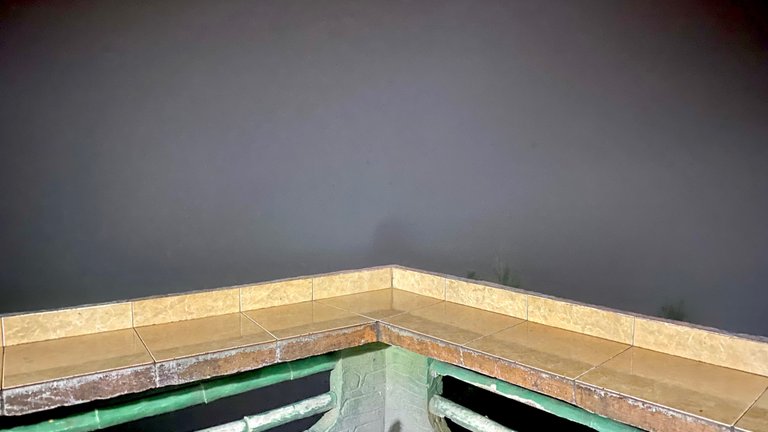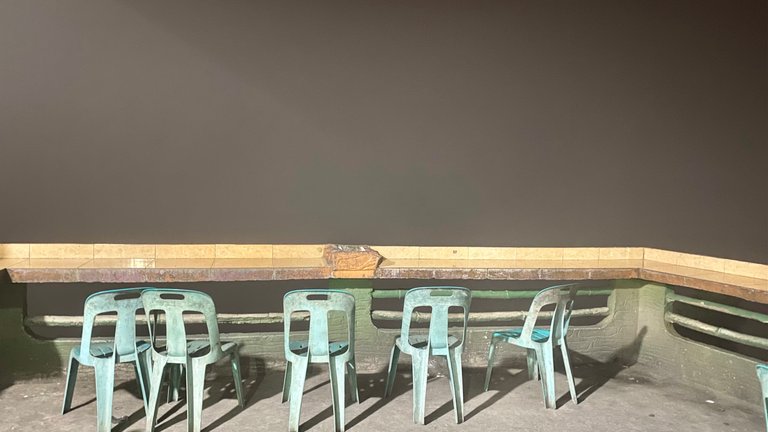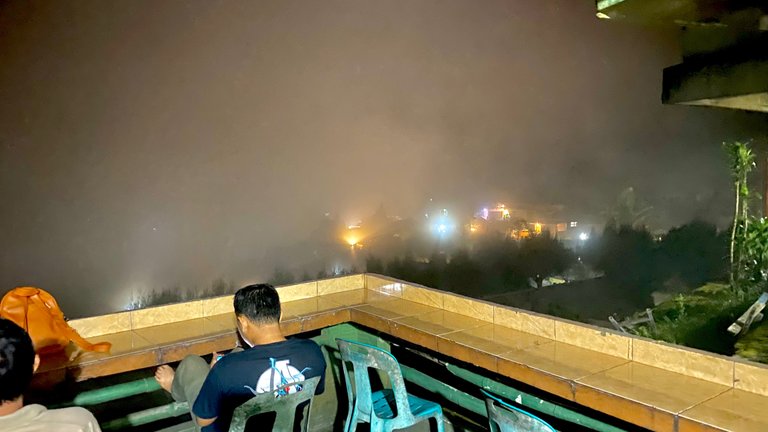 I wasn't disappointed with this place. It's okay to sit in a spot with no polish at all. Just simple chairs.
I can't wait to enjoy my dinner! While waiting for my dinner dish to arrive, I enjoyed the clean but cold air around me! My brain helps me to be patient by suggesting to myself that a delicious warm meal will soon arrive. LOL.
Apart from suggesting myself with good food, I also took some photos just to pass the time waiting for the food. :)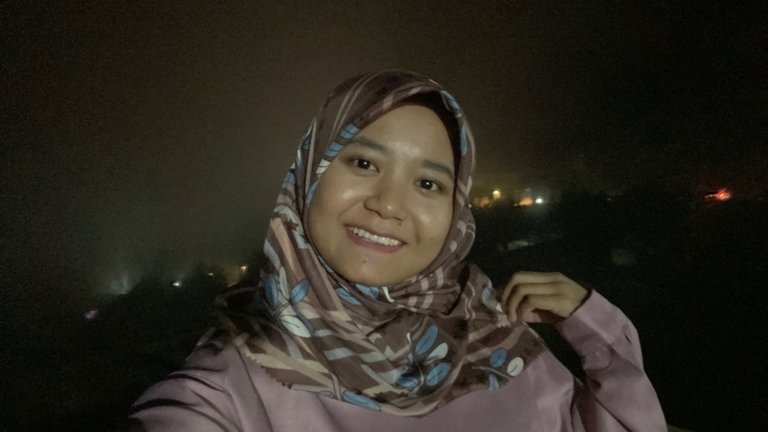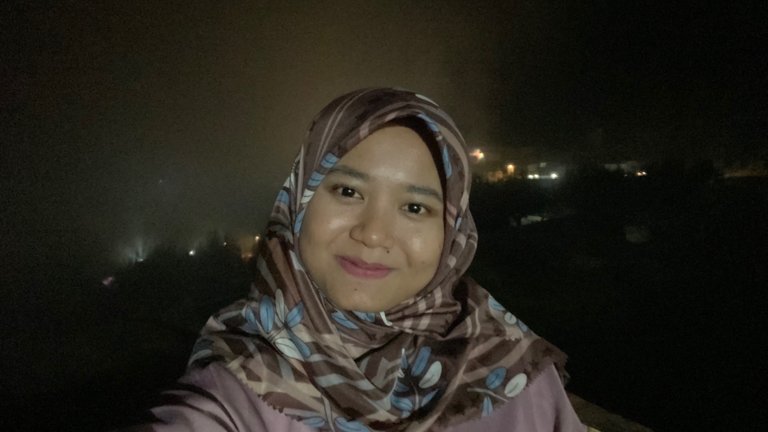 It doesn't matter the area around me is quite dark. Fortunately, today's technology is so advanced. My face can still be seen, even though the situation was dark.
---
---
---
---
---
---
MY DINNER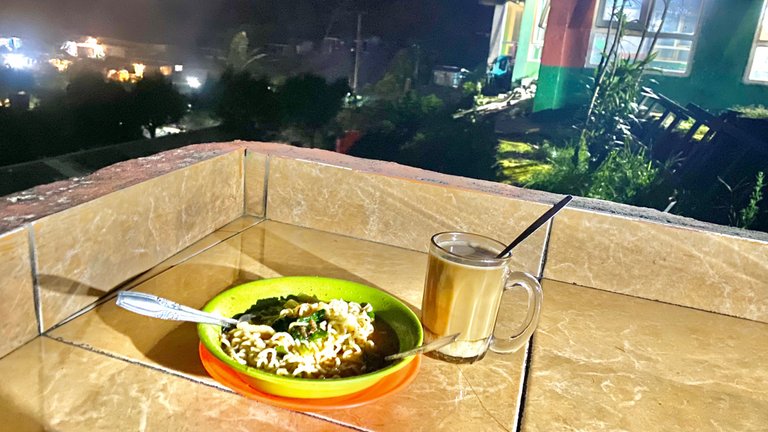 In accordance with what I had in mind since I was in the car, I finally ordered instant noodles which were served in a classic style. The classic instant noodles are fun. Authentic.
In my area, we are used to serving instant noodles with only green vegetables and an egg-like poached egg. We can give a request whether the yolk is fully cooked or still half-cooked.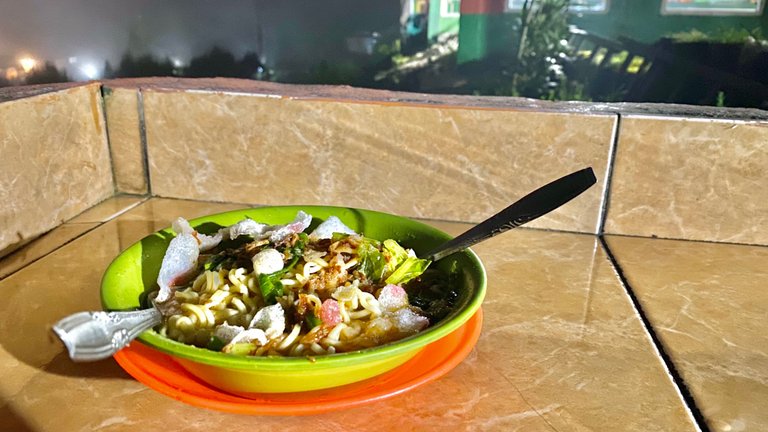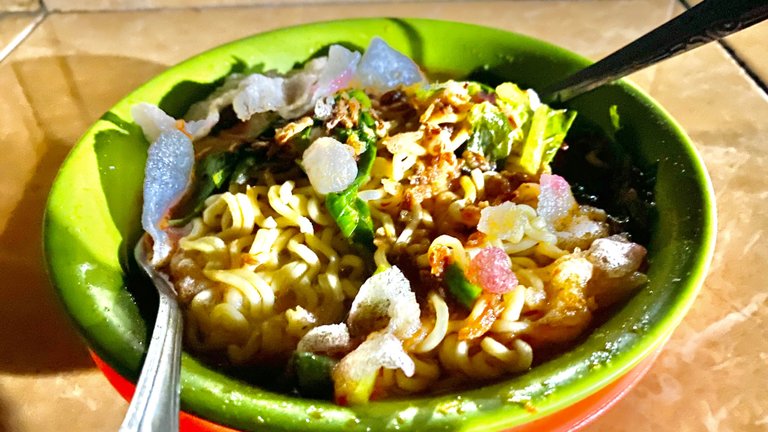 Okay, finally my instant noodle order arrived at my table. Hunger and suggestions that have been on my mind, make this classic instant noodle bowl look so precious.
The hot noodles suddenly became warm and that made it easier for me to eat the noodles without fearing that my tongue would scald. The air was so cold it made everything cool off quickly.
I have to finish the noodles quickly before the noodles get totally cold. It feels good! I'm serious. It's true what my sister said. This place does not disappoint with its food. Although the place looks very simple.
I have no regrets about coming to this place to worship, eat, and rest for a while before continuing our long journey back home.
---
---
---
Meanwhile, for drink, I chose to order hot coffee with milk. It tasted..... it really felt relieved when I took a sip of hot coffee.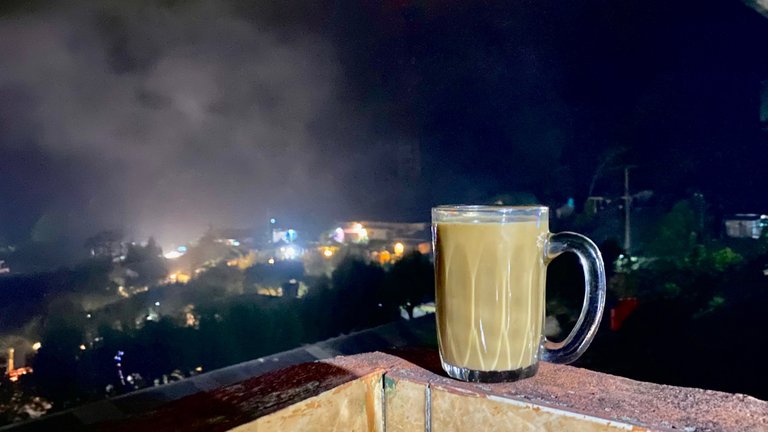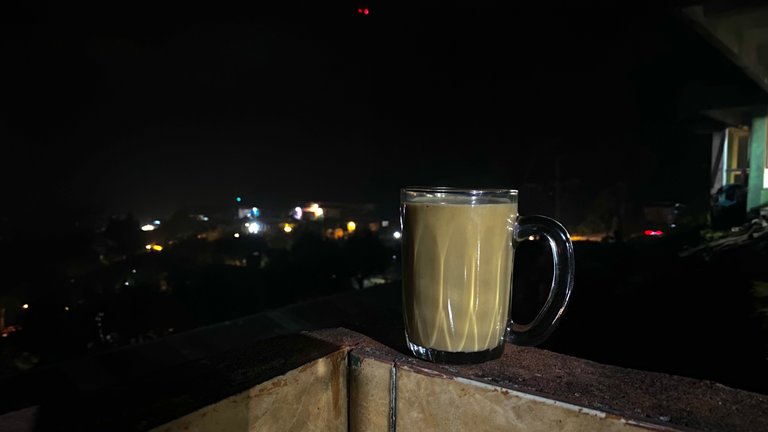 Enjoying the atmosphere of the mountains, mostly just fog, but I can still see the glow of light from a distance. The cold felt a bit gone after I finished dinner.
---
---
---
It was quite a tiring journey. But at least with stop by at the right restaurant, it can help the energy come back again. There is always something worth telling behind a tiring journey, also about destinations in certain places that teach us something new. At least we can feel the atmosphere that we have never felt before. Isn't experience a valuable thing, right?
---
---
---
I hope you can find what you deserve to find today. Have a great day, good people, HIVE Lovers!
---
---
---
Thank you for reading my blog and reblog if you want my blog this time worthy of reading by others.
All Pictures Were Taken by iPhone 11.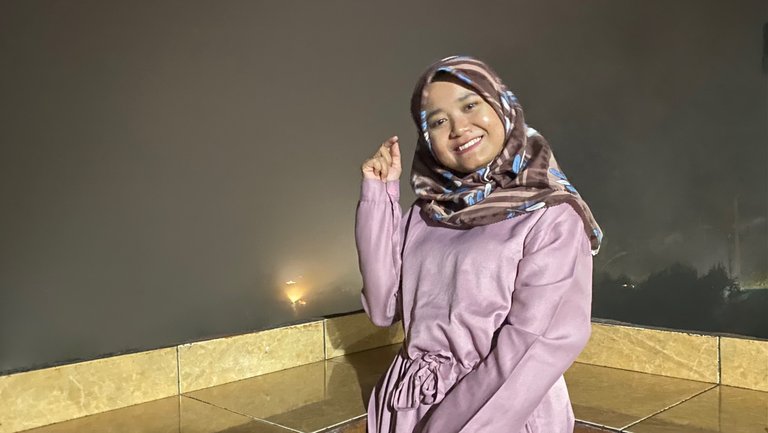 ---
---
---
Best Regards,
Anggrek Lestari
---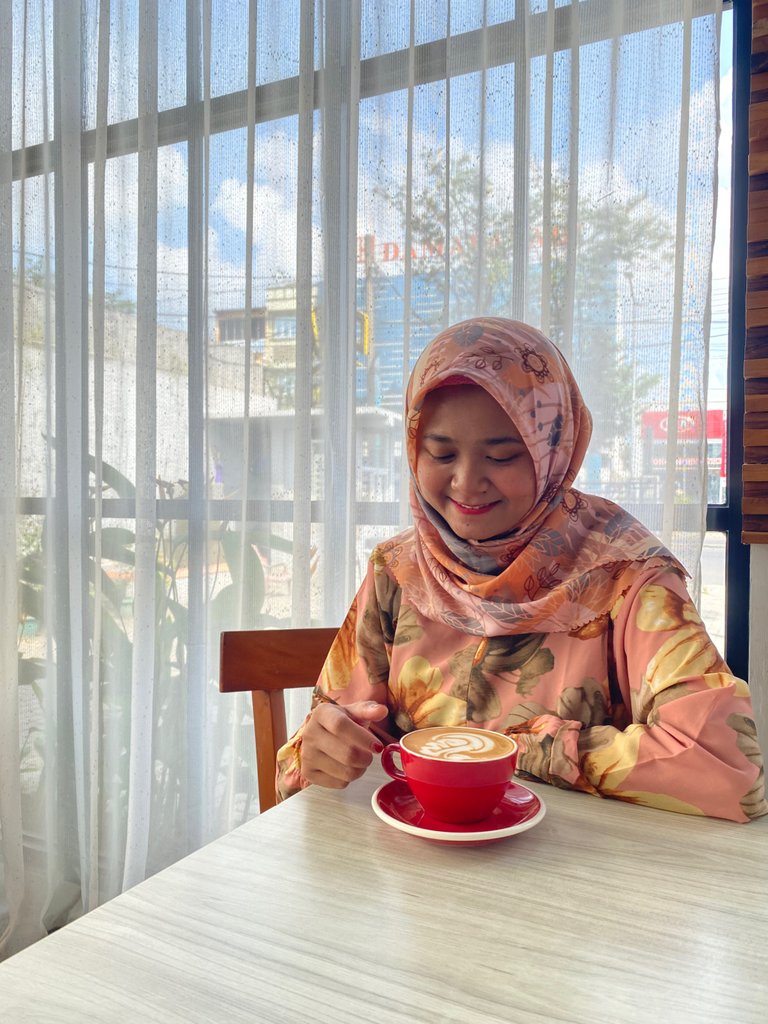 Who is Anggrek Lestari?
Anggrek Lestari is an Indonesian fiction writer who has published two major books. Now She is a full-time content creator. She has a goal to share life, poem, food content that makes others happy and can get inspiration.
Make sure you follow her blog as well for some interesting discussions about life other than food.
If you need a copywriter for your projects, Anggrek Lestari will be ready to help you.
Contact Person: [email protected]
Discord: anggreklestari#3009
---
---
---