Baked Potatoes In Sexy Sauce
Brave and bold, the spicy sauce in hot oil will create a sexy sensation for your baked meal. Wanna try it?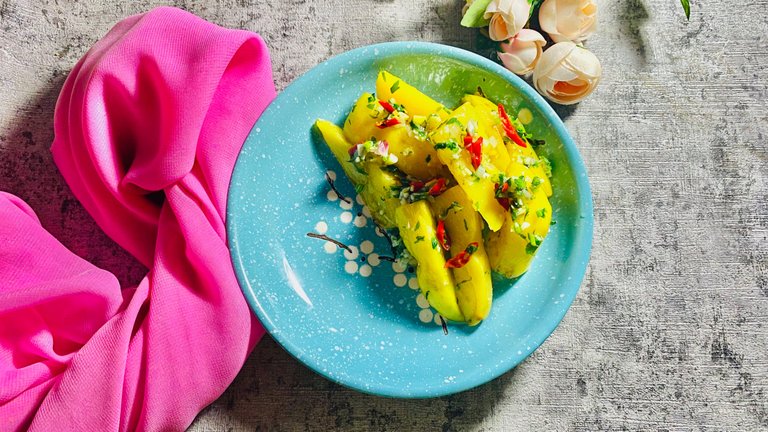 ---
---
---
What kind of sauce do you think is the sexiest? I often imagine food ingredients like the appearance of someone who is pleasing and makes us happy when we see it, let alone eat yummy food.
There are hot foods that emit a distinctive fragrance on the surface of the ingredients that are infused with seasoning. There are also foods that have a strong delicious taste, making your tongue send a signal to your mind to keep remembering the taste of that delicious food.
Everyone has their own version of sexy food. For me, it's definitely a spicy flavor that first earned me the title of sexy food for me. For those of you who have been following my blog for a long time, then you will know that I am a spicy food addict <3.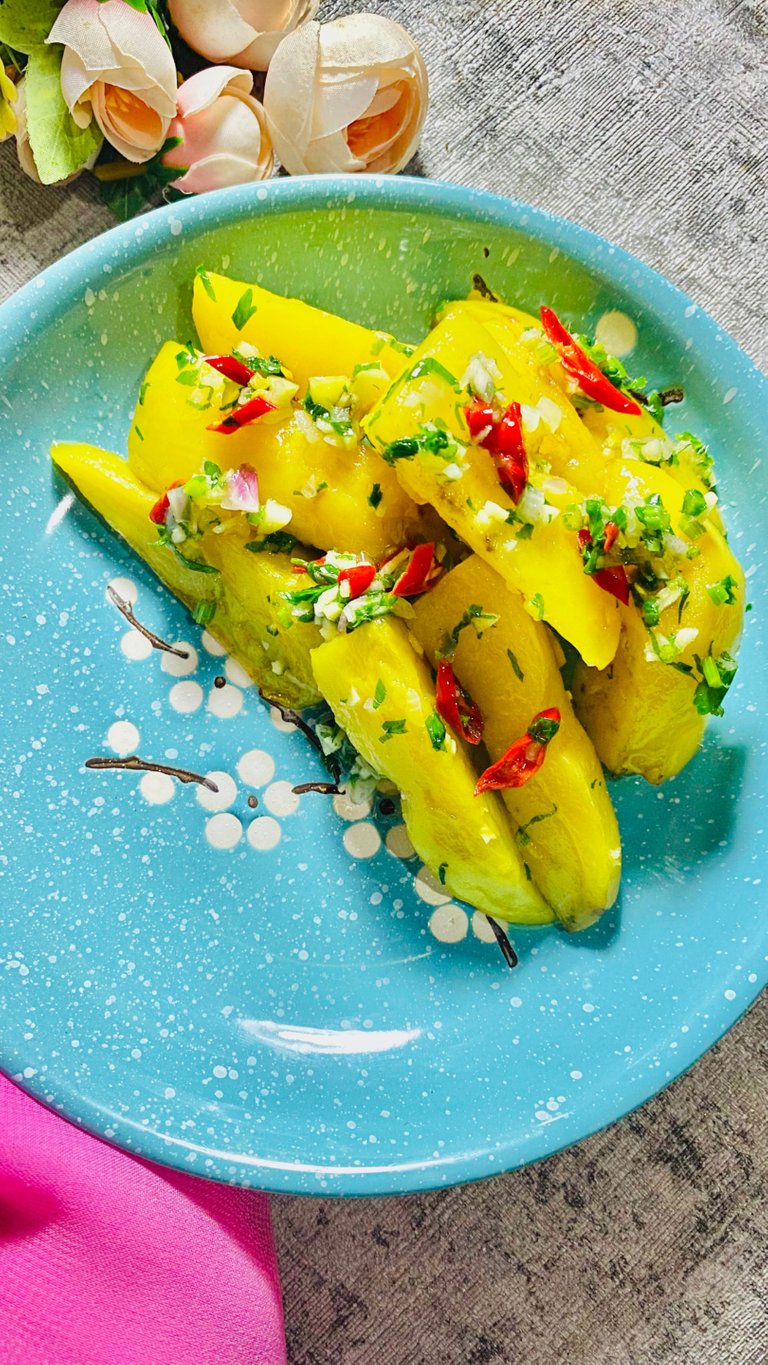 So, this time I will share about foods that are equipped with unique sauces. The sauce is made from raw ingredients doused with hot oil. Have you ever heard of a sauce like this?
---
---
---
Raw Spicy Sauce with Hot Oil
In Indonesia, specifically from Balinese food, we hear about "SAMBAL MATAH". Those are the raw ingredients that are used as spicy sauces, usually served to complement grilled food such as seafood or chicken.
This time I will not make about the Sambal Matah recipe, but indeed I will make something familiar with it. There are some differences in the ingredients.
Sambal Matah uses lemongrass and kaffir lime leaves, while my sauce recipe doesn't use those ingredients. That's because, at the time of making the sauce, I didn't have any lemongrass and kaffir lime leaves in stock. So, if you have a stock of those ingredients, you can add some for yourself.
---
---
---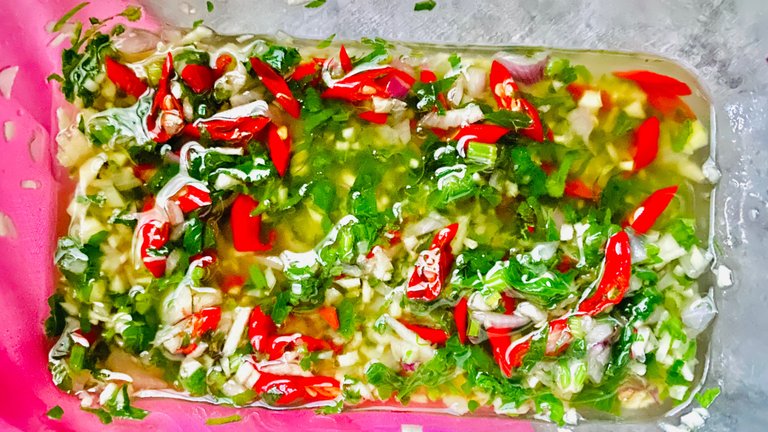 For the sauce which I call SEXY SAUCE, I used the following ingredients: red chilies, red onion, garlic, and celery leaves. For celery, maybe you did not similar with that, so you can replace celery leaves with coriander leaves/cilantro. But for me, celery leaves have a strong aroma and are more familiar than coriander leaves. So, make sure you use the comfortable ingredients for your taste buds first to make every recipe works well in your kitchen to your dining table :)
Then, for hot oil, I use olive oil. You can also replace olive oil with coconut oil. But the thing to note is to use good quality vegetable oil because we will consume the oil more than just for salad dressings.
---
---
---
BAKED POTATOES
To complete the sexy sauce, I serve it along with baked potatoes. As a recommendation from me, you can use grilled tofu, tempeh, or even chicken for non-vegans. So, it's not limited to potato ingredients.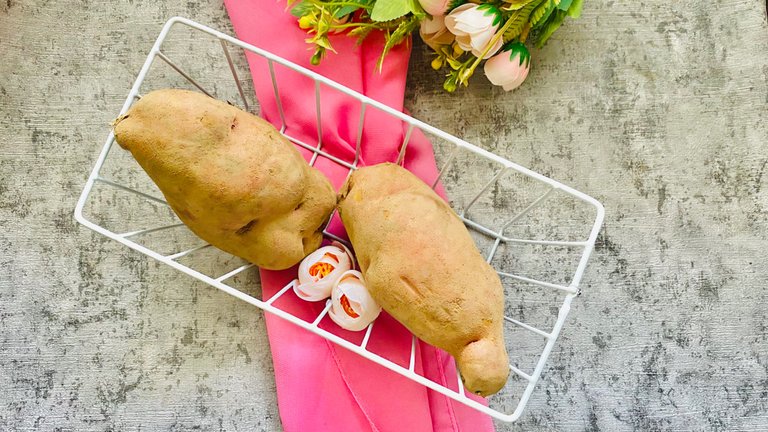 What if you want to fry the potatoes instead of baking the potatoes? Well, it doesn't matter. But for some people, fried fries have been avoided and they choose to serve potatoes by baking, or the last alternative is frying potatoes with the air-fryer method.
---
---
---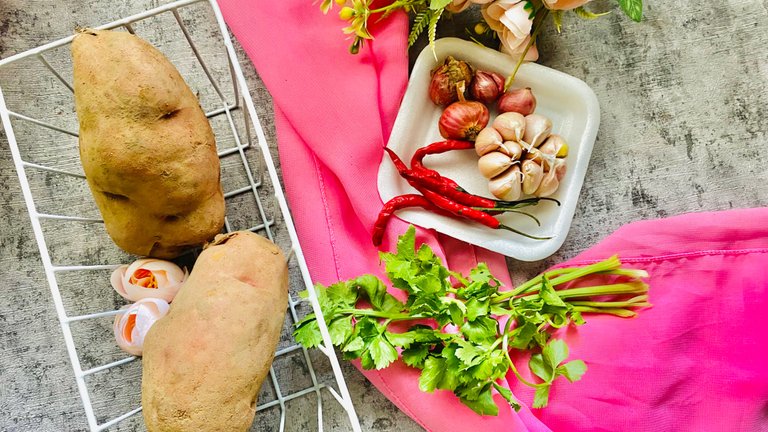 How To Make SEXY SAUCE
Super simple cooking instructions to make SEXY SAUCE. Trust me :) Just be careful when it comes to splashing hot oil on the mixture so it doesn't hit your skin. Let's we make it!
---
STEP 1
Before entering the stage of making Sexy Sauce, we prepare to make baked potatoes. Here, I used two potatoes.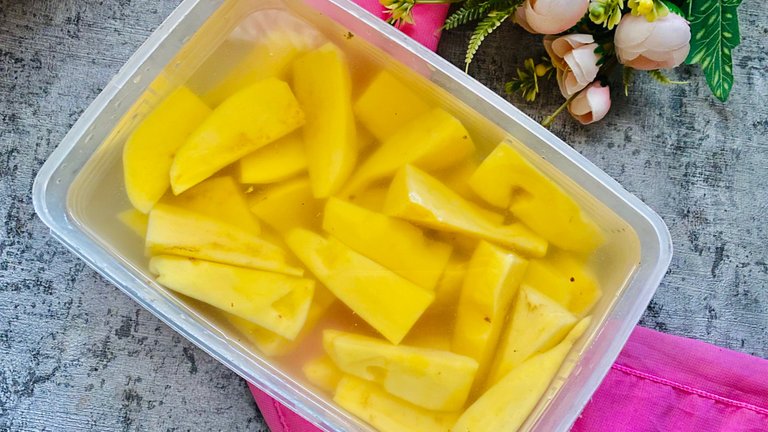 Peel the potatoes then cut them into potato wedges. While preparing the potatoes, preheat the oven to 185 degrees Celsius.
---
---
---
STEP 2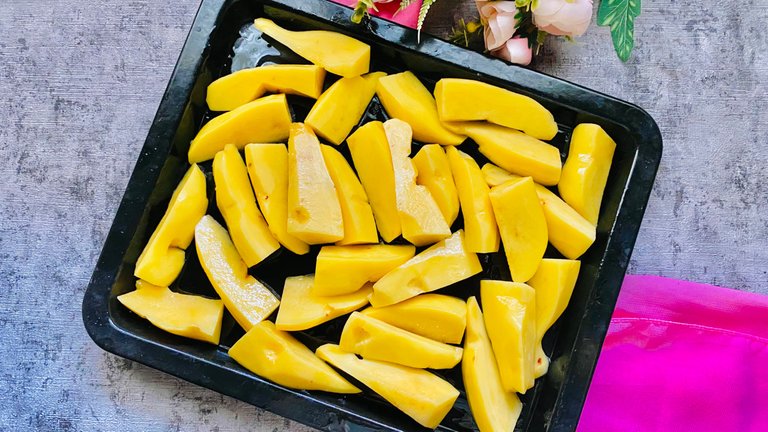 Glaze potatoes with olive oil, then bake for about 40 minutes, or more, depending on your individual oven conditions. Don't forget to flip the potatoes so that they cook evenly.
---
---
---
STEP 3
While waiting for the potatoes to be cooked, it's time to prepare to make the sexy sauce. Always, chopping ingredients is my favorite thing. Although, not everyone likes this part. The first thing we have to do is chop the red chilies, red onions, garlic, and celery leaves.
The side effect of this chopping activity is that our fingers will smell the garlic, and some people really hate that. If you want to avoid the smell that lingers on your fingers from chopping garlic and onions, then you can use a manual chopper. But here, I did that with just a knife. I enjoy chopping up all the ingredients.
---
---
---
STEP 4
Put all the chopped ingredients into a heat-resistant container.
---
---
---
STEP 5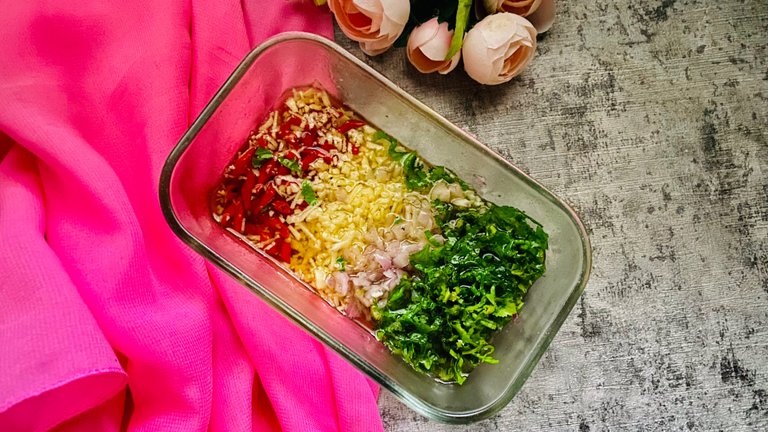 Heat the vegetable oil sufficiently. Then pour into a container containing chopped ingredients. Mix well, then the sexy sauce is ready to be served.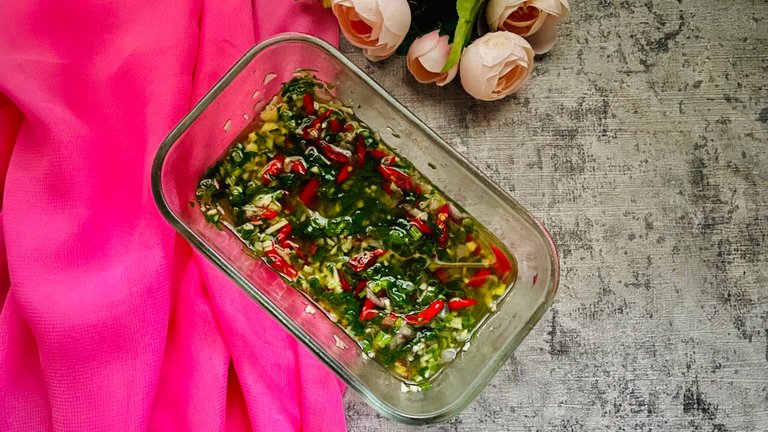 ---
---
---
SERVING BAKED POTATOES IN SEXY SAUCE
Sexy Sauce is ready to be served with baked potatoes. Transfer the baked potatoes to a heat-resistant container, then pour over auce over there.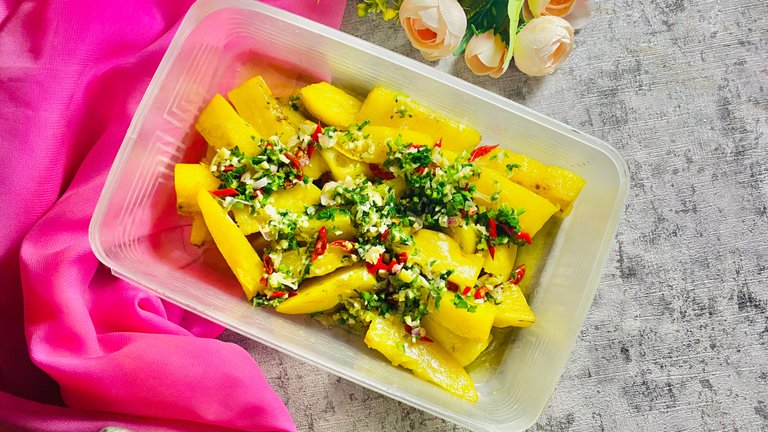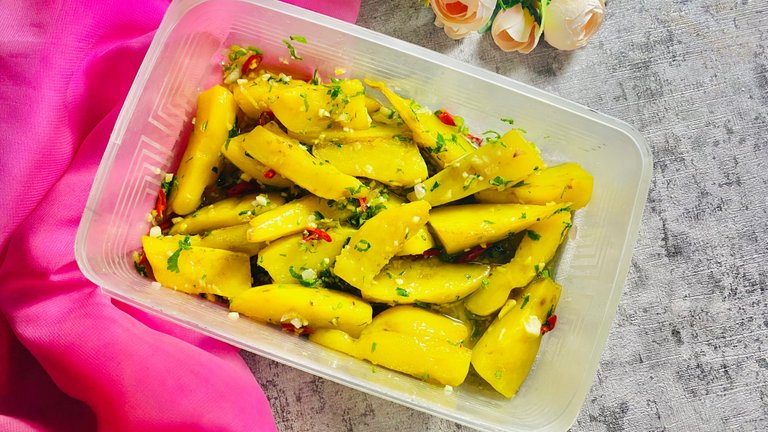 Stir gently so that the sauce absorbs evenly into the baked potatoes. Also, be careful not to over-mix as this can cause the baked potatoes to crumble.
At the end of serving, you can sprinkle the meal with edible roasted seeds, such as sesame seeds, pumpkin seeds, or more. Happy eating, Hive Lovers :)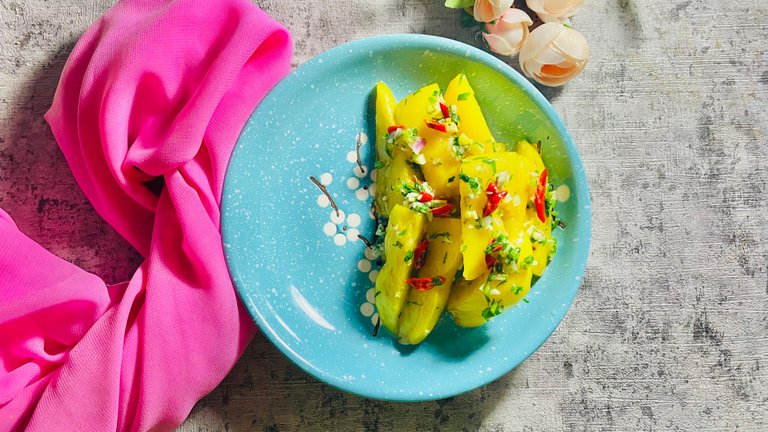 ---
---
---
So, what do you think about my meal this time? It can be used as snacks or side dishes that can be served with protein or other green vegetables.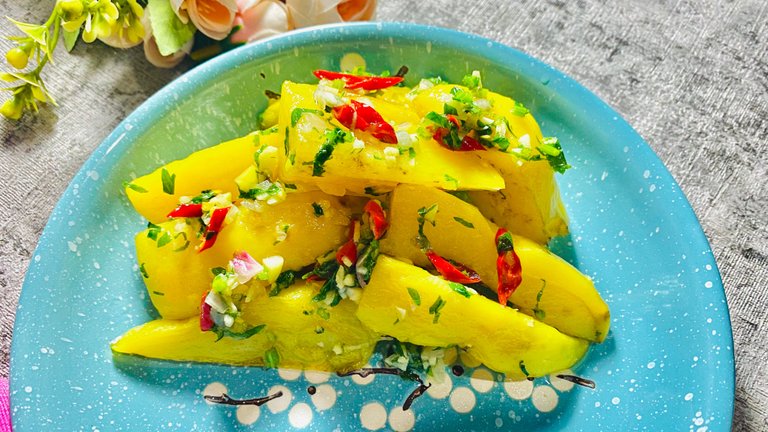 The overall taste of the meal is strong and characteristic. It's an exotic food that might make you avoid it for those of you who don't like onions. But, food always has the opportunity to be tried, and maybe different people can produce different impressions for the final taste of the food. All of them deserve a chance to try. :)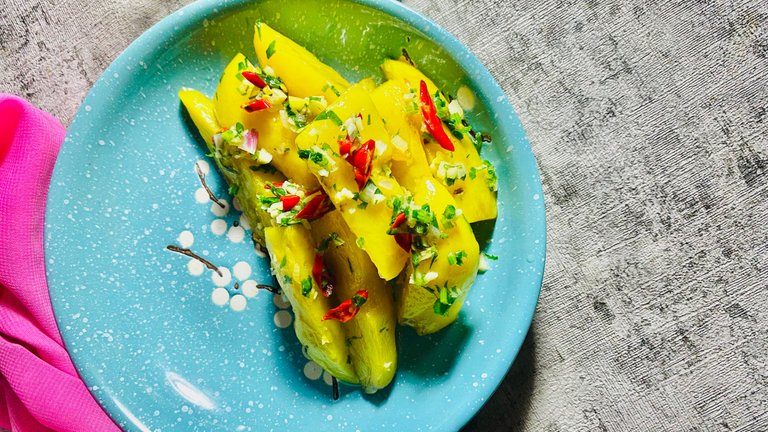 ---
---
---
I hope you can find what you deserve to find today. Have a great day, good people, HIVE Lovers!
---
---
---
Thank you for reading my blog and reblog if you want my blog this time worthy of reading by others.
All pictures taken with Iphone 11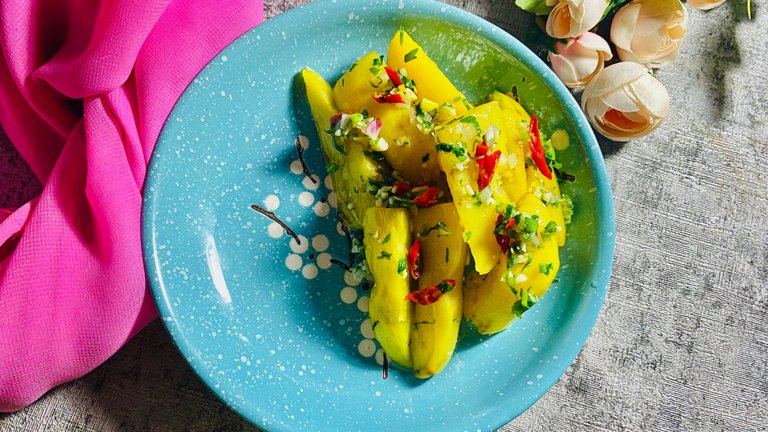 ---
---
---
Best Regards,
Anggrek Lestari
---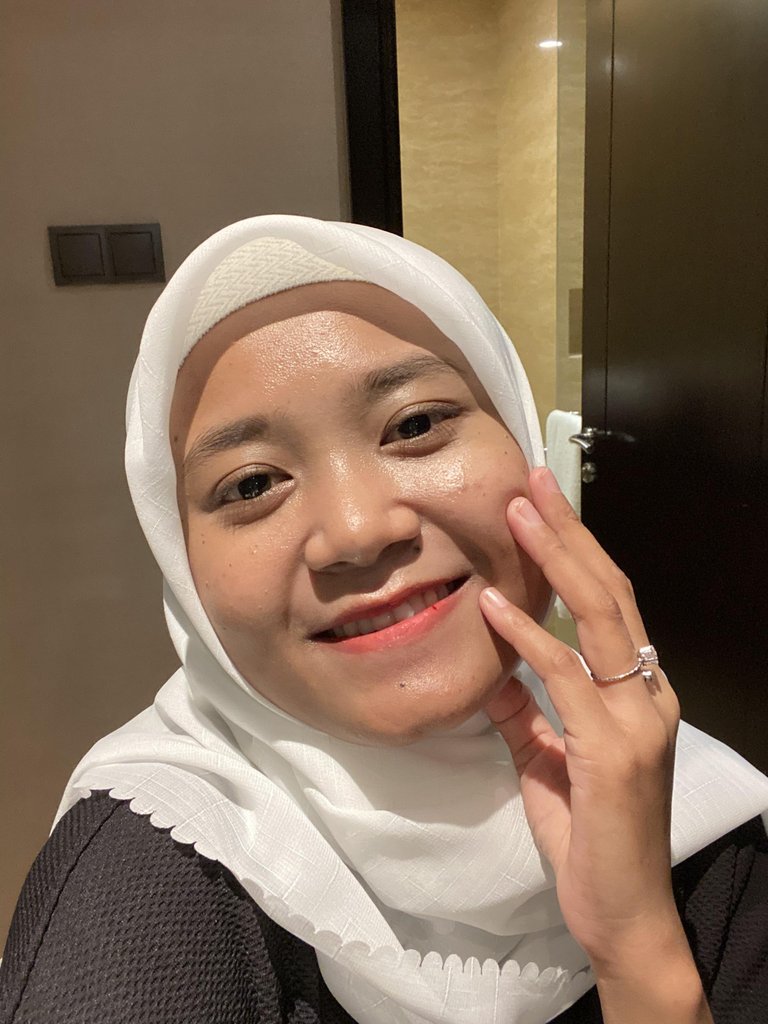 Who is Anggrek Lestari?
Anggrek Lestari is an Indonesian fiction writer who has published two major books. Now She is a full-time content creator. She has a goal to share life, poem, and food content that makes others happy and can get inspiration.
Make sure you follow her blog as well for some interesting discussions about life other than food.
If you need a copywriter for your projects, Anggrek Lestari will be ready to help you.
Contact Person: [email protected]
Discord: anggreklestari#3009
---
---
---