A Rice Bowl Idea With White Shimeji Mushrooms
---
---
What's for lunch?
Try the healthy one menu with a rice bowl filled with mushrooms and broccoli.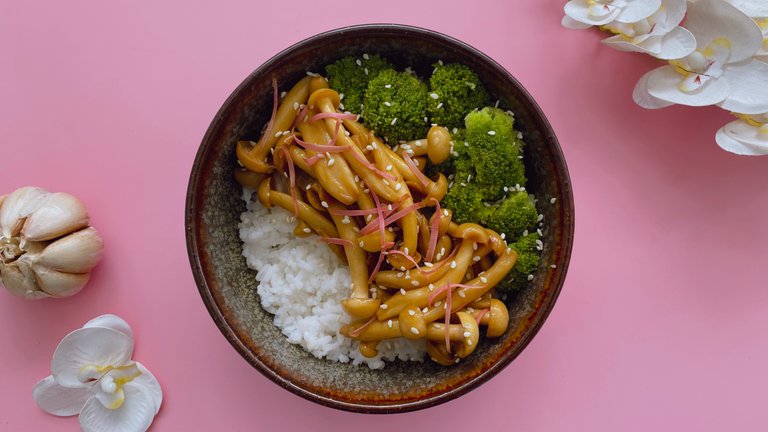 ---
---
Pretty tiring days. Plus, I only eat small portions in the morning and don't snack anymore. So I was really hungry and needed a filling lunch meal.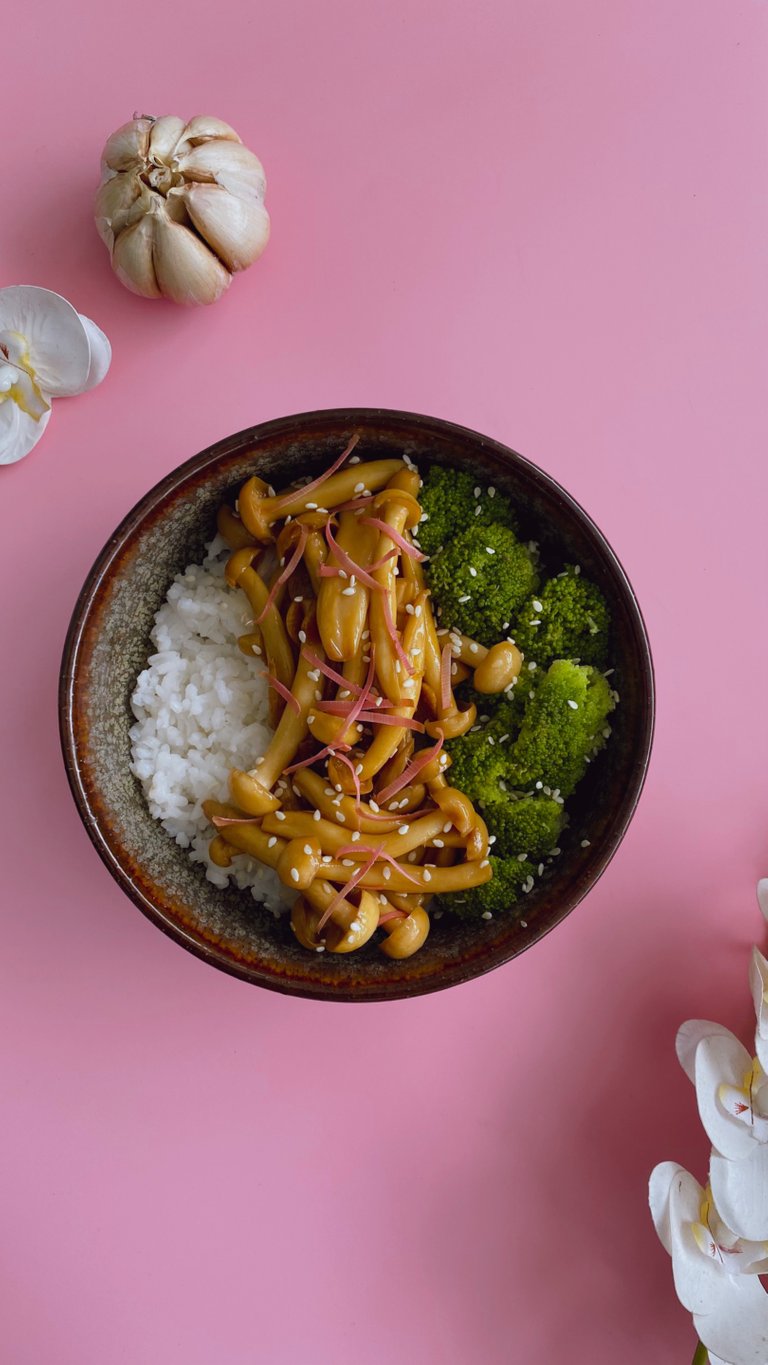 A rice bowl menu is an idea that I think is a good idea to apply as a lunch menu this time. My energy is quite drained today after traveling for some business. So, I'm going to make something that won't complicate me.
I have a supply of broccoli. And, oh I have one ingredient that I've never cooked before. So this is enough to cheer me up even though I'm pretty tired already.
There are White Shimeji Mushrooms which I haven't even opened the package of yet. If I tear the packaging once, the mushrooms won't last long and they won't be fresh anymore. So I'm going to use these mushrooms for this rice bowl menu.
---
---
---
Boiled Broccoli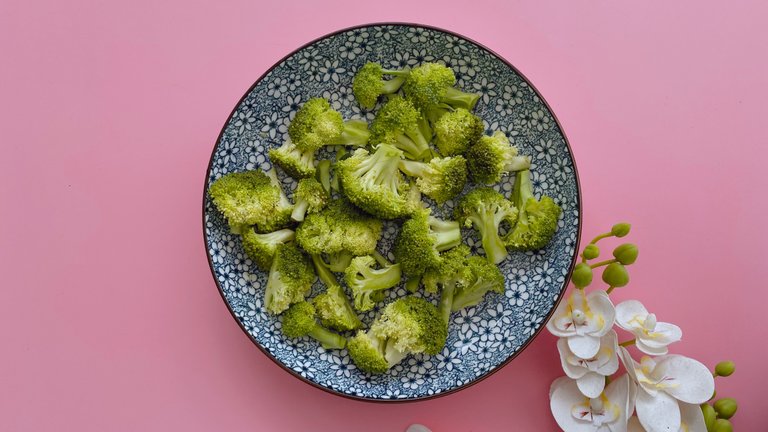 For the vegetable component in the rice bowl, I only use boiled broccoli which is very easy to make. Besides boiling, you can also steam broccoli. It depends on your individual tastes. In my opinion, the taste of the two ways between steaming and boiling makes no difference at all.
The Ingredients
a bunch of broccoli
enough Water
1-2 tablespoons of salt
---
Cooking Instructions
Just cut the broccoli into small pieces. Don't forget to do the same for the stem. Don't just throw away the stalks. Because we also pay for the stem, right? The thing we need to do for the stem is removed the hard part, and also take the inside of the main stem where the outer skin has been removed.
---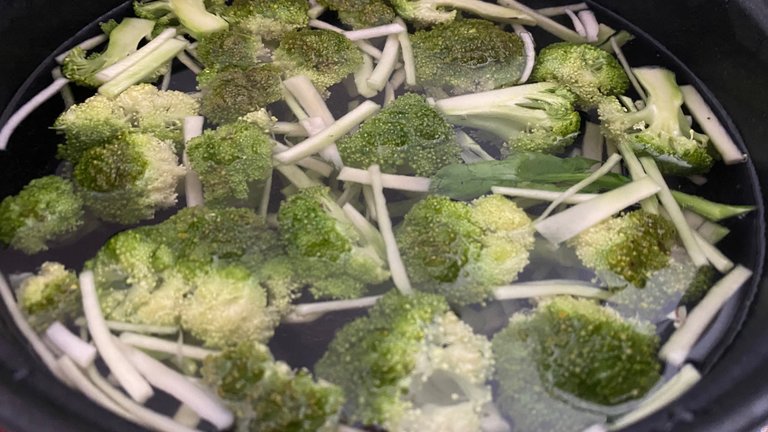 After that, boil the broccoli to a level of doneness that suits your taste. Some people like broccoli that still has a crunchy texture like half-cooked. However, some people like overcooked broccoli. I can't insist on which level of maturity is best because we all have different preferences. On the other hand, some people don't dare to eat broccoli with a crunchy texture because they don't really like vegetables.
For me, I prefer eating broccoli which still feels crunchy. It takes about 5 to 8 minutes of cooking time.
---
---
---
Stir-Fried White Shimeji Mushrooms
White shimeji mushrooms are the ingredients that are the main focus of this rice bowl menu. To be honest, I was very happy when I found the type of mushroom that I used this time.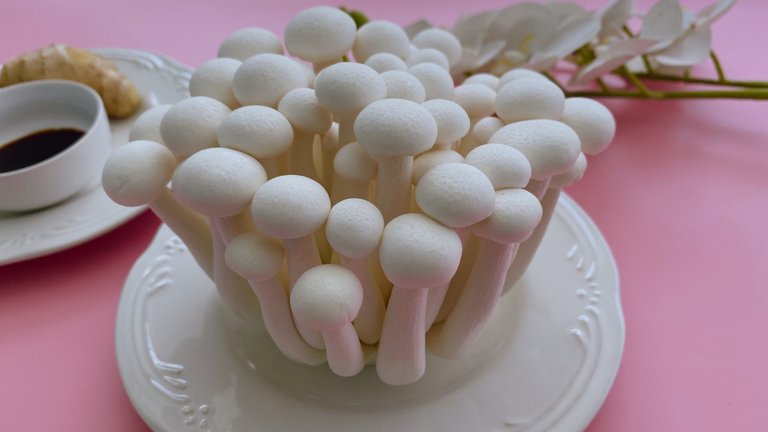 White shimeji mushrooms have a crunchy texture that lasts longer when going through the cooking process, compared to the type of oyster mushroom that I usually use. Oyster mushrooms will not last long when going through the cooking process. They will go soggy quickly and they won't look good on a diet. Although, admittedly, it also tastes good.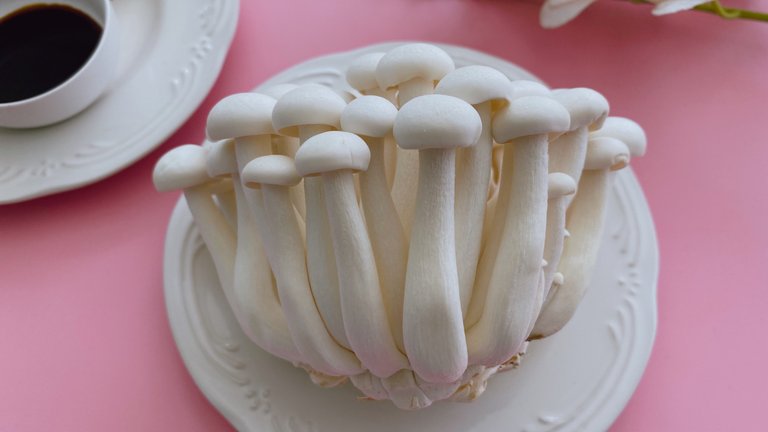 If you are looking for a type of mushroom for your menu that should retain the texture and appearance of the mushroom, then I highly recommend using these white shimeji mushrooms, (if you can find them at your local grocery store).
---
Well, to serve white-image mushrooms, I chose to use very simple seasoning ingredients. Just as we process fish or meat, the simplest seasoning is the best for highlighting the main ingredient.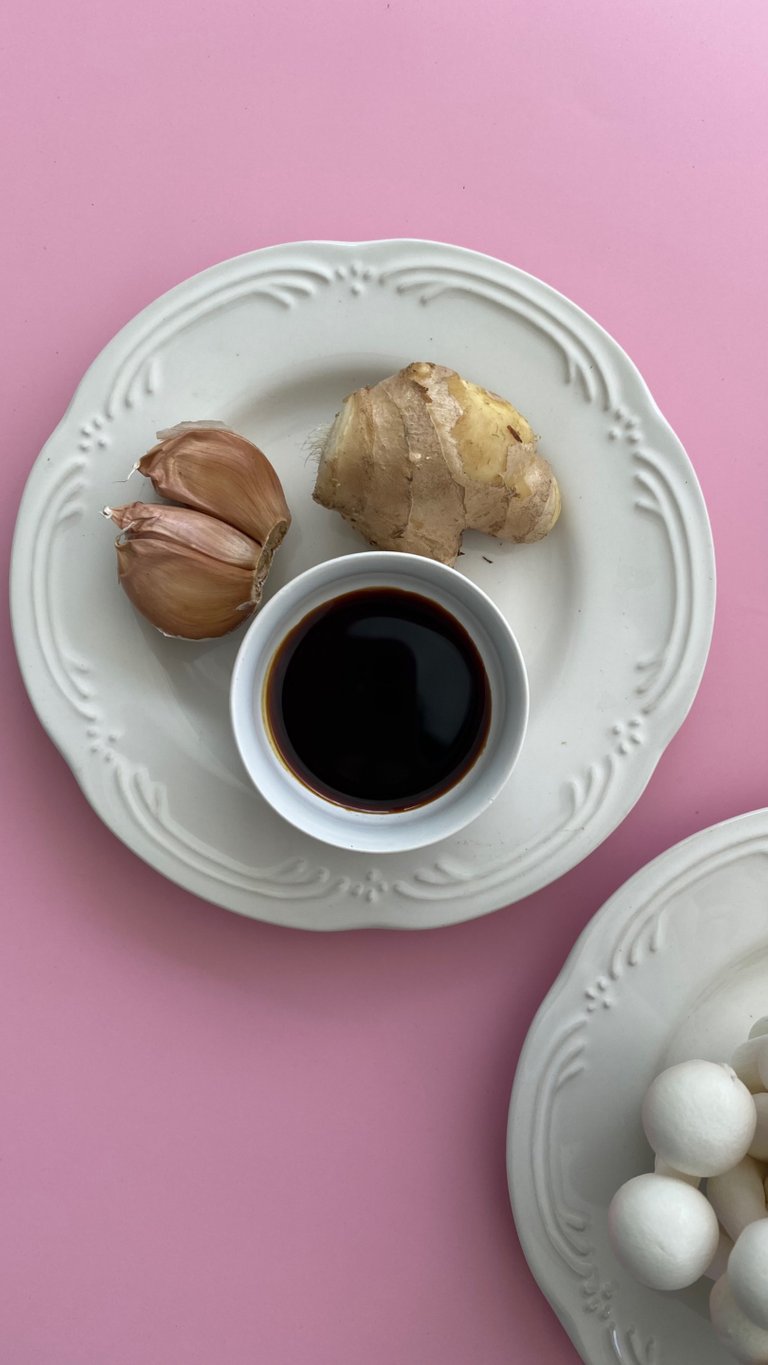 The most important thing in the seasoning in this recipe is the garlic and ginger. If you can't find soy sauce supplies in your area, that's not a problem.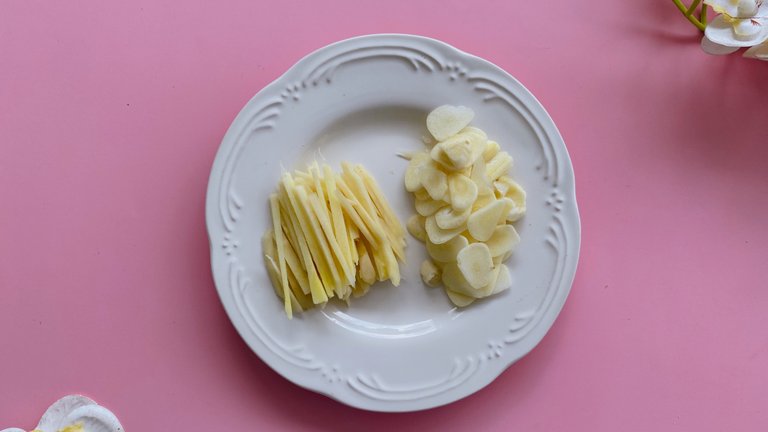 You can stir-fry mushrooms in the usual way, which is just with garlic, pepper, and salt. It's just that the taste won't be optimal, even though it feels good.
---
Seasoning Ingredients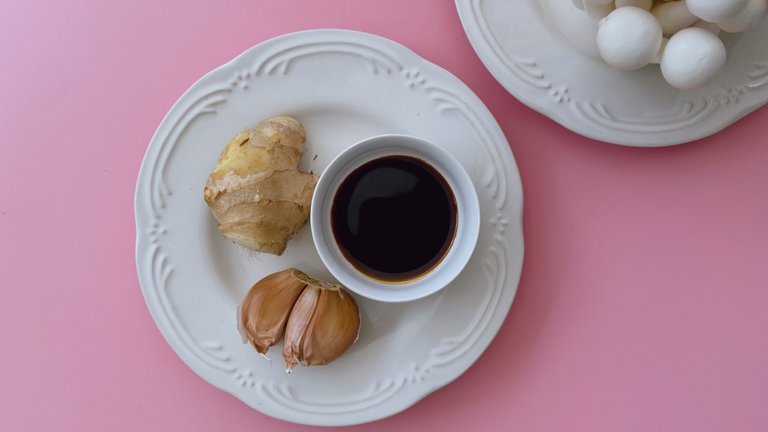 A couple of cloves of garlic
ginger, about the size of a thumb
3 tablespoons of soy sauce
pepper, according to your taste
salt according to your taste
A few tablespoons of oil is enough for stir-frying
---
Cooking Instructions
First, separate the grouped mushrooms into single mushrooms. Discard the bottom of the mushrooms that look hard textured.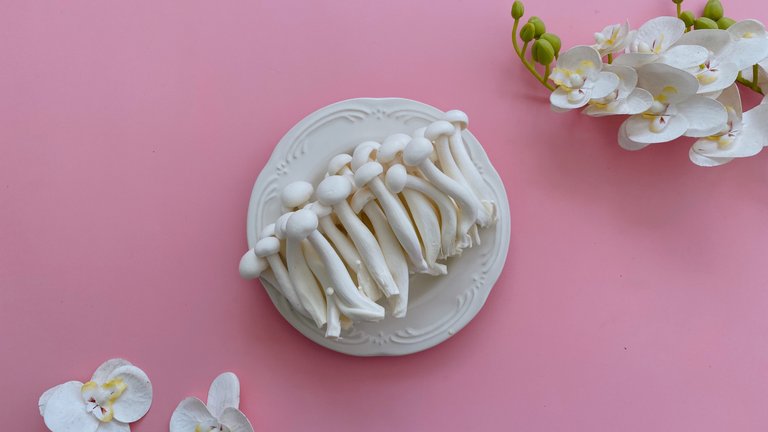 ---
Then, heat the cooking oil. Then, add slices of garlic followed by ginger.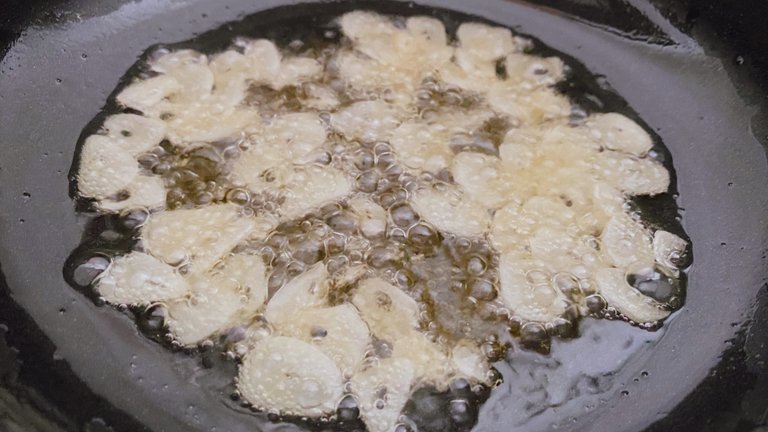 ---
After they become fragrant, add soy sauce and a little water so they don't burn.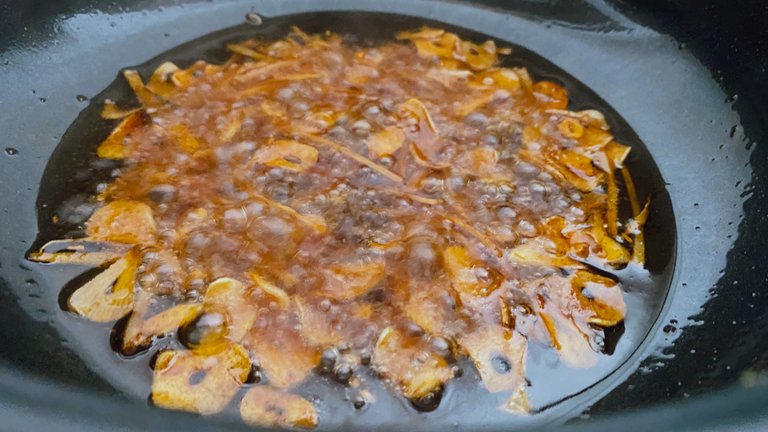 ---
Add mushrooms and cook for a few minutes. Stir them frequently, so that the surface of the mushrooms doesn't burn in the soy sauce.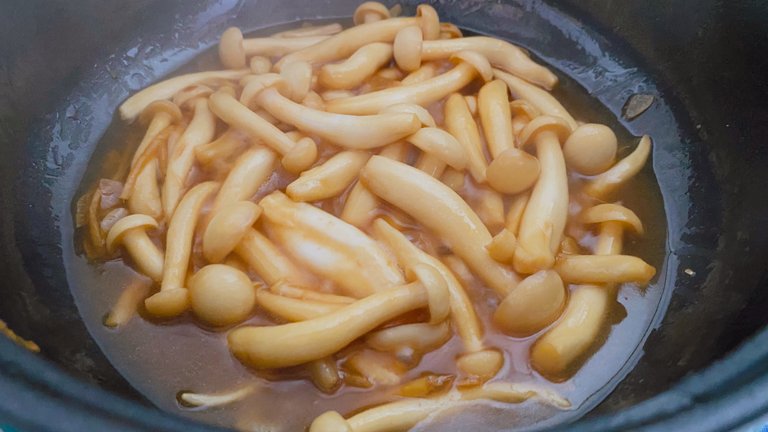 Mushrooms contain a lot of water. So it is normal that you will see more water after the mushrooms are cooked.
The last thing is to add salt according to your taste. Do not forget to correct the taste before removing it.
---
---
---
Serving
Prepare rice in a bowl because the name of this menu is rice bowl. By the way, if you don't want to use the bowl, that's not a problem at all. Just use the plate you usually use for eating.
Then, followed by arranging the broccoli and the last is arranging the stir-fried mushrooms.
Then, sprinkle with sesame seeds to complete the overall texture of the taste to be richer and more savory.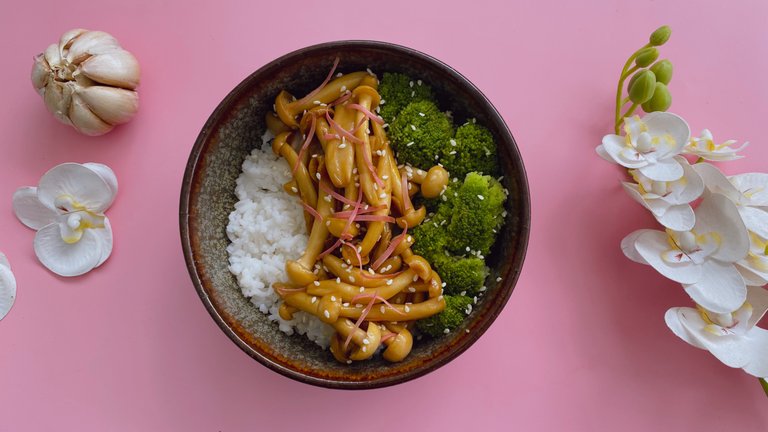 By the way, you can see the tiny pink particles in my rice bowl. It was the flower of Torch Ginger. The reason I used the Torch Ginger Flower was to make the overall color of the dish look more appealing, with that pink component. Also, the fragrance from the torch ginger flower is quite refreshing like the fragrance from other aromatic herbs. So you can use other types of herbs that have a pleasant aroma to you, to increase your appetite.
---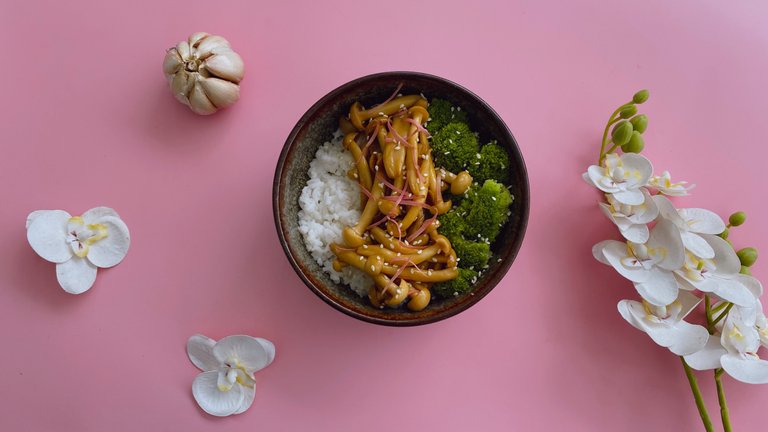 So, what do you think about the rice balls that I serve using broccoli and mushrooms? Oh yeap, the mushrooms that I use are really crunchy and chewy in texture. I like the texture of vegetables like that.
---
So, next time I will continue to look for these types of these mushrooms on the market. Indeed, it is quite difficult to find these mushrooms in the market. Also quite expensive. But it doesn't matter because I already have my favorite. I always look for ingredients that have been included in my favorite list. Well, have a nice day.
---
Thank you for reading my blog and reblog if you want my blog this time worthy of reading by others.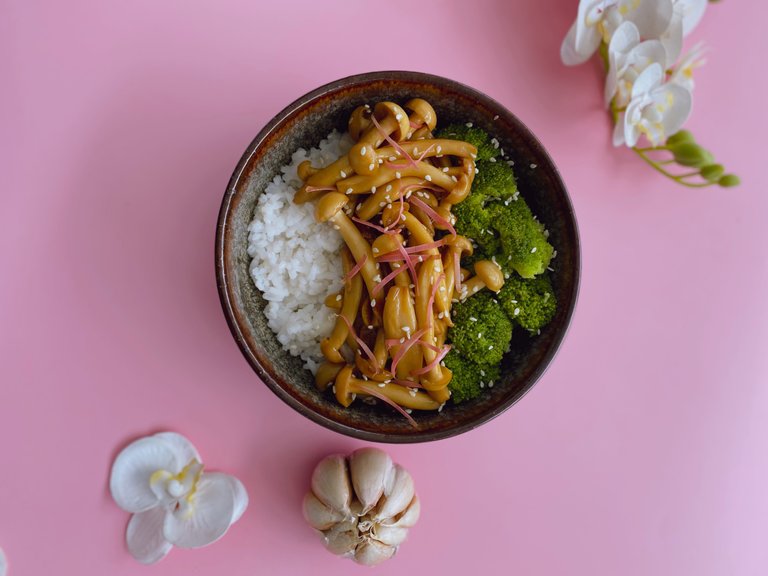 ---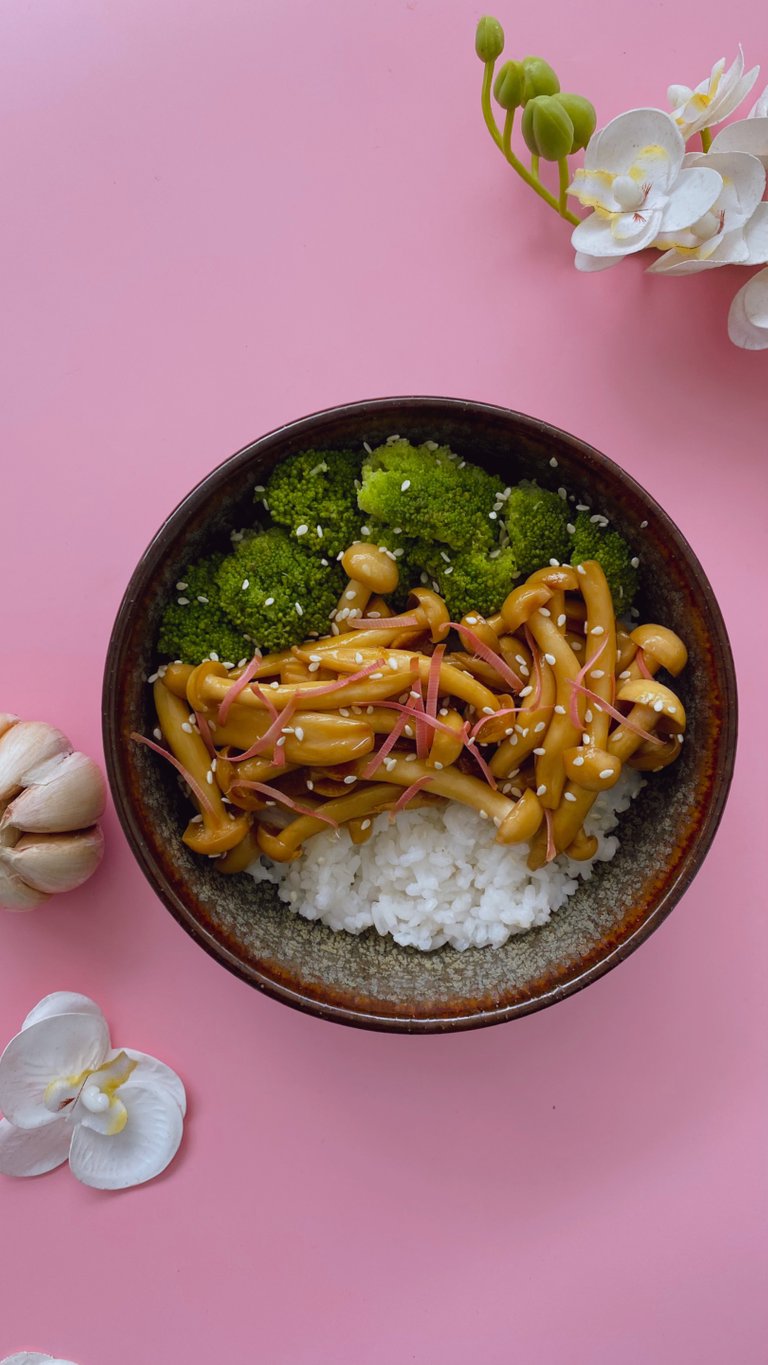 ---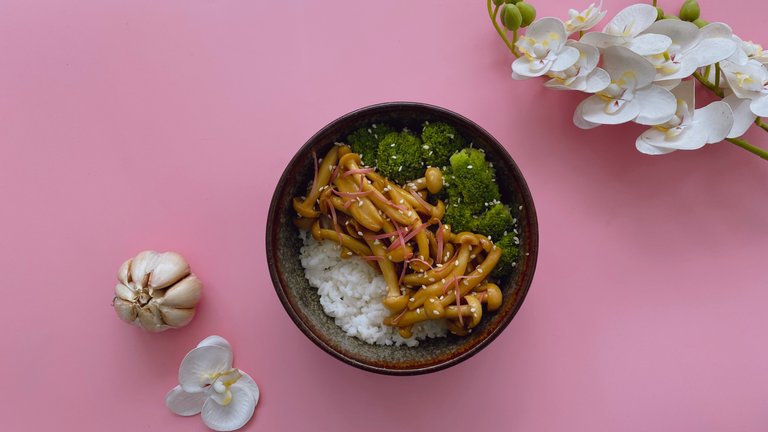 ---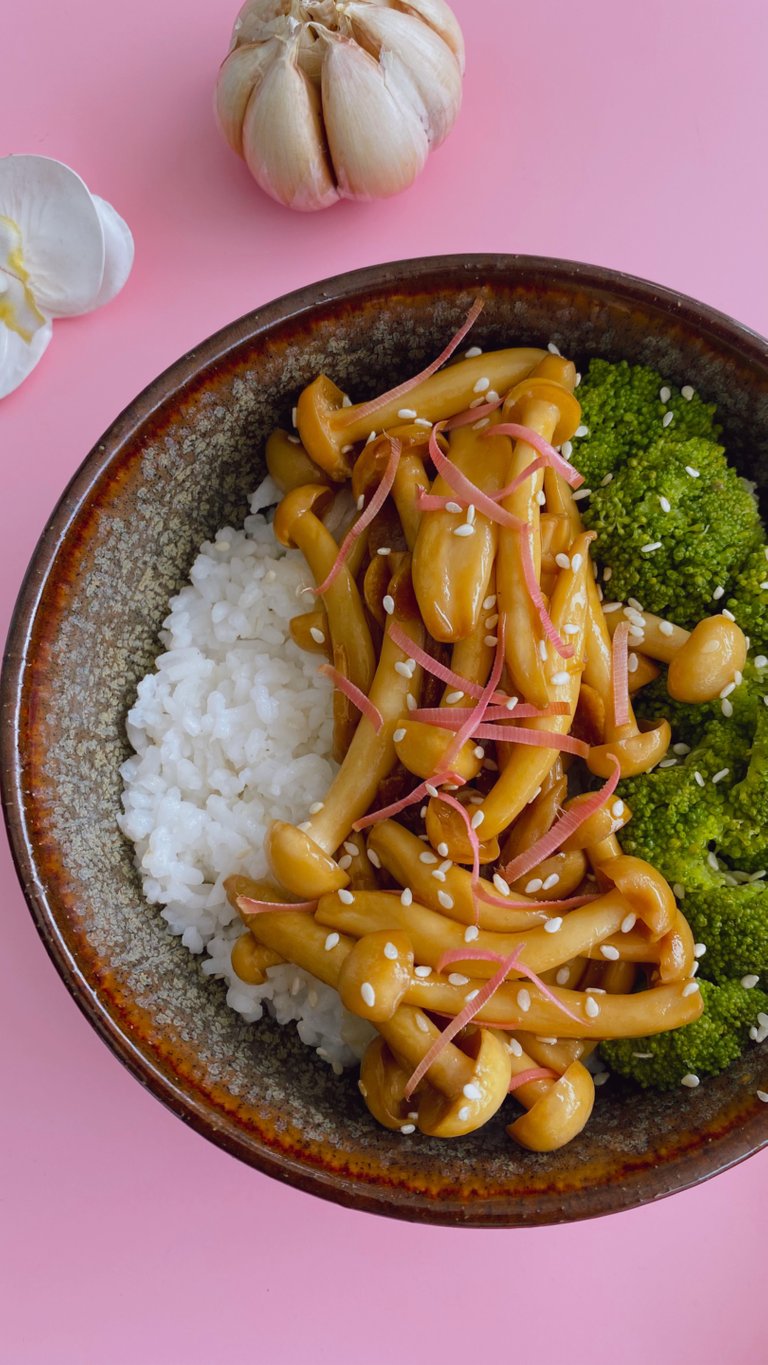 ---
---
---
Best Regards,
Anggrek Lestari
---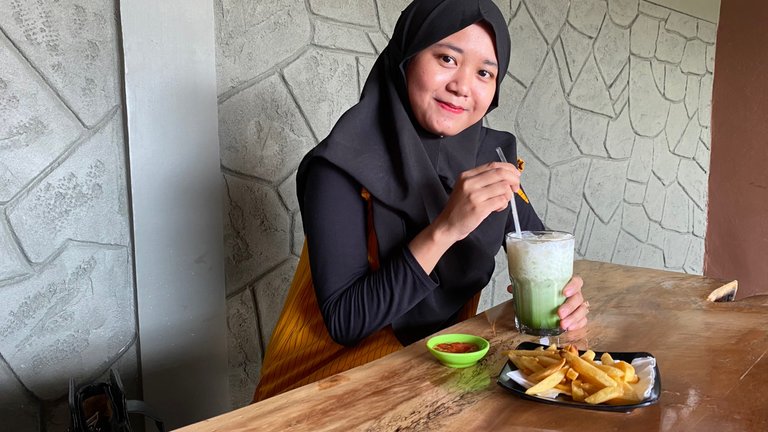 Who is Anggrek Lestari?
Anggrek Lestari is an Indonesian fiction writer who has published two major books. Now She is a full-time content creator. She has a goal to share life, poem, and food content that makes others happy and can get inspiration.
---
Contact Person: [email protected]
Discord: anggreklestari#3009
---
---
---