A Healthy And Simply Zucchini Noodles Recipe
---
---
A meal similar to noodles but healthier with vegetables.
Take vegetables that have an elongated shape that can be shaped like noodles.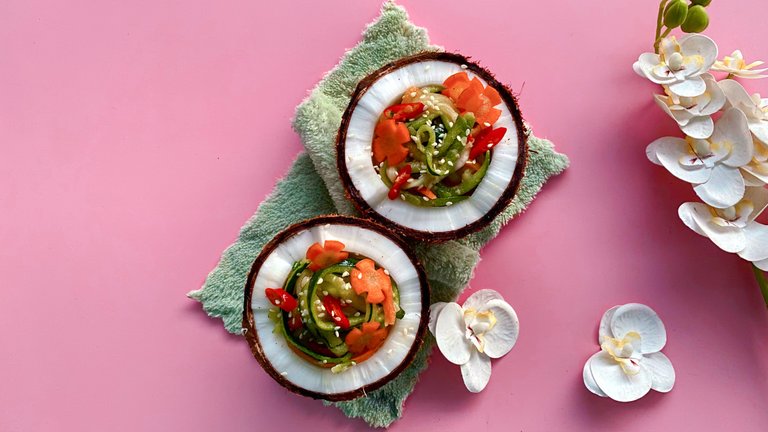 ---
---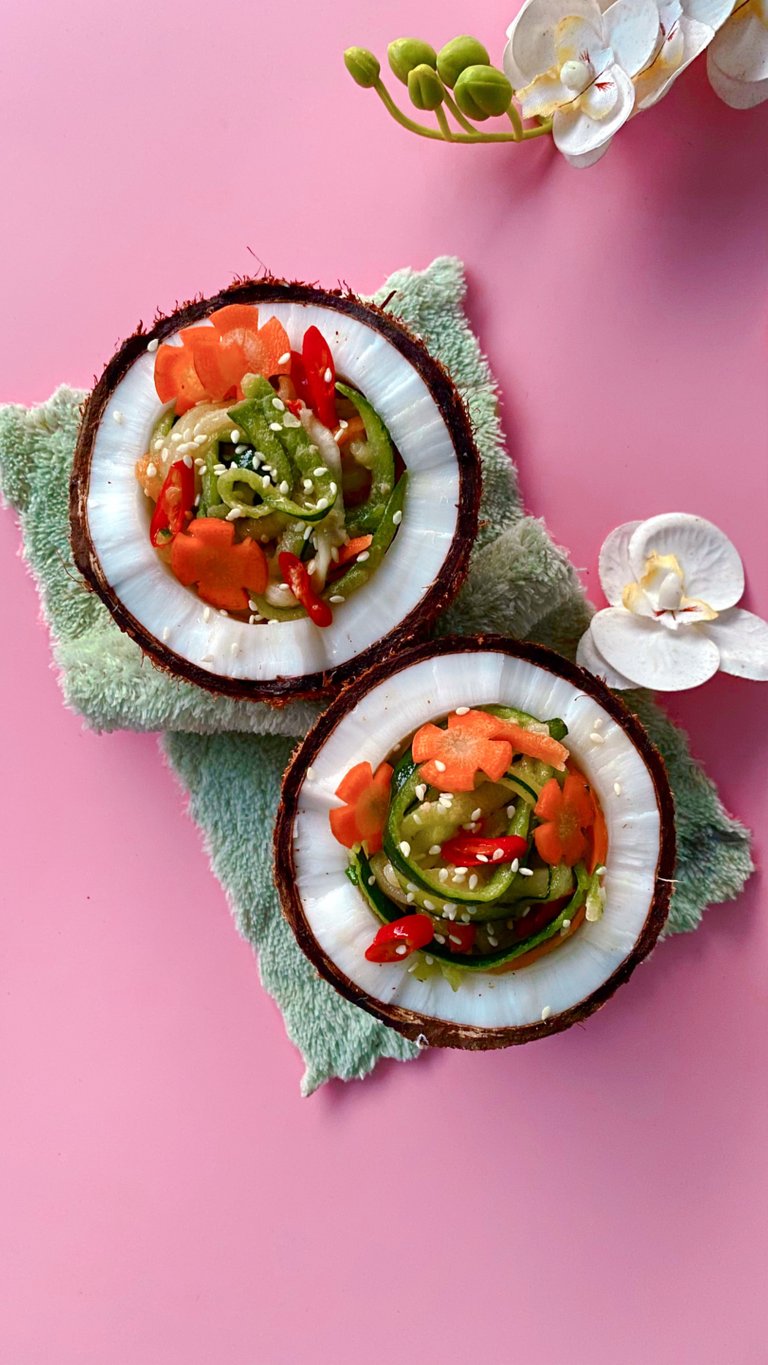 Zucchini is not a familiar vegetable in my country. Indeed, zucchini is popular as a vegetable that promotes healthy food, especially for plant-based food. Of the various recipes I found on the internet, it made me want to try making a menu made from zucchini as the main ingredient.
Luckily, I found a vendor at a local market offering zucchini. I felt that a merchant woman brought a good day for me. The woman sells various vegetables that are unfamiliar to us in our area, such as asparagus, zucchini, zucchini, baby tomatoes, and more. It's enough that we have a dream, and one day the universe will bring us to make it happen, right?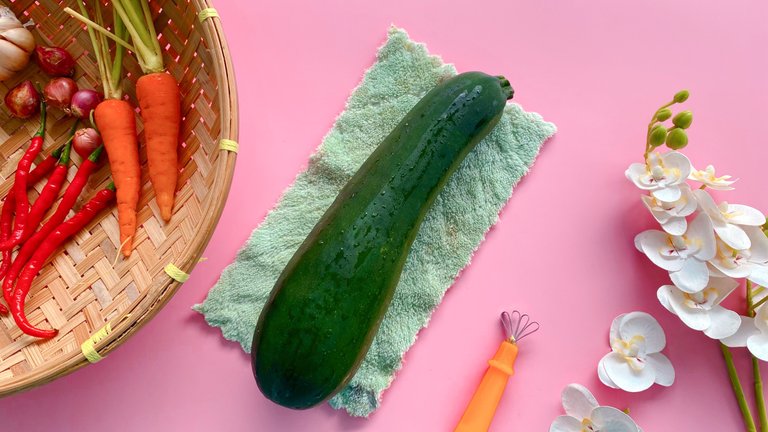 Yeay! I've got a fresh zucchini. I can't wait to turn these zucchini into delicious and healthy dishes.
---
After buying a large zucchini from a traditional market that I subscribe to, my mind immediately gave me the idea to make zucchini noodles. Yeeep, I think zucchini noodles are the simplest recipe and that simple method doesn't reduce the delicacy of the whole dish.
---
Zucchini Noodles Ingredients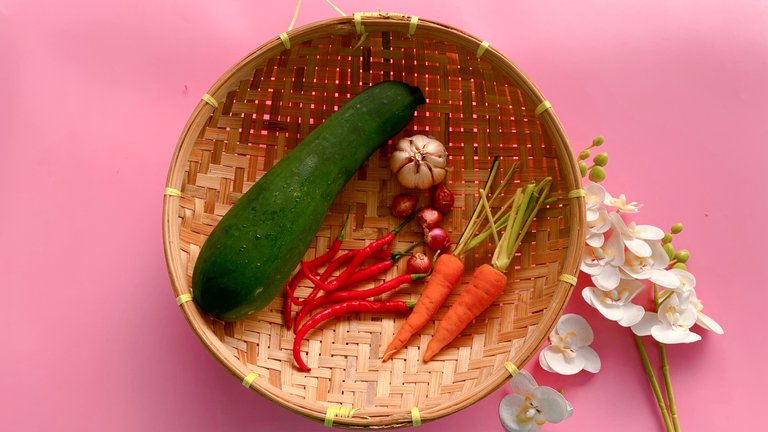 There are other vegetables that can be added to maximize the taste of zucchini noodles. In this recipe I used carrots, also to create a nice color. Here are some of the ingredients I use to make zucchini noodles:
a large zucchini
some baby carrots (adjust to taste)
3 cloves of garlic
5 cloves of small red onions
red chili if you like spicy. it Can be replaced with red peppers.
2 tablespoons of peanut butter
2 teaspoons of salt (or adjust again when correcting the taste before removing the dish)
5 tablespoons of water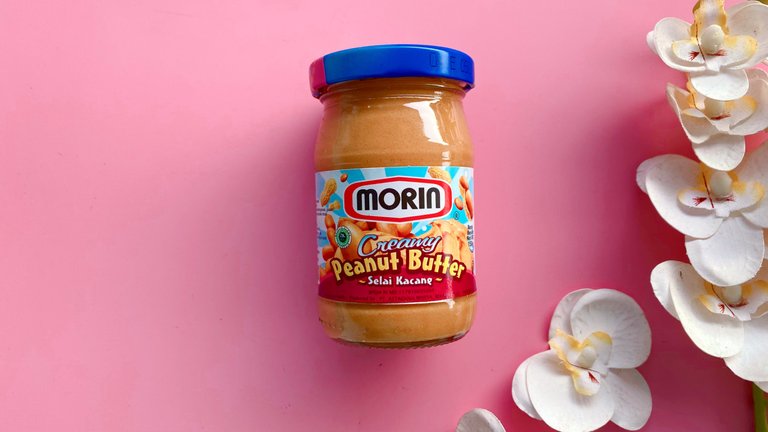 Don't forget the peanut butter to create a delicious blend of flavors. A savory, slightly sweet, and creamy taste will be created. The combination of flavors will make the zucchini rich in taste.
---
The Important Tools
---
There are many types of tools that can shape zucchini to look like noodles. I chose to use a traditional tool that we usually use to shape fruit and vegetables into small shaving particles.
This is a tool that I will use to shape the zucchini into a noodle-like shape. I also usually use this tool to scoop out young coconut flesh to create nice shapes to use for dessert garnishes.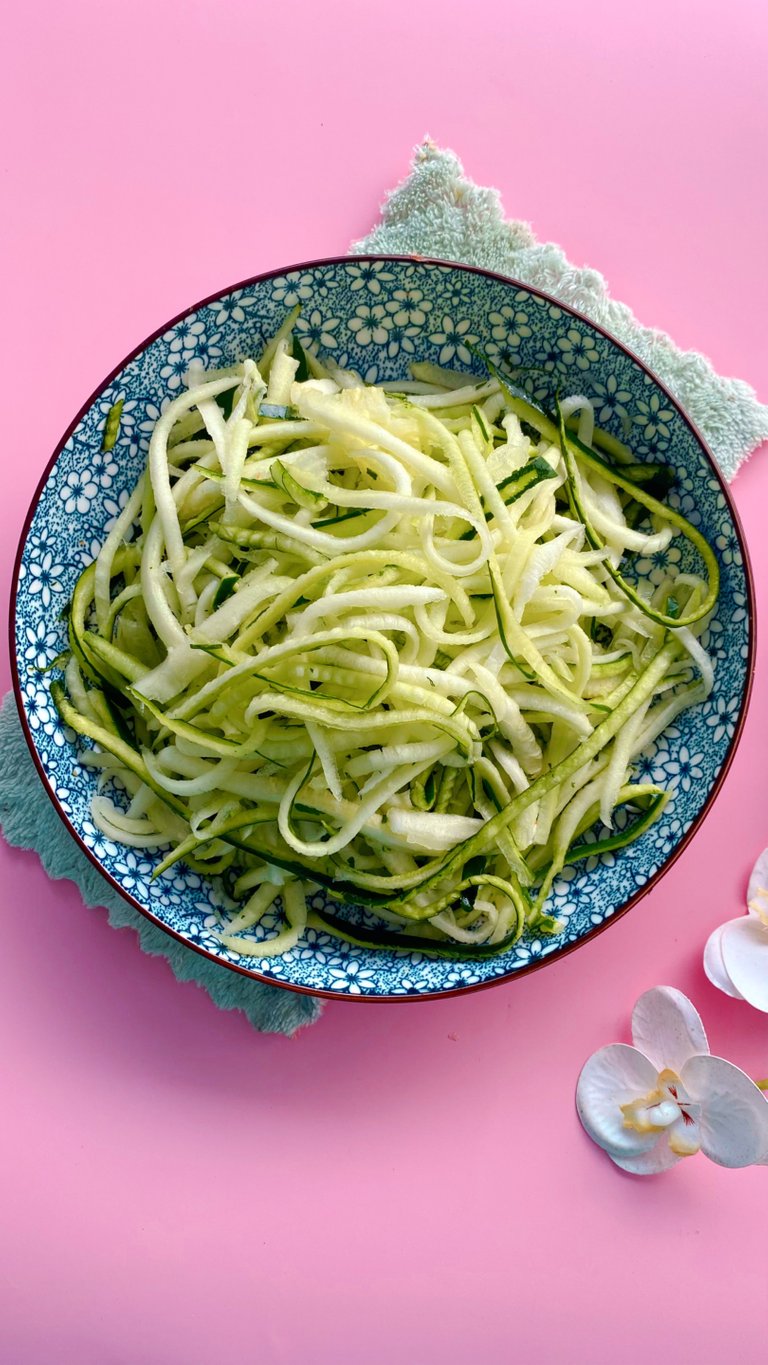 ---
If you don't have a specific tool to form zucchini into noodles, you can simply slice the zucchini thinly with a knife. You can also use a potato peeler.
---
Cooking Instructions
---
STEP 1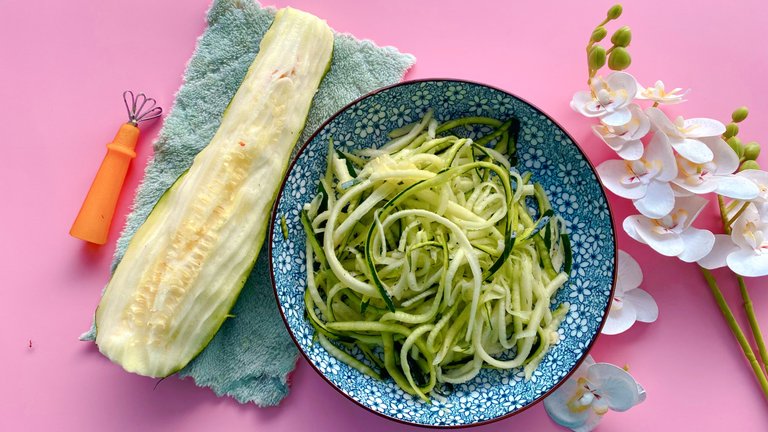 Prepare zucchini and other vegetables that will be made into noodles. Then I carefully shredded the zucchini.
Shredding zucchini and carrots are quite satisfying for me. The result is pretty good for something I'm doing for the first time. It looks really like the shape of noodles. That's great!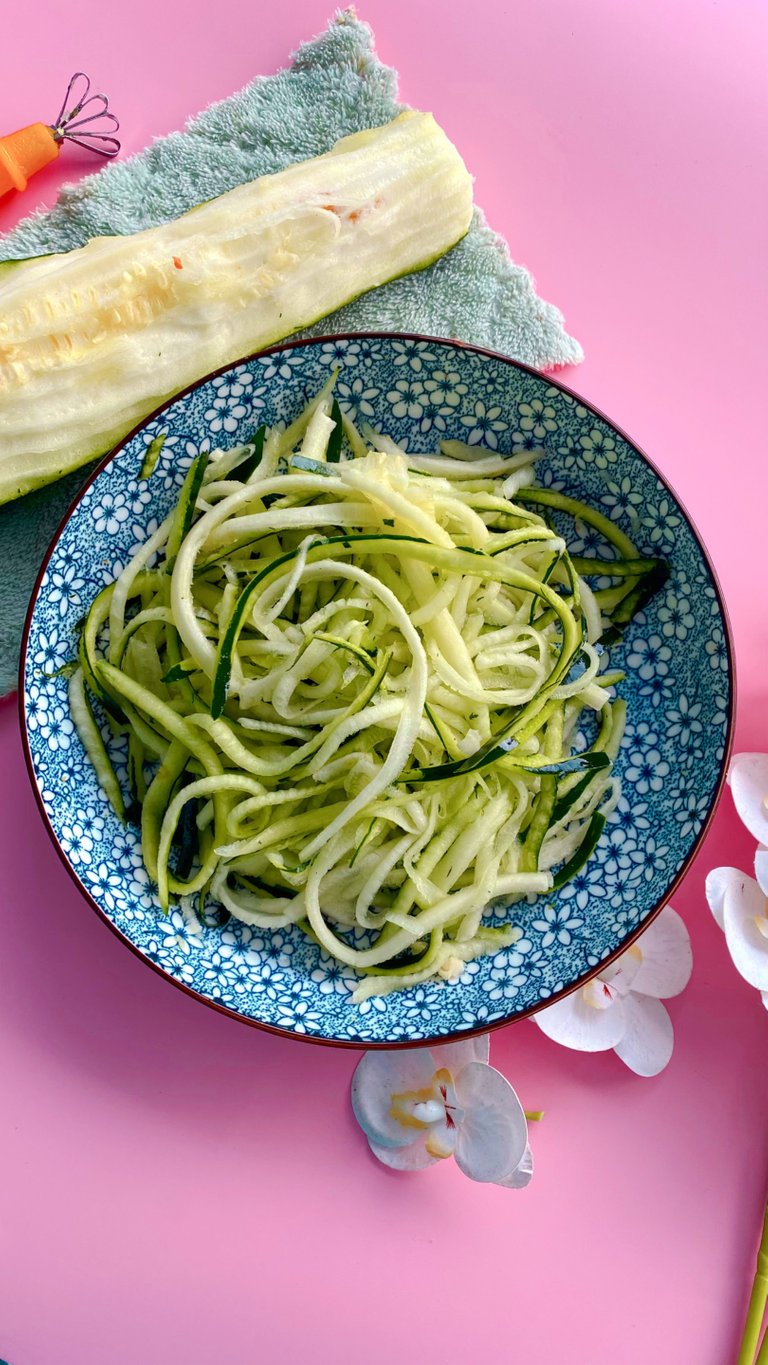 Well, I just found out that zucchini has a slightly soft texture, not too crunchy like cucumber. That's why I have to be careful about shredding the zucchini to get a nice shape.
Don't forget to wash the zucchini and carrots that have been formed into noodles, then drain well.
---
STEP 2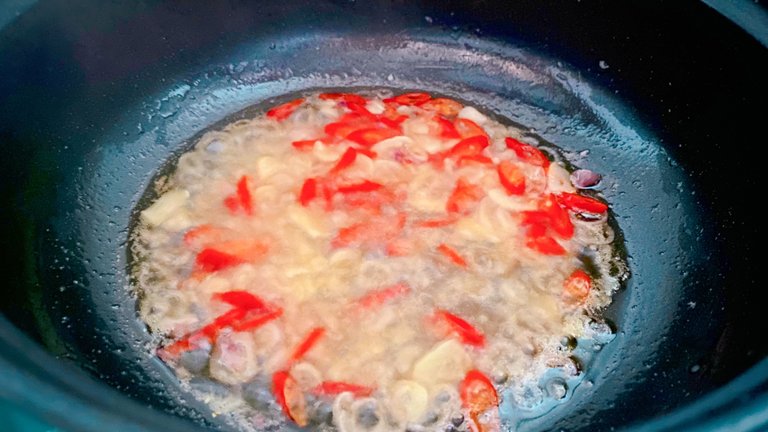 After finishing slicing the chilies and onions, heat the cooking oil. Then stir-fry them until fragrant. Add the onion first for a few moments then follow by adding the slices of red chili if you are using chili. You can replace it with red peppers.
---
STEP 3


Add peanut butter and water. Stir well to avoid burning. Don't forget to add salt.
---
STEP 4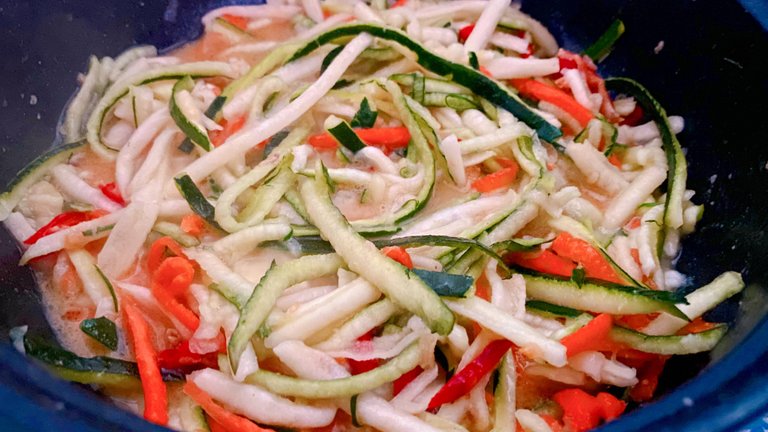 Add zucchini and carrot then stir well. Cook for about 3 minutes. Do not let it overcook which will destroy the texture and shape of the zucchini noodles. Then do taste correction before lifting.
---
Serve zucchini noodles sprinkled with sesame seeds. For the first time, I really like zucchini noodles! My first experience of making zucchini was satisfying for me.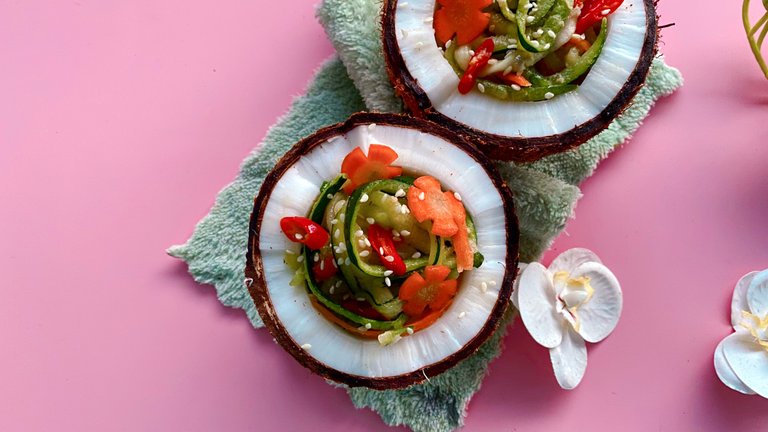 Have you ever made zucchini dishes and did you like them? If you don't like it yet, maybe you should make variations using the sauce, such as using peanut butter as I did in this recipe.
I hope you guys like my food presentation this time about my first experience serving zucchini! have a great day!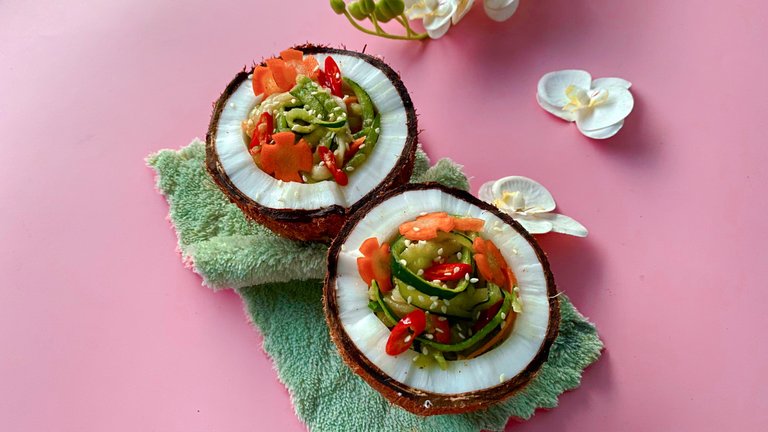 ---
---
---
Thank you for reading my blog and reblog if you want my blog this time worthy of reading by others.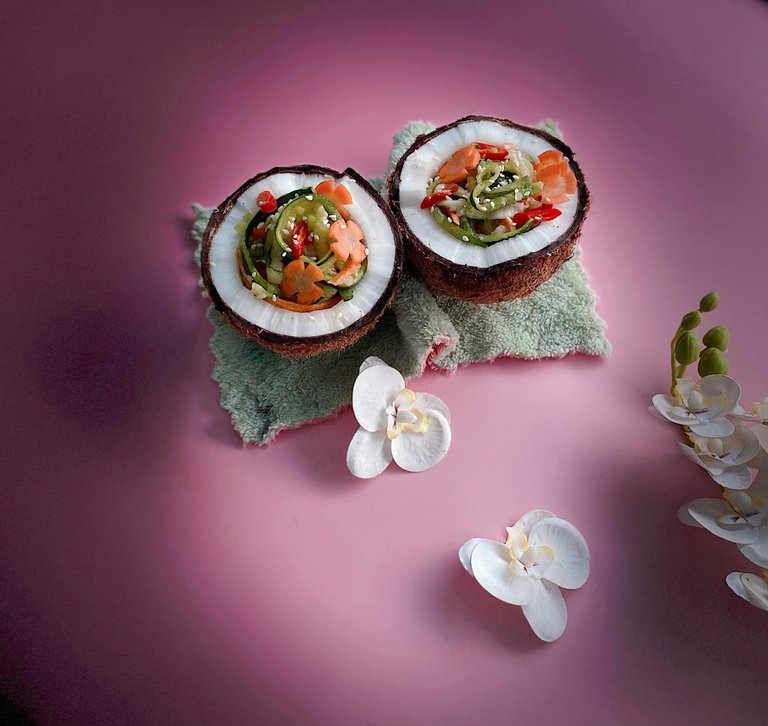 ---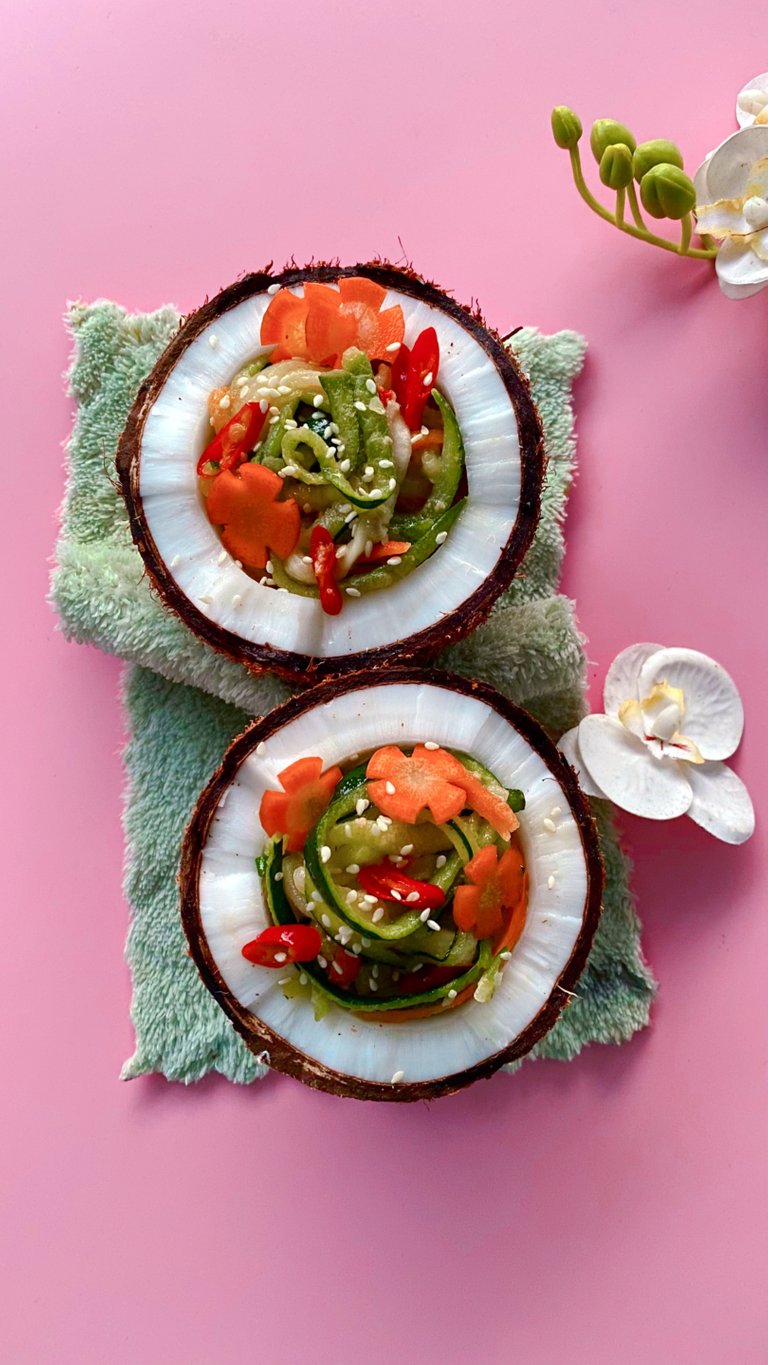 ---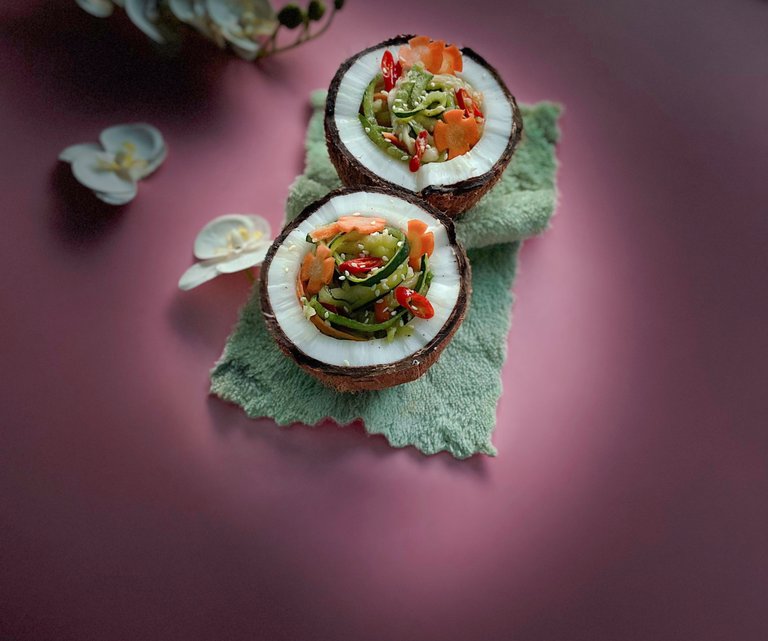 ---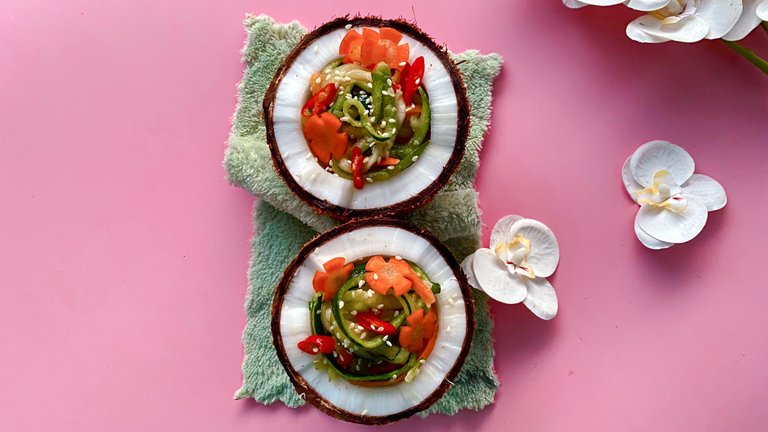 ---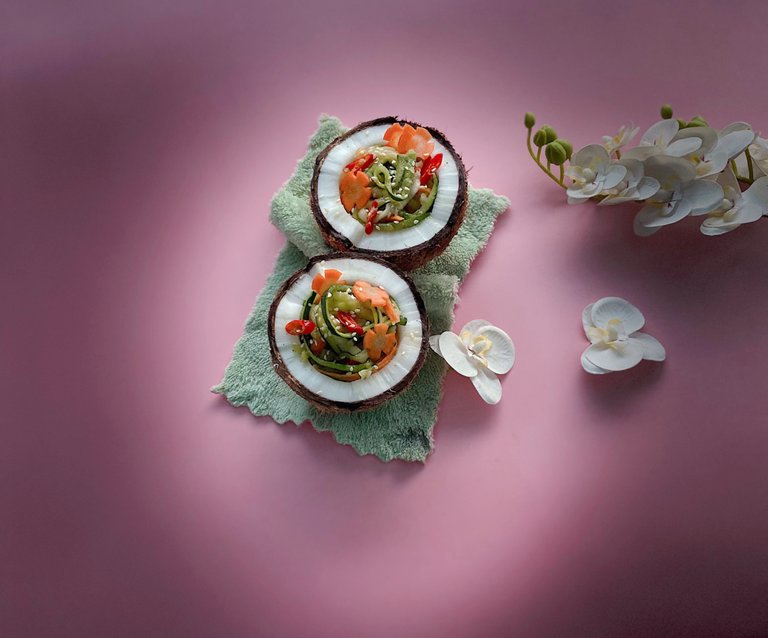 ---
---
---
Best Regards,
Anggrek Lestari
---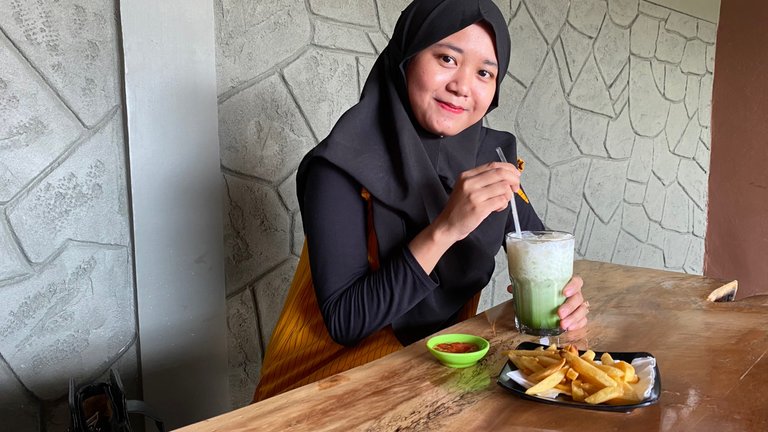 Who is Anggrek Lestari?
Anggrek Lestari is an Indonesian fiction writer who has published two major books. Now She is a full-time content creator. She has a goal to share life, poem, and food content that makes others happy and can get inspiration.
---
Contact Person: [email protected]
Discord: anggreklestari#3009
---
---
---