Mi jardín de cemento | my cement garden [ESP-ENG]
Jardín de Cemento (parte 2) | Cement garden (part 2)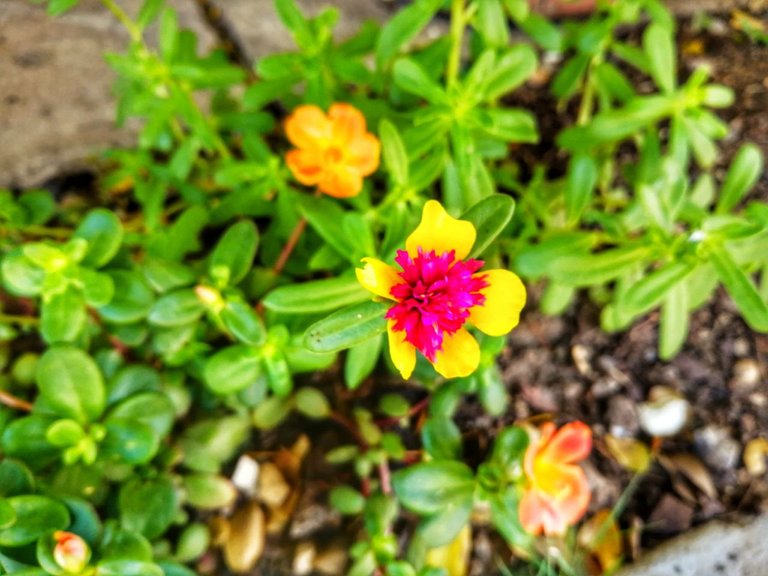 ---
---
Ser feliz es una decisión // Being happy is a decision
---
Cuando vi florecer a mis plantas solo esperaba para poder compartir mi emoción con tordos lo que me leen, de que cuando nos conectamos con la buena energía de la naturaleza, todo florece. Esta planta que hoy les comparto tiene por nombre en mi país de Bella las once, esta flor es muy común verla abrir sus flores en horas de la mañana y comienza a cerrarlas cuando se va retirando el sol, por ello la razón de su nombre, porque cuando el sol está más intenso en horas del medio día es cuando ella muestra su mayor esplendor.
Esta planta es muy fácil de cultivar, y se puede tener con facilidad en maceta o en los brocales de las aceras, con bien se puede ver en esta foto, no requiere de mucho espacio, ni tampoco de mucha agua, es una planta que resiste fácilmente la exposición del sol. Por ello, desde mi punto de vista es una de las protagonistas para reinar mi jardín de cemento, porque como les he compartido en otras publicaciones, cuando desees sembrar no hay excusa, tan solo debes saber que tener una planta es una responsabilidad y requiere de atención.
Esta encantadora planta, también florece de múltiples colores, es como ver un cuadro con una gran variedad de flores, y cuando se encuentran muy cerca una planta con otra, suelen unir colores y puede abrir una flor de colores diferentes, la verdad es una belleza esta planta.
English Version

Flowers from my garden

When I saw my plants bloom, I was just waiting to be able to share my emotion with what they read to me, that when we connect with the good energy of nature, everything blooms. This plant that I am sharing with you today has the name of Bella eleven in my country. It is very common to see this flower open its flowers in the morning hours and begin to close them when the sun goes down, This is the reason for its name, because when the sun is more intense at noon, it is when it shows its greatest splendor.

This plant is very easy to grow, and can be easily kept in a pot or on sidewalk curbs, as can be seen in this photo, it does not require a lot of space, nor does it require a lot of water, it is a plant that resists easily sun exposure. Therefore, from my point of view it is one of the protagonists to reign in my cement garden, because as I have shared in other publications, when you want to plant there is no excuse, you just have to know that having a plant is a responsibility and requires attention.

This charming plant also blooms in multiple colors, it is like seeing a painting with a great variety of flowers, and when one plant is very close to another, they usually unite colors and can open a flower of different colors, the truth is beauty in this plant.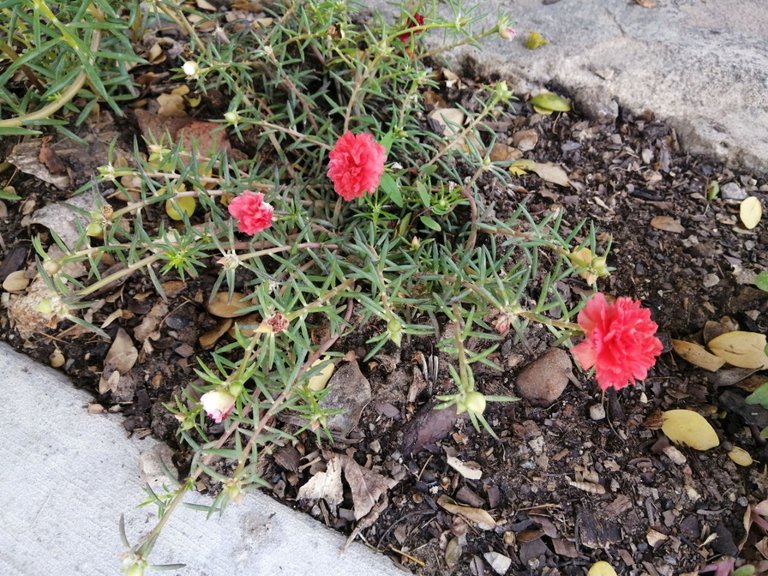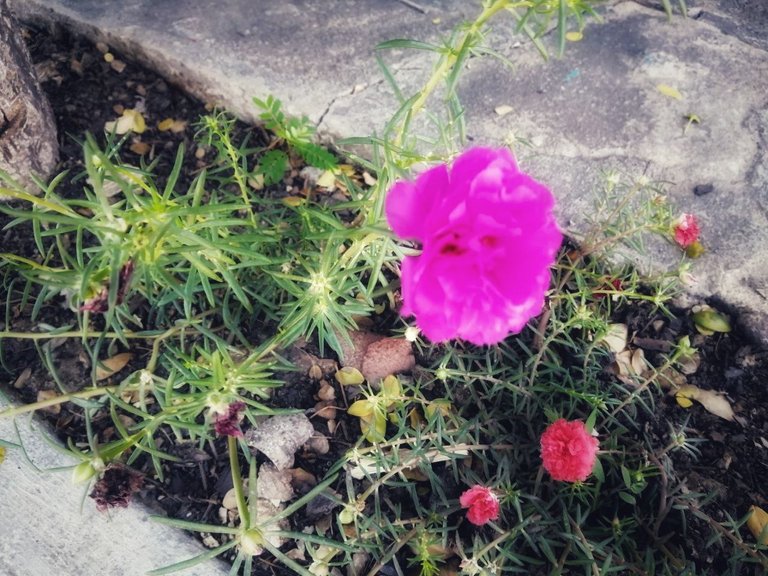 ---
La buena energía se comparte
La naturaleza es tan maravillosa que estar cerca de ella nos permite sentir esa energía natural que conforta, el color de las flores produce una especie de calma tan increíble que vale la pena animarse a cultivar en casa y no perder la oportunidad de recibir pero también de dar amor a nuestro jardín.
Cada día que pasa, debido a los compromisos y a la propia realidad que a cada uno le toca vivir, vamos descuidando nuestros jardines, los vamos dejando de lado, debido a que no tenemos tiempo para cuidarlo y nuestras plantas entra en depresión, se marchitan y mueren, pero cuando llegamos a entender que la naturaleza también parte de nuestra vida diaria y que poder cuidar de una plata en un jardín o en una maceta dentro o fuera de casa, puede hacer la diferencia en nuestros días cargados de mucho trabajo, presión o alguna preocupación.
Tener la oportunidad de trabajar la tierra, cultivar, cuidar, regar, hablar o simplemente admirar a una planta, despierta nuestra sensibilidad, lo que nos permite, dormir mejor, y drenar cualquier tensión que nuestro cuerpo pueda estar sintiendo.
Una forma que tenemos a nuestro alcance de liberar tensiones es tomarnos unos minutos para calmar nuestra mente y que mejor lugar para hacerlo que en nuestro jardín de cemento, no pierdas esta oportunidad y anímate a cuidar de una planta, luego me compartes los resultados.
English Version

Good energy is shared

Nature is so wonderful that being close to it allows us to feel that natural energy that comforts, the color of the flowers produces a kind of calm so incredible that it is worth encouraging yourself to grow at home and not miss the opportunity to receive but also to give love to our garden.

Every day that passes, due to the commitments and the reality that each one has to live, we neglect our gardens, we leave them aside, because we do not have time to take care of them and our plants go into depression, wither and they die, but when we come to understand that nature is also part of our daily lives and that being able to take care of a silver in a garden or in a pot inside or outside the house, it can make a difference in our days loaded with a lot of work, pressure or A concern.

Having the opportunity to work the land, cultivate, care for, water, talk or simply admire a plant awakens our sensitivity, which allows us to sleep better and drain any tension that our body may be feeling.

One way that we have within our reach to release tension is to take a few minutes to calm our mind and what better place to do it than in our cement garden, do not miss this opportunity and take care of a plant, then share the results with me.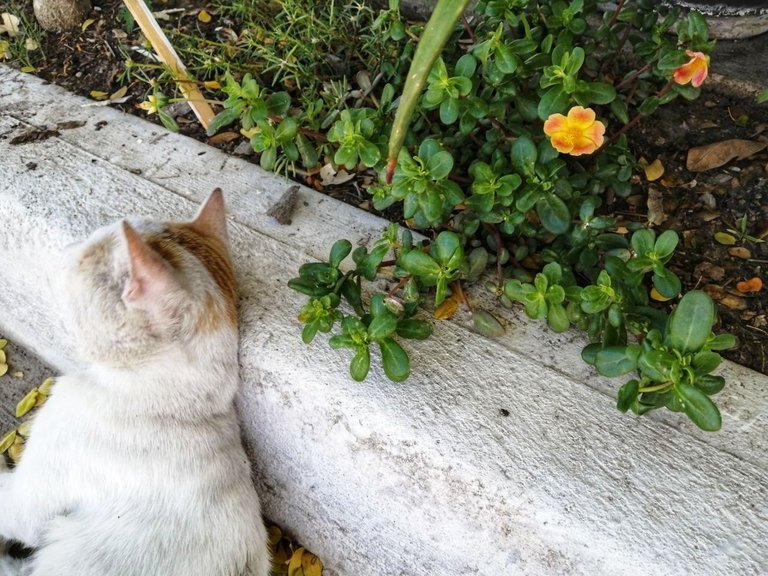 Mi amigo el gato
En esta pequeña selva de cemento los animales también tienen su protagonismo, este gato estaba muy emocionado por salir en la fotografía, así que no puede evitar captarlo disfrutando de un lardo descanso, cerca de las flores. Además, parece que le gustan porque siempre está cerca de ellas.
English Version

My friend the cat

In this small concrete jungle, animals also have their leading role, this cat was very excited to be in the picture, so he can't help but capture it enjoying a long rest, near the flowers. Also, it seems that he likes them because he is always around them.
---
Mi jardín de cemento
Las oportunidades están presente en cualquier momento y espacio para compartir y aprender de nuestra naturaleza, por ello vuelvo a invitar con mucho cariño a algunos amigos a que se animen, aunque algunos me informaron que viven en lugares que no tienen ningún espacio de tierra, pero también respondo que en una maceta también pueden comenzar a cultivar, aquí dejo mi invitación para: @eugelys, @mafalda2018, @geadriana, @ediyelly, @marybellrg, @elizabeths14, @miguelmederico , @mllg para que compartan sus fotos del jardín. Leer Aquí |Time To Share Your Gardens in March!
English Version

My cement garden

Opportunities are present at any time and in any space to share and learn from our nature, which is why I once again invite some friends with great affection to encourage themselves, although some informed me that they live in places that do not have any space on land, but I also answer that in a pot you can also start growing, here I leave my invitation to: @eugelys, @mafalda2018, @geadriana, @ediyelly, @marybellrg, @elizabeths14, @miguelmederico, @mllg to share their photos of the garden. Read Here |Time To Share Your Gardens in March!
Con amor | With love
@angelica7
---
---
Historia original // Original story
Fotos: Propias, tomadas con mi teléfono Huawei
Edición: GYMP
---
---
Que nadie apague tu luz interior

---
- Minnow Support Project: Si todavía no estás en la comunidad ¿Qué estás esperando? >Minnow Support Project: If you are not yet in the community, what are you waiting for?
---
Te invito a conocer a:
Canales del Discord: @votovzla PAL-net @rutablochain @Cervantes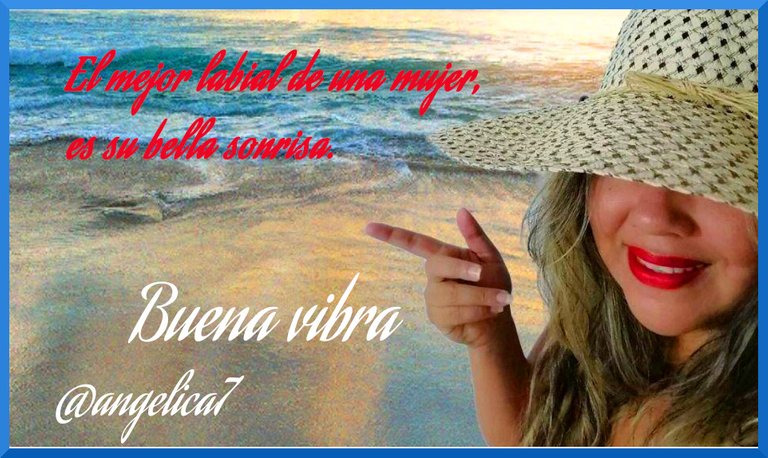 ---
---