La vida es un suspiro y una pasión || Life is a sigh and passion [ESP-ENG]
La vida es un suspiro y una pasión / Life is a sigh and passion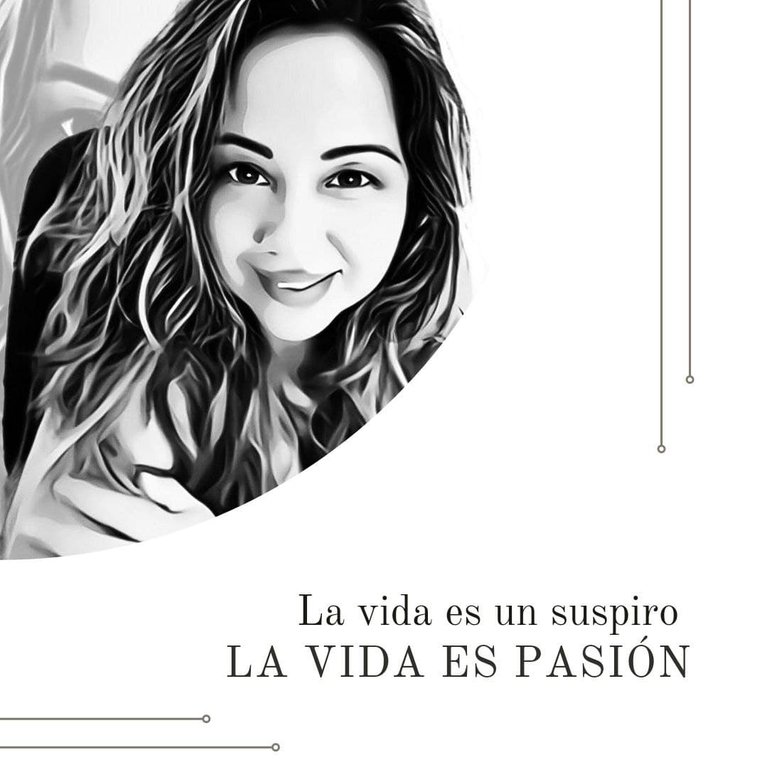 ---
Ser feliz es una decisión // Be happy is a decision
---
---
La energía interior de la vida
La vida es maravillosa y efímera lo que la hace un delicioso bocado que se disfruta cada momento, es como esa caricia que hace vibrar cada parte de nuestro cuerpo, es como ese pensamiento que despierta una sensación que aunque es invisible genera un impulso que nos hace diferente todos los días.
Somos un respiro, esa bocanada de oxígeno que lleva energía a todo nuestro cuerpo y le permite saber que está vivo. Somos esa energía que se instala en nuestro cuerpo y nos hace continuar y evolucionar.
Somos energía que se transforma, que se irradia, como los seres maravillosos de luz, capaces de generar ilusiones, historias, momentos inolvidables en la vida de otros. Somos sol, arena y mar como movimientos universales que nos hace saber que estamos aquí presentes.
---
---
English

Life is a sigh

When we think about what life is, we may assault the thoughts of everything we have to do and achieve, or we simply imagine we have it that it is to be alive, but by reflecting a little more reality tells us that Life is a sigh and that the only requirement to die is to be alive.

Death, we usually assign him the black color and to be afraid of the unknown, but we do not really know our future because the present is what is lived today and tomorrow is uncertain. I prefer to think that death is a change of state, where the soul leaves the body but remains latent and alive in the memories of those who loved me.

Life is a sigh means to me, write about how to live today, how to experience being receptive to what life presents to us on the road, to live without fears or ties, with the truth always present and with energy in high because power Living in joy and harmony with what surrounds us is a wonderful sensation.

He sighs and receives puffs of life, sighs and do it for love, sighs with cheerful thoughts, and opens your mind to experience true love, that beauty that makes one is the person who is and the one that defines us as human beings.
---
---
La vida es un suspiro
Cuando pensamos en lo que es la vida, tal vez nos asalten los pensamientos de todo lo que tenemos por hacer y lograr, o simplemente nos dedicamos a imaginar lo hermos que es estar vivos, pero al reflexionar un poco más la realidad nos indica que la vida es un suspiro y que el único requisito para morir es estar vivos.
La muerte solemos darle el color negro y a tenerle miedo a lo desconocido, pero en realidad no sabemos nuestro futuro porque el presente es lo que se vive hoy y el mañana es incierto. Prefiero pensar que la muerte es un cambio de estado, donde el alma abandona el cuerpo pero se mantiene latente y viva en los recuerdos de quienes me amaron.
La vida es un suspiro significa para mí, escribir sobre cómo vivir hoy, cómo experimentar estar receptivos a lo que la vida nos presenta en el camino, a vivir sin miedos o ataduras, con la verdad siempre presente y con la eenrgía en alto porque poder vivir en alegria y armonía con lo que nos rodea es una maravillosa sensación.
Suspira y recibe bocanas de vida, suspira y hazlo por amor, suspira con pensamientos alegres y abre tu mente para experimentar el verdadero amor, aquel bonito que hace que uno sea la persona que es y el que nos define como seres humanos.
---
---
English

The best version of you

The good vibes make the inner light found in each of us shine intensely, which is why it is required to co-create thoughts, sensations, dreams, and ideas that allow us to show the world your best version.

Now, when sadness, worry, or hopelessness overwhelms us, it is also a way of vibrating, just different. Human beings being energy imply that they can move in different spheres, where is the interesting thing? in how we are going to balance that inner energy to learn, transform and evolve that energy to balance it.

Being a better version of ourselves, from my point of view, starts from self-love, from believing in who we are, from our capacity for empathy, from the humility of our hearts, and from everything that involves changes that make us better. human beings.
---
---
La vida es pasión
La pasión, se expresa por medio de emociones y sentimientos con intensidad de manera que si hablamos de que la vida es pasión, entonces es como decir que la vida es una emoción intensa que se vive con pasión entusiasmo y sentimiento por todo aquello que nos guste y haga feliz hacer en nuestras vidas.
Cuando aprendemos a vivir la vida con pasíon, logramos organizar nuestras actividades en hacer todo aquello que nos gusta, es por ello que conocer nuestras propias emociones, capacidades y potencialidades nos permiten poder vivir con pasión y en conocimiento de los que nos hace feliz, pero además de vivir enamorados de todo lo que emprendamos hacer, ya sea en el amor, en el trabajo, con los amigos en la vida.
Si llegas a sentir en algún momento que falta algo en tu vida, no te maltrates juzgandote o buscando que otro te complemente, tan solo tomate un tiempo libre para pensar de nuevo tu vida y organizar un poco las ideas, a veces puede pasar que el agobio de la cotidianidad nos agobia y no permita ver con claridad nuestra vida.
Algunas ideas
Aligera tu carga de pensamientos
Tomate un tiempo libre para ti
Retoma ese sueño pendiente
Organiza una lista de cortas tareas posibles que te motiven
Diseña un plan, 1, 2, 3 acción.
Disfruta y celebra de cada pequeño logro
Agradece a la vida
Nunca olvides que viniste a este mundo a ser feliz
Vivir con pasión es disfrutar de cada momento con intensidad y aprovechando cada oportunidad que se presenta, porque se tiene preciso el valor del tiempo que la vida nos depara. La vida con pasión es posible, tan solo cree en ti.
English

Life is passion

Passion is expressed through emotions and feelings with intensity so that if we talk that life is passion, then it is like saying that life is an intense emotion that is lived with passion, enthusiasm, and feeling for everything that we like. and make happy to do in our lives.

When we learn to live life with passion, we manage to organize our activities to do everything that we like, that is why knowing our own emotions, capacities and potentialities allow us to be able to live with passion and in the knowledge of what makes us happy, but in addition to living in love with everything we undertake to do, whether in love, at work, with friends in life.

If at any time you feel that something is missing in your life, do not mistreat yourself by judging yourself or looking for someone else to complement you, just take some free time to rethink your life and organize your ideas a bit, sometimes it can happen that The burden of daily life overwhelms us and does not allow us to see our life clearly.

Some ideas

Lighten your load of thoughts
Take some time off for yourself
Take up that pending dream
Organize a list of short possible tasks that motivate you
Design a plan, 1, 2, 3 actions.
Enjoy and celebrate every little achievement
Thank life
Never forget that you came to this world to be happy

Living with passion is enjoying every moment with intensity and taking advantage of every opportunity that presents itself because the value of the time that life has in store for us is precise. Life with passion is possible, just believe in yourself.
---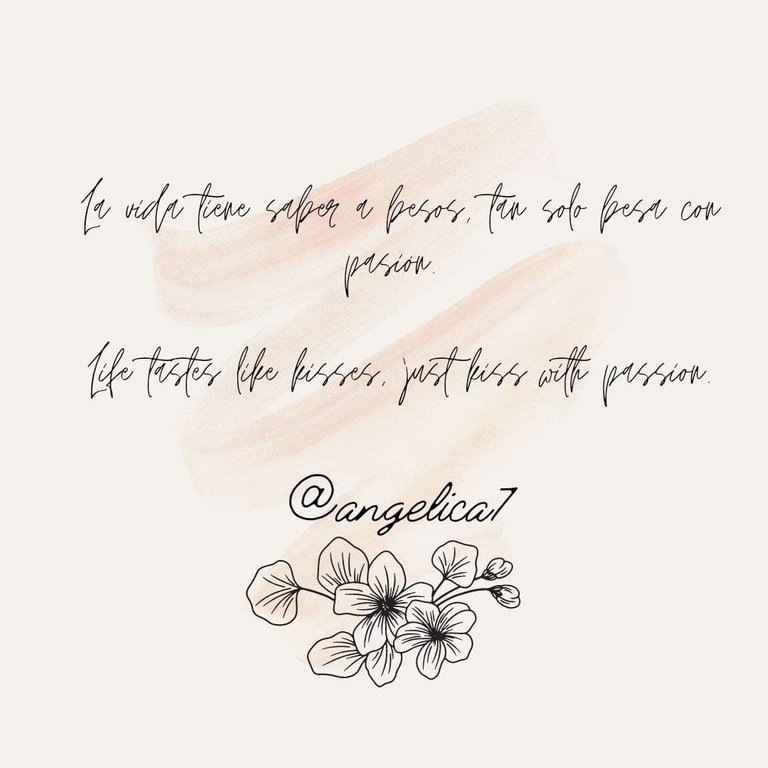 ---
La vida es una maravillosa aventura
Construir momentos en nuestras vidas vienen de cada experiencia que podemos vivir, de cada historia que podemos contar. Por ello la vida es como una aventura, llena de altos y bajos pero que en definitiva se disfruta mucho.
Cada momento, cada suspiro hacen de la vida una aventura maravillosa, donde el aprendizaje nos hace mejores seres humanos, por ello, la invitación es a vivir cada instante con pasión y disfrutar de cada segundo pero no con prisa, sino con momentos y tiempo de calidad.
English

Life is a wonderful adventure

Building moments in our lives come from every experience that we can live, from every story that we can tell. That is why life is like an adventure, full of ups and downs but that is ultimately very enjoyable.

Each moment, each sigh makes life a wonderful adventure, where learning makes us better human beings, therefore, the invitation is to live each moment with passion and enjoy each second but not in a hurry, but with moments and time of quality.
---
---
---
---
Dedicatoria
Este escrito es para ti que te encuentras en algún lugar mundo, quiero decirte que la vida es maravillosa y que la oportunidad de hacer las cosas de pasión está dentro de ti, descubre tu magia y cree en lo que puedes lograr.
English

Dedication

This writing is for you who are somewhere in the world, I want to tell you that life is wonderful and that the opportunity to do things with passion is within you, discover your magic, and believe in what you can achieve.

---

---

Te espero en los comentarios para conocerte y compartir una copa de vino para conocer tu opinión sobre este encantador tema de la vida.

I wait for you in the comments to meet you and share a glass of wine to know your opinion on this charming topic of life.

Con mucho cariño y buena viba / With love and good vibes

Angelica7

---

---

---

Historia original // Original story
Foto: Propia, tomadas con mi teléfono Huawei
Edición: Canva

---

---

Que nadie apague tu luz interior

---

- Minnow Support Project: Si todavía no estás en la comunidad ¿Qué estás esperando? >Minnow Support Project: If you are not yet in the community, what are you waiting for?

---

Te invito a conocer a:

Canales del Discord: @votovzla PAL-net @rutablochain @Cervantes
---
---