📷 Accident In Paradise
Hello dear friends,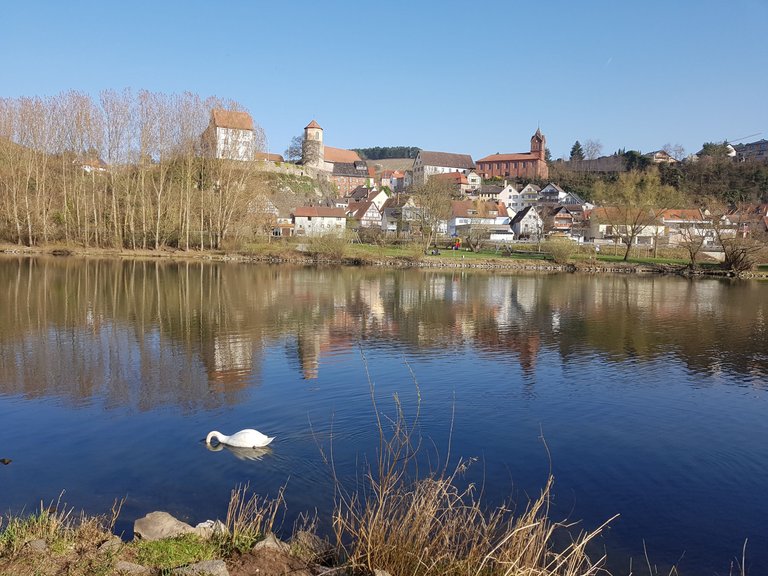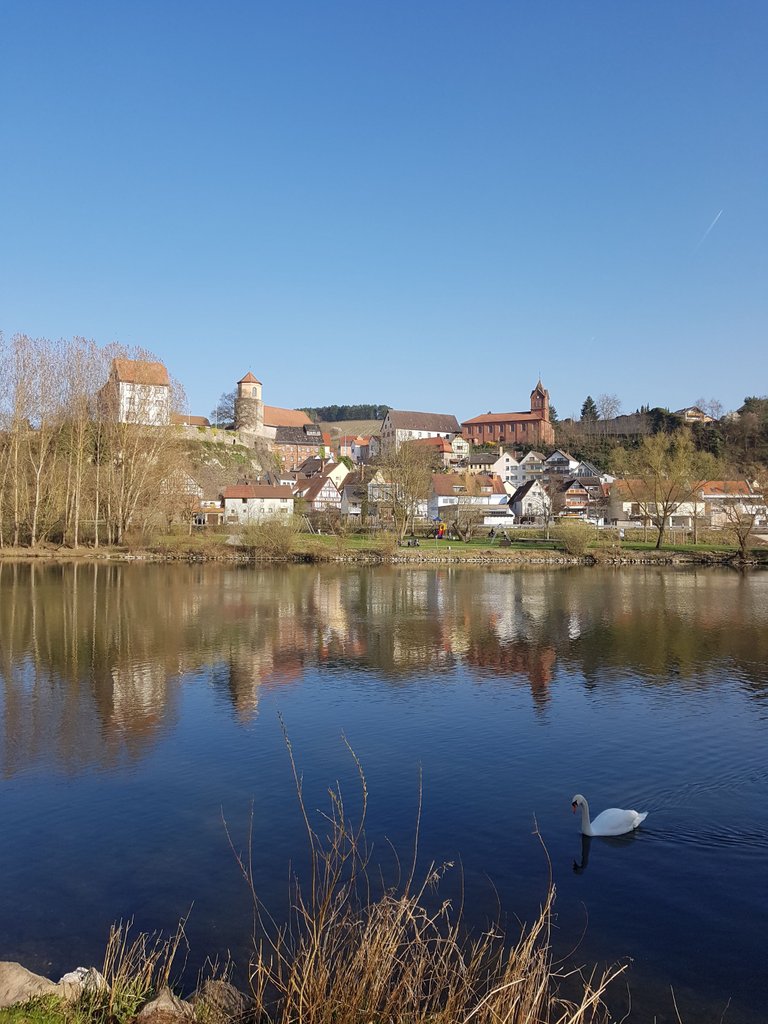 it's been a few days that I also went with the pedelec to Trennfeld on the Main, to see how the situation is at the Klostersee. The Klostersee is a small quarry pond, where I spent with my family last year in the actually in Germany completely rainy summer the vacation on "Balcony". The pretty little town of Homburg am Main (river) with the Homburg Kallmuth is directly opposite on the left side of the Main.
🌄 🕊 🕊 🌄
Hallo liebe Freunde,
es ist einige Tage her, daß ich auch mal mit dem Pedelec nach Trennfeld am Main gefahren bin, um zu gucken wie die Lage am Klostersee ist. Der Klostersee ist ein kleiner Baggersee, an dem ich mit meiner Familie letztes Jahr im eigentlich in Deutschland völlig verregneten Sommer den Urlaub auf "Balkonien" verbracht habe. Das schmucke Städtchen Homburg am Main mit dem Homburg Kallmuth liegt direkt gegenüber auf der linken Seite des Mains.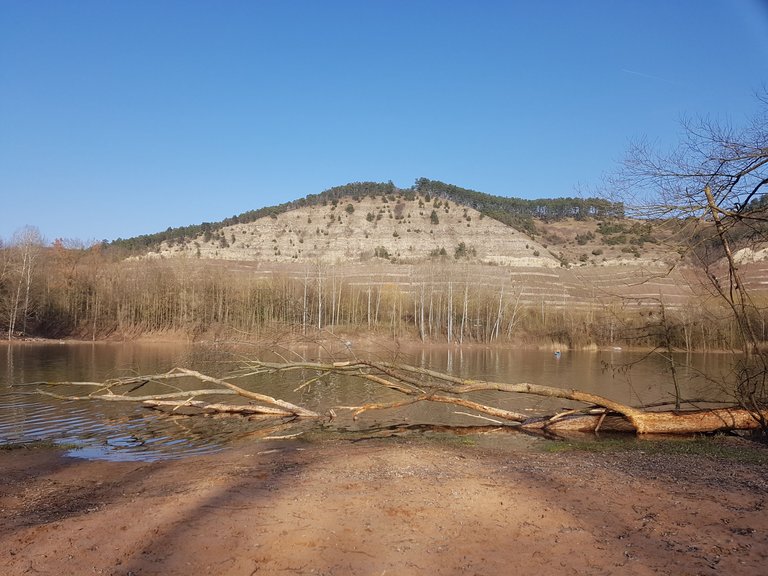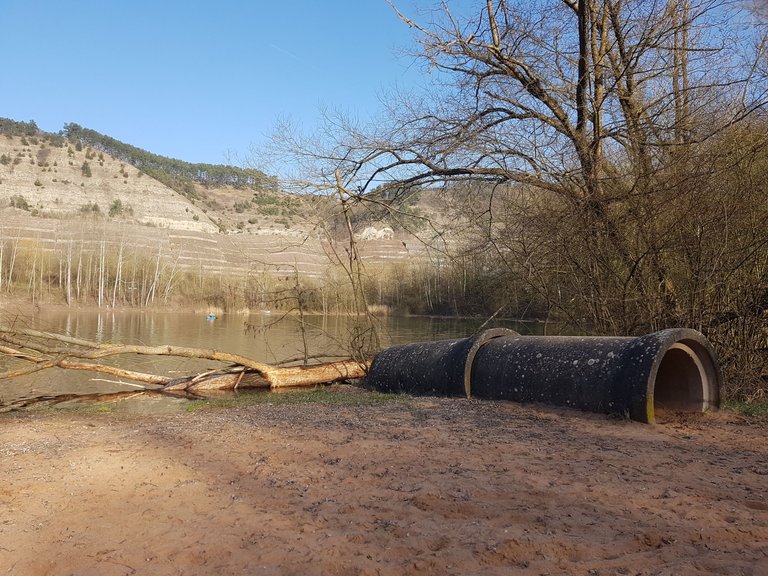 ---
It must have rained an incredible amount this winter. Both Klostersee and Mondsee are full to the brim with water. In Mondfeld, the entire sandy shore is flooded, and at Klostersee, parts of the path that leads directly around the lake on the shore are flooded.
In addition, the beaver has done a great job at Klostersee. In the last few months, it has taken over a number of trees and caused a lot of clear-cutting.
🌄 🕊 🕊 🌄
Es muß diesen Winter unglaublich viel gerregnet haben. Sowohl der Klostersee, also auch der Mondsee, sind randvoll mit Wasser. In Mondfeld ist das komplette sandige Ufer geflutet, und am Klostersee sind Teile des Weges, der direkt am Ufer um den See führt, geflutet.
Zudem hat der Bieber am Klostersee ganze Arbeit geleistet. In den letzten Monaten hat er sich einige Bäume vorgenommen und für ordentlich Kahlschlag gesorgt.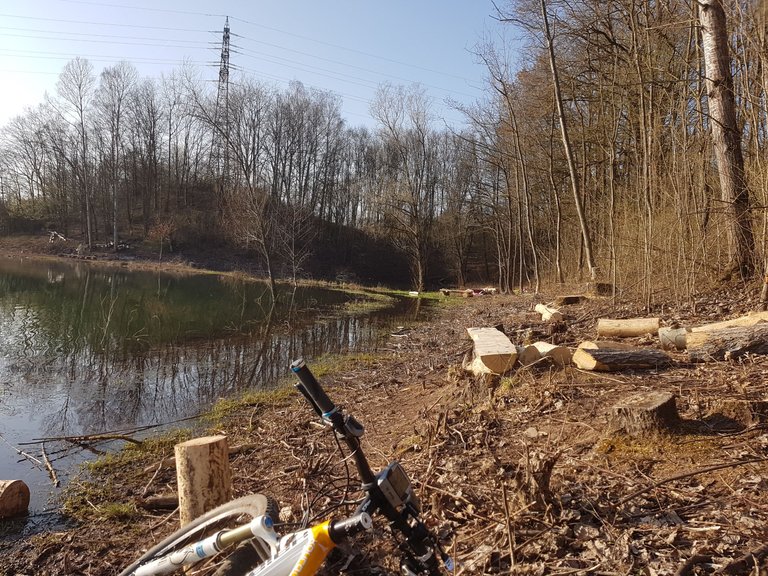 ---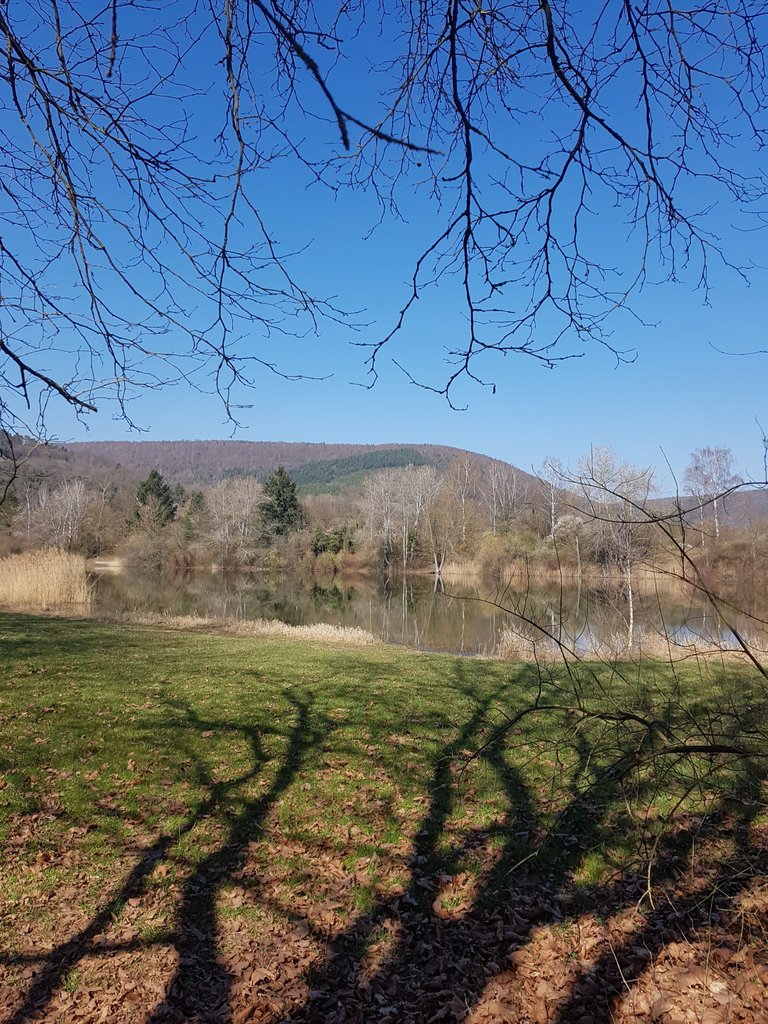 The water quality is very good at both lakes at the moment. The water is very clear and you can see well on the bottom. You just have to be careful on the shore not to accidentally step on the toads, which can be found - and heard - there in droves.
🌄 🕊 🕊 🌄
Die Wasserqualität ist an beiden Seen momentan sehr gut. Das Wasser ist sehr klar und man gut auf den Boden gucken. Man muß am Ufer nur aufpassen, daß man nicht aus Versehen auf die Kröten tritt, die dort in Scharen zu finden - und zu hören - sind.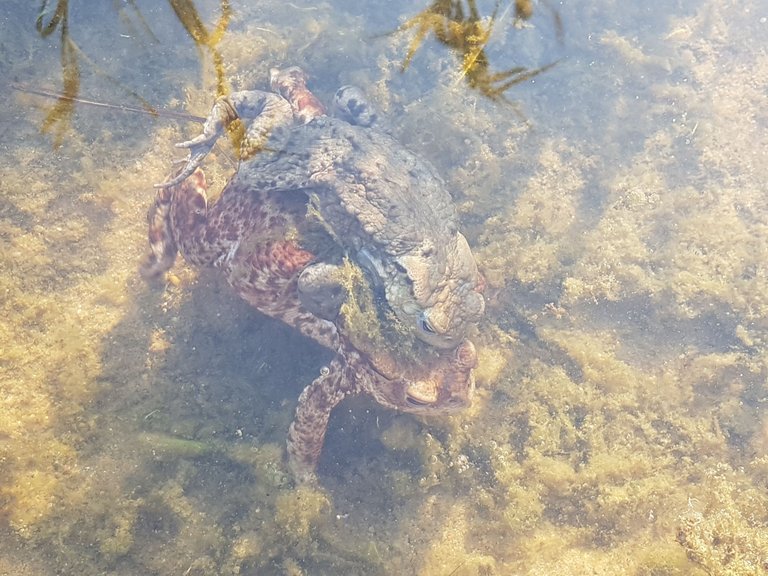 ---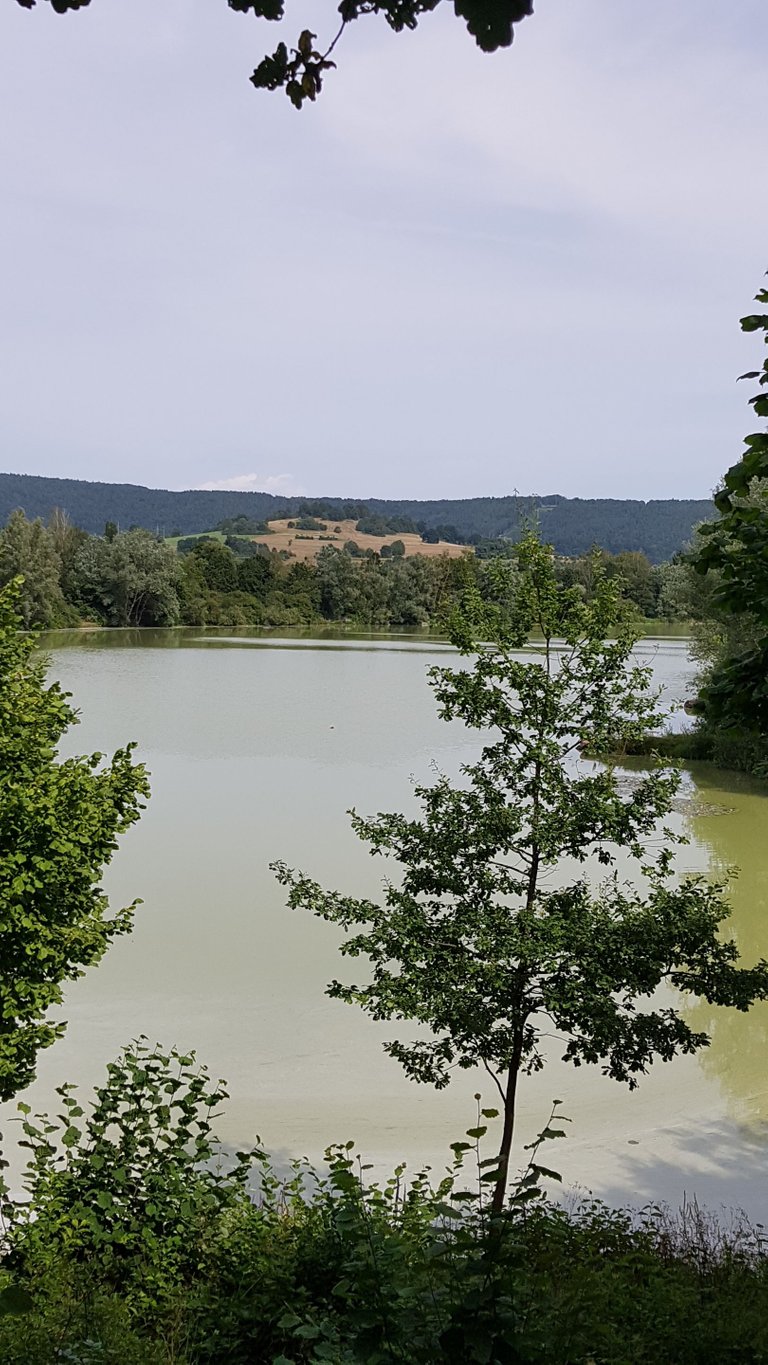 In August 2021, the water quality at Lake Mondsee was anything but good, because the lake suffered massively from blue-green algae infestation. Blue-green algae are actually not algae, but bacteria, which one should better not let get on and especially not into the body. I was quite careless on one day and probably took a little too much contaminated water, which led to slight intestinal problems. It was not too bad, but nevertheless I learned from the slight damage and will pay more attention to this situation in the future.
🌄 🕊 🕊 🌄
Im August 2021 war die Wasserqualität am Mondsee alles andere als gut, denn der See litt massiv unter Blaualgenbefall. Blaualgen sind eigentlich keine Algen, sondern Bakterien, die man besser nicht an und vor allen nicht in den Körper gelangen lassen sollte. Ich war an einem Tag recht unachtsam und habe wohl etwas zu viel kontaminiertes Wasser zu mir genommen, was zu leichten Darmbeschwerden führte. Schlimm war es zwar nicht, aber trotzdem wurde ich aus dem leichten Schaden klug und werde in Zukunft mehr auf diese Situation achten.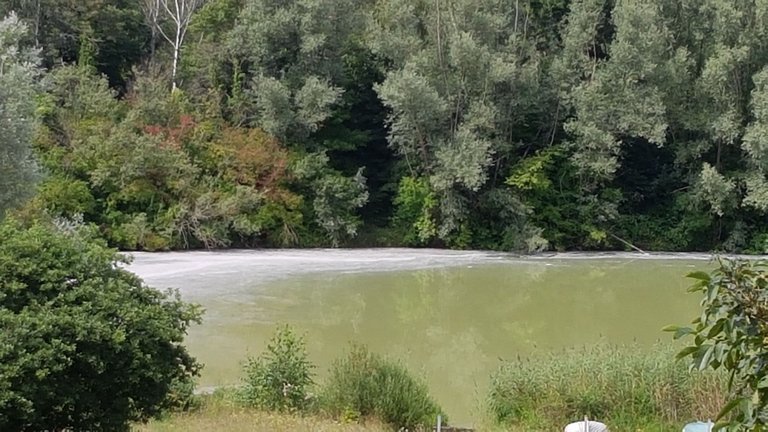 ---
---
---