🌊CRYING OCEAN DRAWING THROUGH FEELINGS🌊
🌊This particular drawing is a catharsis of my inner feelings influenced by two songs of the Venezuelan artist Daniela Barranco, which are PARANOIA AND ANXIETY, I feel that in recent months my mental health has been at risk, and more with the process of the thesis in progress, sometimes I wonder if I really want to be an architect, in all those times the answer is yes, but it has been a very hard road to achieve it, although my grandmother says that what is more difficult to achieve is what will bring you much happiness.🌊
This illustration was born from the feeling of drowning of my being, I felt that I was in the ocean with only water coming into me, like that scene from Alice in Wonderland where she and her tears form a sea, and after a good crying session I was able to capture this image, where I represented myself with tears of ocean, where all that water that drowned me and left me overwhelmed was flowing from inside me.
Mental health is very important as much as physical health, my thesis has made it clear to me, it is ironic, I am focused on the design of a center for diagnosis and treatment of psychological and psychosocial conditions, after this episode I decided to go to therapy, because it is necessary to go to a professional to treat that which usually human beings do not give importance and we try to fill or do less with things that in the end can end up being worse.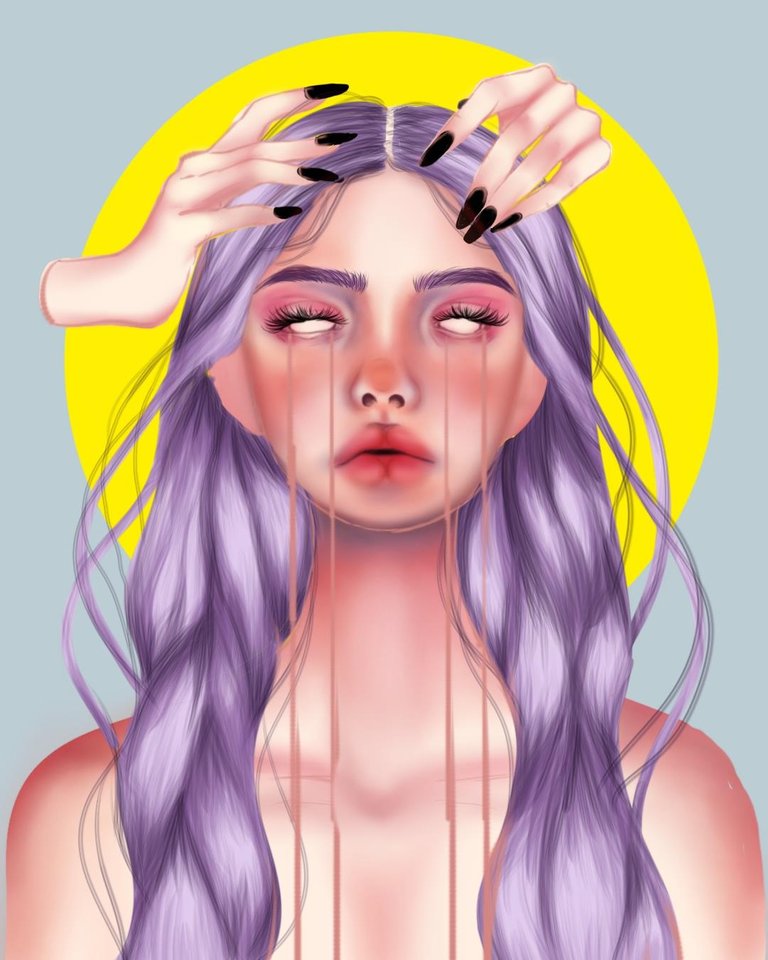 I believe that investing in your mental health and healing the wounds of the past is a huge saving and an investment that you make with yourself that helps you grow and avoid situations that simply do not add up to anything and wear you out, I invite you to go to specialists if you feel you can't do it anymore, but the most important thing is that you will succeed, because the bad moments are not forever, remember that life can not be all happiness, there will be those dark moments, the secret is to get out of them and there will always be a solution because the only thing that does not have it is death, today I was reminded by a good friend.
Returning to the illustration I worked with a palette of cold colors between blues and purples, in contrast to the warm colors of the skin and the background, because I consider that personally I transmit warmth, and the yellow circle represents that light that is always there even when it feels like it is not, the significant achievement for me in this work are the tears with the ocean, it cost me a lot to recreate a texture similar to this, so with a couple of watercolor brushes and the use of some pencils, I achieved the effect in digital.
The hands represent everything outside and the weight that other people or situations exert on us, which sometimes have no connection, but still we let it affect us and give birth to the feeling of wanting to meet all the exceptions or need to emphasize to others that our life is as they imagine it, when everyone has their own decisions and everyone decides what to do with his life.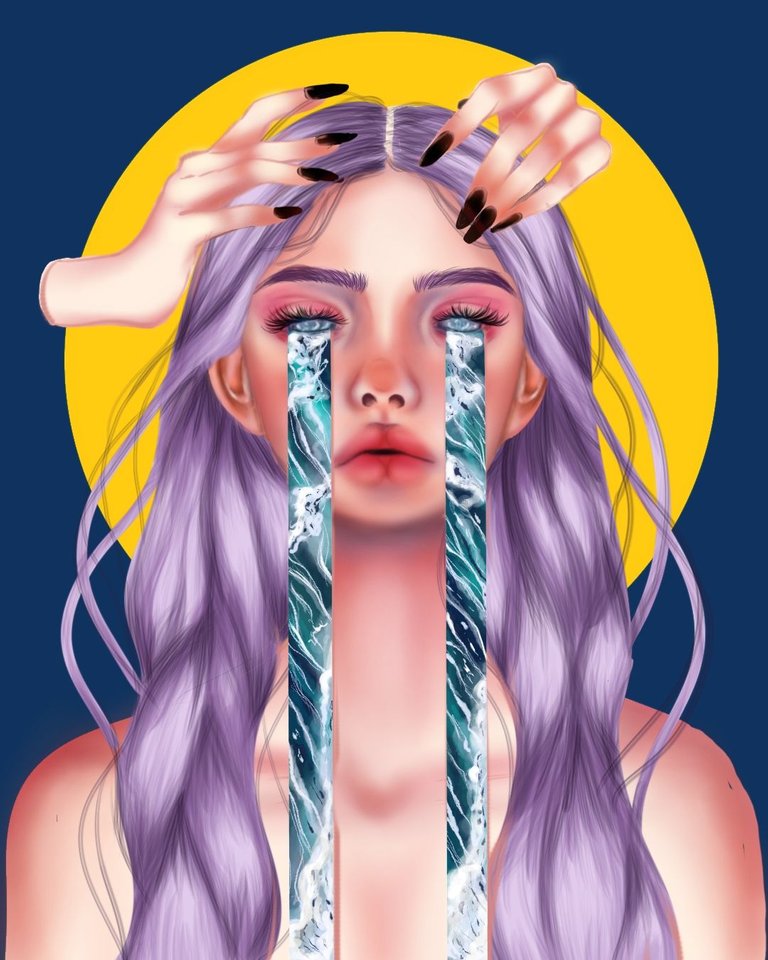 I hope this work serves as a reflection and if you need to see a specialist do it, you are special, you are great and it is never too late to start living as you wish, live, live every moment, because the stay here is very short, let your memories be I did, I was, and not if I had done or gone, kisses and brillitos to where you are and see you soon, xoxo.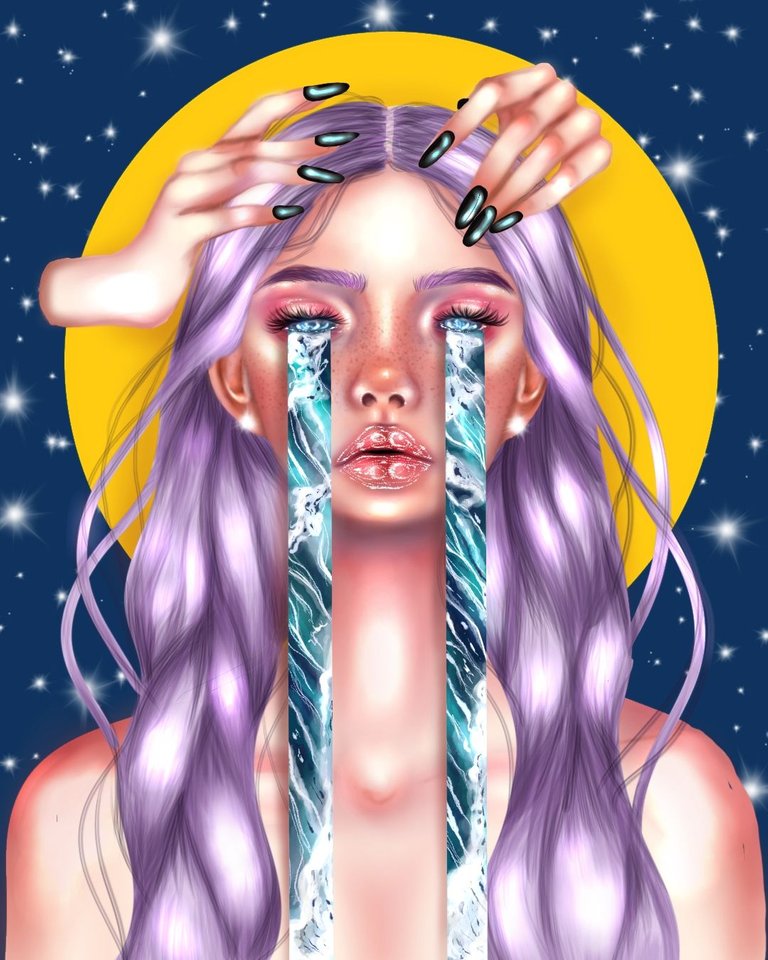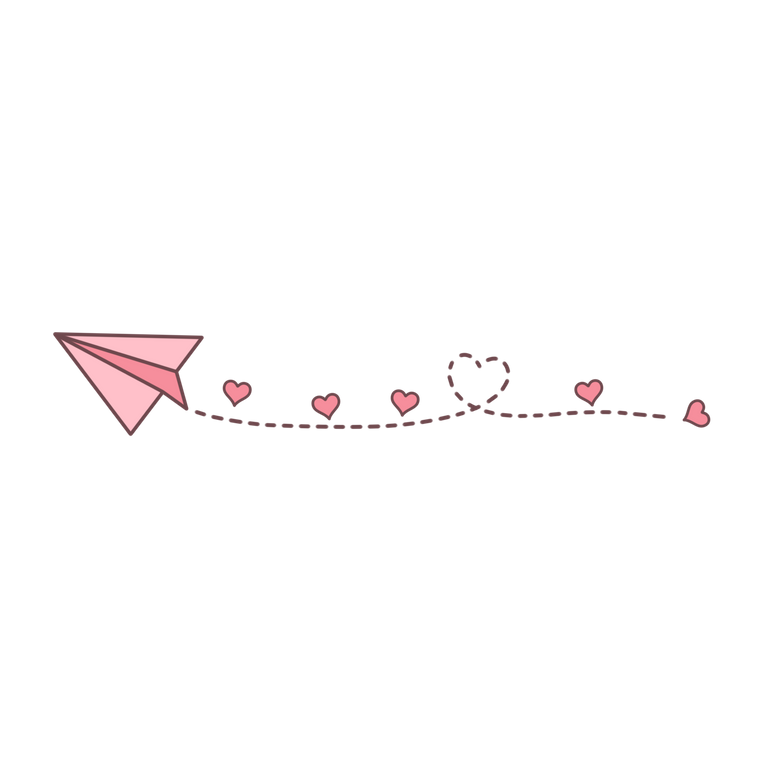 Translated with www.DeepL.com/Translator (free version)
---
---