3 Ricky Martin songs to start the week!

Hello Hive Community!
---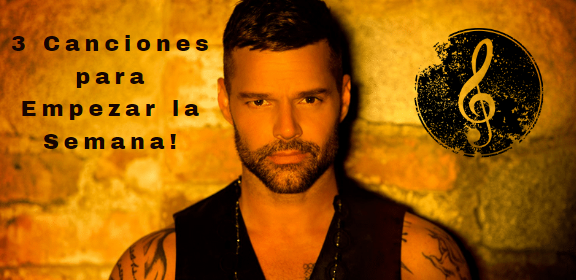 Imagen hecha por mi en Canva
---
¡Empecemos la semana con mucha energía de música buena! Hoy quiero compartirles las 3 canciones inéditas, favoritas y las que me gustan del inigualable Ricky Martin. Algunas son viejas con un sonido potente como otras más actuales, pero eso sí, sin perder su esencia del cantante puertorriqueño. ¡Bailemos entonces!
Let's start the week with lots of good music energy! Today I want to share with you the 3 unreleased songs, favorites, and the ones I like from the incomparable Ricky Martin. Some are oldies with a powerful sound as others are more current, but yes, without losing the essence of the Puerto Rican singer. Let's dance then!
---
Ricky Martin - Pégate (Live)
Estoy pegada con esta canción desde estos últimos días, amo esta canción como no tienen una idea porque me recuerda ese calor caribeño que somos todos nosotros los latinoamericanos. Un sabor del caribe, esos tambores que repican, ese baile sin cesar, ese ritmo tan nuestro que nos representa. Es una canción vieja que escuchaba cuando estaba pequeña pero que hoy en día sigue siendo la mejor. Su fecha de lanzamiento fue en el año 2006.
I am stuck with this song for the last few days, I love this song like you have no idea because it reminds me of that Caribbean heat that all of us Latin Americans are. A taste of the Caribbean, those drums that beat, that dance without ceasing, that rhythm so much ours that represents us. It is an old song that I used to listen to when I was little but that today is still the best. It was released in 2006.
---
Carlos Vives, Ricky Martin - Canción Bonita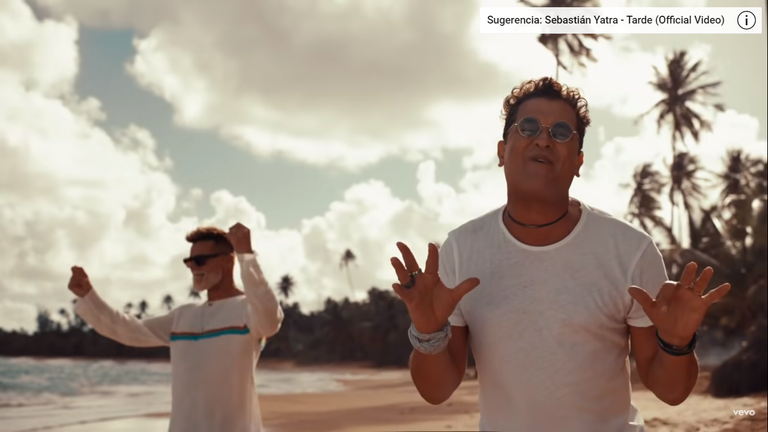 The image is my own image taken from a screenshot at Youtube
"Canción bonita" es una colaboración de Ricky Martin y el cantante colombiano Carlos Vives. Fue lanzado este mismo año 2021, con un ritmo sabroso para ponernos activos esta semana que comienza. Para tener buenas energías positivas, para bailar, disfrutar y cantar. Puedo escucharla sin cansarme, suelo repetirlas varias veces y sigue siendo buena.
"Canción bonita" is a collaboration between Ricky Martin and Colombian singer Carlos Vives. It was released this year 2021, with a tasty rhythm to get us active this week that begins. To have good positive energies, to dance, enjoy and sing. I can listen to it without getting tired, I usually repeat it several times and it is still good.
---
GLEE Full Performance of La Isla Bonita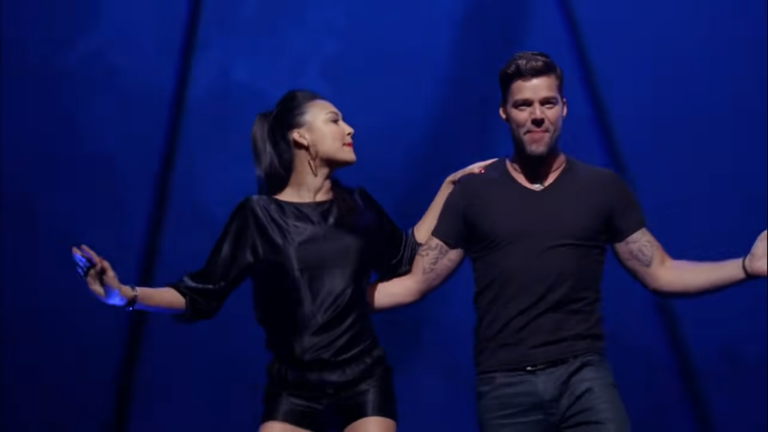 The image is my own image taken from a screenshot at Youtube
Esta fue una participación célebre de Ricky Martin en la serie comedia musical de Glee, donde realizó un performance con Santana López (Naya Rivera). Isla bonita representa a Ricky Martin si hablamos musicalmente desde sus comienzos, sin embargo, esta versión me gusta muchísimo.
This was Ricky Martin's famous participation in the musical comedy series Glee, where he performed with Santana Lopez (Naya Rivera). Isla Bonita represents Ricky Martin musically from his beginnings, however, I really like this version.
---

No crean que porque tenga 21 años no escucho a Ricky Martin jajaja, al contrario, me gusta mucho y disfruto demás escuchándolo ya que me activo demasiado, eso me permite subir mis ánimos y motivarme a crear mucho. Espero que les haya gustado estas recopilaciones de Ricky Martin. ¡Nos vemos en un próximo post!
Don't think that because I'm 21 years old I don't listen to Ricky Martin hahaha, on the contrary, I like him a lot and I enjoy listening to him a lot because he activates me too much, that allows me to raise my spirits and motivate me to create a lot. I hope you liked these Ricky Martin compilations, see you in a future post!

---

---
---