TIENDA LA CAMA... decía mi mama | |[ ESP-ENG]
¡Hola, hola querida familia de #Hive, los ánimos arriba para pasar un excelente domingo!
Hello, hello dear #Hive family, spirits up for a great Sunday!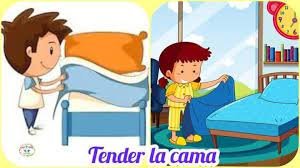 FUENTE/SOURCE

Se que a la mayoría no les gusta tender su cama, de hecho para que si de nuevo debes distender a la hora de dormir, pero lo que suena insólito pues es verdaderamente cierto. Y es que tender la cama al levantarse es la primera tarea cumplida durante el día eso te llena de satisfacción y fuerza para hacer del día un día cargado de éxito.
---
---
"Tender la cama también refuerza que las cosas pequeñas importan. Si no puedes hacer bien las cosas pequeñas, nunca podrás hacer bien las cosas grandes".
---
---
En muchas oportunidades como madres alejamos a nuestros hijos de los que aceres del hogar y de la responsabilidad que implica ayudar a los padres, los hábitos son la clave del éxito pues tiene su resultado en nuestra conducta en cualquier ámbito de la vida.
---
---
Se que como hijos cumplir con las labores domesticas nos traen en oportunidades hasta lloradera pues no nos gusta, nos da pereza, o sencillamente no queremos hacerlo, pero lo que aparentemente es una actividad sin mayor relevancia trae consigo un montón de enseñanzas. No dejemos que esto impere y haga que como padres demos el brazo a torcer pues con ello le estamos negando la oportunidad de aprender, de desarrollar diferentes habilidades y lo mas interesante de todo hacerse de un recurso para mas adelante ya que como todos sabemos no somos inmortales y alguna vez ellos partirán de nuestro lado.
---
---
Contribuir en la limitación de sus posibilidades hace que no experimenten la sensación de sentirse útiles, del don de la responsabilidad y de experimentar la sensación de felicidad, contribuir en las actividades de la casa no les quita tiempo de juego, al contrario contribuimos en la construcción de sus propios logros.
---
---
De verdad que creo a mi parecer muy personal que es así es que va funcionando la vida, dando pasos poco a poquito, aprendiendo desde pequeños para afrontar los grandes retos que te ponga la vida mas adelante.
---
---
Por lo tanto comencemos tendiendo la cama bien me lo decía mi mamita...

I know that most people don't like to make their bed, in fact so that if you have to relax again at bedtime, but what sounds unusual is actually true. And it is that making the bed when you get up is the first task accomplished during the day that fills you with satisfaction and strength to make the day a successful day.
---
---
"Tending the bed also reinforces that the little things matter. If you can't do the little things right, you'll never be able to do the big things right."
---
---
In many opportunities as mothers, we take our children away from the household chores and the responsibility that implies helping the parents. Habits are the key to success because they have their result in our behavior in any area of life.
---
---
I know that as children, complying with domestic chores sometimes brings us to tears because we do not like it, we are lazy, or we simply do not want to do it, but what apparently is an activity of little relevance brings with it a lot of lessons. Let's not let this prevail and make us as parents give the arm to twist because with this we are denying the opportunity to learn, to develop different skills and the most interesting thing is to make a resource for later since as we all know that we are not immortal and sometime they will leave our side.
---
---
Contributing to the limitation of their possibilities means that they do not experience the feeling of feeling useful, of the gift of responsibility and of experiencing the feeling of happiness, contributing to household activities does not take away play time, on the contrary we contribute to construction of their own achievements.
---
---
I really believe that in my very personal opinion that this is how life works, taking steps little by little, learning from a young age to face the great challenges that life puts you later on.
---
---
So let's start by making the bed, well my mom told me...

---
---