Counting down Days To My Youngest Son & His Wife's Arrival
The plane tickets are bought, and now I'm just counting down the days to my youngest son and his wife's arrival. He lives in Barcelona, and we haven't seen him since last summer. It was planned we would meet for Easter, but COVID-19 spoiled our plans and messed it all up.
They had a way stricter lock-down and quarantine than we had it here. It somewhat started getting back to some normal just several weeks ago.
Before those pandemic happenings, my son was working at school as an English teacher. As the schools were closed among first, he and his colleagues were forced to use their vacations. It was a measure a school took instead of laying them all off. But shortly after, they all got fired anyway.
Therefore, besides coronavirus, money issues became another obstacle for their arrival. Although my son managed to find a new job at the beginning of June, it still wouldn't help them to cover the financial loss of the previous non-working months. So, their arrival remained a big if, if question.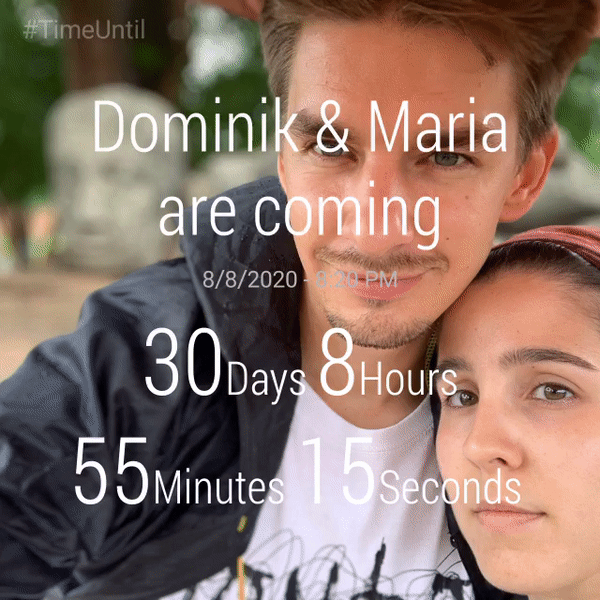 But then, unexpectedly jumps in three airline companies who offered 100,000 free of charge flights to healthcare professionals (to a destination of their choice) as their way of thanking those people for their selfless work and immense help during the hardest times and all the way through this corona crisis.
Vueling was one of those three companies, and as my youngest son's wife works in a hospital as a medical doctor, she was eligible for those free tickets.
But then, another issue occurs. As many healthcare professionals rushed to grab those tickets, the airline's website was continually crashing. After almost full two days of trials and fails, they finally succeeded in getting the tickets and booking the flight.
I can't tell you how happy I was when they said to us that good news! Therefore, overwhelmed with emotions and in anticipation of their arrival, I created yesterday above GIF. So today, it's one day less left to wait until the day when I'll finally be able to hug my son again!
---
GIF created with the "Time Until - Countdown App" and by using the photo from our family album.
---
---