Pterodactyl - sand sculpture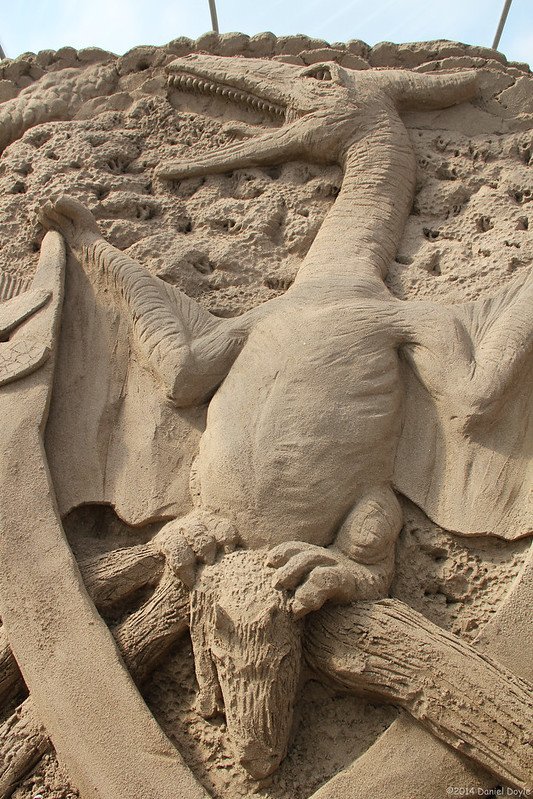 Preramble
I am going to have to ease myself back into writing blog posts. I have had a really challenging few months and could not bring myself to continue documenting my sculpture work on Hive. Sure, I have still been around, curating and reading. I was doing this more as a form of distraction but trying to create new content has been a chore and although I did post a few videos I really wasn't with it. I will tell you the full story someday but for now, I will pick up from where I left off.
What I realise now, even after writing that first paragraph is how important Hive has become to me. It is great to have it as a creative outlet and it is a good distraction from what is going on in the real world. I remember just after the pandemic started, what was going on with our battles against the centralisation of Steem and then the ultimate spin up of this new community chain. It gave me something to feel excited and hopeful about, in the moment and for the future. As I get back to my little project here on Hive I am sure it will help me in the new challenges I am surely going to face in months to come and it will play a big part in helping me get through it.
Anyways, after that bit of navel-gazing, on with the show.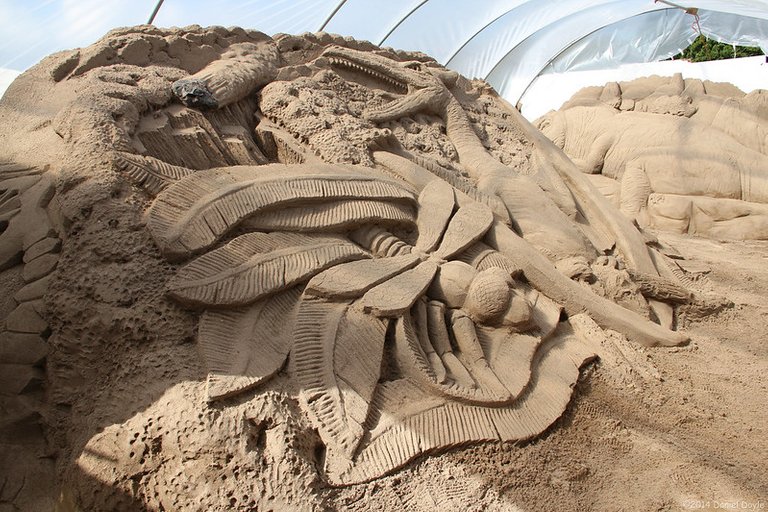 In August 2014 I was back in Duncannon, County Wexford. It was a bit of a rush job trying to organise this project and find some new sculptors to come along with me. This time I had Catalan artists Sergi and Monsa Ramirez. They had invited me to a few projects over the years in Spain and I was happy to have the opportunity to get them over to Ireland as payback.
The project in Duncannon is usually quite small with just a few days to fill a tent with sculpture. With the theme of dinosaurs, we got to work. Although I like these prehistoric animals just like any 6 year old. I was not too inspired. I let my guests choose what they wanted to make and then I went for what I thought would make some sort of sense and add to the overall composition. Sergi wanted to make some sea creatures and Monsa a big T-rex and so I figured I would make something that flew.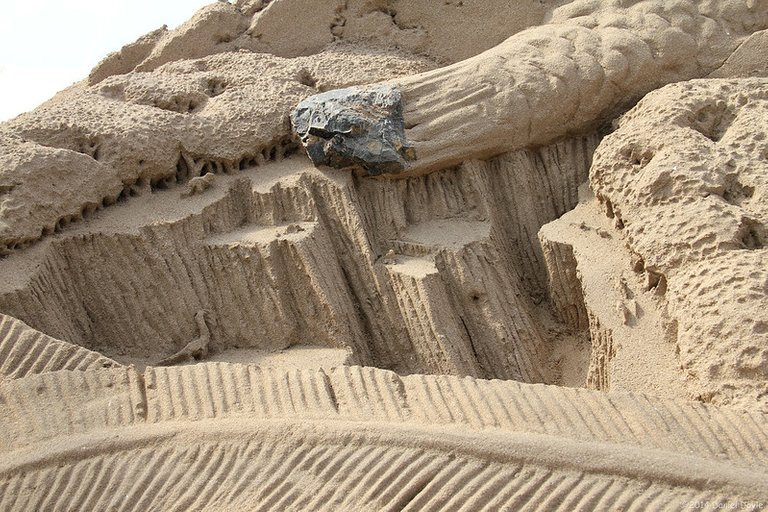 Bedrock
When working in soft beach sand like this you always have to start at the top and work down the pile, throwing back up the sand that your weight pushes down.
As I carved the horizon line which had to work with what Sergi was doing on the other side I discovered this big rock in the sand. Normally I would remove it and curse the damn thing for being exactly where I wanted to carve something but in this case, it formed the inspiration for the entire sculpture and composition that I would make.
A prehistory lesson
One of the most accepted theories about what happened to the dinosaurs on that faithful Tuesday morning 65 million years ago was that a meteor hit the Earth on the Yucatan peninsula Mexico. This lead to lots of dust in the air, blocking out the sun and causing a long winter in which the dinosaurs did not survive.
The rock I found in the sand was probably not a meteor or even a meteorite but it became one in my sculpture. Just about to make contact with the earth and end the reign of the Dinosaurs.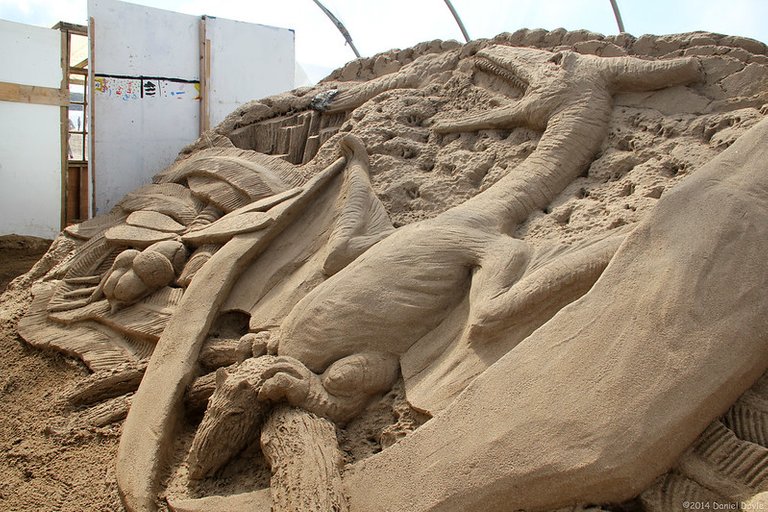 The beginning of the end
A Pterodactyl looks on powerless to stop the impact. In his claws is a Megazostrodon. This was the first known mammal that lived in fear at the time of the dinosaurs. Even though I am sure it was not the best day for him either I think his luck and that of his kind was about to change. Without the dinosaurs, mammals were able to start their reign.
When working on the Duncannon project time is really of the essence. We don't have enough of it to be overly critical of our own work. We just have to work big and work fast. Luckily the sand is soft and pretty clean (apart from would-be meteors). It is more like sketching than sculpting and it is fun in that way. We are never going to create masterpieces and to be honest, that doesn't really matter the audience always seems to be happy. The sculptures last a few days and then face their own extinction.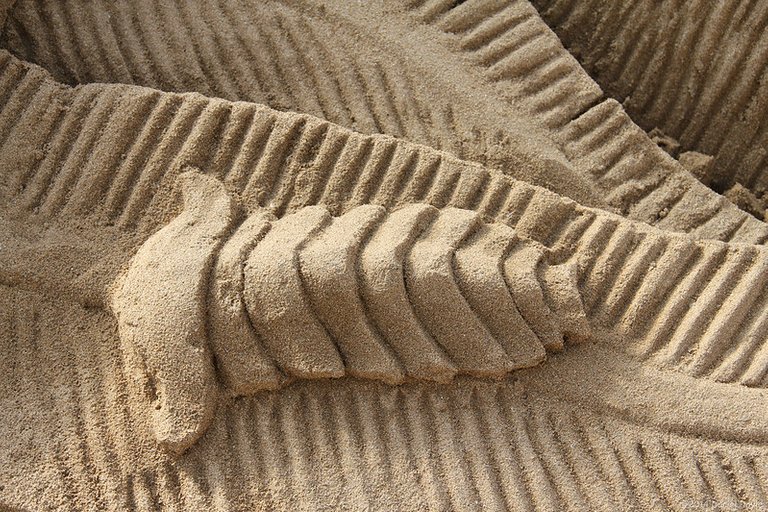 I believe Sergi and Monsa had a nice time there and they did some nice work. I will show all of that in a later post. For now, I just want to document my elements, Rough as they were. It is always difficult to set good photos there in the tent because there is not enough room to swing a cat let alone use a 28mm lens which is my widest. Still, I hope my shots give some sort of impression.
---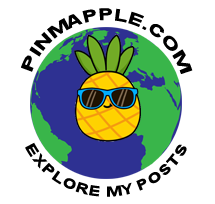 ---
Ps
Thanks for reading. I use PeakD to document my work as an ephemeral Sculptor of sand, snow and ice, amongst other things. This will hopefully give it a new life on the Hive Blockchain. Below you will find some of my recent posts.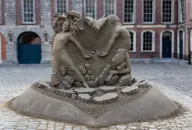 Letting go -sand sculpture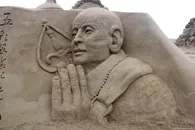 A portrait of an unknown monk - sand sculpture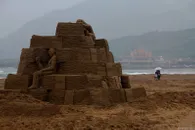 Not True Wealth - sand sculpture
I hope you'll join me again soon
@ammonite
If you would like to support me
Bitcoin: bc1qp4lfg0ttz66nesgff8fd5unglg9y0l2jy53j36
Ethereum: 0x6abaE039b9BDFB67495A0588cb90F9EAF5f7556c
Eos: ammonitearts
---
---