Freezin™ - My run in with Disney - ice sculpture

As an artist, I respect copyright and it pisses me off when I see someone trying to pass work off as their own so they can make some ill-gotten gains. This could be someone on Hive posting images of art they didn't make but when it comes to the big corporations where the fans are harassed for even sharing an image that my views are not so clear.
Someone making a birthday cake with a character from a child's favourite movie is not a criminal mastermind hoping to overthrow the incumbent. They are more paying homage as part of the community which grew up around this creation.
Unfortunately, Disney as a company has the political clout and the money to get laws changed and they have done this in the past to keep Mickey Mouse from being released to the wild. It will be an interesting few years ahead as these big corporations have to come to terms with community ownership that Web 3 will provide and that the laws they have used to protect their IP are no longer valid. I believe they will have to get with it or fight a losing battle. Attacking their fans and community will not be the answer.
Deep down I feel there is enough creativity out there for everyone to benefit, both fans and creators. Hive has really shown the way in this, that the Curators/ fans are also rewarded for the success of content. It is a near Utopian idea that I am very happy to be part of.
Funtasia ice sculpture Exhibition (Prologue)
I was approached by Funtasia Fun Park in Drogheda, Ireland to make an ice sculpture exhibition for Easter time as a special attraction, Because the Disney movie Frozen was very popular at the time they asked me to make the exhibition using that as the theme.
I remember sitting at the initial meeting and asking did Disney itself sanction the exhibition. I only asked because I knew that messing about with any of this corporate goliath's IP would bring about the wraith of one hundred lawyers. They were vague in their answer but I let the vagueness hang in the air as I needed the job and knew that on their heads be it.
It was a large undertaking because they didn't have a freezer to display it. So I had to design one and tell them how to build it. They were to have it ready for me a few days before opening making sure that the temperature was around -6c. I would then bring in and assemble the sculptures which I would make offsite in the comfort of an industrial freezer.[sic]
I busied myself and spent a few weeks of 8 hour days in -10c creating 7 scenes which I based on pivotal points in the movie. The whole exhibit was made in parts that I could just about lift by myself. They were then wrapped in bubble wrap ready to be delivered to the Funtasia Fun Park.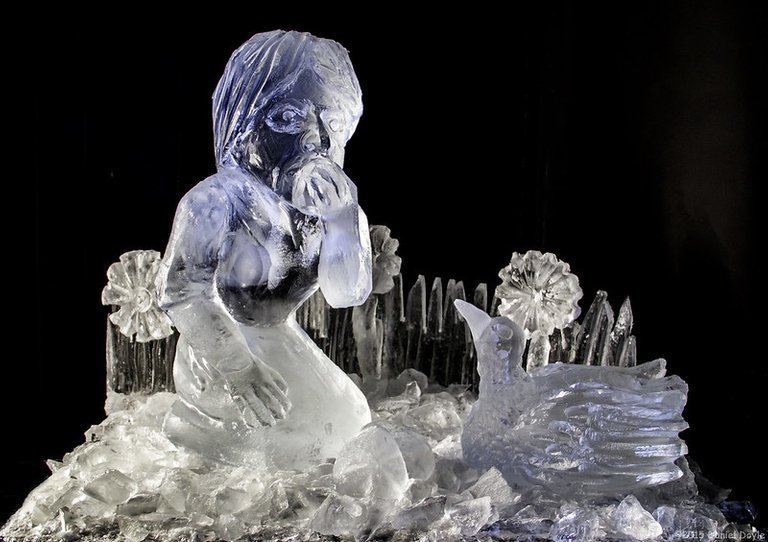 Chapter 1
Once upon a time, there was a little girl named Hilda. She had an magical chicken who laid the most wonderful chocolate eggs.
---
The faithful day came for me to start setting up and I arrived with a van full of my first load of sculpture. There had not been much communication with the owner of the Funpark in the last few days because when I say I am going to do something I will just do it and hate distractions, like talking to people.
I waited for ages for someone to come greet me. Finally, one of the employees came out and told me that they had received a cease and desist letter from Disney.
What were they thinking? Signs had been placed all around the town advertising the exhibition with Elsa and Anna on the image.
I had gotten my answer about Disneys knowledge of what they were up to. To be honest I don't know how they thought they could get away with it. Since Walt died the corporation of Disney has been very defensive about their copyright. It's a little know fact that Walt Disneys descendants actually came from Ireland. The creator of Mickey Mouse's great grandfather was actually an Irish man. How Funtasia didn't know that these ghosts from the past would not rat them out I will never know.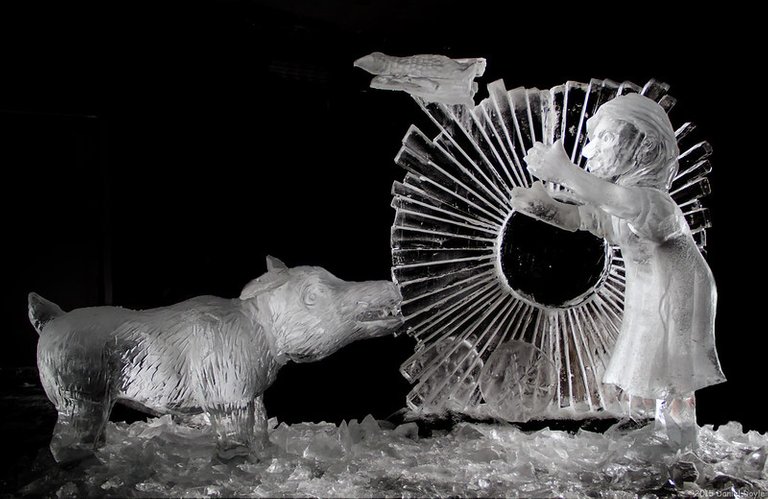 Chapter 2
One sunny day while Hilde was out playing with her chicken, Rufus, the dog came running across the fields barking with excitement to join in the fun. But sadly for Hilda, her chicken got scared and flew away never to be seen again.
---
So, there I was, with a van full of contraband ice sculptures that could never see the light of day. A purpose-built exhibition freezer and a prebooked audience that was expecting something to gawk at.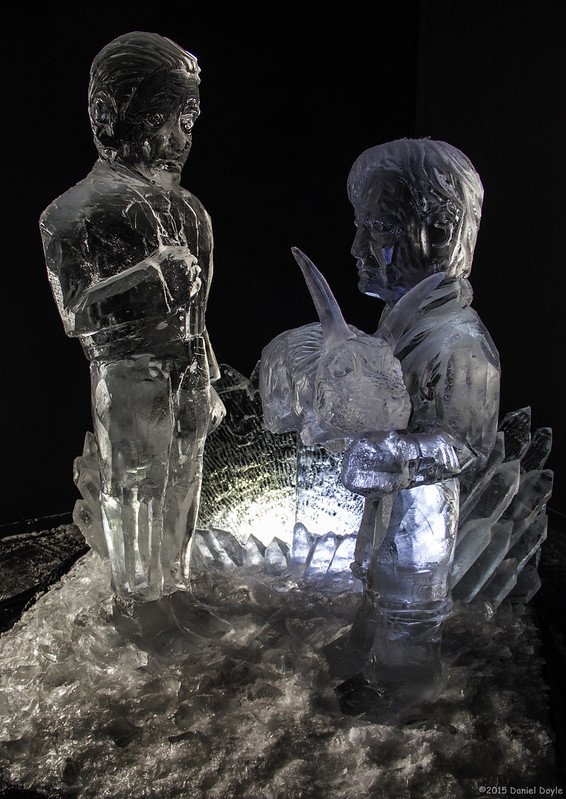 Chapter 3
A little while later in another part of the kingdom, a little boy called Stephan received a gift of a rabbit for his birthday from his grandfather.
---
I could have just walked away there and then and sent my invoice. I had done my side of the bargain. The ball was in their court. But I wanted to finish this job I had put so much work into. While the guys at Funtasia ran around like headless chickens I hatched a plan. The show must go on.
I had a few days till opening and I was confident that if I threw my last bit of energy into things I could make it work.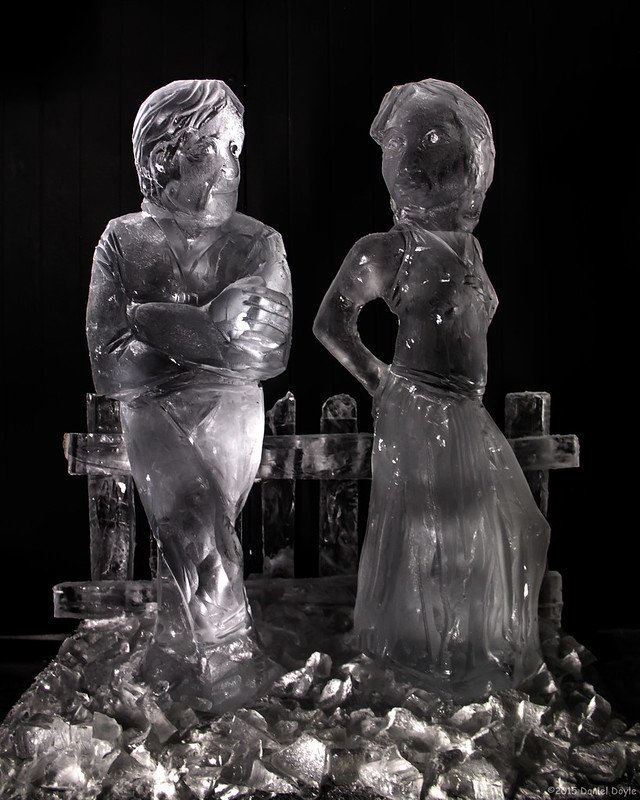 Chapter 4
Many years later Stephans beautiful rabbit ran away and while searching for him in the fields Stephan met Hilda who was still searching high and low for her chicken. They instantly fell in love and married soon after.
---
The good thing about Disney characters is that they all have very big heads and I was sure I could refashion these blockheads into someone else. I also had lots of other elements that I could reassemble in different ways to create something new.
I took stock of all that I had and set to work. The sculpting was not going to be of the best quality but if I mixed up all I had, cutting bits here, sticking bits to there, I could make something original and with a story to tie it all together.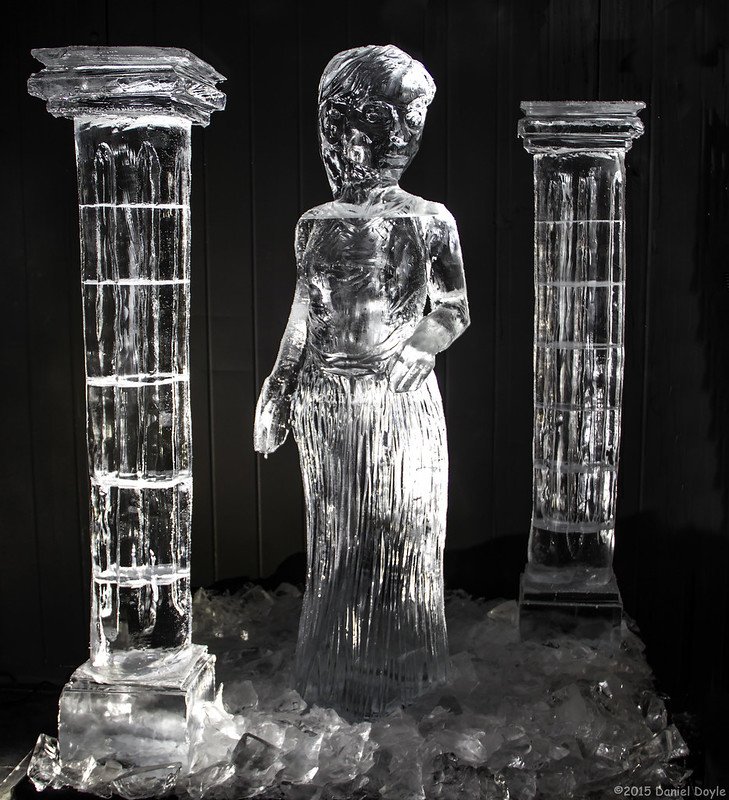 Chapter 5
Although their life was good with riches and happiness, The two still had a longing for their missing pets. Stephan would search every spare moment for the rabbit and chicken while Hilda would wait by the door in case they returned.
---
For the figures, I quickly chiselled in some new faces and hairstyles. Redid their clothes and readjusted a few limbs. A story was starting to form and although it may not have been Hans Kristian Andersen it had a hint of his universe.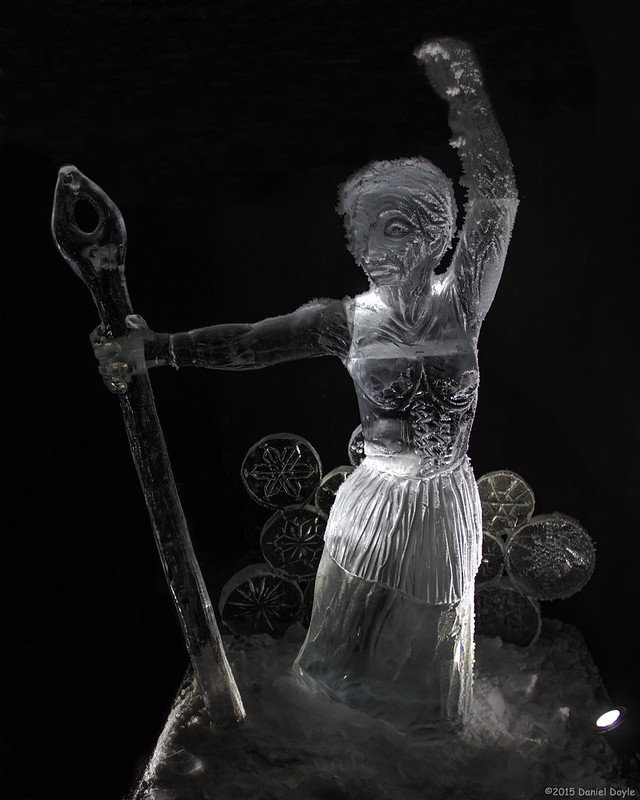 Chapter 6
Stephan decided to ask the wizardess Zara for help. She thought for a moment and told him to leave it with her. She finally told him that he and Hilda should go to the town square the next morning, which was Easter Sunday.
---
I went with a theme I thought would be more appropriate for the time of year. Changes were made to the animal species and in the end, I had the little illustrated story you are reading in Italics. This was printed out and placed at each scene.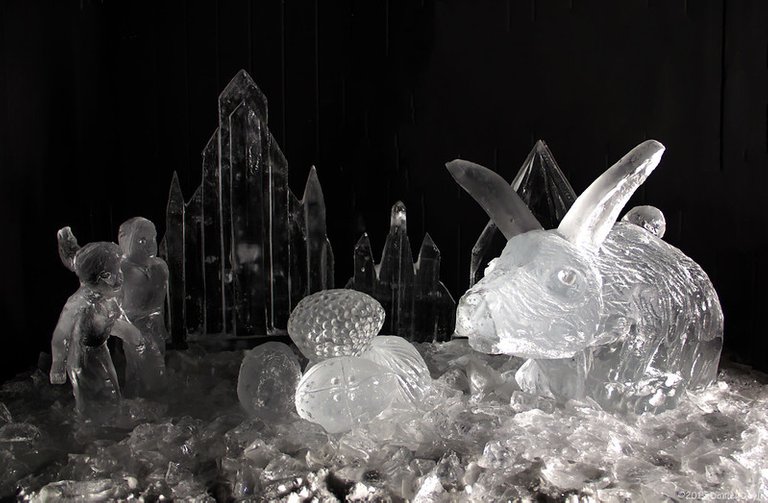 Chapter 7
At dawn the next day Hilda and Stephan entered the square to find a giant rabbit as big as a house and a giant pile of chocolate eggs. The rabbit said he brought greetings from their pets and that they were doing well. He consoled them that he would return every year around this time.
---
I will admit that I was proud of what I pulled together from the wreckage. Thinking on my feet is something I always enjoy and trying to make the customer happy is a very important lesson my parents beat into me (not literally) while I was growing up.
I don't have any images of the original sculptures I made. Even if I did, I probably would not post them here in case 'They' are watching. Disneys is renowned for sniffing out this kind of thing and squashing it. I am sure they helicoptered in some lawyers to view the exhibition for a potential lawsuit. But the only thing Frozen™ about the sculptures was the ice and me.
The client was happy that the day was saved but I will say that it took several invoices and threatening letters to get myself paid for the work I did. Payment did come but I resolved to be very cautious with this client in the future.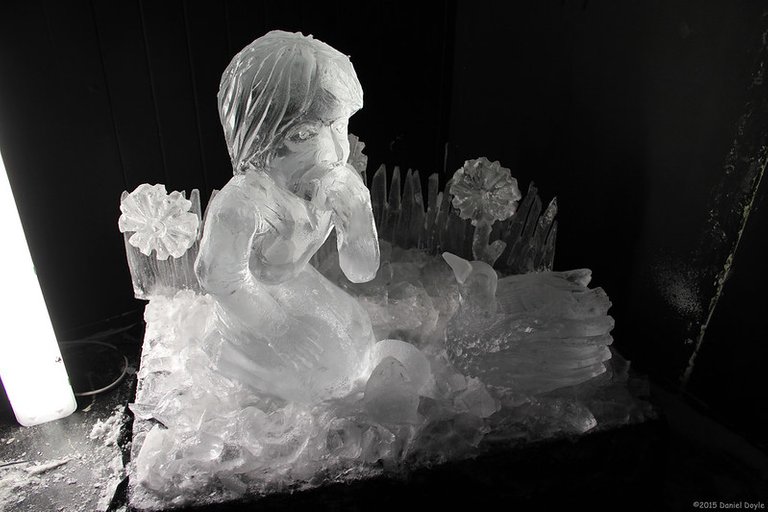 ---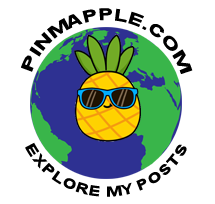 ---
Ps
Thanks for reading. I use PeakD to document my work as an ephemeral Sculptor of sand, snow and ice, amongst other things. This will hopefully give it a new life on the Hive Blockchain. Below you will find some of my recent posts.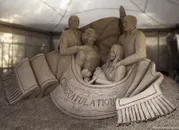 The Royal baby - sand sculpture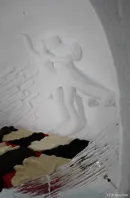 Iglu-Dorf History and Sport (Part 3/3) - snow sculpture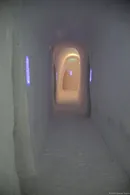 Iglu-Dorf History and Sport (Part 2/3) - snow sculpture
I hope you'll join me again soon
@ammonite
If you would like to support me
Bitcoin: bc1qp4lfg0ttz66nesgff8fd5unglg9y0l2jy53j36
Ethereum: 0x6abaE039b9BDFB67495A0588cb90F9EAF5f7556c
Eos: ammonitearts
I am also starting to create NFTs of my sculptures and welcome you to my gallery where you can own a bit of ephemeral sculpture history
---
---