Mis bebés gatitos cumplieron su primer mes ❤️🐱 | Abuela gatuna
HELLO HIVE!
---
Es sorprendente lo rápido que han crecido mis pequeños nietos gatunos. Ya transcurrió un mes desde su llegada a este mundo y ha sido fantástico apreciar sus cambios y vivir el vínculo que creamos tras la convivencia y la innegable dulzura que emana de esos cuerpecitos tan pequeños.
It is amazing how fast my little cat grandchildren have grown up. It has been a month since their arrival to this world and it has been fantastic to appreciate their changes and to experience the bond we created after living together and the undeniable sweetness that emanates from those little bodies.
---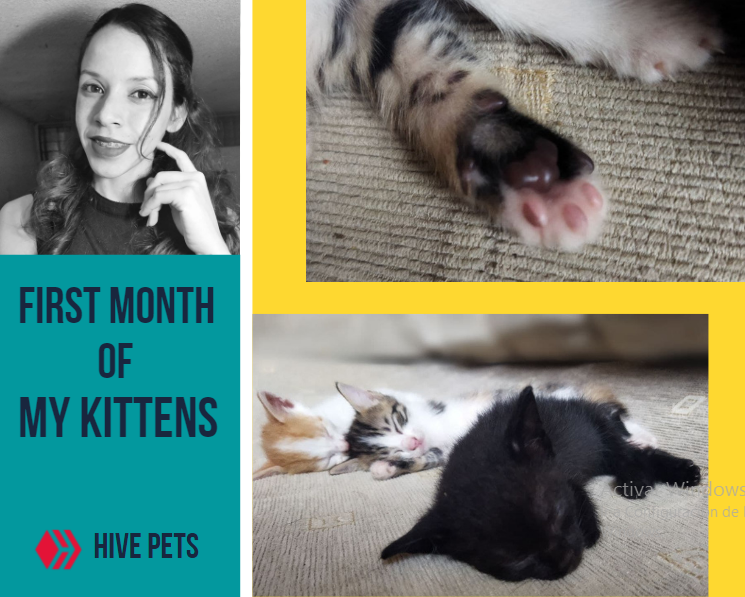 ---
Cada gatito ha desarrollado una personalidad distinta, pero los tres aman que les des amor, que les hagas cariño en la pancita, jaja, se acuestan patitas arriba para que le acaricie.
Each kitten has developed a different personality, but all three of them love to be loved, to have your affection on their tummy, haha, they lie on their paws to be petted.
---
Arcoíris, quien fue la última en nacer, pensé sería la más apacible, pero me equivoqué, es una pequeña muy ágil y juguetona, físicamente se ve más desarrollada que sus hermanos, siempre está atenta y con actitud de cazadora. De hecho, sus orejas siempre están levantadas, pendiente de cualquier novedad. Ya aprendió a escalar, así que sube los muebles solita. Es la aprendiz por excelencia de su mami Lina, juntas juegan mucho y Lina le ha enseñado a defenderse. Arcoíris es nocturna, así que mientras me toca atender a Lina en sus quehaceres ella corre por todo el depa y hace travesuras. Es muy distinta a lo que conozco en un gato, Arcoiris mueve la cola cuando le hablas con cariñitos y te invita a jugar como lo haría un perrito.
Rainbow, who was the last to be born, I thought she would be the most gentle, but I was wrong, she is a very agile and playful little girl, physically she looks more developed than her brothers, she is always attentive and with a hunter's attitude. In fact, her ears are always raised, looking for anything new. She has already learned to climb, so she climbs the furniture by herself. She is her mommy Lina's apprentice par excellence, they play a lot together and Lina has taught her to defend herself. Arcoíris is a night owl, so while I am attending to Lina's chores she runs around the apartment and gets into mischief. She is very different from what I know in a cat, Arcoiris wags her tail when you talk to her with affection and invites you to play like a puppy would.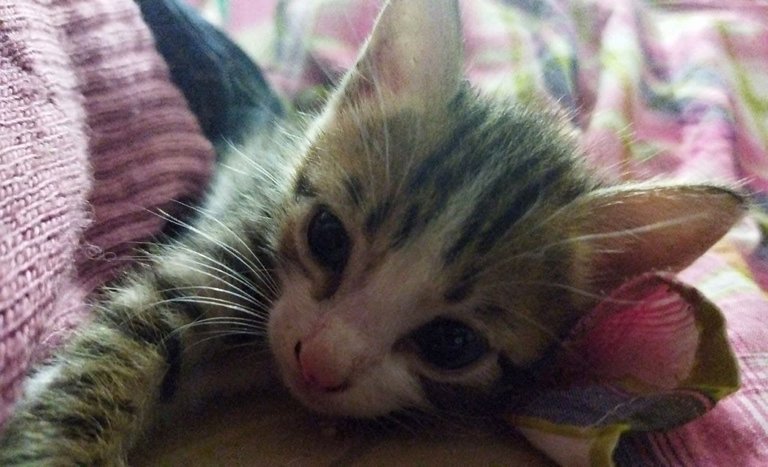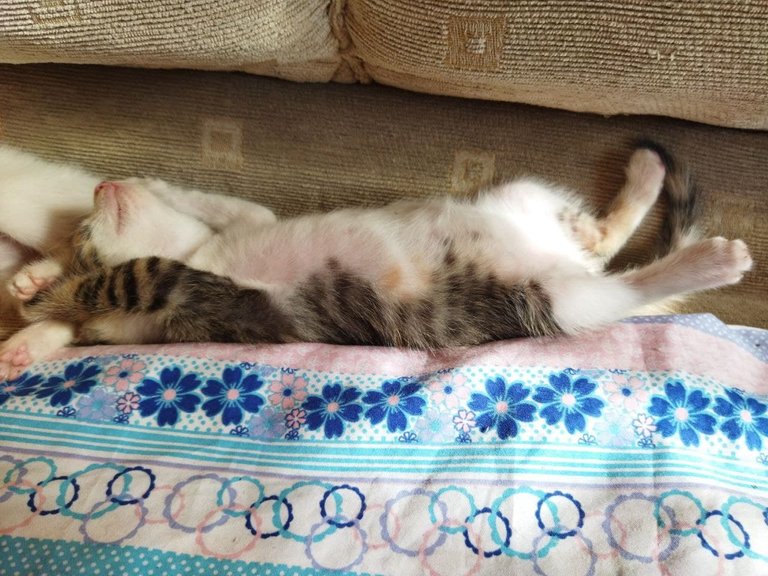 ---
Colorin, el segundo gatito en nacer, es mi puchunguito, es un caballerito muy tranquilo. Él tiene una actitud intermitente, a veces es un leoncito jugando con sus hermanas, pero casi siempre está muy pacífico; de hecho, sus orejas siempre están cambiando de atento a precavido. Me acompaña a cocinar siempre, se sube a mi pie y de ahí no se mueve. Le gusta ubicarse en algo más elevado que el piso, de hecho ha llegado a subirse a su tío perrito, Duque, y así duermen los dos.
Colorin, the second kitten to be born, is my puchunguito, he is a very quiet little gentleman. He has an intermittent attitude, sometimes he is a little lion playing with his sisters, but almost always he is very peaceful; in fact, his ears are always changing from attentive to cautious. He always comes with me to cook, climbs on my foot and doesn't move from there. He likes to be on something higher than the floor, in fact he has even climbed on his doggy uncle, Duque, and they both sleep that way.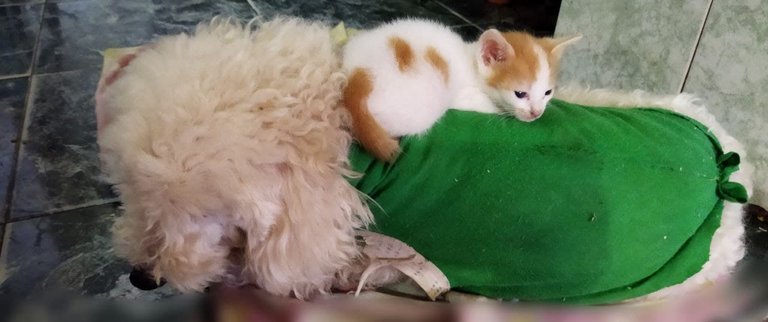 ---
Luna, nuestro angelito. Luna siempre fue muy tranquila, últimamente nos daba risa porque era la única que usaba las patas para apartar a sus hermanos cuando quería alimentarse de su mamita. Luna fue la primera en nacer, y de tamaño era la más chiquitita entre los tres. Ella siempre precavida. Dueña de una mirada cautivadora, dulce. Fue la primogénita, el inicio de esta aventura de tener tantos maullidos chiquitos en la vida. Quien impulsó la primera sonrisa y derrumbó los miedos al ser primerizas.
Luna, our little angel. Luna was always very quiet, lately she made us laugh because she was the only one who used her paws to push her siblings away when she wanted to feed from her mommy. Luna was the first one to be born, and in size she was the smallest of the three. She was always cautious. She had a captivating, sweet gaze. She was the first born, the beginning of this adventure of having so many little meows in life. She was the one who gave impulse to the first smile and demolished the fears of being the first ones.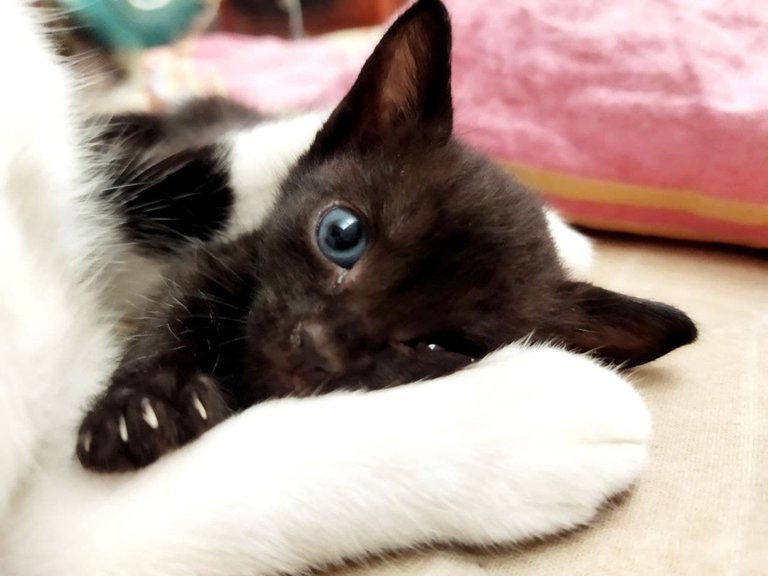 ---
La familia creció para siempre en el corazón, aunque no estemos todos hoy. A veces se adelantan las partidas y los intentos por cambiar ese destino se hacen inútiles. No ha sido fácil llegar hasta aquí hoy, pero sentía que era justo recordar y contarles lo bonito que vivimos este primer mes. Luna siempre fue alegría.
The family grew forever in the heart, even if we are not all here today. Sometimes departures come early and attempts to change that destiny become useless. It has not been easy to get here today, but I felt it was fair to remember and tell you how beautiful we lived this first month. Luna was always joy.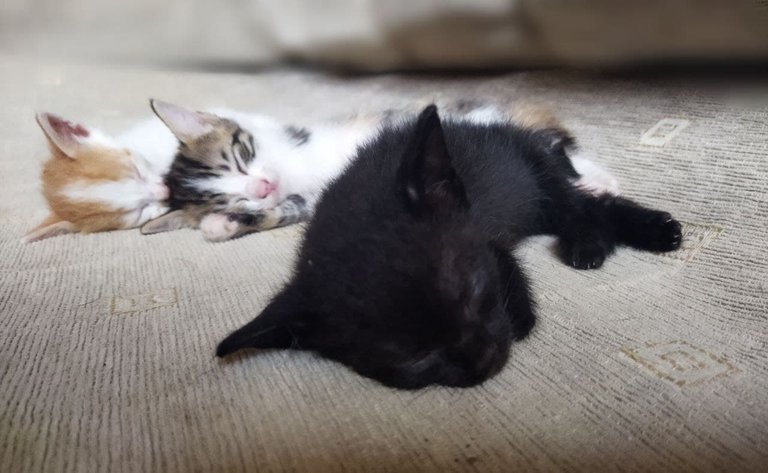 ---
La vida es hoy, así que les recomiendo que aprovechen de vivir a sus seres queridos, a sus mascotas que también son familia, ese minuto que quieren estar contigo, que disfrutan que le sobes la pancita, que todo es distinto porque están juntos.
Life is today, so I recommend that you take advantage of living your loved ones, your pets that are also family, that minute they want to be with you, that they enjoy you rubbing their tummy, that everything is different because you are together.
---
Si puedes ofrecerle un hogar a un animalito, no dudes en adoptar, te aseguro que no te arrepentirás, cambiarás su vida y la tuya. No es fácil, es como tener un bebé en casa, así ya sean una mascota adulta, pero con paciencia puedes aprender y serán felices.
If you can offer a home to an animal, do not hesitate to adopt, I assure you that you will not regret it, you will change their life and yours. It is not easy, it is like having a baby at home, even if they are already an adult pet, but with patience you can learn and they will be happy.
---
Gracias por permitirme ser parte de tu presente.
Thank you for allowing me to be part of your present.
---

---
---