Artistic Makeup: Arya Click (CyberPunk)

HELLO HIVE
Arya Click, mi personaje ficticio cyberpunker partícipe de la rebelión anti hackers de Megacorporaciones Zion, que intenta invadir y destruir la zona B del planeta Tierra, donde aún viven humanos originales.
Arya Click, my fictional cyberpunker character is part of the anti-hacker rebellion of Megacorporations Zion, which tries to invade and destroy the B zone of planet Earth, where the original humans still live.
---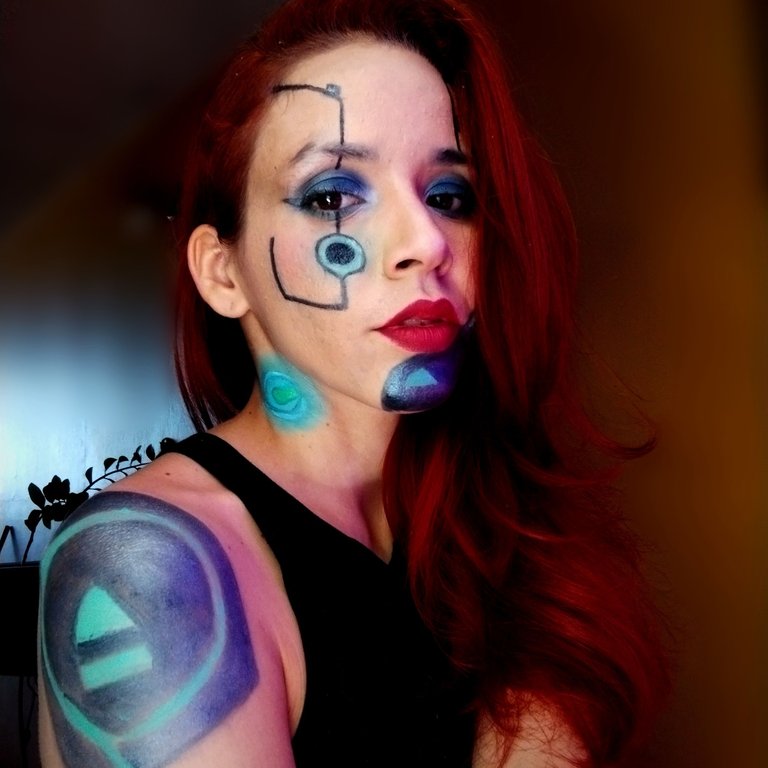 ---
Proceso | Process
---
El inicio de este maquillaje fue desde la hidratación de la piel, luego se aplicó base de maquillaje en el rostro y hombro izquierdo. Para dar así inicio al ensamblaje de cada una de las partes de Arya Click. Empezamos con el hombro, dibujando un círculo y al rededor líneas de soporte para la prótesis robótico.
The beginning of this makeup was from the hydration of the skin, then foundation was applied on the face and left shoulder. To begin the assembly of each of the parts of Arya Click. We started with the shoulder, drawing a circle and around it lines of support for the robotic prosthesis.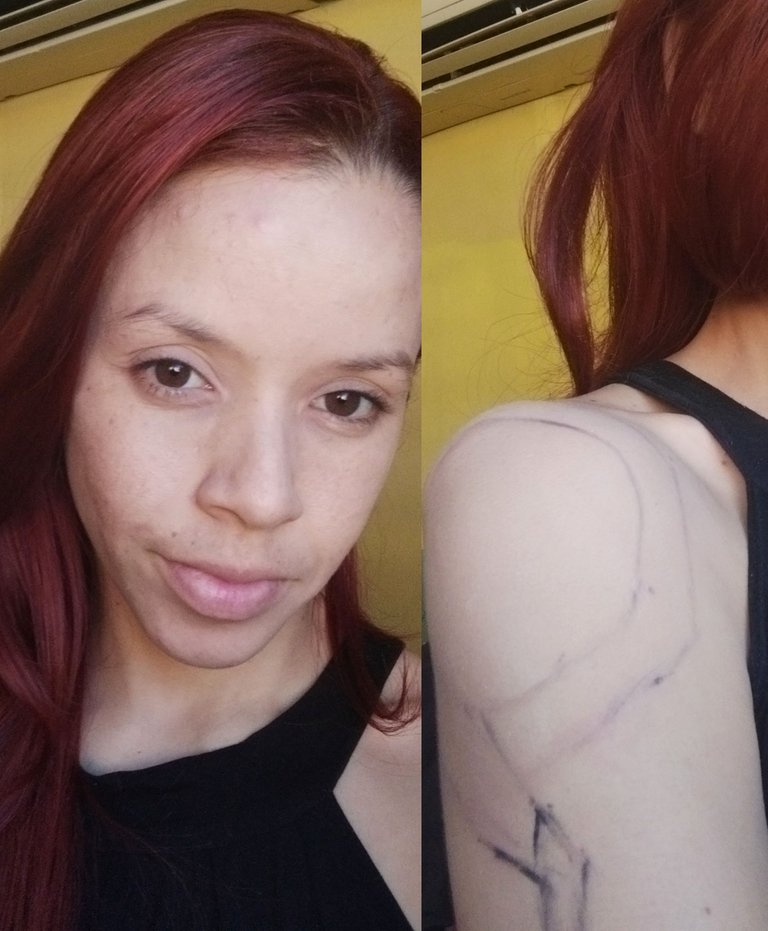 Con una mezcla de maquillaje en crema negro con plateado para lograr un tono oscuro, pero metalizado, maquillé las formas dibujadas en el hombro. En el centro del círculo realicé un símbolo con triángulo que maquillé con una mezcla de color turquesa y verde manzana para que refiera a un botón luminoso.
With a mixture of black and silver cream makeup to achieve a dark but metallic tone, I made up the shapes drawn on the shoulder. In the center of the circle I made a symbol with a triangle that I made up with a mixture of turquoise and apple green to refer to a luminous button.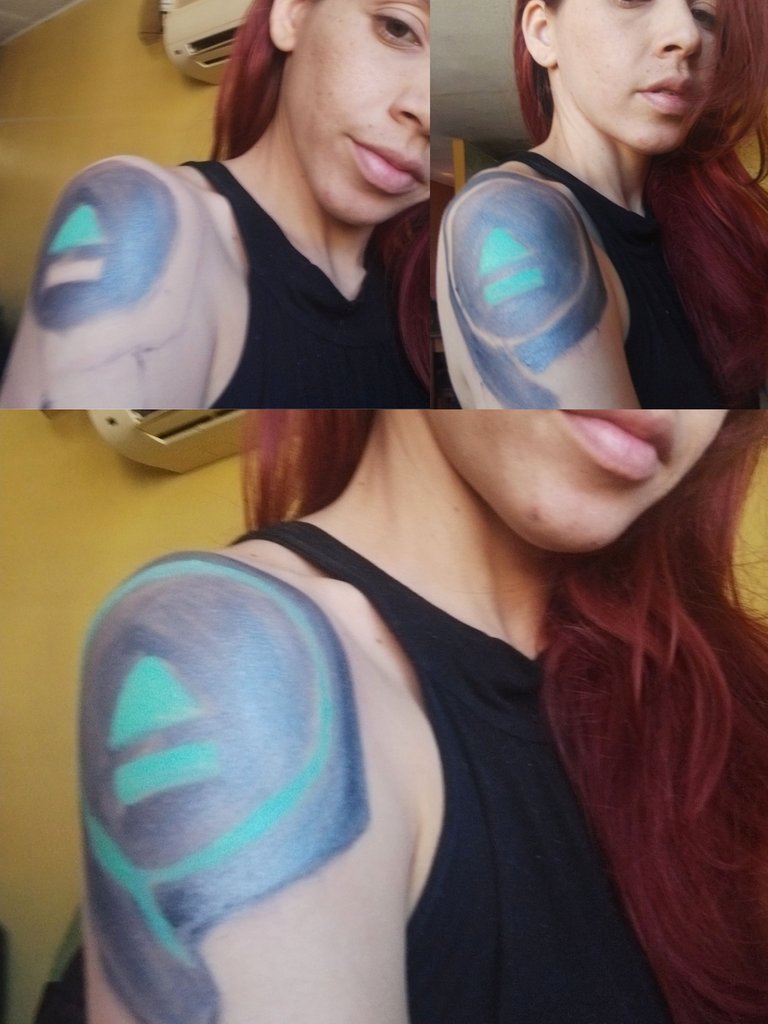 ---
A continuación, en la cara, dibujando desde la mitad de la mejilla derecha hasta la barbilla lo que representará una placa metálica maquillada con una mezcla de maquillaje en crema negro con plateado. Y con la combinación de maquillaje en crema turquesa con verde manzana pinté unos pequeños espacios que dejé para representar luz.
Next, on The face, drawing from the middle of the right cheek to the chin what will represent a metallic plate made up with a mixture of black cream makeup with silver. And with the combination of turquoise cream makeup with apple green I painted some small spaces that I left to represent light.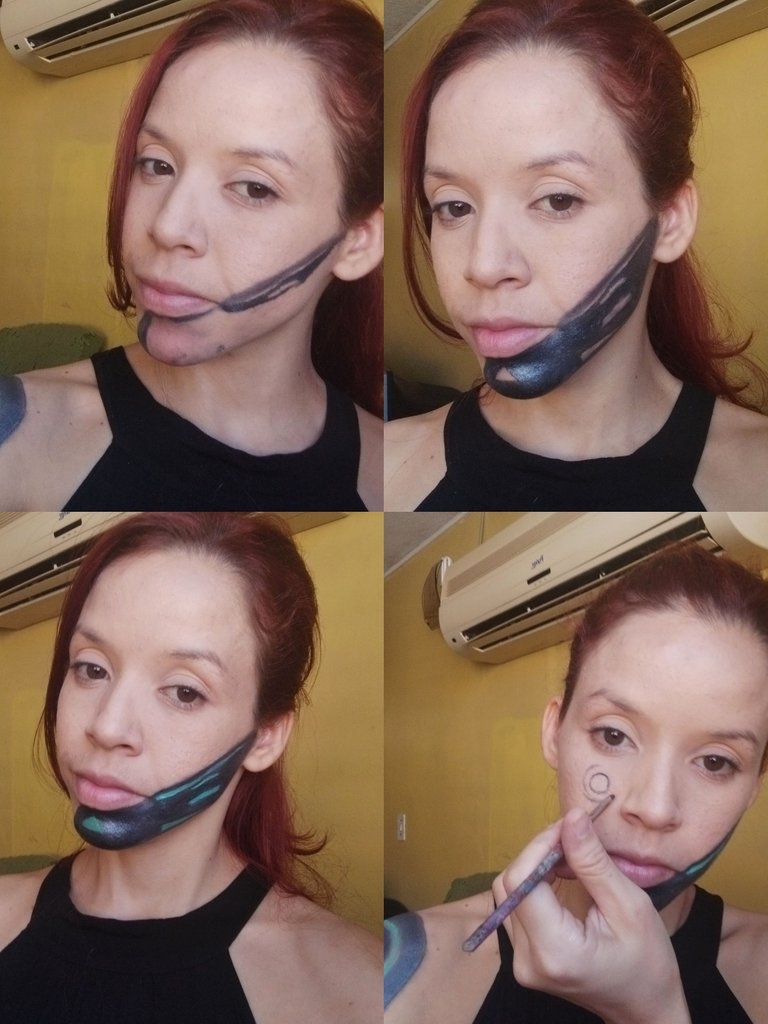 ---
Para la mirada maquillé los ojos con el tono gris plomo que cree para las piezas metálicas antes explicadas, y luego con sombra azul oscuro sellé el párpado superior y difuminé en la cuenca. Para la línea de pestañas inferior realicé un delineado con sombra azul oscuro. Y complementé con un delineado en negro y máscara de pestañas.
For the eyes I made up the eyes with the lead gray tone I created for the metallic pieces explained before, and then with dark blue shadow I sealed the upper eyelid and blended in the socket. For the lower lash line I lined with dark blue shadow. And I complemented with a black eyeliner and mascara.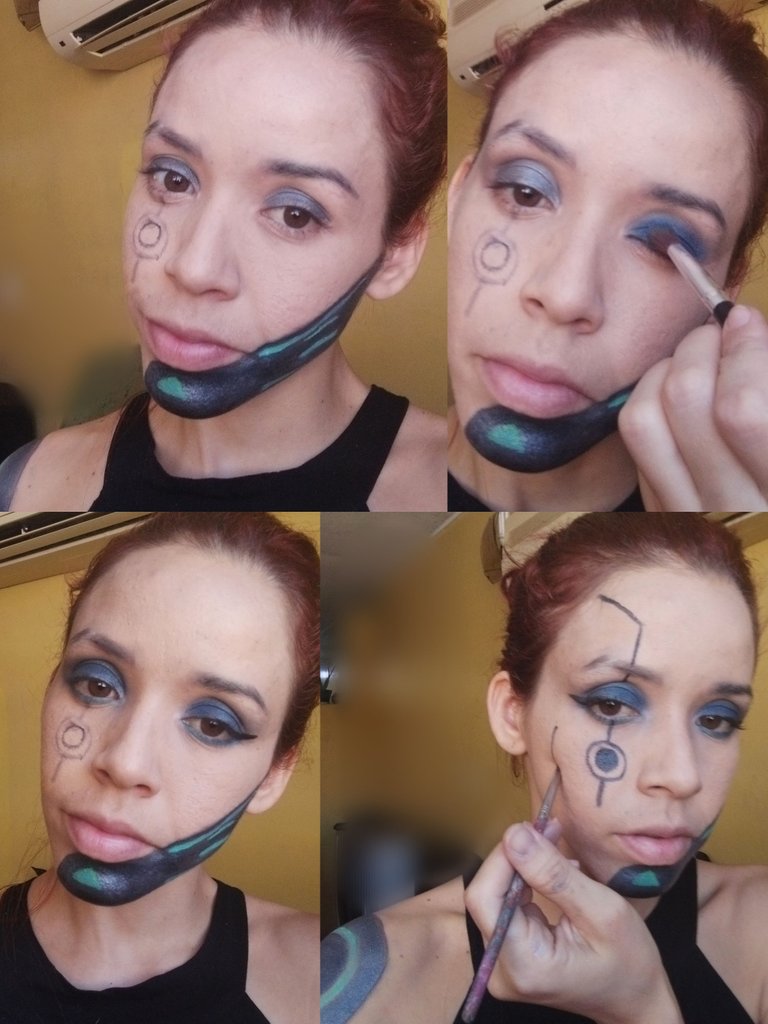 Para finalizar el maquillaje realicé un botón con referencia de luz en la mejilla izquierda del rostro, además unas líneas que simulan la unión de la piel humana con la robótica. Y apliqué rubor. En el cuello en última instancia hice un botón lumínico con verde turquesa, azul para darle profundidad, y blanco para resaltar el brillo, difuminando además un poco de verde al rededor para semejar el resplandor de la luz.
To finish the makeup I made a button with a light reference on the left cheek of the face, plus some lines that simulate the union of human skin with robotics. And I applied blush. On the neck I finally made a light button with turquoise green, blue to give it depth, and white to highlight the brightness, also blurring a little green around it to resemble the glow of light.
---
Artistic Makeup: Arya Click
---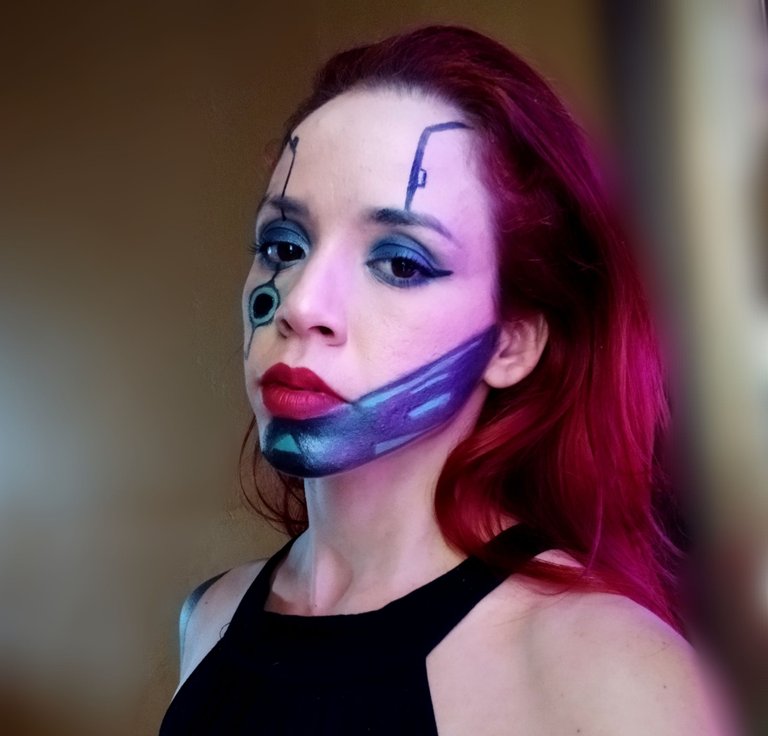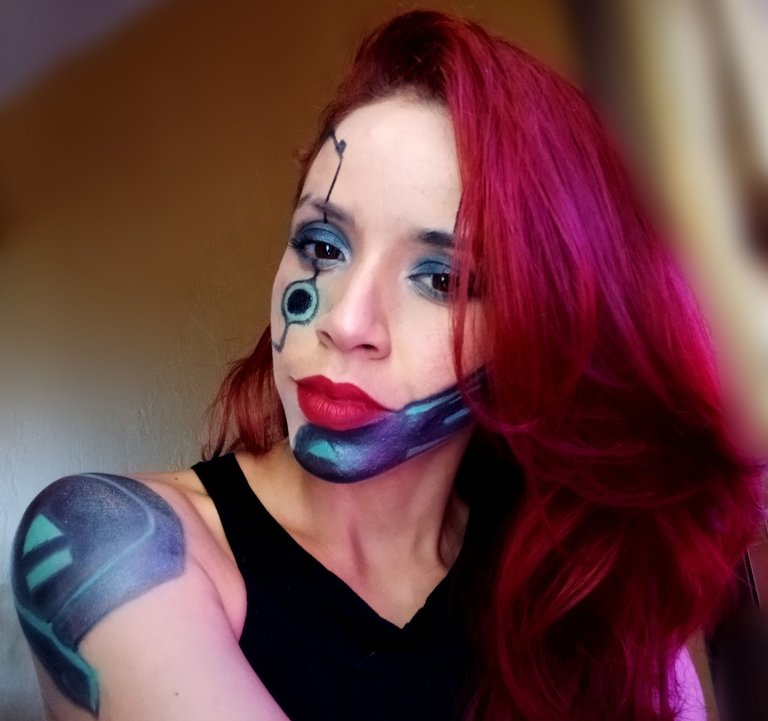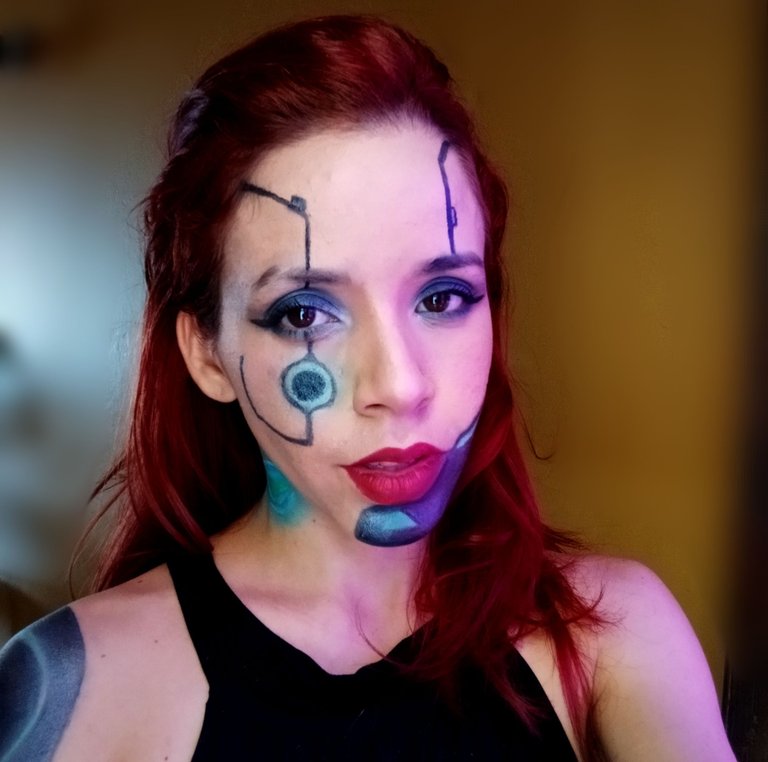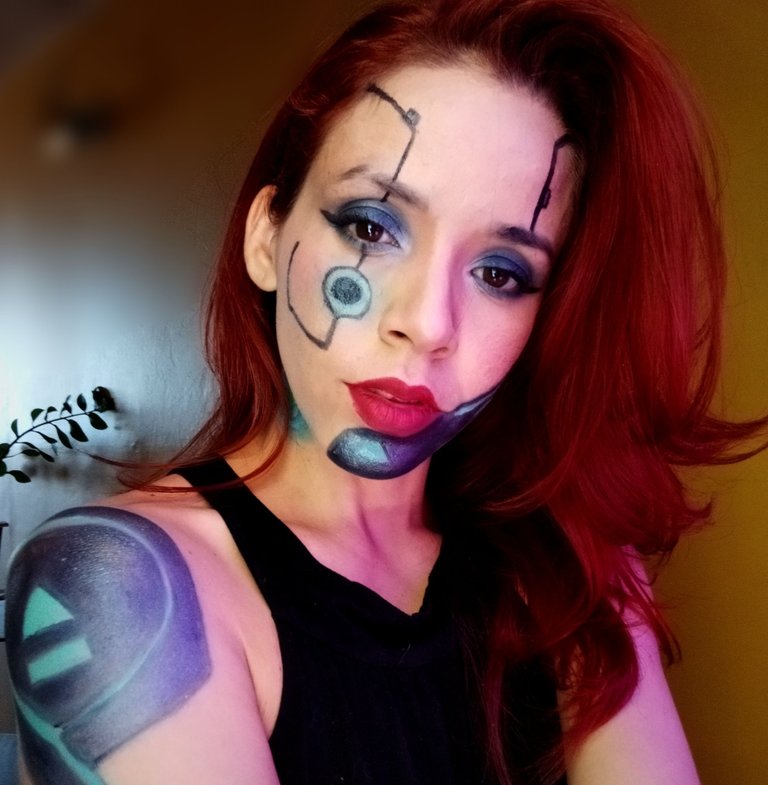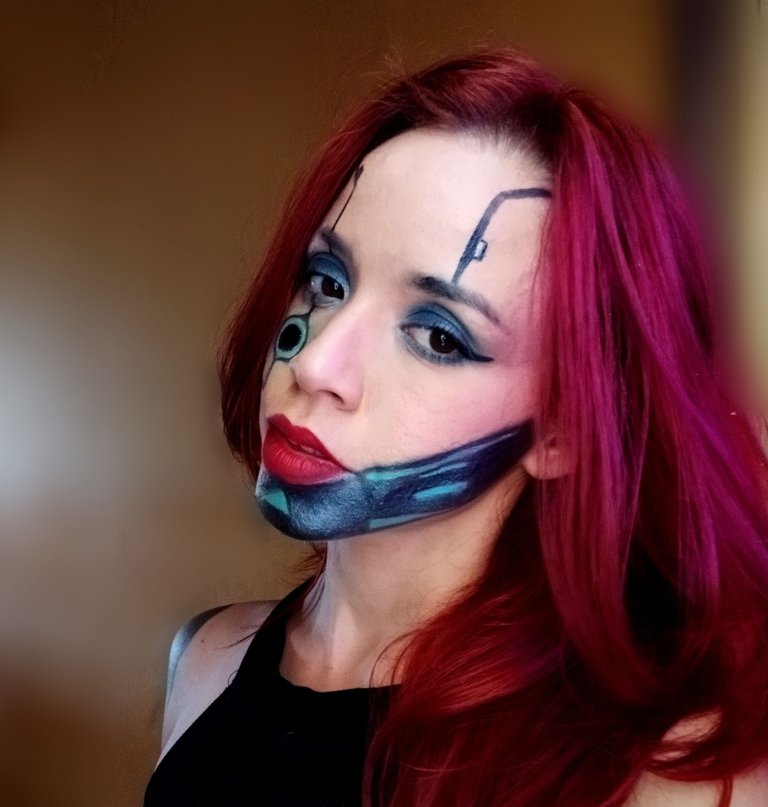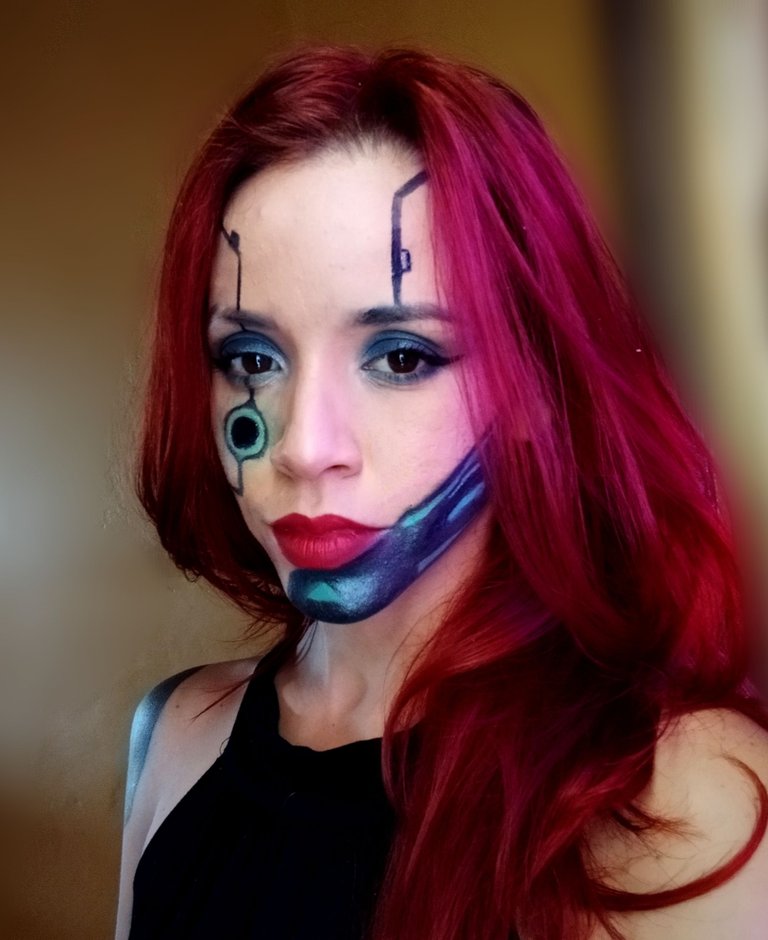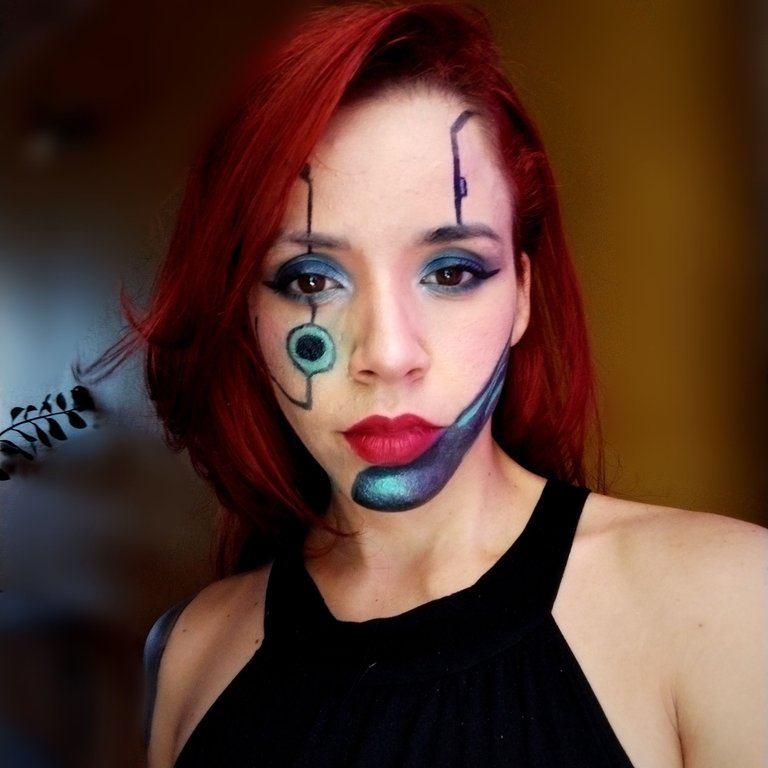 ---
Gracias por permitirme ser parte de tu presente.

Thank you for allowing me to be part of your present.

---




---
---