Cubanito | Dulce [ESP-ENG]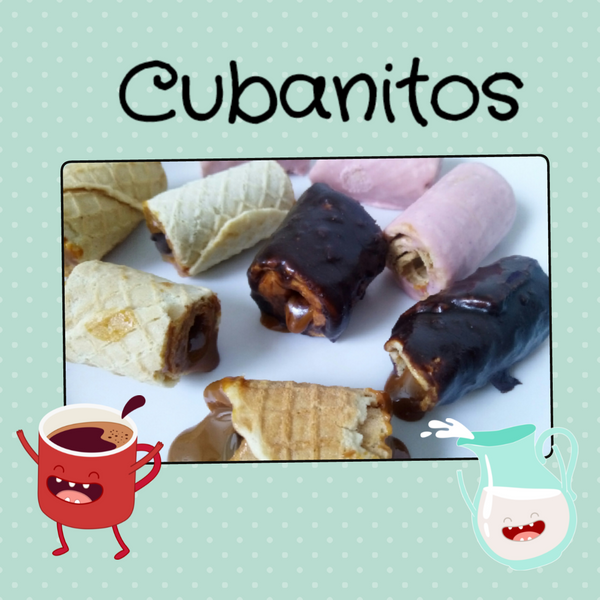 Existen dulces que identifican una cultura, sin importar el origen de cómo surgió, las personas adoptan el dulce hasta hacerlo parte de la tradición gastronómica, incorporando un alimento o arte del entorno que luego representa una provincia o estado del país, así fue que el Cubanito se implanta en Argentina. Si quieres leer cómo nace este dulce te dejo este
There are sweets that identify a culture, regardless of the origin of how it arose, people adopt the sweet to make it part of the gastronomic tradition, incorporating a food or art of the environment that then represent a province or state of the country, so it was that the Cubanito implants in Argentina. If you want to read how this sweet was born, I leave you this link
---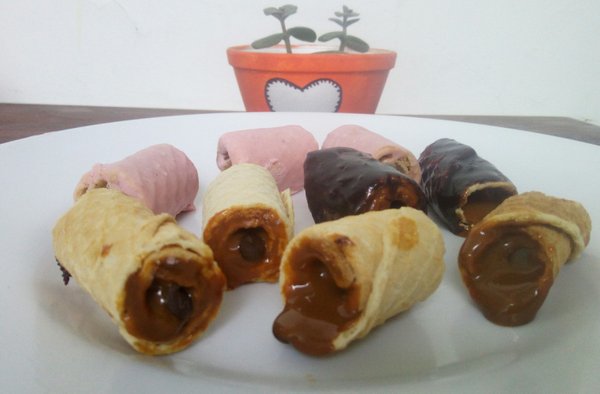 El Cubanito es una golosina dulce que me hace viajar hasta mi tierra Venezuela que hay un chuchería llamado Pirulín. El Cubanito se diferencia del Pirulín no solo por su relleno sino por la textura crocante semejante a una barquilla o cucurucho; hay gran variedad en tamaño y sabor, pero predomina el dulce de leche que para nosotros los venezolanos lo conocemos como arequipe. He aprendido con el tiempo a distinguir el sabor del dulce de leche y prefiero el suave porque desde mi punto de vista tiene menos dulzor, es decir, no están intenso.
The Cubanito is a sweet candy that makes me travel to my homeland, Venezuela where there is a candy called Pirulín. The Cubanito is different from the Pirulín not only because of its filling, but also because of its crunchy texture similar to a wafer or cone; there is a great variety in size and flavor, but I prefer the dulce de leche which for us Venezuelans is known as Arequipa. I have learned over time to distinguish the flavor of dulce de leche and I prefer the soft one because from my point of view, it has less sweetness, that is to say, they are not intense.
---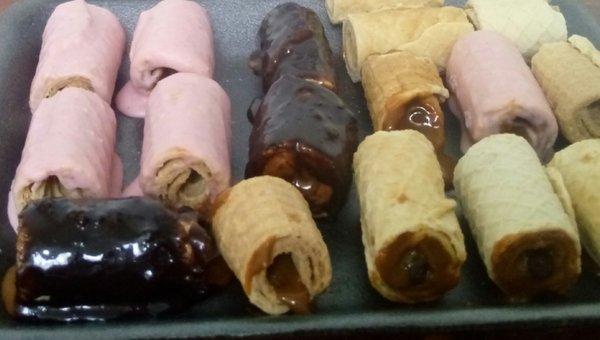 Esta oblea desde el punto artesanal no se ve con frecuencia en la capital de Buenos Aires, pero en la provincia de Bahía Blanca es común. Este estuve en esta región y por estar descargado mi celular no puede registrar la cantidad de lugares y puestos que venden Cubanito. En la capital consigo el Cubanito más similar a la oblea del Pirulín, nos obstante hay empaques que vienen crocantes y gruesos como el original.
This wafer from the artisan point of view is not often seen in the capital of Buenos Aires, but in the province of Bahía Blanca it is common. This time I was in this region and because my cell phone is discharged it cannot register the number of places and stalls that sell Cubanito. In the capital I get the Cubanito more similar to the Pirulín wafer, however, there are packages that come crunchy and thick like the original.
---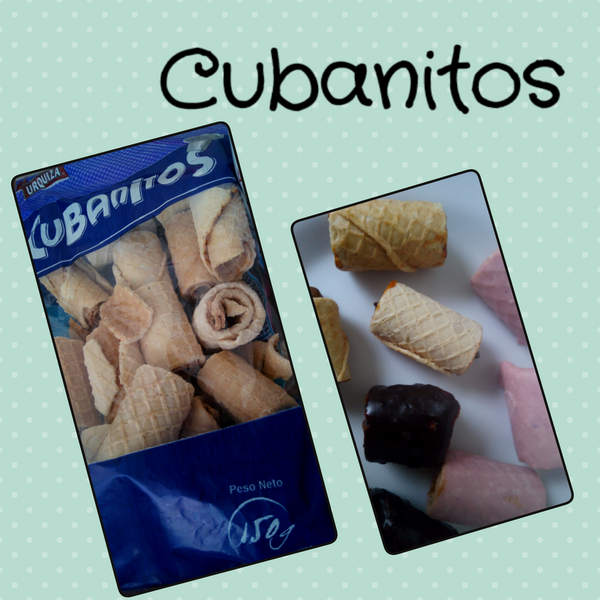 Compré este paquete tradicional para rellenar y bañar en chocolate blanco que es otra forma de comerlo para mi hija y así sumar otra merienda para cambiar la rutina. ¿Qué se necesita?
I bought this traditional package to fill and dip in white chocolate, which is another way for my daughter to eat it and add another snack to change the routine. What does it take?
---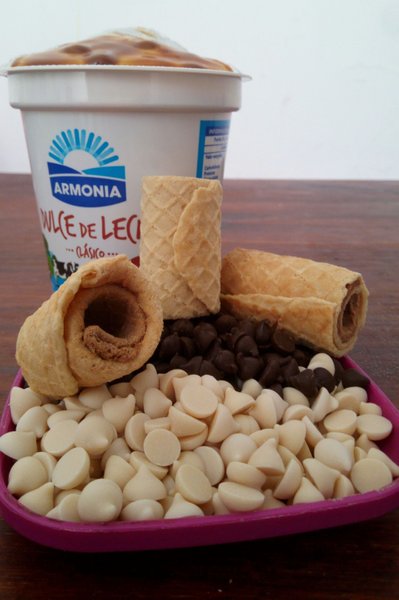 | INGREDIENTES | INGREDIENTS |
| --- | --- |
| Un paquete de Cubanito | One package of Cubanito |
| 100 gramos de chispas de chocolate blanco | 100 grams of white chocolate chips |
| 100 gramos de chispa de chocolate oscuro | 100 grams of dark chocolate chips |
| Dulce de leche | Caramel sauce |
| Leche | Milk |
| Colorante comestible Roja o rosada | Red or pink edible coloring |
---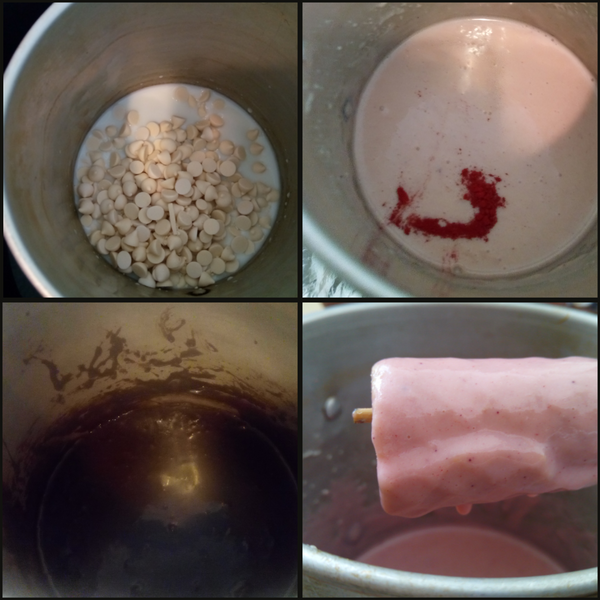 Usar una manga para rellenar el Cubanito. Derretir en baño de María el chocolate blanco con un poco de leche y colocar un poquito de tinta. Con un palo de altura pasar los Cubanitos de forma delicada para que no se rompan y dejar escurrir para que seque. Esta actividad la hice con mi hija y ella le encanta pintar de rosa el chocolate blanco. Hacer el mismo procedimiento con el chocolate oscuro para complazcer a mi esposo y a mí, todos contentos a disfrutar de una merienda diferente en el hogar. Lo puedes acompañar con cualquier bebida caliente o fría. Por lo general mi hija le gusta jugo y a mi también por la combinación de sabores.
Use a piping bag to fill the Cubanito. Melt the white chocolate in a double boiler with a little milk and add a little ink. With a tall stick, gently roll the Cubanitos so they don't break and let them drain to dry. I did this activity with my daughter and she loves to paint the white chocolate pink. Do the same procedure with the dark chocolate to please my husband and me, all happy to enjoy a different snack at home. You can accompany it with any hot or cold drink. My daughter usually likes juice and so do I for the combination of flavors.
---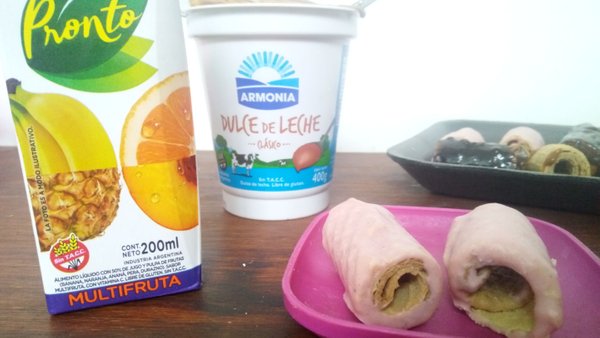 Gracias por visitar y dejar un comentario

Primera imagen y otras creada con la aplicación Fotocollages. Fotos tomadas con mi teléfono móvil noblex modelo 551. Gif elaborado con la aplicación creador y editor de gif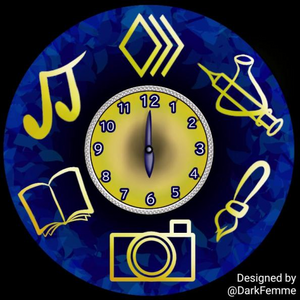 @Contra-Reloj
Visítanos en el servidor de @hivemexico


Soy miembro de @motherhood

Diseño realizado en Canva
@AntonietaGonzl7
Twitter

Las publicaciones elaboradas en mi blog son realizadas desde un móvil Noblex modelo 551.
---
---