Meme challenge 241 Entry #1 A girl's Dilemma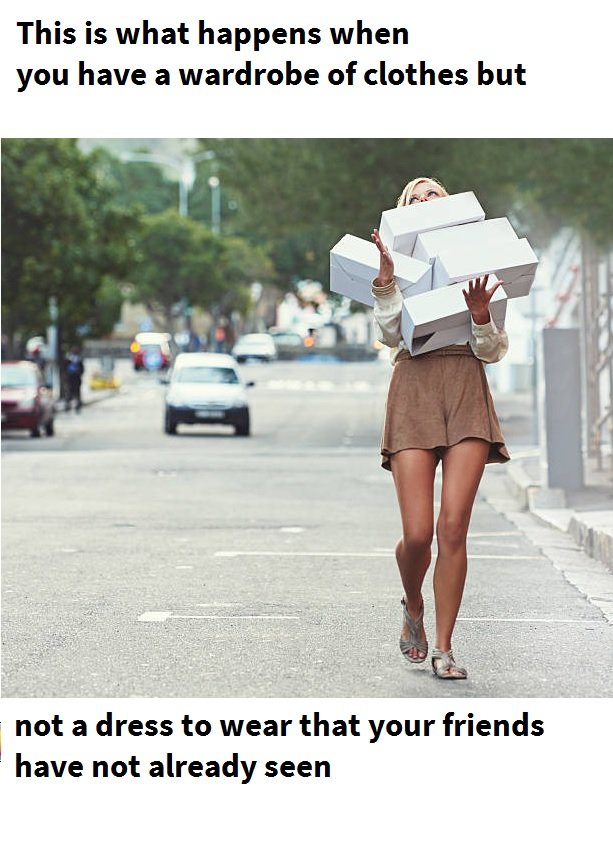 A Girl's Dilemma
You sometimes know that you have like a wardrobe full of clothes and when when it is time to dress up you cannot seem to find a suitable set of clothes to wear.
Is it the case with you as well?
Maybe it is or perhaps it is with some one you know.
Peer pressure to dress well
Sometimes one is torn by the idea of who we are and what or who we want to be and instead we begin to get panic attacks that we have nothing new to wear when we visit a friend or for work.
Peer Pressure on over drive
A lot of times it is the peer pressure which us do certain things.
From dressing to shopping peer pressure does make us do a lot of things that we may not do other wise.
Try mix and match
A trick which one could try is do a mix and match with the clothes that you already have.
This way you can craft a new look and present yourself in a new manner,
This would help you explore your creative side and also boost your confidence.
Let us play some sports
Be it running jogging or any other form of physical activity as long as you enjoy it you clothes do not matter that much or at least play an important role.
Dress for yourself
When you dress for yourself you create your own dressing style and perhaps this can start a trend that your peers want to follow.
---
---