Hive Open Mic SEMANA 155 / Cochinitos Dormilones / @aly.squid (Español/Inglés)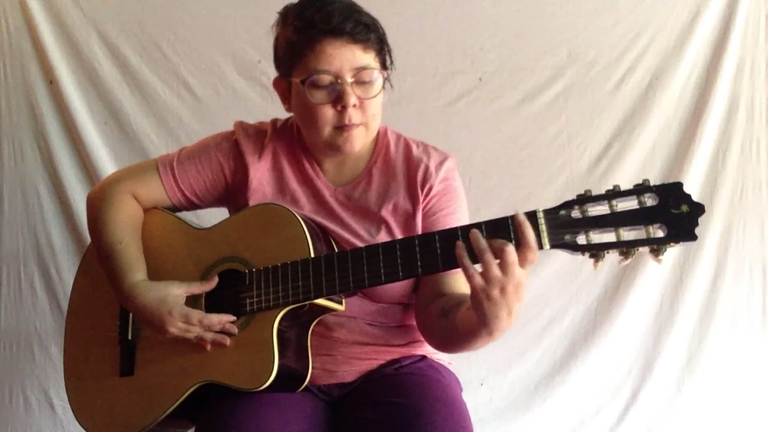 ---
Un saludo amistoso queridos Hivers, una vez más me reúno con ustedes en esta hermosa comunidad musical. Esta semana la temática es "DNA" muy particular, confieso que estuve un poco confundida y temerosa de presentar mi entrada, pero finalmente he decidido traerles una canción muy hermosa. Se trata de una versión instrumental de "Cochinitos dormilones" del genio mexicano Francisco Gabilondo Soler.
Escogí esta canción porque si tenemos que hablar de una herencia musical que forma parte del imaginario de muchas generaciones, sin duda Cri Cri es una de ellas. Su gran repertorio musical y ese mundo imaginario, lleno de personajes fantásticos ha acompañado las infancias de muchas generaciones y eso es algo que no puede hacer cualquier artista, un trabajo trascendental en el tiempo.
La canción "Cochinitos dormilones" por su parte, es una bella historia de tres hermanitos que a la hora de dormir, viven hermosas aventuras en el plano de los sueños. Desde las fantasías más opulentas, hasta los más humildes sueños y las aventuras típicas de cualquier niño. Creo que es hermosa, porque nos recuerda esa edad en la que soñar era fácil y la ilusión y las aventuras nos acompañaban siempre. Algo que a veces se pierde entre lo abrumador de los días.
Esta versión es solamente en guitarra, la hice con mucho cariño así que espero la disfruten. Igualmente les dejo la original y la letra pues está llena de gran belleza poética y la calidad habitual de las composiciones de Francisco Gabilondo Soler.
Letra
Los cochinitos ya están en la cama
Muchos besitos les dio su mamá
Y calentitos todos con piyama
Dentro de un rato los tres roncarán
Uno soñaba que era rey
Y de momento quiso un pastel
Su gran ministro hizo traer
Quinientos pasteles, nomás para él
Otro soñaba que en el mar
En una lancha iba a remar
Mas de repente al embarcar
Se cayó de la cama y se puso a llorar
Los cochinitos ya están en la cama
Muchos besitos les dio su mamá
Y calentitos los tres con piyama
Dentro de un rato los tres roncarán
El más pequeño de los tres
Un cochinito lindo y cortés
Ese soñaba con trabajar
Para ayudar a su pobre mamá
Y así soñando sin despertar
Los cochinitos pueden jugar
Ronca que ronca y vuelta a roncar
Al país de los sueños se van a pasear.
Contenido original del autor.
Fotos propias desde mi Tableta ZTE E10Q
Traducido con Deepl.com
Todos los derechos reservados || @aly.squid// 2023
---
Hive Open Mic WEEK 155 // Cochinitos Dormilones // @aly.squid (English/Spanish)
A friendly greeting dear Hivers, once again I join you in this beautiful musical community. This week the theme is very particular "DNA", I confess that I was a little confused and afraid to submit my entry, but finally I decided to bring you a very beautiful song. It is an instrumental version of "Cochinitos dormilones" by the Mexican genius Francisco Gabilondo Soler.
I chose this song because if we have to talk about a musical heritage that is part of the imaginary of many generations, Cri Cri is undoubtedly one of them. His great musical repertoire and that imaginary world, full of fantastic characters has accompanied the childhoods of many generations and that is something that not just any artist can do, a transcendental work in time.
The song "Cochinitos dormilones" is a beautiful story of three little brothers who, at bedtime, live beautiful adventures in the plane of dreams. From the most opulent fantasies, to the most humble dreams and adventures typical of any child. I think it is beautiful, because it reminds us of that age when dreaming was easy and illusion and adventures were always with us. Something that sometimes gets lost among the overwhelming of the days.
This version is only in guitar, I made it with love so I hope you enjoy it. I also leave you the original and the lyrics as it is full of great poetic beauty and the usual quality of the compositions of Francisco Gabilondo Soler.
Lyrics
The little pigs are already in bed
Many little kisses their mother gave them
And they're all warm in their pajamas
In a little while the three of them will be snoring
One dreamed he was king
And for the moment he wanted a cake
His great minister brought in
Five hundred cakes, just for him
Another dreamed that at sea
In a boat he was going to row
But suddenly when he embarked
He fell out of bed and began to cry
The little pigs are already in bed
Many kisses their mother gave them
And all three are warm in their pajamas
In a little while the three of them will be snoring
The smallest of the three
A cute and polite little piglet
That one dreamed of working
To help his poor mother
And so dreaming without waking
The little pigs can play
Snore and snore and snore and snore again
To the land of dreams they go for a walk.
Original content by the author.
Own photos from my ZTE E10Q Tablet.
Translated with Deepl.com
All rights reserved || @aly.squid// 2023
---
▶️ 3Speak
---
---