My Wild Adventure at Rocky Mountain National Park
2 AM wakeup call. Packed up my gear and started the 2 hour drive for my fist visit to Rocky Mountain National Park....in January. Was I crazy or naïve? Looking back I would say both. The weather forecasted snow all night but then clear but cold later that day. Sounded just about perfect to me.
I arrived at the trailhead parking lot around 4:30 AM. I was surprised to see that I was the second vehicle there. At least there would be somebody around in case I got lost I thought. I had little experience hiking in the mountains no less in snow but there I was to take on this challenge determined to overcome my fears of hiking in the woods at night. The wind howled and the trees made this unsettling creaking noise but I pressed on with headlamp at full brightness. The cold air finished what the coffee started and brought all my senses to life.
The snow was deep making the trail difficult to follow. After getting a little lost, I fortunately linked up with that first group and felt better knowing there was safety in numbers. I arrived at this first overlook at blue hour. The first of three lakes on this popular trail is down in the valley completely frozen.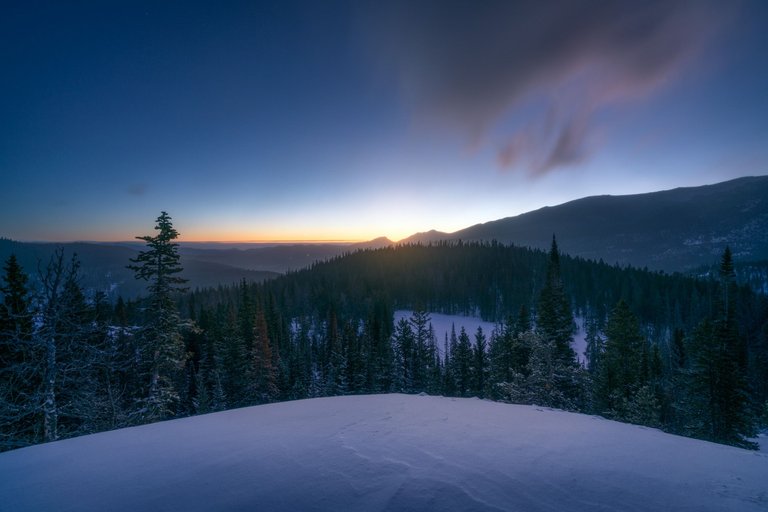 Sony a7RII + FE 16-35 GM, 16mm, f10, 21 sec, ISO100
---
Good. My first image from the trip was completed. Things were going well or so I thought. It was at this point in my trip just as the sunrise color was starting to hit the clouds that I broke my Gitzo tripod. I was making my way up to a boulder when I sank into a snow drift. Somehow one of the tripod legs sheared off from the base. Hard lesson learned. Do not use your tripod as a makeshift trekking pole.
I scrambled to get into position still upset at myself and did the best I could to stabilize my camera on the tripod, propping the broken leg into position ever so carefully. It worked and I was able to shoot several compositions as the light hit the clouds. The view from this position was beautiful. Fresh snow, tall pines, towering mountain range, and clouds in the right position.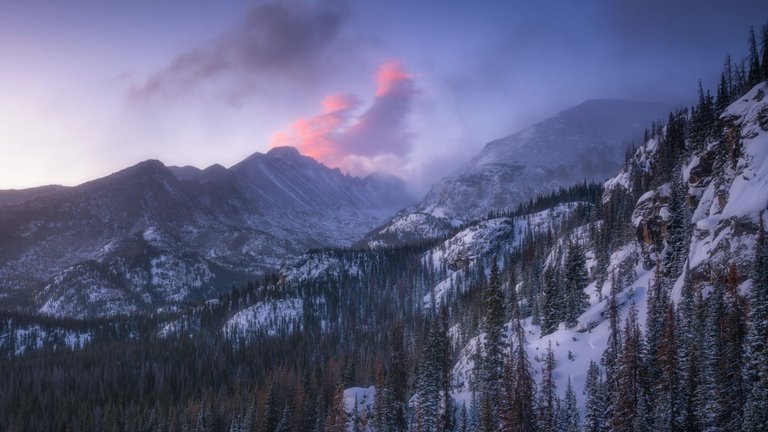 Sony a7RII + FE 16-35 GM, 24mm, f10, 1/5 sec, ISO100
A few minutes later the clouds near the peaks caught some brilliant color. I was frantically shooting different compositions to catch the moment. I zoomed in closer using my Sony 100-400 lens to fill the frame. It looked like a volcano had erupted near the peak (left image).
Then minutes later the sun broke over the mountains casting this wonderful golden color on the clouds. They looked like solar flares over the mountain peak (right image).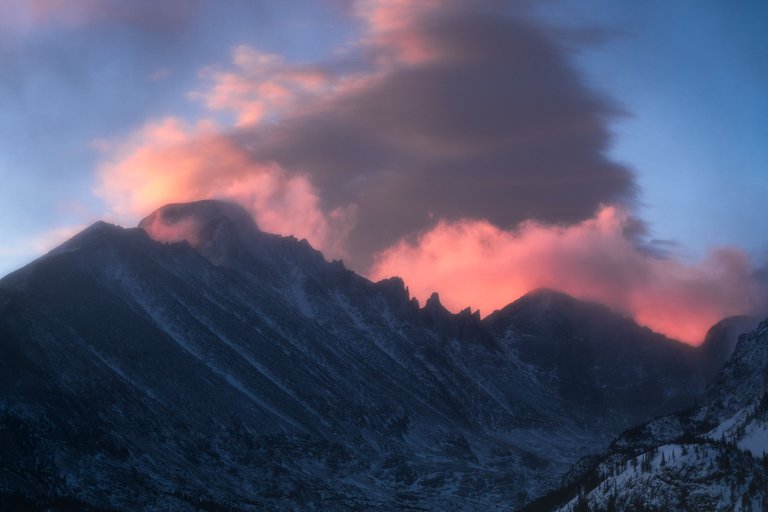 Sony a7RII + FE 100-400 GM, 100mm, f10, 1/25 sec, ISO100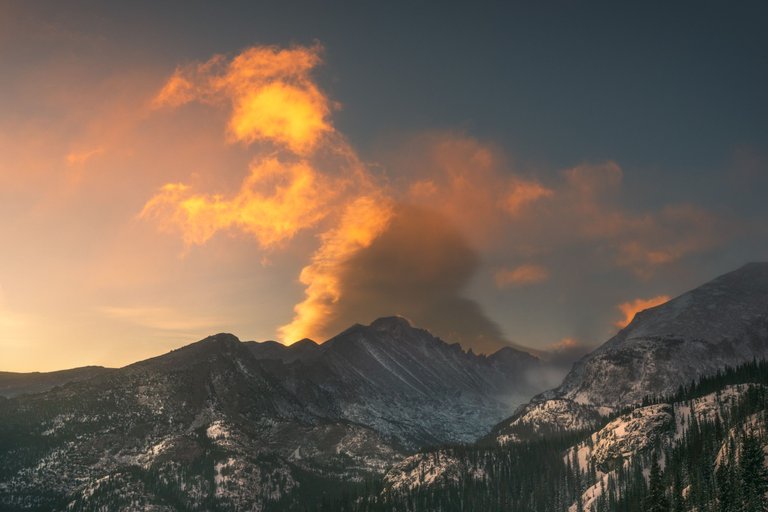 Sony a7RII + FE 16-35 GM, 29mm, f10, 1/160 sec, ISO100
---
I had arrived at the second lake. The views here far exceeded my expectations. I stepped onto the ice cautiously calculating each step knowing that under all this ice was a lake. It was surreal. It was my first time being on a frozen lake. Was I nervous? You bet! Maybe it was not a good idea but the ice appeared pretty thick. I remember the faint crackling sound as I moved forward into position to get this foreground leading back to the mountains.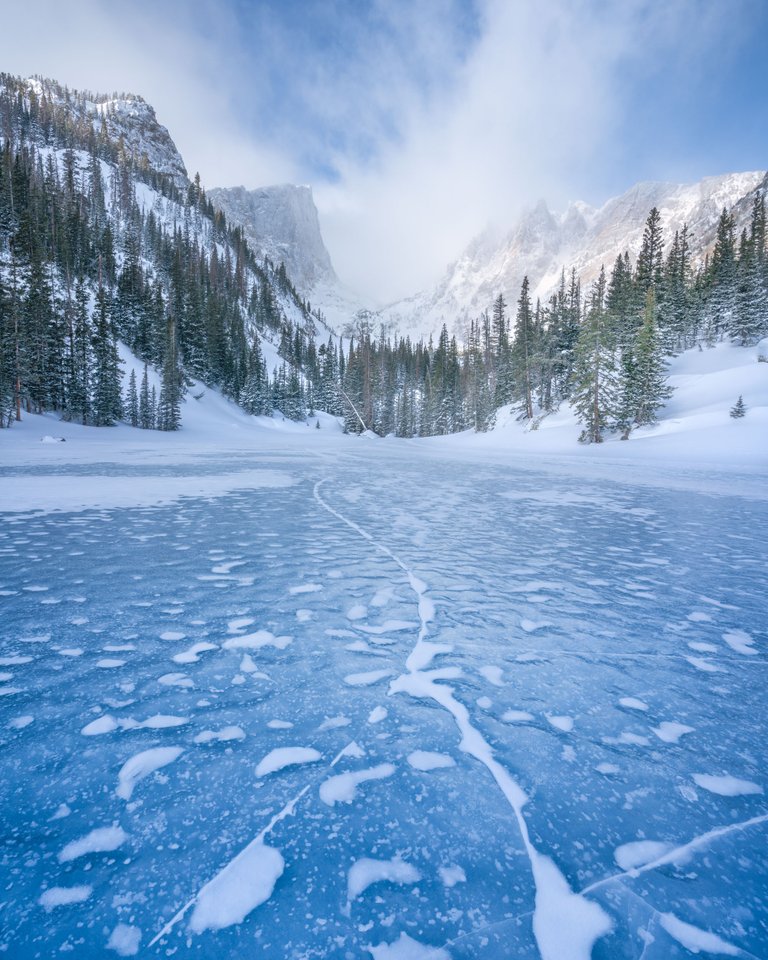 Sony a7RII + FE 16-35 GM, 16mm, f11, 1/80 sec, ISO100
The clouds were rushing over the peaks, setting up a beautiful backdrop as some morning light streamed through. Just standing there on that frozen alpine lake looking at this view made me forget about all the issues from earlier that morning.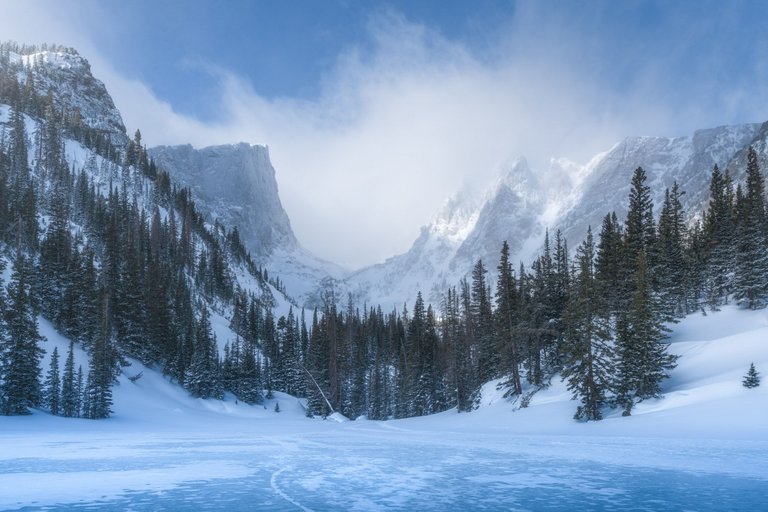 Sony a7RII + FE 16-35 GM, 28mm, f11, 1/100 sec, ISO100
---
Feeling happy to have photographed those scenes, I pressed forward the final half mile or so to reach the third alpine lake. Snow shoes would have been a good idea. The wind here was even more intense than on the second lake location. I took a few minutes to look for compositions when I noticed three skiers up on the side of the mountain. They had skied all the way from the top minutes earlier. My jaw dropped when I saw then descend down that slope. Fearless was the word that came to my mind. Thankfully no avalanches that morning. The sawtooth peaks in this section of the Rockies were so impressive to see in person.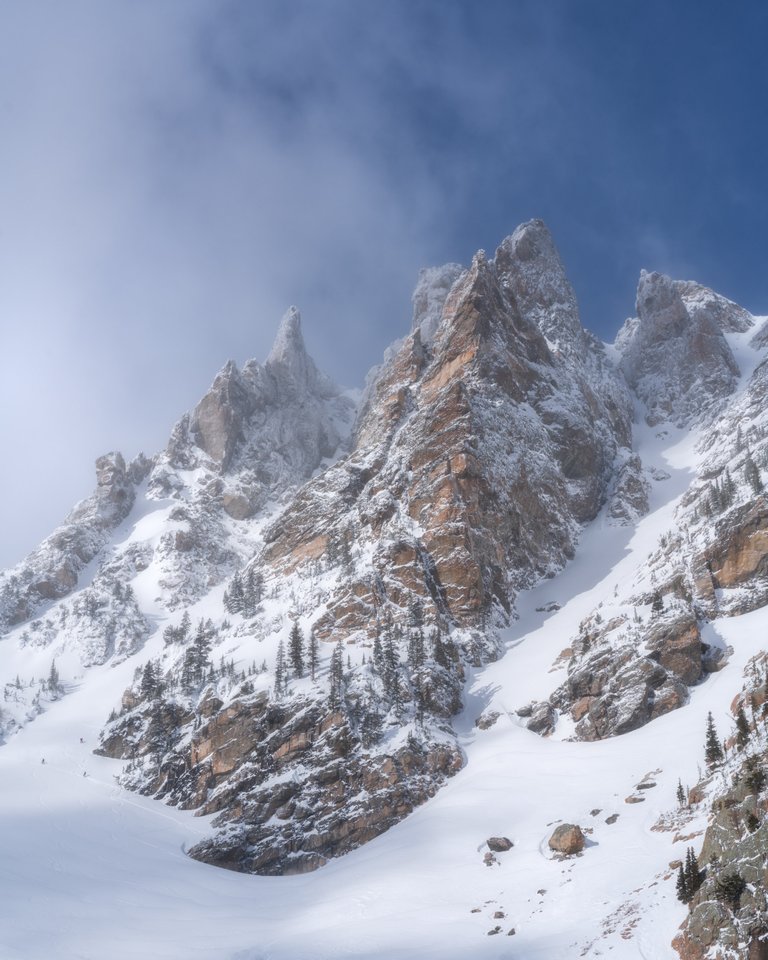 Sony a7RII + FE 55 ZA, 55mm, f10, 1/400 sec, ISO100
I stayed a little longer since the conditions were just spectacular despite the driving cold wind making my face and fingers go numb. I managed to frame this composition of the imposing peak.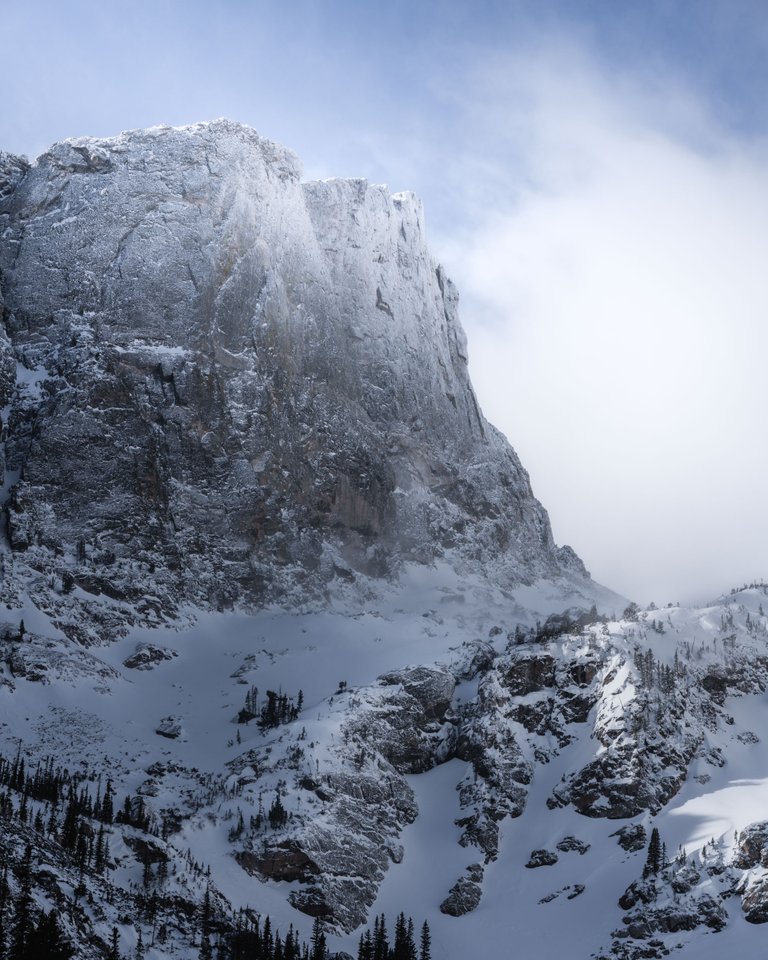 Sony a7RII + FE 55 ZA, 55mm, f10, 1/200 sec, ISO100
---
I made my way back to the second alpine lake and noticed the textured ice in the foreground. I knew I wanted to get a wide shot; however, my heart sank when I noticed my Sony batteries were pretty much all dead due to the cold temps and shooting all morning. By chance, I popped one in desperate to get a quick focus stack series of this scene. I fired up my Sony a7RII and low and behold, the battery registered about 25%.
I quickly setup my composition, captured a series of images for focus stacking, and this was the final result. The formations in the ice on the lake looked awesome in the field. The snow drifting into the low spots in the ice made for a dramatic foreground. I am just pleased I had some extra battery life to capture this. It was a great way to end my wild adventure exploring and photographing in Rocky Mountain National Park.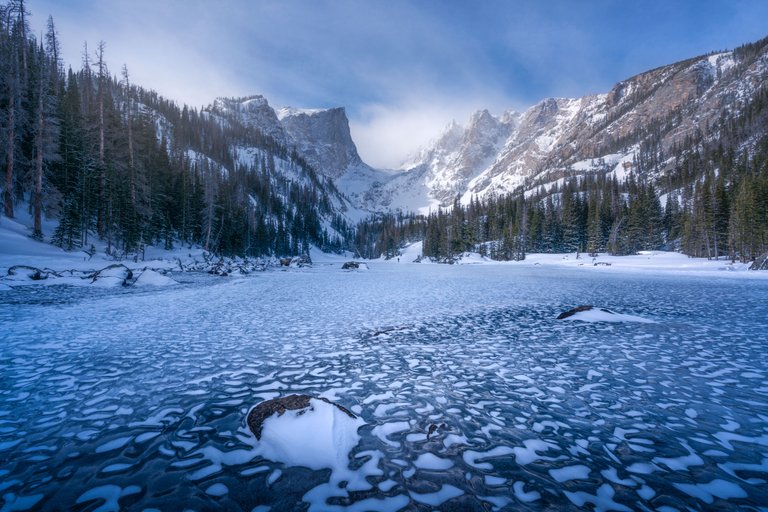 Sony a7RII + FE 16-35 GM, 16mm, f11, 1/160 sec, ISO100
Thank you in advance for your support.
My Links:
Website: https://alfredomora.net
Instagram: https://www.instagram.com/alfredomoraphotography/
Twitter: https://twitter.com/AlfredoMPhoto
---
---