Free NFT - I have created my link with the tool for link grouping app.bio
Greetings to all members of this community.
Today I present to you a tool that has been very useful for me to group all my links to social networks and NFT collections.
Generally, people use two well-known tools:
The NFTs promotion page known as CENT, has created a platform for the grouping of referral links to social networks called app.bio which you can place in the biography of all your social networks so that users can review your Other links.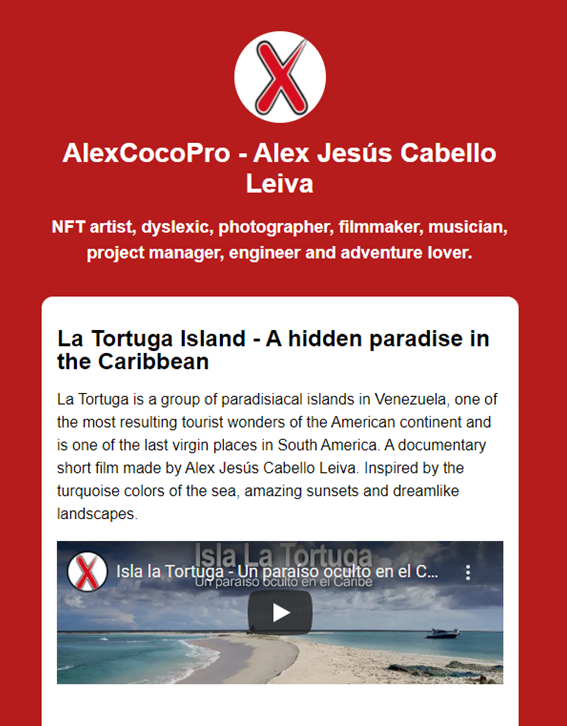 This tool is novel because it allows users to subscribe, generating a database of emails, in addition to offering a gift NFT to the community.
I think it's great that these types of tools are created in the cryptocurrency ecosystem. In particular, I am using this tool in order to obtain donations to continue my creative work and at the same time promote all my NFT art collections, which include illustrations, music, video and artistic nudes.
I take the opportunity to invite you to subscribe to my profile and receive an NFT work from my collection by going to https://alexcocopro.app.bio/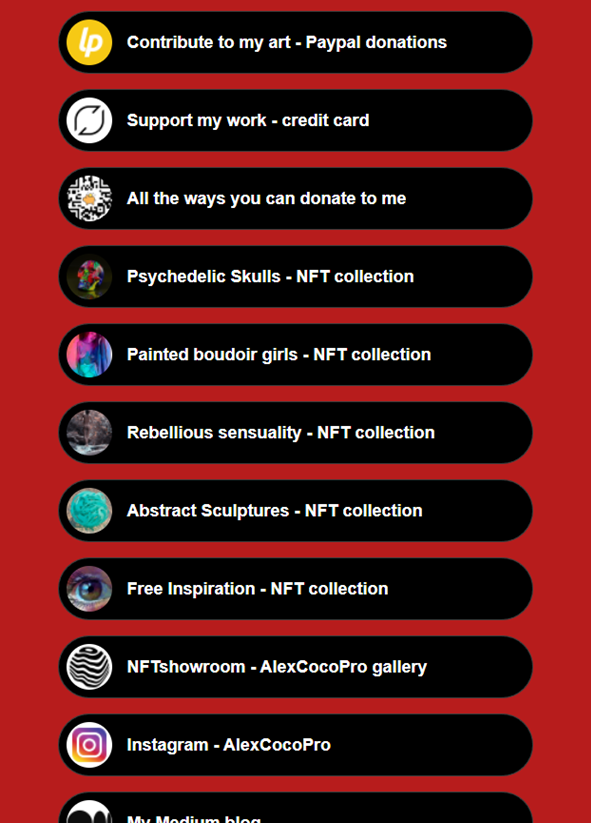 Follow my work:
My bio and free NFTs: https://alexcocopro.app.bio/
website: https://www.alexcocopro.com
Instagram: https://www.instagram.com/alexcocopro/
Youtube: http://www.youtube.com/c/alexcocoprochannel
3speak.tv: https://3speak.tv/user/alexcocopro
TED profile: https://www.ted.com/profiles/35320703/about
Donations
https://cointr.ee/alexcocopro
https://liberapay.com/alexcocopro/
https://flattr.com/@alexcocopro
https://coindrop.to/alexcocopro
https://www.paypal.com/paypalme/alexcocoproducciones
send me a tip: https://tipybit.com/alexcocopro
NFT Collections:
Psychedelic skulls: https://opensea.io/collection/psychedelicskulls
Abstract Sculptures: https://opensea.io/collection/abstract-sculptures
rebellious sensuality: https://opensea.io/collection/rebellious-sensuality
painted boudoir girls: https://opensea.io/collection/painted-boudoir-girls
Liquit Colors: https://opensea.io/collection/liquitcolors
Free inspiration paintings: https://opensea.io/collection/free-inspiration-alexcocopro
Travel and adventure photography: https://opensea.io/collection/landscapes-travels-adventures
NFT Galleries:
https://showtime.io/alexcocopro
https://creary.net/@alexcocopro
https://oncyber.io/psychedelicskulls
https://oncyber.io/girlsbyalexcocopro
https://oncyber.io/photographiesbyalexcocopro
https://nftshowroom.com/alexcocopro/gallery
https://rarible.com/alexcocopro
---
---