Walk in the Vanoi Valley, Trentino Alto Adige - Discovering Italy with alequandro!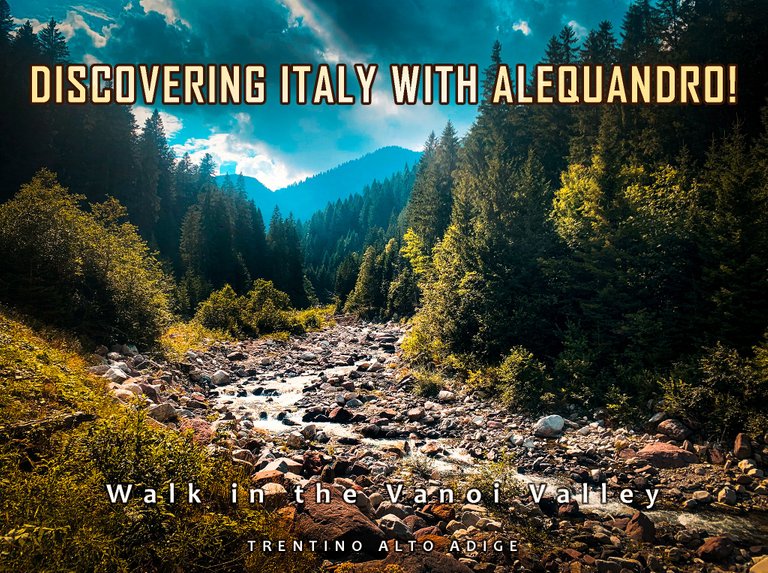 I walked on a hot August day towards the Vanoi Valley, starting from the Refavaie refuge. The cool breeze that greeted me at the exit of the refuge was a panacea after the ascent by car from the plain. As I began to descend the path, the air became more and more crisp, and the song of the birds and the sound of the streams filled the atmosphere.
ITA
Mi sono incamminato in una calda giornata d'agosto verso la Valle del Vanoi, partendo dal rifugio Refavaie. La brezza fresca che mi accoglieva all'uscita del rifugio era un toccasana dopo la salita in auto dalla pianura. Mentre cominciavo a scendere lungo il sentiero, l'aria si faceva sempre più frizzante, e il canto degli uccelli e il suono dei ruscelli riempivano l'atmosfera.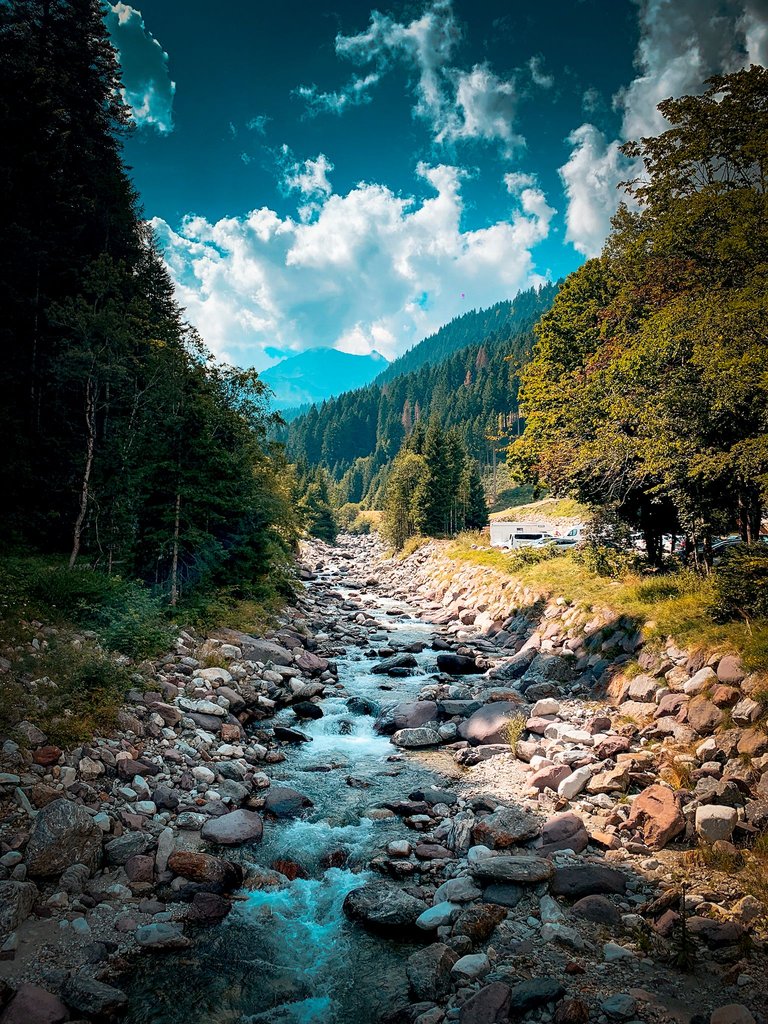 The path I took develops on the orographic right of the Vanoi stream. On one side there is an almost constant view of the stream, on the other side a forest of fir and larch almost entirely sloping which created a tunnel of greenery which offered relief from the blazing summer sun. Every now and then, rays of light filtered through the branches of the trees, drawing bright patches on the road.
ITA
Il sentiero che ho fatto si sviluppa alla destra orografica del torrente Vanoi. Da un lato c'è la vista quasi costante del torrente, dall'altro lato un bosco di abeti e larici quasi tutto in pendenza che creava un tunnel di verde che offriva sollievo dall'ardente sole estivo. Ogni tanto, dei raggi di luce filtravano tra le fronde degli alberi, disegnando chiazze luminose sulla strada.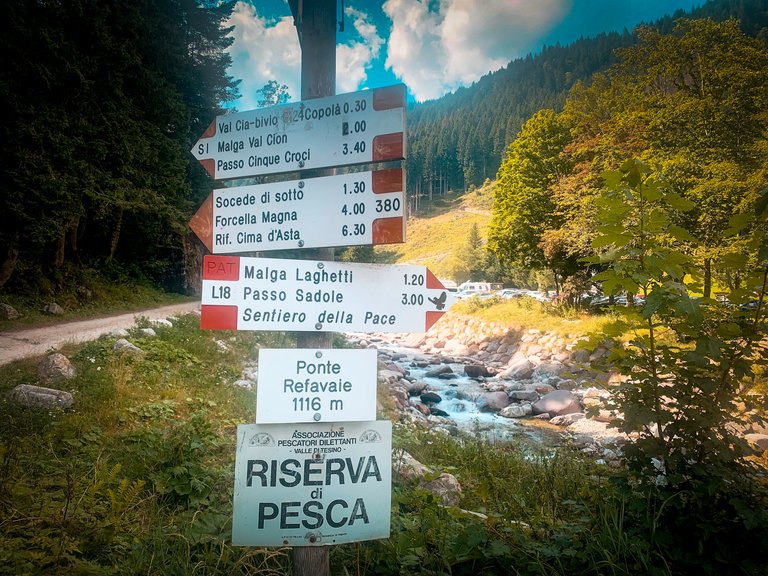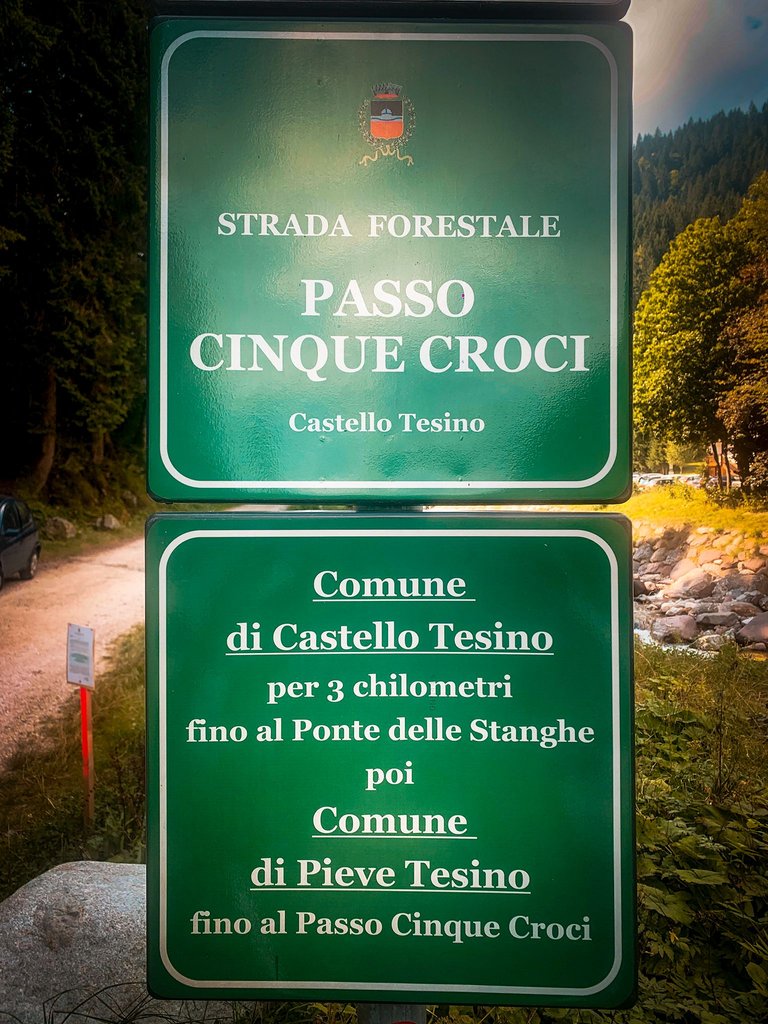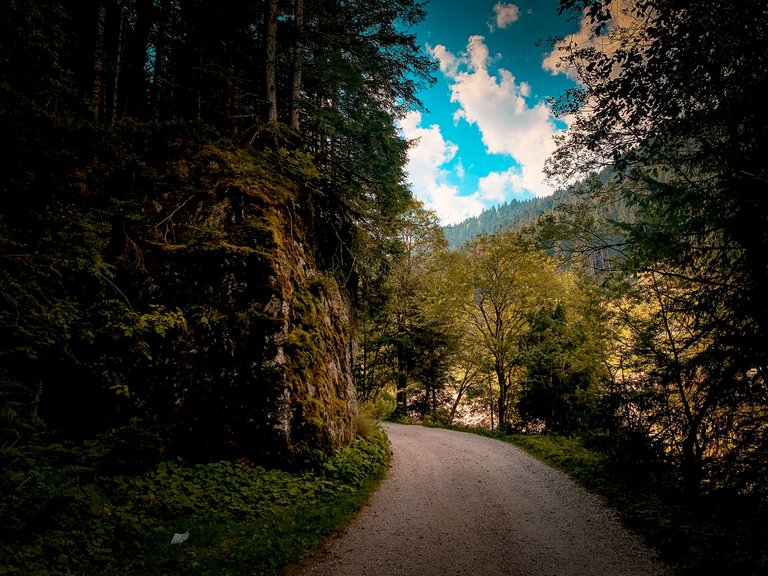 The intense scent of resin and damp earth filled the air, creating a unique sensory experience.
ITA
Il profumo intenso di resina e terra umida riempiva l'aria, creando un'esperienza sensoriale unica.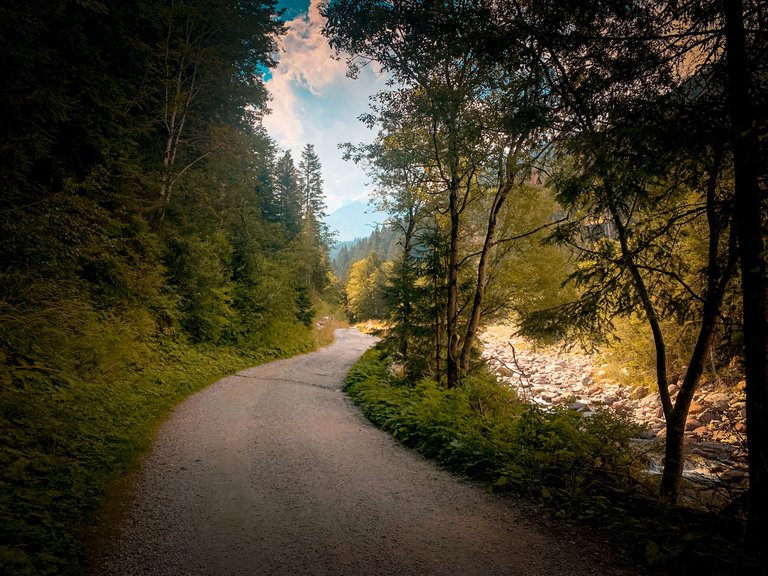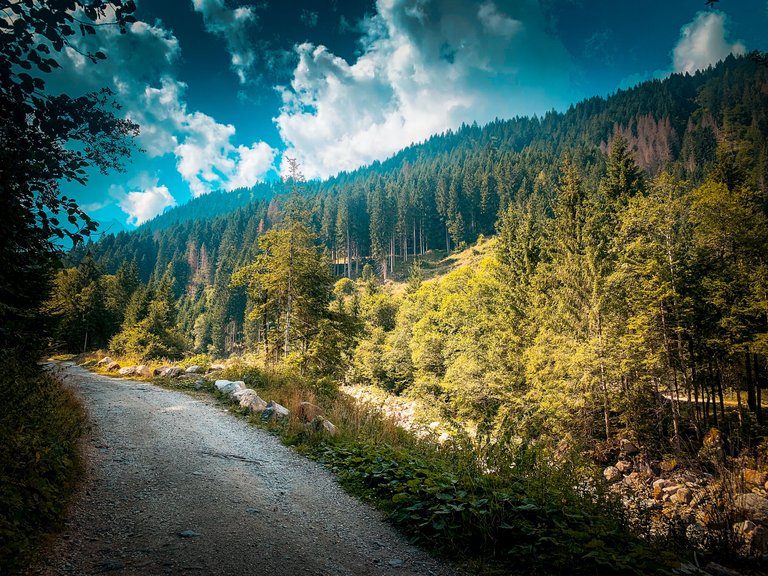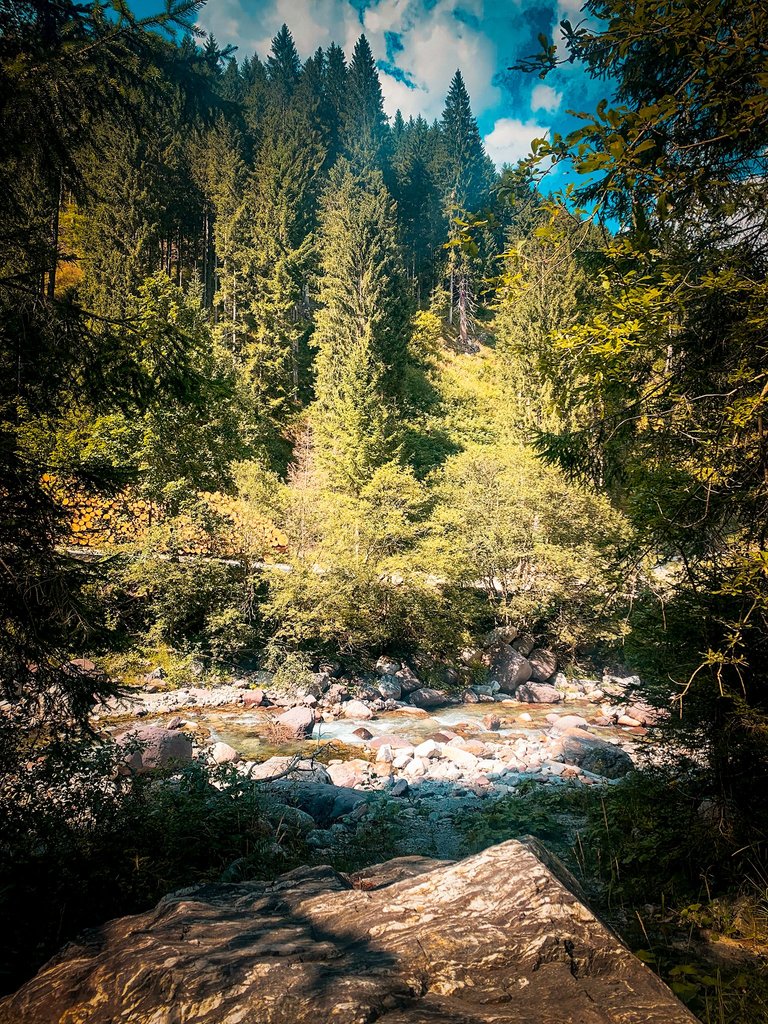 I couldn't help but stop from time to time to admire the Vanoi torrent, it made me want to sit on a rock and dip my feet in the cool water.
ITA
Non potevo non fermarmi di tanto in tanto per ammirare il torrente Vanoi, veniva voglia di sedirsi su un masso e immergere i piedi nell'acqua fresca.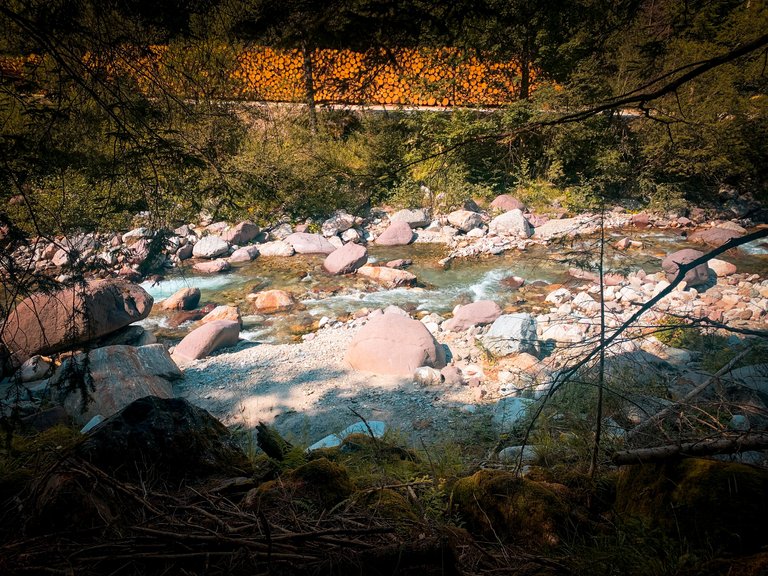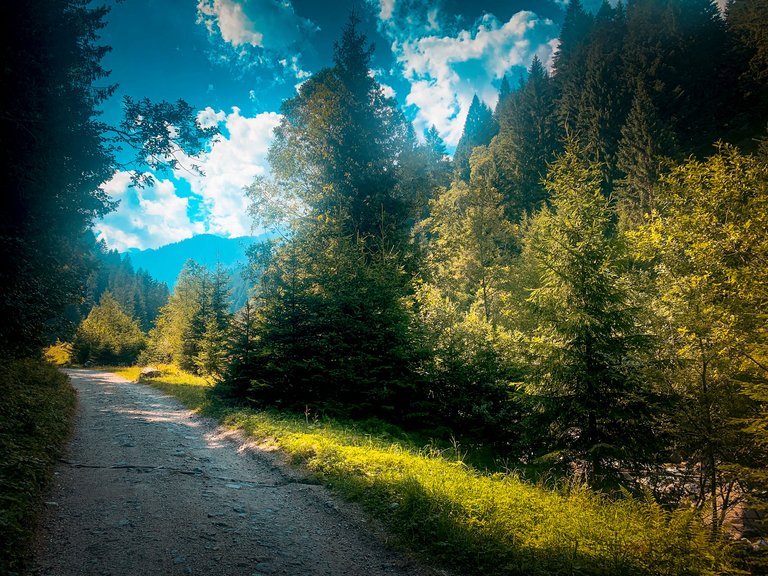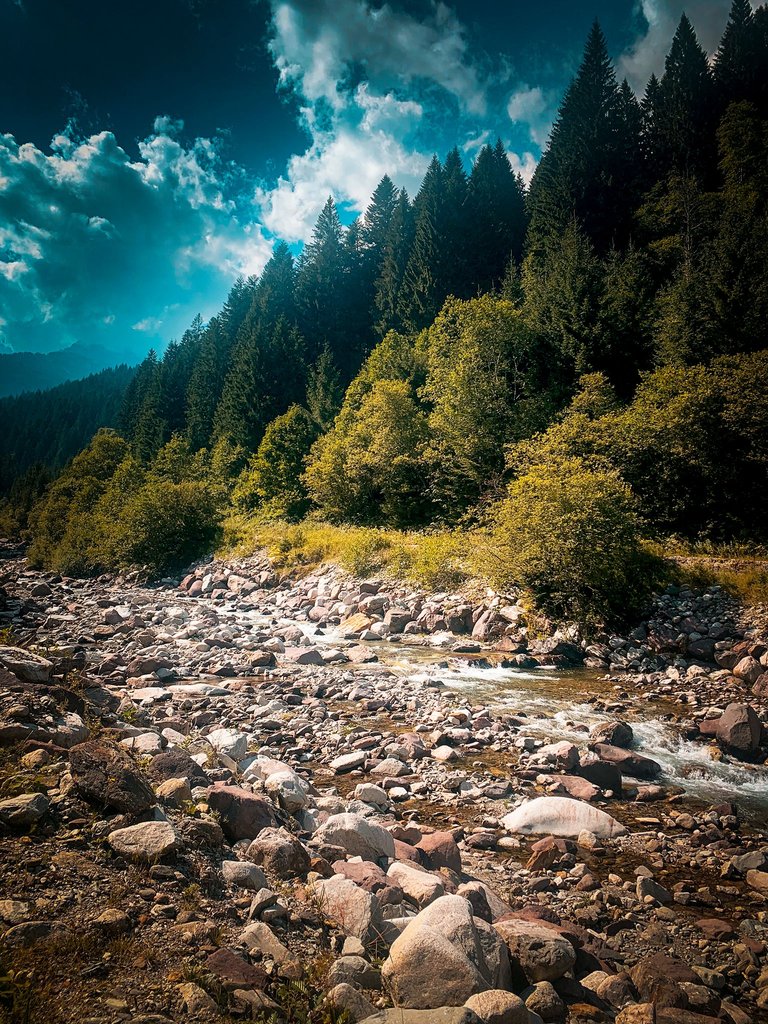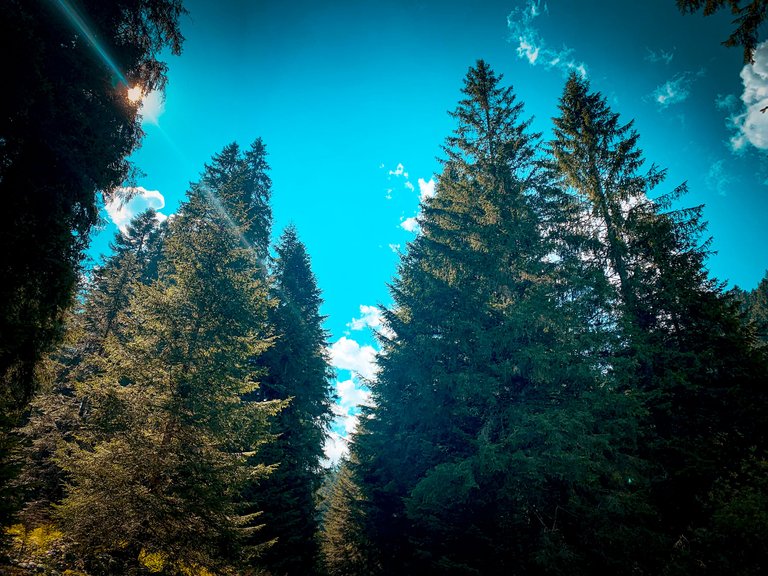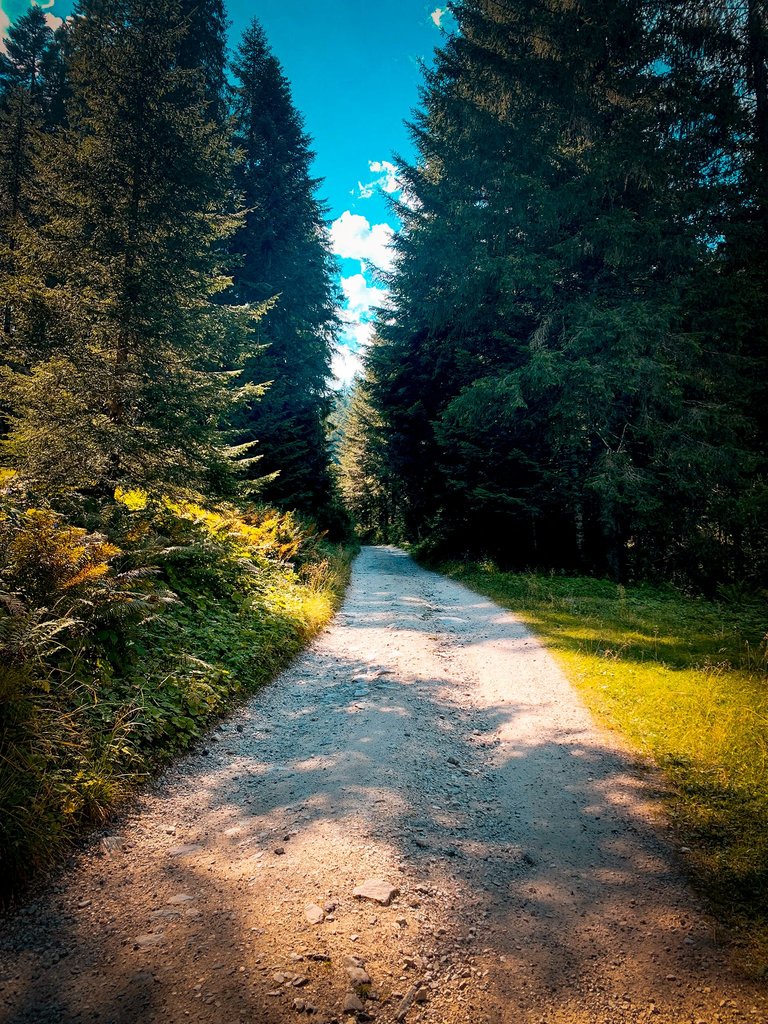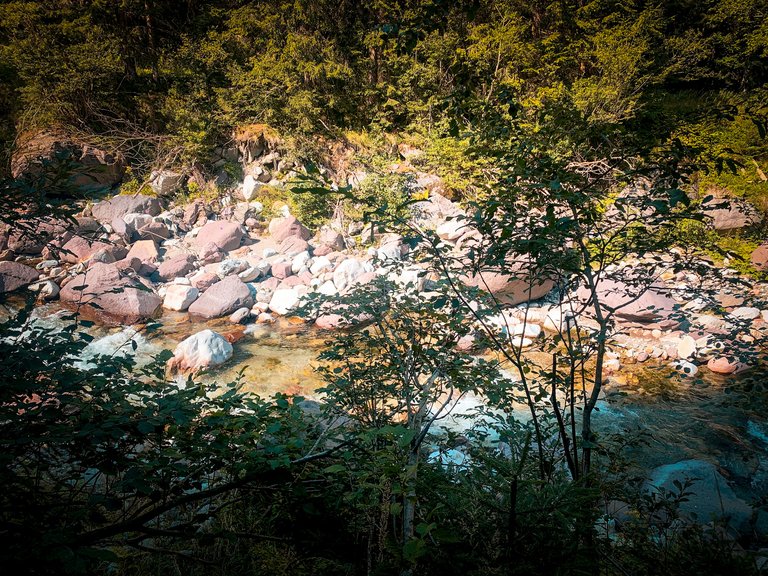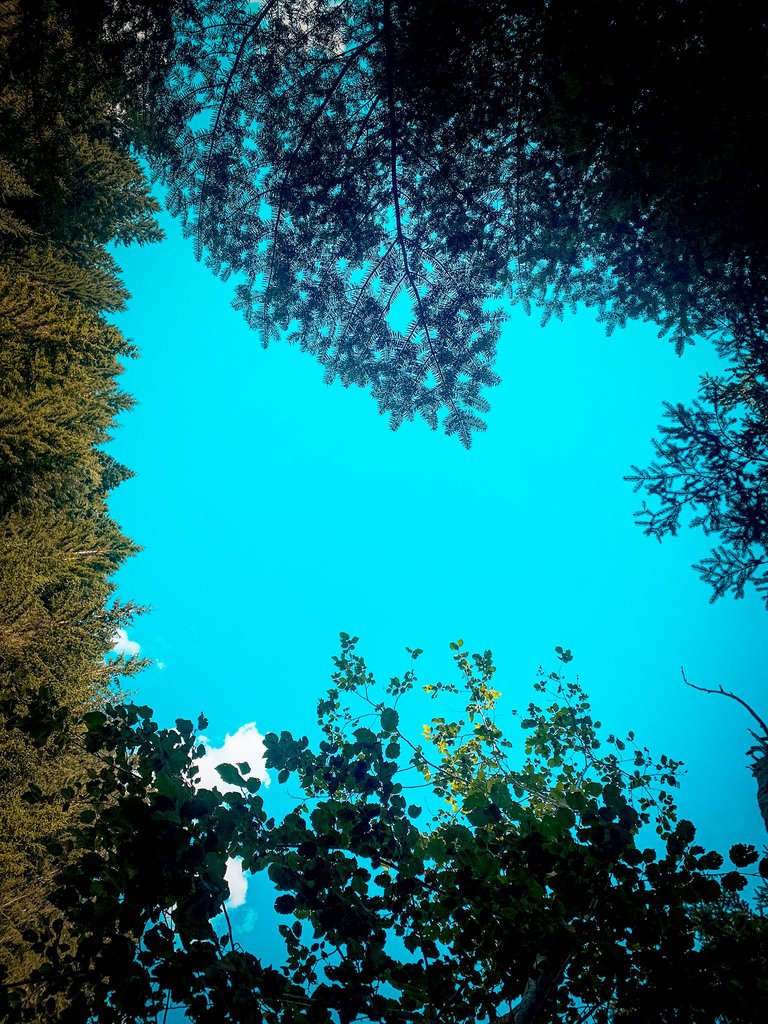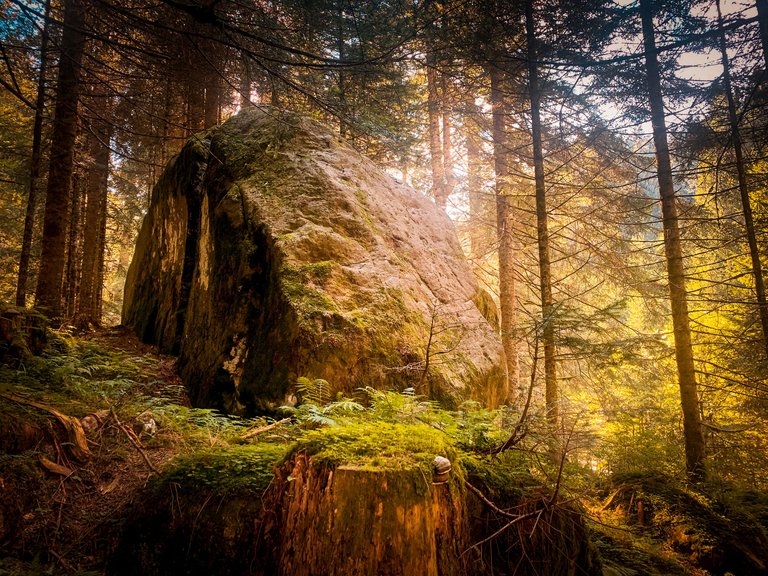 In some stretches the forest was at the same level as the road, so I was able to enter and enjoy the magical and fragrant atmosphere that only fir woods can offer with a characteristic carpet of pine needles and moss.
ITA
In alcuni tratti il bosco era allo stesso livello della strada, così ho potuto entrarci e godere dell'atmosfera magica e profumata che solo i boschi di abete possono offrire con un caratteristico tappeto di aghi di pino e muschio.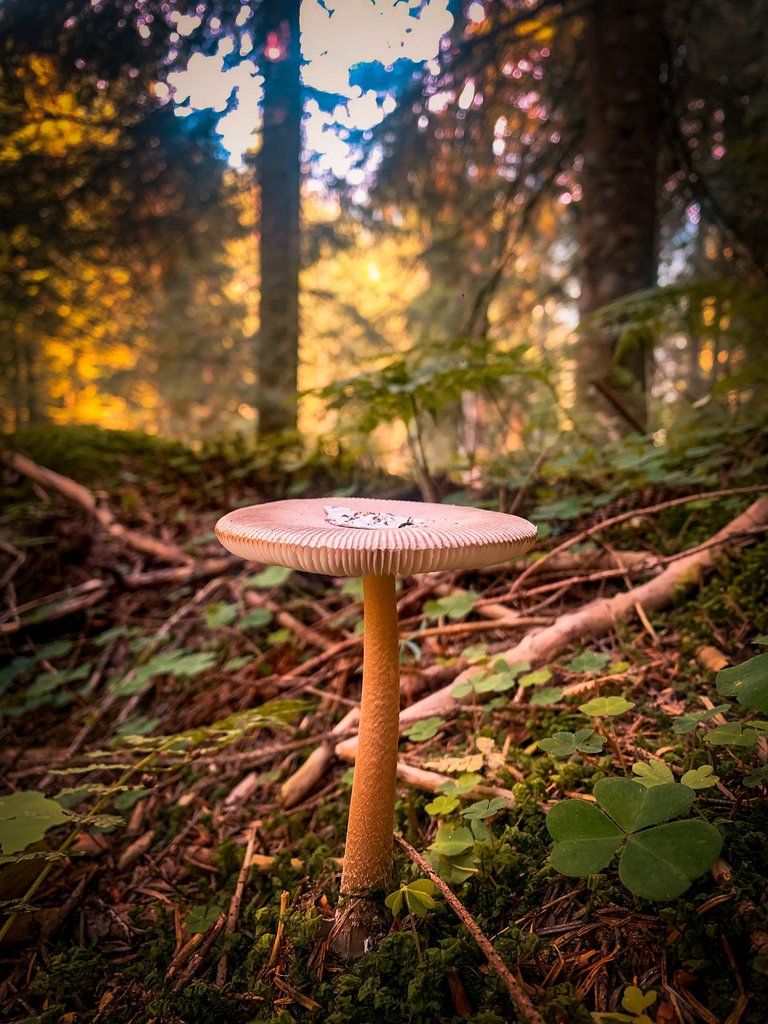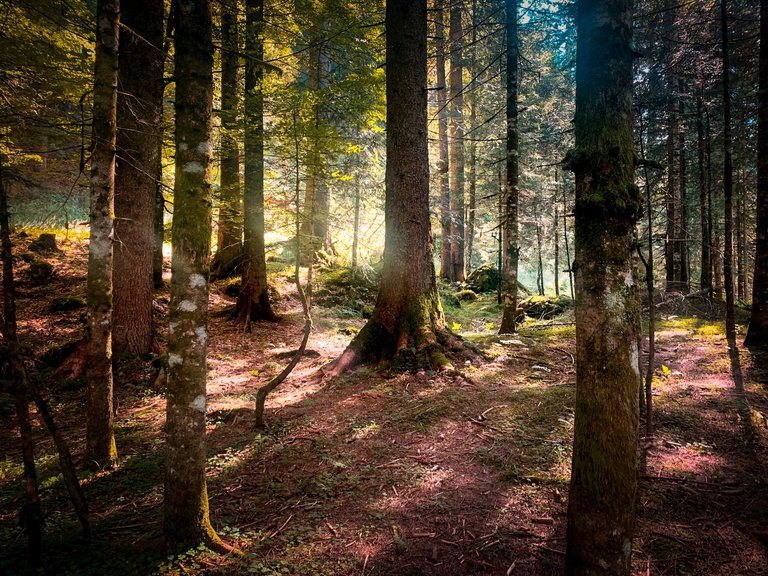 This boulder broken in two was a real surprise, it must have been 5/6 meters wide and high and transmitted a particular energy.
ITA
Questo masso spezzato in due è stato una vera sorpresa, sarà stato largo e alto 5/6 metri e trasmetteva un'energia particolare.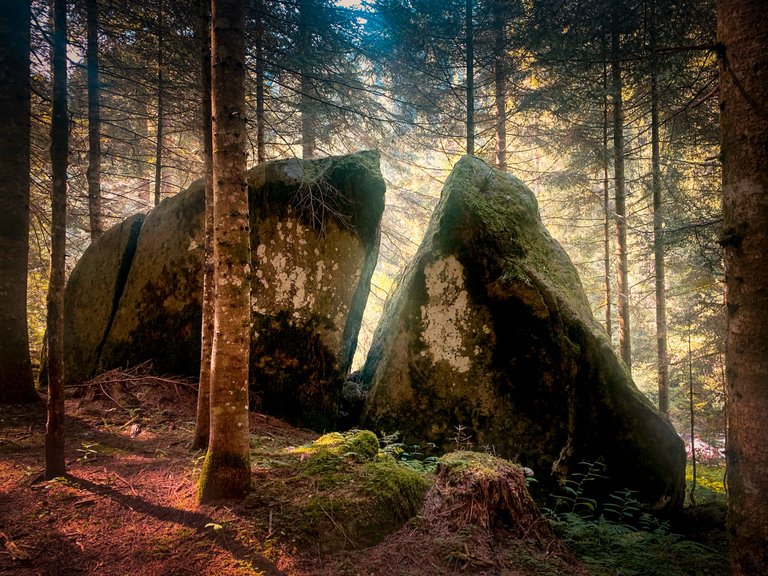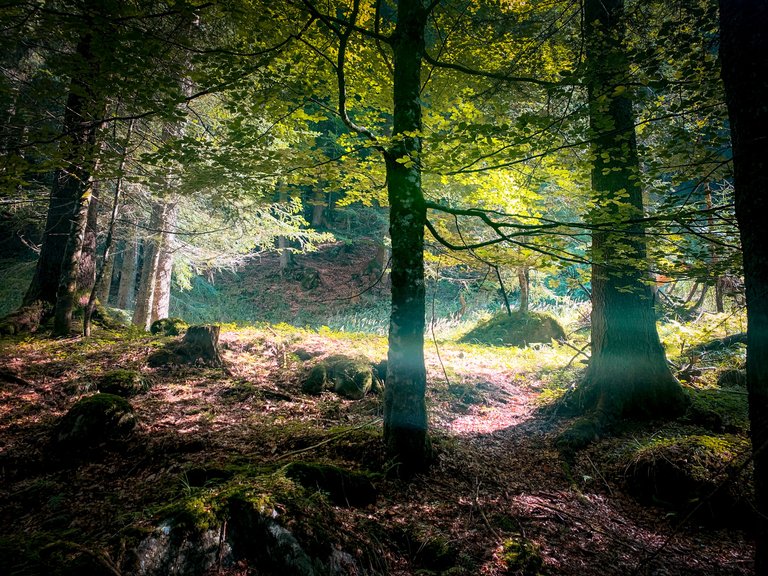 At one point two people on horseback also passed by, it's always nice to see horses in natural environments, it reminds me of 20 years ago when I was horse riding.
ITA
Ad un certo punto sono anche passate due persone a cavallo, è sempre bello vedere cavalli in ambienti naturali, mi riporta alla mente a 20 anni fa quando facevo equitazione.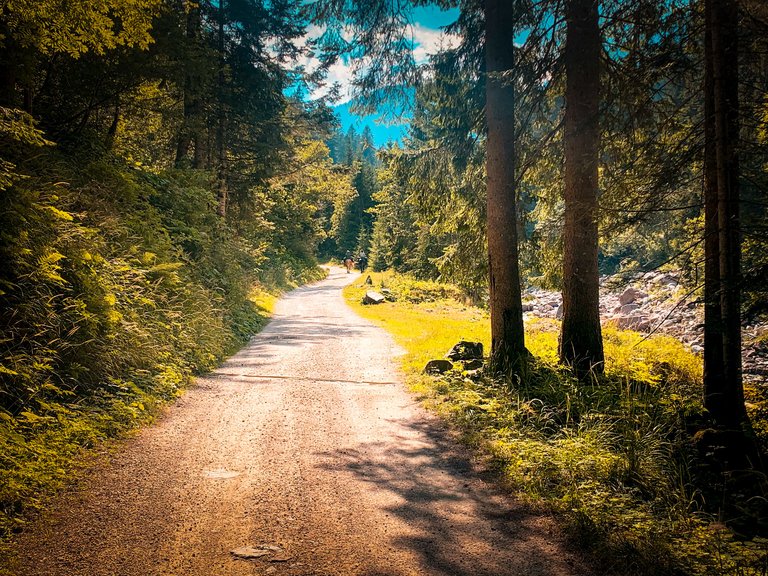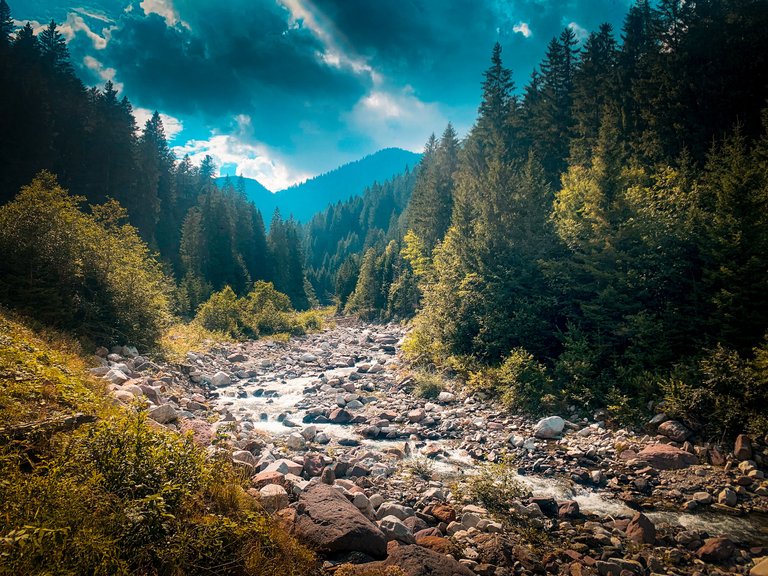 As the afternoon wore on, I started making my way back towards the Refavaie refuge. The sun was still up and it was still a couple of hours before sunset. However, the temperature was pleasant, I was fine and I was very happy to be in the Vanoi Valley.
I hope to return soon, now I greet you and I wish you to spend a peaceful summer vacation.
See you soon!
ITA
Mentre il pomeriggio si faceva più tardo, ho iniziato a fare ritorno verso il rifugio Refavaie. Il sole era ancora alto e mancavano ancora un paio d'ore al tramonto. La temperatura comunque era gradevole, stavo benissimo ed ero felicissimo di essere nella Valle del Vanoi.
Spero di tornarci presto, ora vi saluto e vi auguro di passare delle serene vacanze estive.
A presto!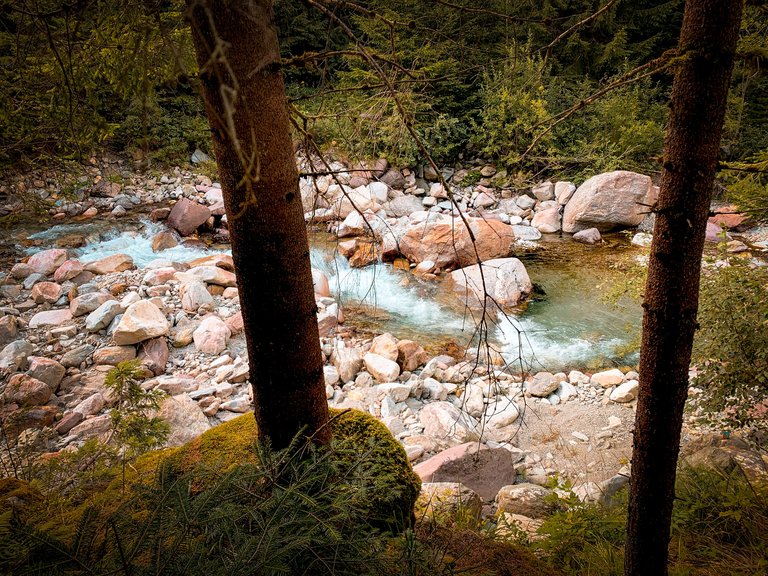 ---
---