Hive Open Mic #85 (Lindas Palabras) | Persiana Americana - Soda Estereo | Cover by @alejandrorigo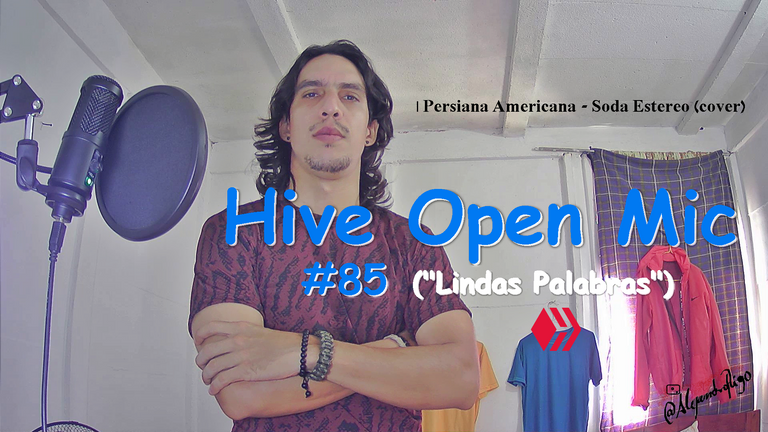 Queridos hermanos talentosos de la comunidad de #HiveOpenMic...Hoy vengo a presentarles un nuevo reto que me propuse, se trata de la canción de la banda Argentina Soda Estéreo; Persiana Americana. Esta canción contiene unos tonos tan altos y tan bajos por igual, ambos se me dificultan dominarlos, pero aun así quise hacerla ya que es un tema que me gusta muchísimo y desde hace rato quería sacarla, y he aquí el resultado...Al final creo que no salio tan horrible, aunque no pude llegar con limpieza a los tonos mas altos. Pero algo con lo que si esta hecho este cover es con muchísima pasión...Creo que este es el trabajo que mas he disfrutado hacer para esta, una de mis comunidades favoritas, #HiveOpenMic...He sentido una vibra increíble mientras grababa. Con respeto al gran Cerati y a todos los [email protected] músicos talentosos que participan acá. Les deseo Éxitos totales siempre y un millón de Bendiciones.
Dear talented brothers of the #HiveOpenMic community ... Today I come to present a new challenge that I set for myself, it is the song of the band Argentina Soda Estéreo; American blinds. This song contains such high and low tones alike, both are difficult for me to master, but even so I wanted to do it since it is a song that I really like and for a long time I wanted to remove it, and here is the result...In the end I think it was not so horrible, although I could not reach the highest tones cleanly. But something with which if this cover is made is with a lot of passion...I think this is the work that I have enjoyed the most doing for this, one of my favorite communities, #HiveOpenMic...I felt an incredible vibe while recording. With respect to the great Cerati and to all the talented musicians who participate here. I wish you total successes always and a million Blessings.
---
HIVE OPEN MIC #85
(Lindas Palabras)
PERSIANA AMERICANA♪
Soda Estereo
---

Persiana Americana
Original: Soda Estereo - ("Signos" - 1986)
---
Letra
Yo te prefiero
Fuera de foco
Inalcanzable
Yo te prefiero
Irreversible
Casi intocable
Tus ropas caen lentamente
Soy un espía, un espectador
Y el ventilador desgarrándote
Sé que te excita pensar hasta dónde llegaré
Es difícil de creer
Creo que nunca lo podré saber
Solo así yo te veré
A través de mi persiana americana
Es una condena agradable
El instante previo
Es como un desgaste
Una necesidad
Más que un deseo
Estamos al borde de la cornisa
Casi a punto de caer
No sientes miedo
Sigues sonriendo
Sé que te excita pensar hasta dónde llegaré
Es difícil de creer
Creo que nunca lo podré saber
Solo así yo te veré
A través de mi persiana americana
Tus ropas caen lentamente
Soy un espía, un espectador
Y el ventilador desgarrándote
Sé que te excita pensar hasta dónde llegaré
Es difícil de creer
Creo que nunca lo podré saber
Solo así yo te veré
A través de mi persiana americana
Lo que pueda suceder
No gastes fuerzas para comprender
Solo así yo te veré
A través de mi persiana americana
Difícil de creer
Creo que nunca lo podré saber
Solo así yo te veré
A través de mi persiana americana
Difícil, difícil de creer
Creo que nunca lo podré saber
Solo así yo te veré
A través de mi persiana americana
Gracias
Lyrics
I prefer you
Out of focus
Unattainable
I prefer you
Irreversible
Almost untouchable
Your clothes fall slowly
I am a spy, a bystander
And the fan tearing you apart
I know it excites you to think how far I'll go
it's hard to believe
I think I can never know
Only then will I see you
Through my American blind
It's a nice sentence
The moment before
It's like a wear
A need
More than a wish
We are on the edge of the ledge
Almost about to fall
You feel no fear
You keep smiling
I know it excites you to think how far I'll go
it's hard to believe
I think I can never know
Only then will I see you
Through my American blind
Your clothes fall slowly
I am a spy, a bystander
And the fan tearing you apart
I know it excites you to think how far I'll go
it's hard to believe
I think I can never know
Only then will I see you
Through my American blind
What can happen
Do not waste strength to understand
Only then will I see you
Through my American blind
Hard to believe
I think I can never know
Only then will I see you
Through my American blind
Hard, hard to believe
I think I can never know
Only then will I see you
Through my American blind
Thanks

Original


Track






---
---