[ESP/ENG][MEGA POST] New accessories for my motorcycle ~ by @alejandrop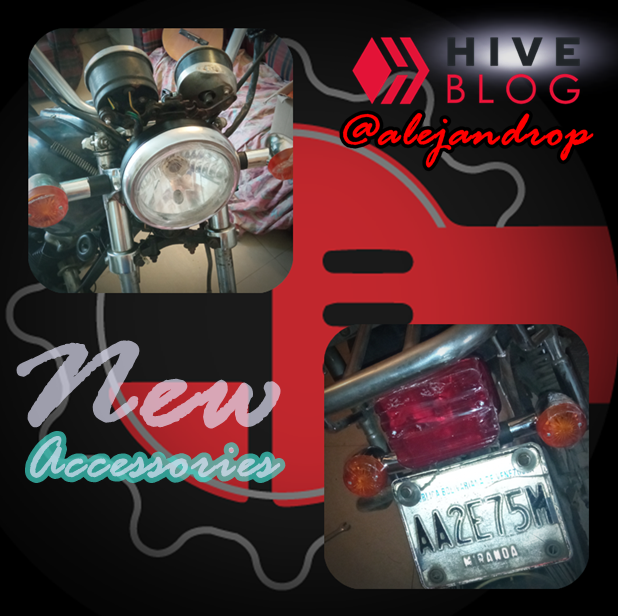 ¡Buenas noches a toda esta bonita comunidad de #HIVE! Bueno amigos, pido una enorme disculpa por todo este tiempo que he estado ausente motivado a problemas personales, y cuando no era por esos inconvenientes, era por el problema del internet y todo lo que ésto abarque. He tenido este post guardado casi 1 mes y no había tenido tiempo de subirlo para ustedes. Para esta oportunidad les quiero presentar estas pequeñitas mejores que hice a mi motocicleta y pues, ya hacía falta hacerlo puesto que estaba muy fea físicamente (Y de motor también pero ya ese punto está listo). Sin más preámbulos, comencemos.
Good night to all this beautiful #HIVE community! Well friends, I apologize for all this time that I have been absent motivated by personal problems, and when it was not for those inconveniences, it was for the problem of the internet and everything that this encompasses. I have had this post saved for almost 1 month and I had not had time to upload it for you. For this opportunity I want to present you these little best ones that I made to my motorcycle and well, it was necessary to do it since it was physically very ugly (And motorized too, but at that point it is ready). Without further ado, let's get started.


Segmento #1: Lista de accesorios
Segment #1: Accessories list
Este pequeño post sólo hice pequeñas modificaciones importantes en todo lo que es el sistema de luces de la motocicleta: Faro delantero, luces de cruce (Intermitentes) y Faro trasero (Stop). Quiero hacer énfasis en este segmento puesto que es muy importante que tu motocicleta tenga todas estas características funcionando en la misma, ya que TODAS sirven como elementos de seguridad para los demás conductores, sobretodo en la noche. Debo admitir que yo mismo me sentí muy incomodo conduciendo la motocicleta sin usar señalizaciones o peor, en la noche, nadie podía verme si me acercaba o alejaba, un total peligro. A continuación, una pequeña muestra de lo que compré:
This little post I only made small important modifications in everything that is the motorcycle's light system: Headlight, low beam (Turn signal) and Rear light (Stop). I want to emphasize this segment since it is very important that your motorcycle has all these characteristics working on it, since ALL of them serve as safety elements for other drivers, especially at night. I must admit that I myself felt very uncomfortable riding the motorcycle without using signs or worse, at night, no one could see me if I was approaching or moving away, a total danger. Here is a small sample of what I bought:


Segmento #2: Desmontaje y montaje
Segment #2: Unmounting and mounting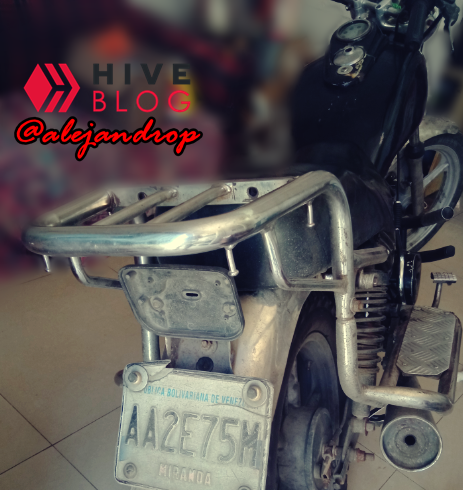 Bueno, en esta oportunidad empecé a trabajar de atrás hacia adelante, por lo que primero me dediqué a remover todo lo que sería la parte del stop trasero, pero antes removeré el asiento de la motocicleta para cuando llegue el momento de meter el cableado, sea más fácil, especialmente para las luces de cruces.
Well, this time I started working from back to front, so first I dedicated myself to removing everything that would be the rear stop part, but first I will remove the seat of the motorcycle for when the time comes to put the wiring, be it easier, especially for crossing lights.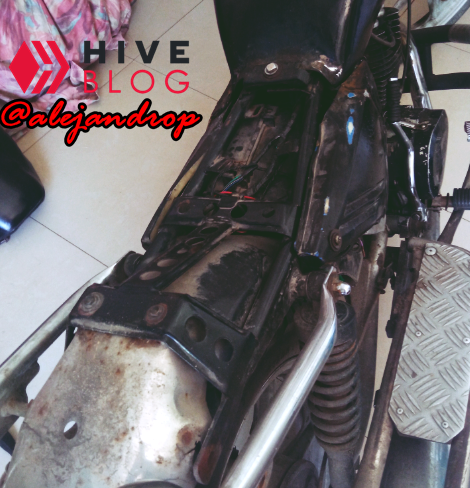 Y luego procedí primeramente a remover la placa para poder trabajar más cómodo y sin mucho peso. Y sí, reconozco que mi moto es un desastre en suciedad pero pronto la limpiaré jajaja:
And then I first proceeded to remove the plate to be able to work more comfortably and without much weight. And yes, I recognize that my motorcycle is a mess in dirt but soon I will clean it hahaha: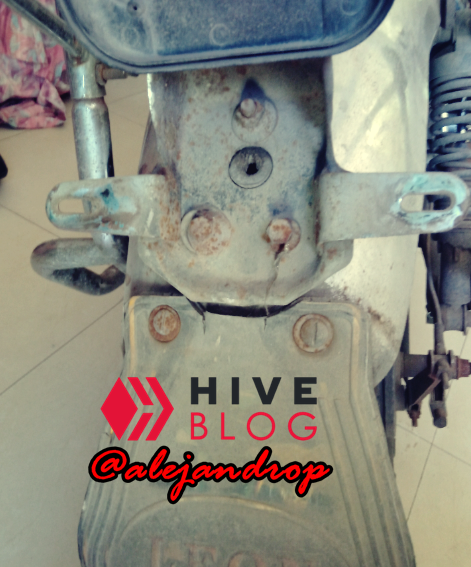 Procedemos a retirar estos 3 tornillos que sostienen el portaplaca y el faro:
We proceed to remove these 3 screws that hold the license plate holder and the headlight: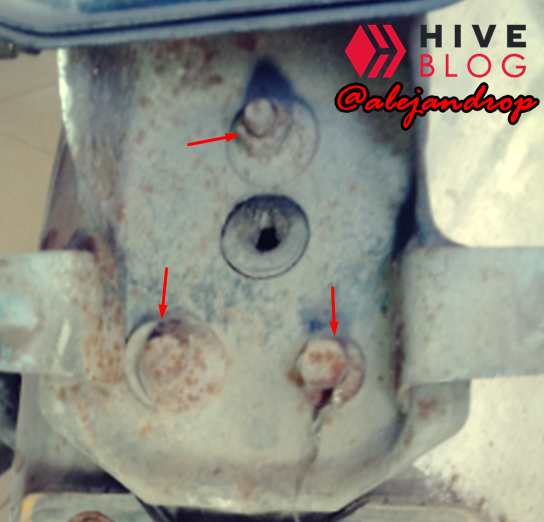 Y listo:
And ready: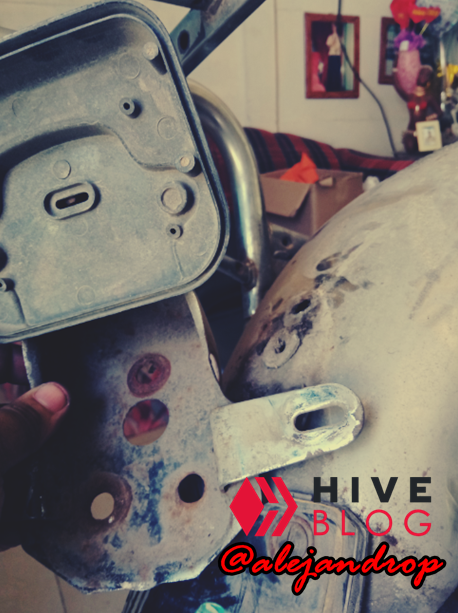 Luego procedí a remover el stop dañado, es decir, el plástico que quedó aquí sin nada que se aprecia en la foto anterior, y quedaría así:
Then I proceeded to remove the damaged stop, that is, the plastic that was left here with nothing seen in the previous photo, and it would look like this: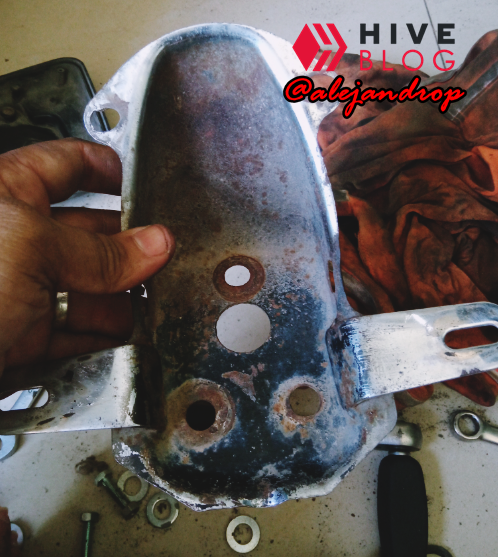 PD: Mientras estaba montando y tomando fotografías, pude denotar que la nueva base que venía con el stop trasero no encaja en el sitio donde estaba esta pieza antes, y pues, luego de muchos intentos, llegué a la conclusión de que la única solución era re-utilizar la base antes mostrada pero usando el nuevo faro. Para ello, primero removemos el stop de la base nueva y simplemente lo atornillamos en la base vieja, les muestro:
PS: While I was assembling and taking pictures, I was able to point out that the new base that came with the rear stop does not fit in the place where this piece was before, and well, after many attempts, I came to the conclusion that the only solution was re-use the base shown above but using the new headlight. To do this, first we remove the stop from the new base and simply screw it into the old base, I show you: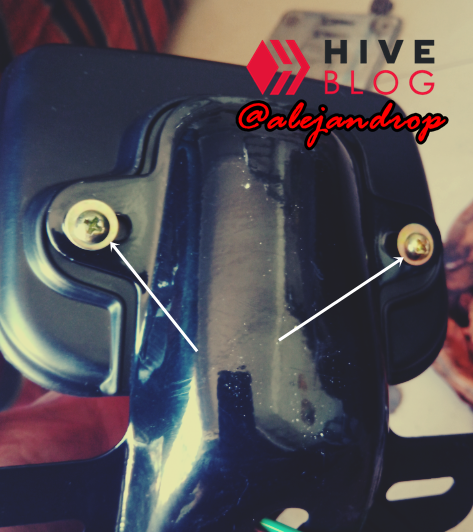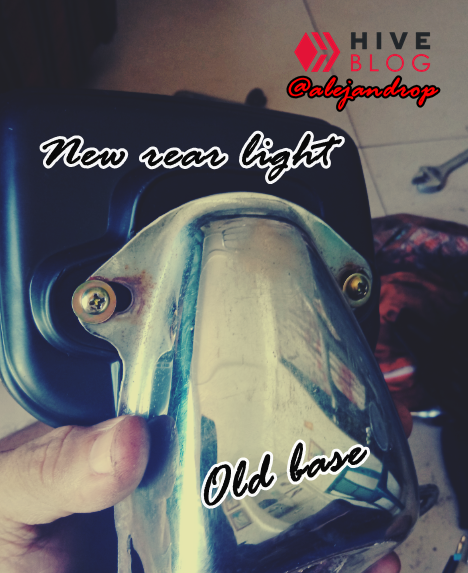 Ahora simplemente procedemos a instalarlo en su base del guardabarro trasero, la cual sería esta: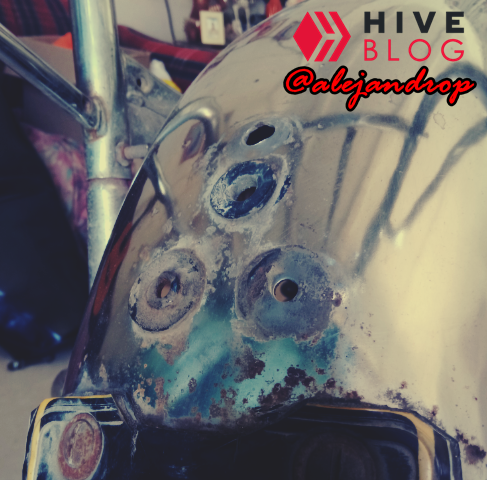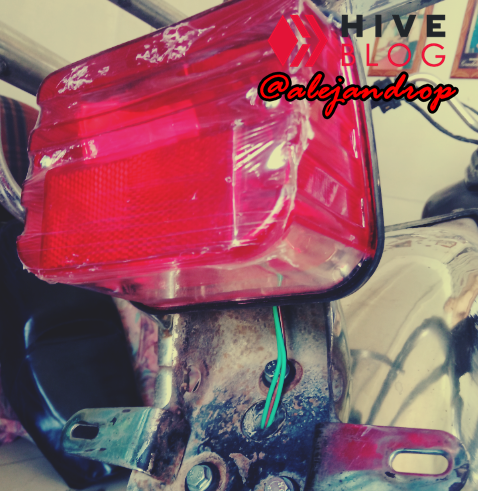 Por último, se realizan las conexiones correspondientes en la cablería. No les muestro este proceso completo porque fue muy tedioso ya que había que buscar línea a línea cuál cable correspondía a cada luz.
Finally, the corresponding connections are made in the wiring. I do not show you this complete process because it was very tedious since you had to search line by line which cable corresponded to each light.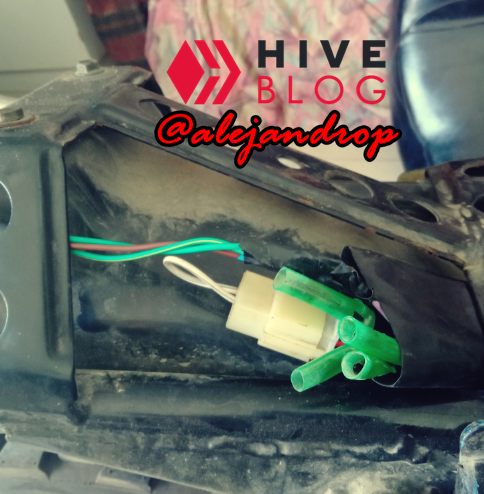 Seguido de esto, coloqué las luces traseras intermitente de cruces:
Followed by this, I fitted the crossover turn signal taillights: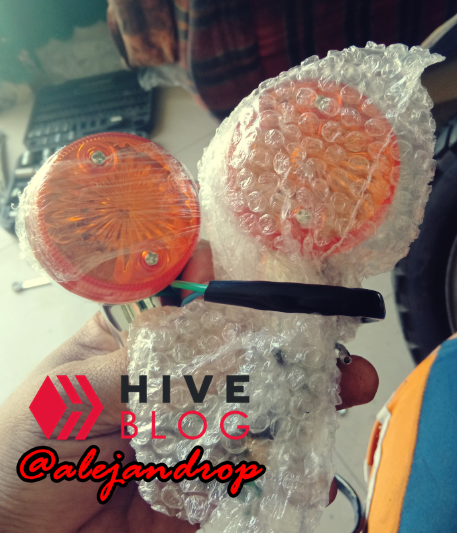 Y así estaría quedando mi hermosa motocicleta:
And this is how my beautiful motorcycle would be: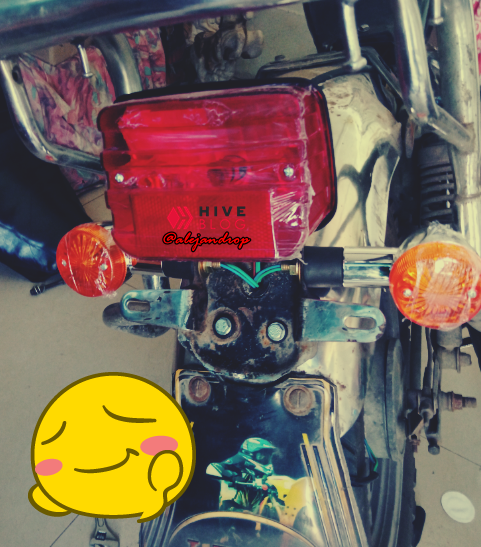 La instalación eléctrica:
The electrical installation: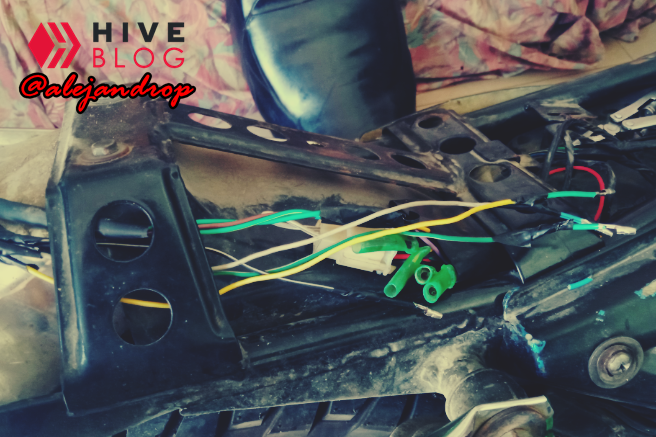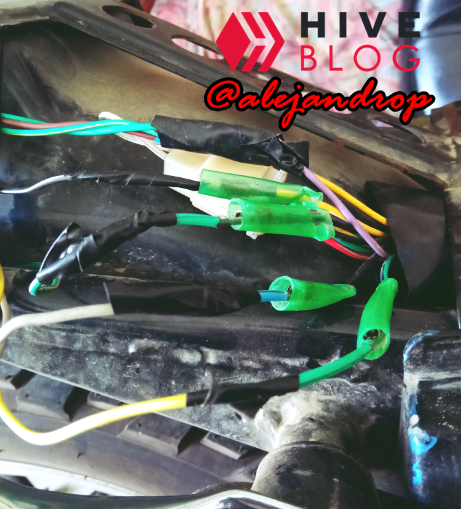 Ya estaríamos listo por aquí. Ahora, nos vamos a trabajar al frente: La luz delantera, el foco principal.
We would be ready around here. Now, we are going to work on the front: The front light, the main focus.
Yo, aunque no tomé fotografías del proceso, removí cuidadosamente (Sí, tuve cuidado a pesar de estar en muy mal estado el faro) la parte frontal donde se sostiene el faro y las luces de cruces delanteras.
Although I did not take photographs of the process, I carefully removed (Yes, I was careful despite the headlight being in very bad condition) the front part where the headlight and the headlights are held.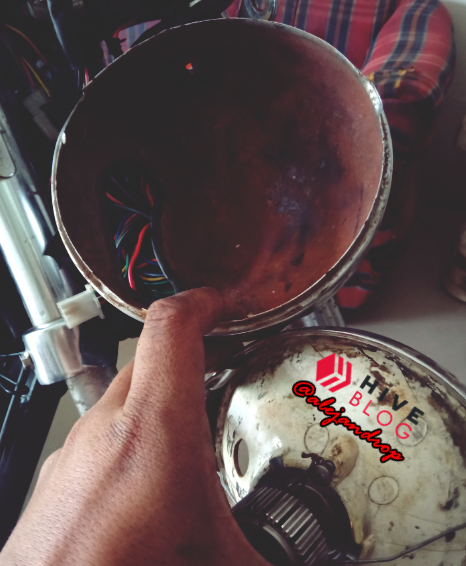 Instalé primeramente las luces de cruce, pues era necesario antes de colocar el faro motivado a que luego iba a ser un problema atornillar las luces de cruce a los soportes del faro, tal como se puede apreciar en la siguiente imagen:
I installed the low beams first, as it was necessary before placing the headlamp because it was going to be a problem to screw the low beams to the headlight brackets later, as can be seen in the following image: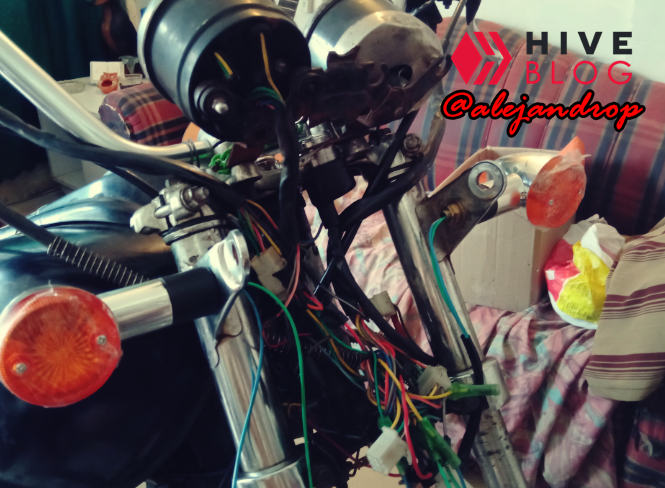 Ahora sí, ya podemos instalar el faro en su lugar. Obviamente, antes de realizar ese proceso, se realizaron todas las conexiones de cableado para las luces y para el faro. Es un proceso bastante tedioso en el cual no tomé fotografías, pero todo al final quedó bonito y así quedó mi motocicleta:
Now we can install the lighthouse in its place. Obviously, before doing that process, all the wiring connections for the lights and for the headlamp were made. It is a rather tedious process in which I did not take pictures, but in the end everything turned out beautiful and this is how my motorcycle was: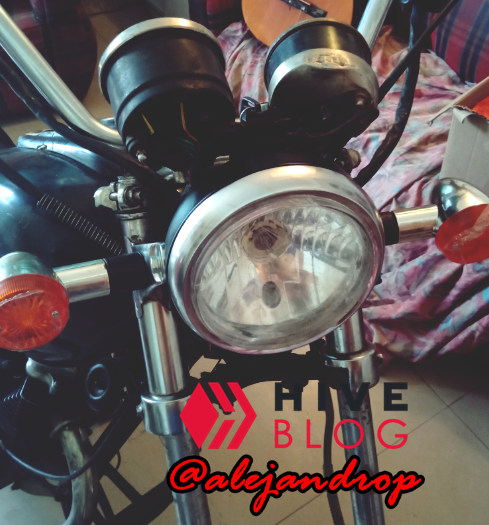 Y finalmente llegamos a la última parte de este proceso, ya se me estaba haciendo de noche y pues, me tenía que apurar más. Lo siguiente fue la instalación del sensor de freno, el cual al presionar la palanca del freno, éste enciende la luz indicadora del stop, que le avisa al conductor de atrás que esto frenando. El sensor, que muchísimas motos chinas de este modelo lo tienen, va de la siguiente manera colocado aquí:
And finally we got to the last part of this process, it was already getting dark and well, I had to hurry more. The next thing was the installation of the brake sensor, which when pressing the brake lever, it turns on the stop indicator light, which alerts the driver behind that he is braking. The sensor, which many Chinese motorcycles of this model have, is placed here as follows: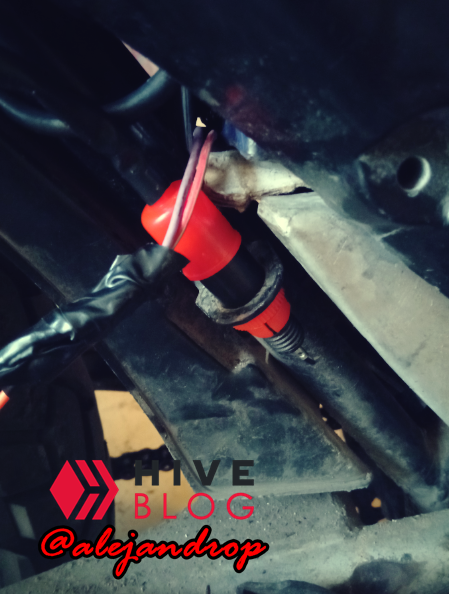 Muchos de ustedes quizás se preguntarán: ¿Cómo es que esto funciona? Pues la explicación es muy sencilla, es un simple mecanismo de resortes y contactos internos. Algo más detallado, observen por favor la siguiente imagen:
Many of you may wonder: How does this work? Well the explanation is very simple, it is a simple mechanism of springs and internal contacts. Something more detailed, please observe the following image: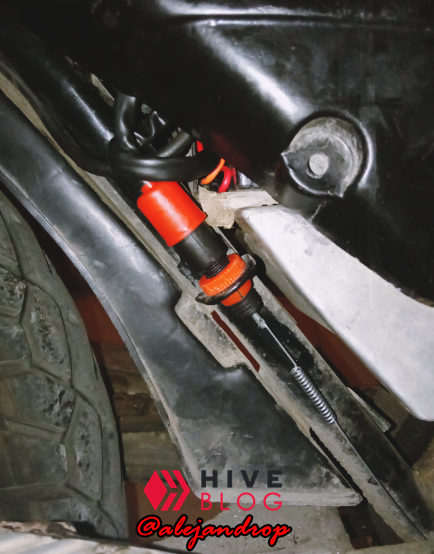 ¿Ven el pequeño alambre de resorte en la parte inferior? Es un pequeño alambre que engancha en el sensor y del otro extremo va enganchado de la pata de freno. Cuando tú pulsas o empujas la pata de freno, ésta jalará automáticamente este alambrito que a su vez jala el pequeño pin agujerado del sensor que vemos claramente en la foto.
See the little spring wire at the bottom? It is a small wire that hooks on the sensor and at the other end is hooked on the brake leg. When you press or push the brake leg, it will automatically pull this wire which in turn pulls the small pin hole of the sensor that we see clearly in the photo.
---

---
Por dentro, este sensor utiliza dos láminas de cobre que siempre están separadas, pero sucede que cuando el gancho es accionado, es decir, llevado hasta abajo por la presión de la pata de freno, estas láminas se acercan y cierran el circuito, lo que a su vez activa la luz trasera de freno.
Inside, this sensor uses two copper sheets that are always separated, but it happens that when the hook is actuated, that is, driven all the way down by the pressure of the brake leg, these sheets move closer together and close the circuit, which in turn activates the rear brake light.


Segmento #3 - Prueba final
Segment #3 - Final test
Primeramente, les quiero mostrar cómo quedó la moto al final luego de ensamblar todo. No ha casi diferencia en las últimas fotos que vieron en esta publicación, pero no está demás mostrarlas a ustedes:
First of all, I want to show you how the bike was in the end after assembling everything. There is almost no difference in the last photos you saw in this publication, but it is worth showing them to you:
PD: Como pueden ver, ya es de noche, se me fue todo el tiempo.
PS: As you can see, is night right now, my time has gone fastly.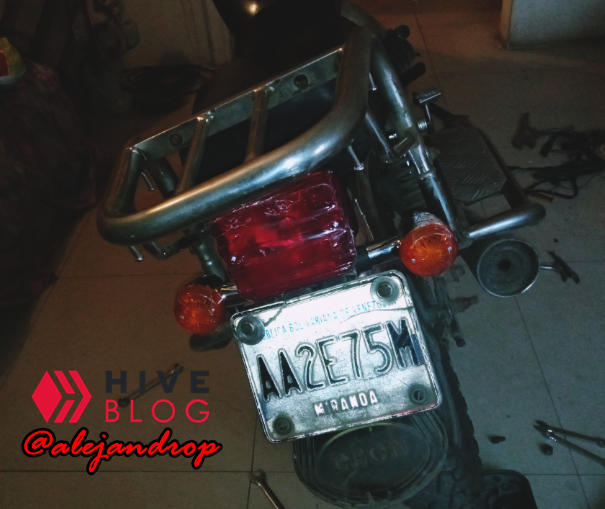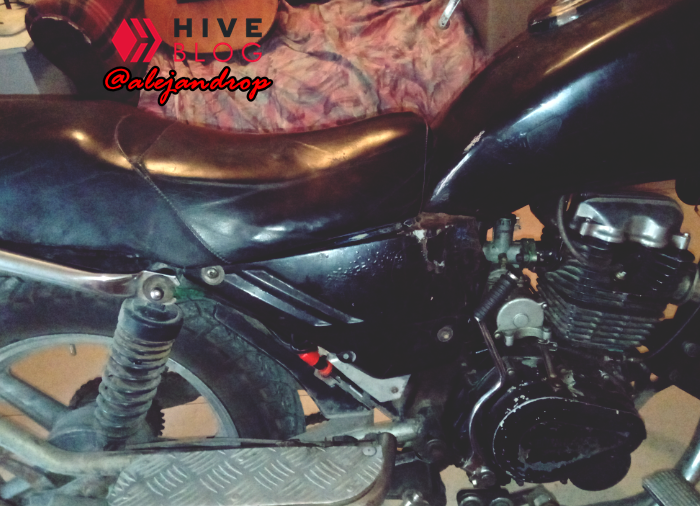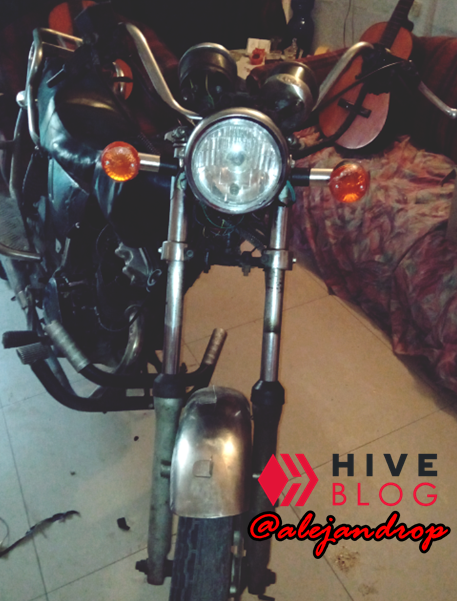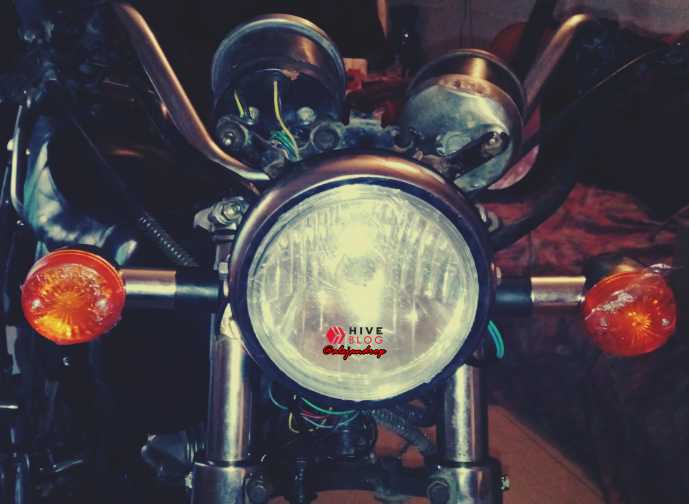 Y la muestra final, como siempre acostumbro en cada post, un video de muestra de funcionamiento:
And the final sample, as I always use in each post, a video of a sample of how it works:

Bueno amigos, esto sería todo. Muchas gracias por visitar mi blog y nos vemos en una próxima oportunidad, y espero que sea muy interesante el contenido. Con mucho cariño para todos ustedes.
Well folks, this would be it. Thank you very much for visiting my blog and see you in a next opportunity, and I hope the content is very interesting. With much love for all of you.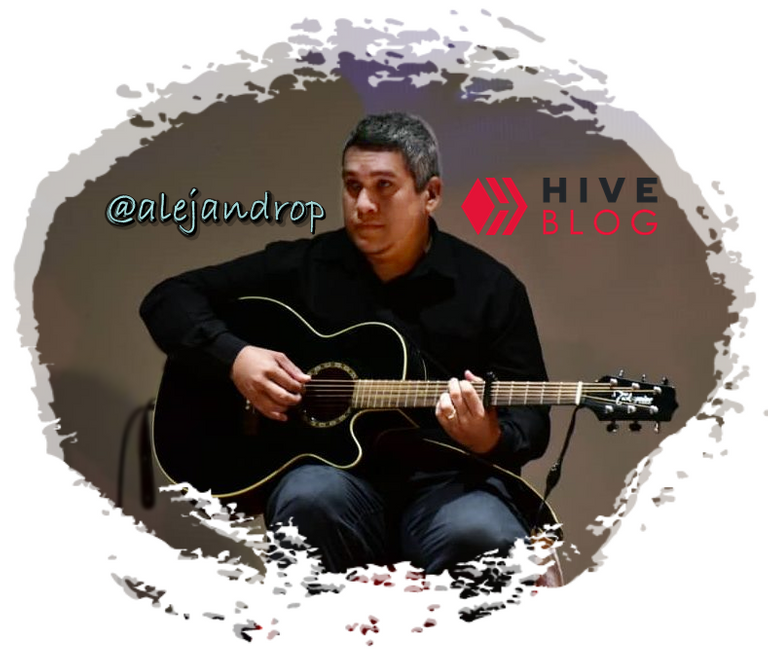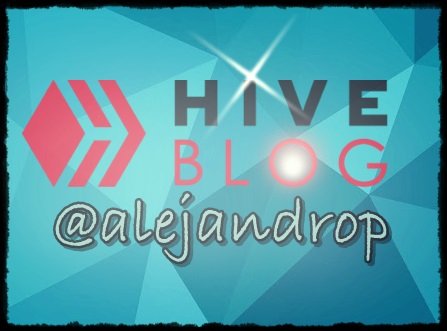 ---
---