Eco Fair made me happy

Hello friends.
I'm not a wizard or a magician , I'm just learning to be one.
But my magic level has already reached level 62

I hope for your support, friends.
This afternoon I happened to be in one of the shopping centers of our city
"Eco Fair"
.
I drove past it many times and I was visited by thoughts:
"I need to go there and look at the assortment"
. But every time I drove and drove past this supermarket.
Today, the stars have formed in such a way that an inscription appeared in the sky -
you need to stop by the Eco Fair supermarket
. And I decided to stop in the parking lot in front of the store.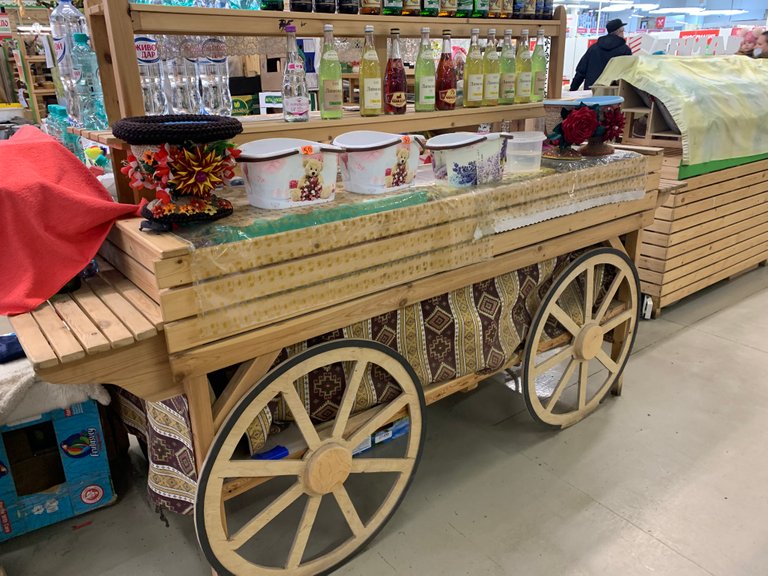 When I entered the shopping pavilion, I realized that this is not an ordinary shopping center. It is a large open space with open counters. This is exactly what the market is in our Russian understanding.
I think that the marketers correctly calculated the presence of this cart in front of the entrance.
My plans did not include making any purchases. I just wanted to see what's on sale and how many visitors there are. It was about 12 o'clock in the afternoon during business hours, so there were not very many buyers. Most of the people were in a small cafe.
In the meat department, a saleswoman offered me a piece of pork, but I said I wasn't interested. I'd like to buy mutton. This thought came to me at the sight of the meat department. The seller said that no one sells such meat here. Why didn't I doubt it? It is very difficult to find mutton in our stores. There are 2 reasons for this, which are related to each other:
Russians eat a lot of pork, beef, chicken. Mutton is in demand only in the Caucasus. And the rare connoisseurs of this meat, to which I count myself.
Due to low demand, farmers practically do not raise sheep. Because of this, the balance of supply and demand does not coincide. And the price of mutton can be very high.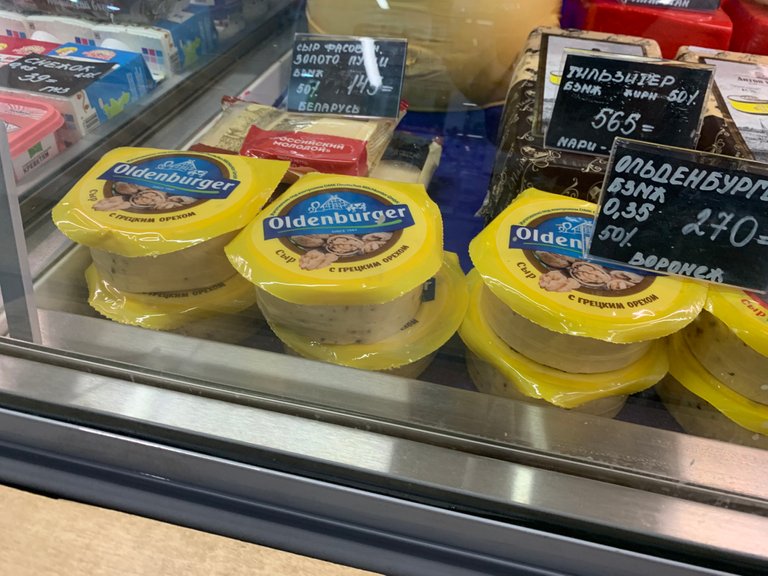 I was just about to go outside. But I saw a cheese counter. I can't pass by such a counter. I was interested in only one piece of cheese, the rest were not cheeses, but "cheese products" of accelerated maturation. Moreover, in their preparation, most likely, not natural milk was used, but palm oil.
But after looking more closely, I realized that this is also far from cheese.
By the way, the price is about $10 per kg.


These cheese products don't interest me either. This is the end of my supermarket inspection. I'm going outside.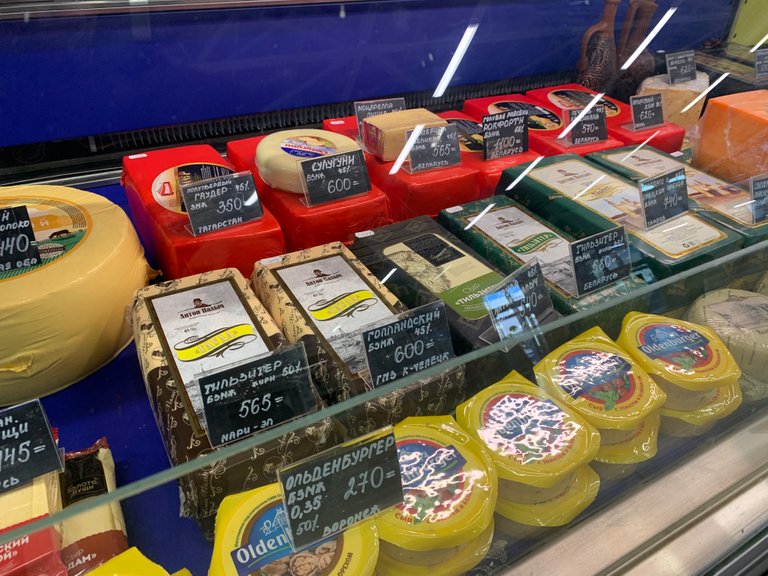 STOP.
And what is this?
This cheese should not be made at a mass cheese factory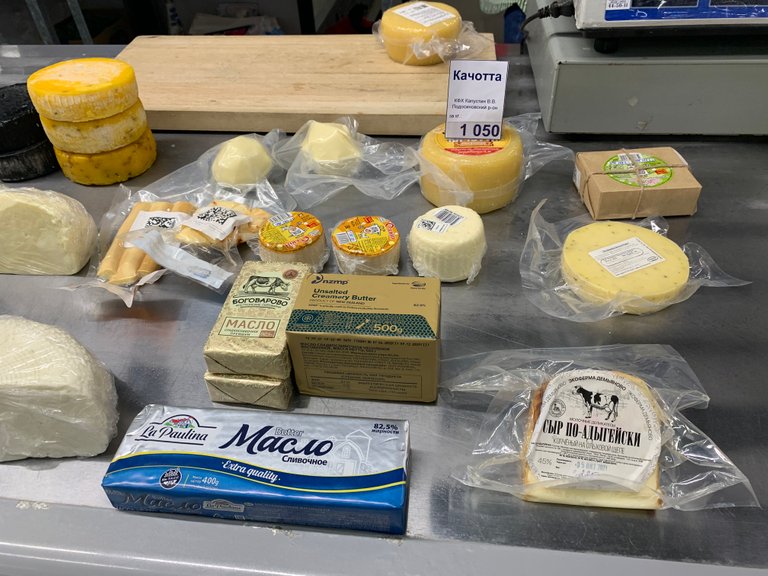 Caciotta
Caciotta (ital. Caciotta) is an Italian semi-soft cheese. It is produced mainly in central Italy, in the regions of Tuscany, Marche, Lazio, in smaller volumes it is produced in other regions. In the locality of Urbino (Marche region), a variety of cheese called Caciotta d'Urbino is produced, which has a DOP category. Milk of cows, buffaloes, goats, sheep can be used for cheese production. Cheese aging lasts from a few days to 2 months.
Wikipedia
I talked to the seller, asked about the place of production of this cheese. And I decided to take it for a tasting. The price is about $15 per 1 kg. It is clear that the taste will not be the same as the original in Italy. But if I like it, then I will probably buy it in the future.
The seller took out another cheese. I bought it too. But I didn't even ask about the price.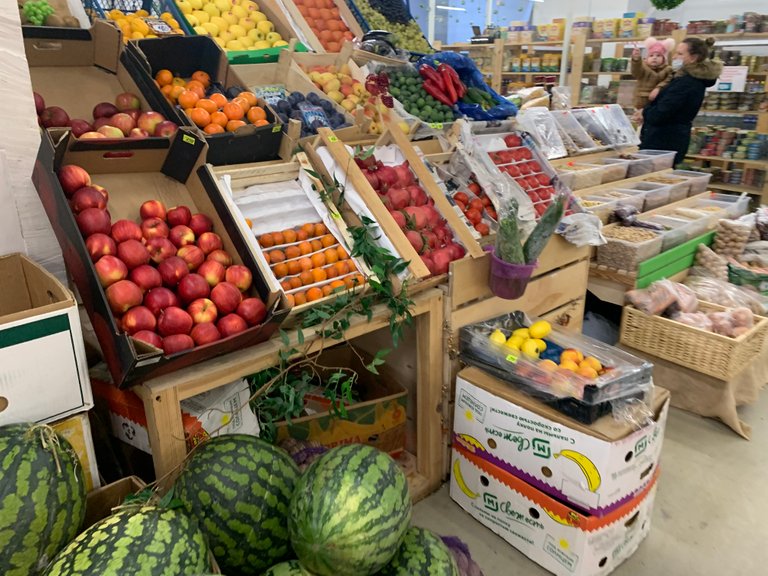 Very pleased with my purchase, I went to the exit. Fruits don't interest me. At home I still have apples from my friends' garden.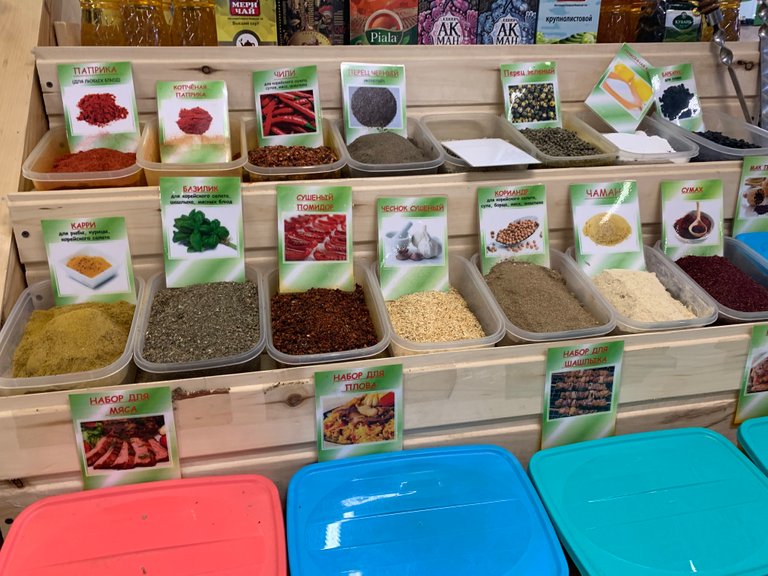 Spices. I'm not interested in them either at the moment. My wife usually buys them. There are even dried tomatoes here. I would never have thought that such a thing could be done with them.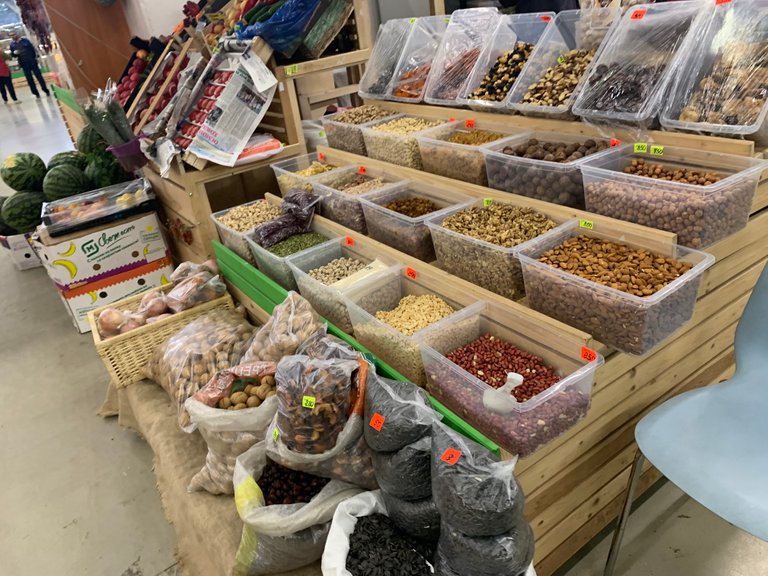 Nuts. I'm not ready to take them yet. I'll buy them next time. I need to ask my wife what nuts I need to buy.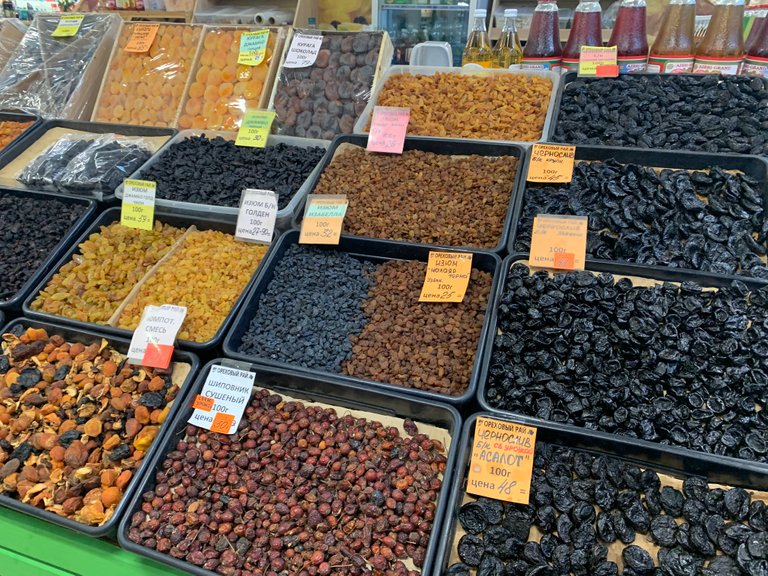 Dried fruits. That's where I'll stop.
I bought 2 types of dried grapes, prunes, dried ginger and sunflower seeds. I'll give the seeds to my friend. He feeds the birds in his garden in winter.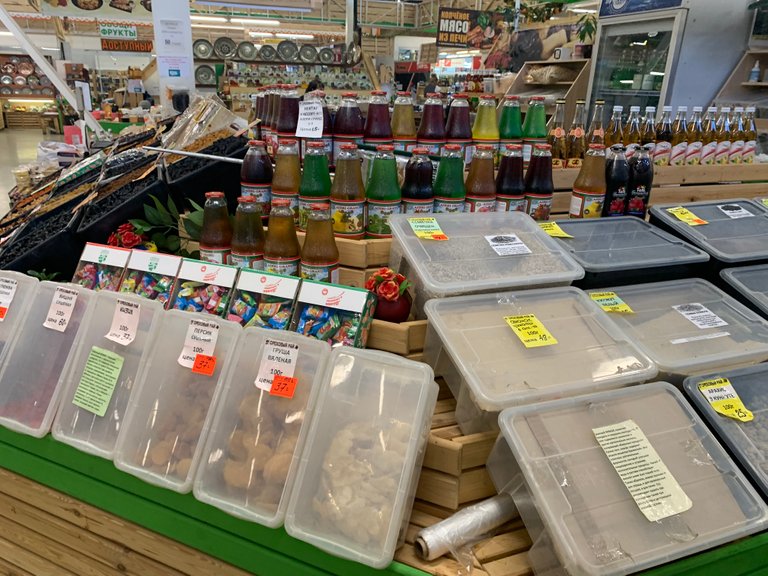 By the way, prunes cost from $6-7 per 1kg.
Raisins - $3.5-4.5 per 1kg
Sunflower - $1.5-2 / 1kg


I also had a snack in a cafe and went to work.


PS.I'll add a few words.
I bought the cheese successfully. We tried it right away last night. My wife said - you can still buy such cheese.
Of course, this is not Italy, but the cheese is not rubbery, it does not creak on the teeth!
---
I wish everyone happiness for life and good luck for every day.
---
---