ILUSTRACIÓN DE LA VIRGEN DEL CARMEN - Del dibujo tradicional al coloreado en digital [Esp-Eng]
Saludos amigos, les traigo en esta publicación una ilustración muy especial para los devotos de la Virgen de Carmen.
Esta ilustración la hice a petición de una persona que vio la ilustración que hice de la Virgen de Valle y entonces me pidió que le hiciera la Virgen del Carmen.
Quise que tuviera de fondo los colores de la bandera venezolana, ya que este persona se encuentra fuera de Venezuela y me gustó que de alguna manera esta Virgen del Carmen tuviera un toque de Sentimiento Nacional venezolano.
English version:
Greetings friends, I bring you in this publication a very special illustration for the devotees of the Virgin of Carmen.

I made this illustration at the request of a person who saw the illustration I made of the Virgen de Valle and then asked me to make the Virgen del Carmen for her.

I wanted it to have the colors of the Venezuelan flag in the background, since this person is outside of Venezuela and I liked that somehow this Virgen del Carmen had a touch of Venezuelan National Sentiment.

El Boceto: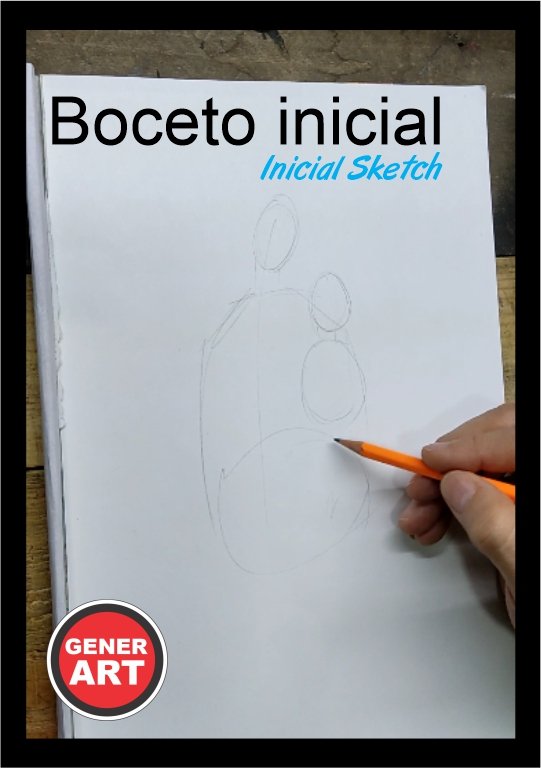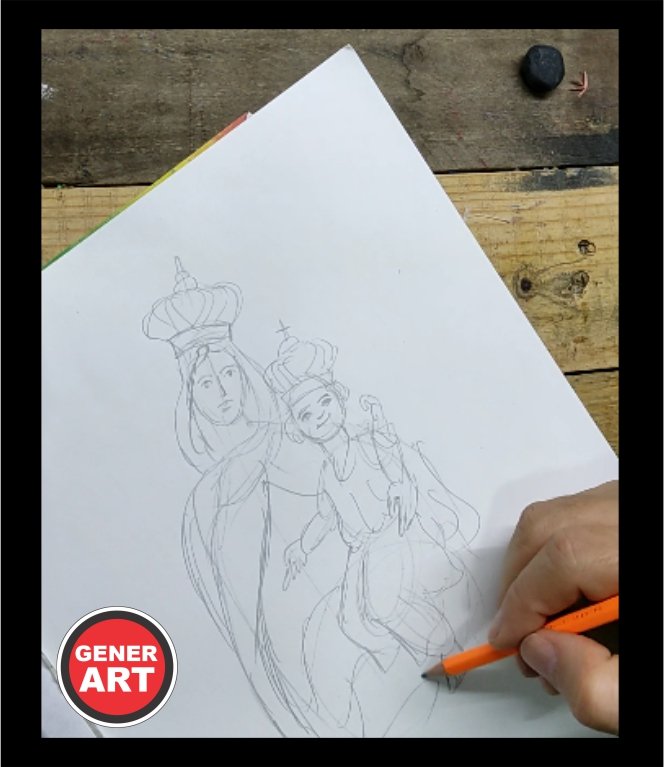 Como es la costumbre para mí, el boceto lo hago trazando líneas básicas para marcar el espacio dentro de la superficie donde voy a hacer la ilustración.
Cuando estamos comenzado a dibujar siempre es bueno hacer las líneas guías, esto nos ayudará mucho a la hora de las proporciones del cuerpo.
Esta ilustración de la Virgen del Carmen tiene en particular que son dos personajes: la Virgen como tal y el niño en su regazo, esto le da un poco de dificultad a la ilustración.
Después que se tiene el boceto inicial, empezamos a definir detalles, todo este proceso lo hago haciendo trazos suaves para no dañar la superficie, aun cuando estaba trabajando en una hoja de cartulina quise cuidar la superficie.
La referencia: La Virgen del Carmen está representada de muchas diversas formas, pero lo que la caracteriza es que está con un niño en sus brazos y tiene un rosario, también la define la vestimenta que usa.
En mi caso yo utilicé la siguiente imagen como referencia:
The Sketch:
As is the custom for me, I do the sketch by drawing basic lines to mark the space within the surface where I am going to make the illustration.

When we are starting to draw it is always good to make the guidelines, this will help us a lot when it comes to the proportions of the body.

This illustration of the Virgen del Carmen has in particular that there are two characters: the Virgin as such and the child in her lap, this gives the illustration a bit of difficulty.

After we have the initial sketch, we begin to define details, I do this whole process by making soft strokes so as not to damage the surface, even when I was working on a sheet of cardboard I wanted to take care of the surface.

The reference: The Virgin of Carmen is represented in many different ways, but what characterizes her is that she is with a child in her arms and has a rosary, it is also defined by the clothing she wears.

In my case I used the following image as a reference: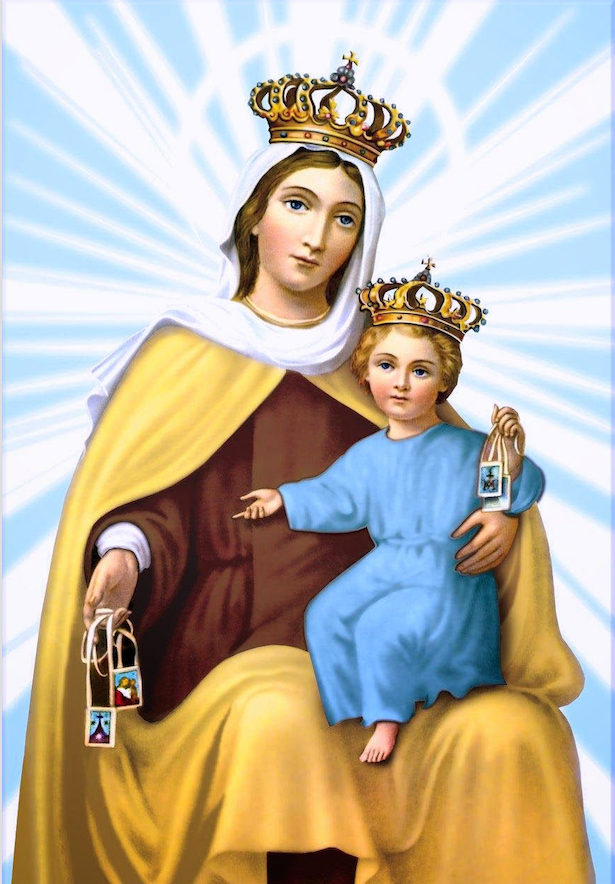 Fuente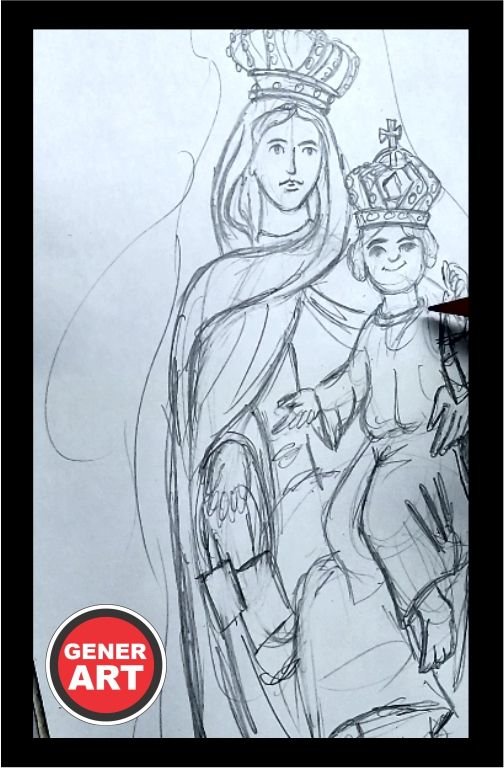 El Entintado: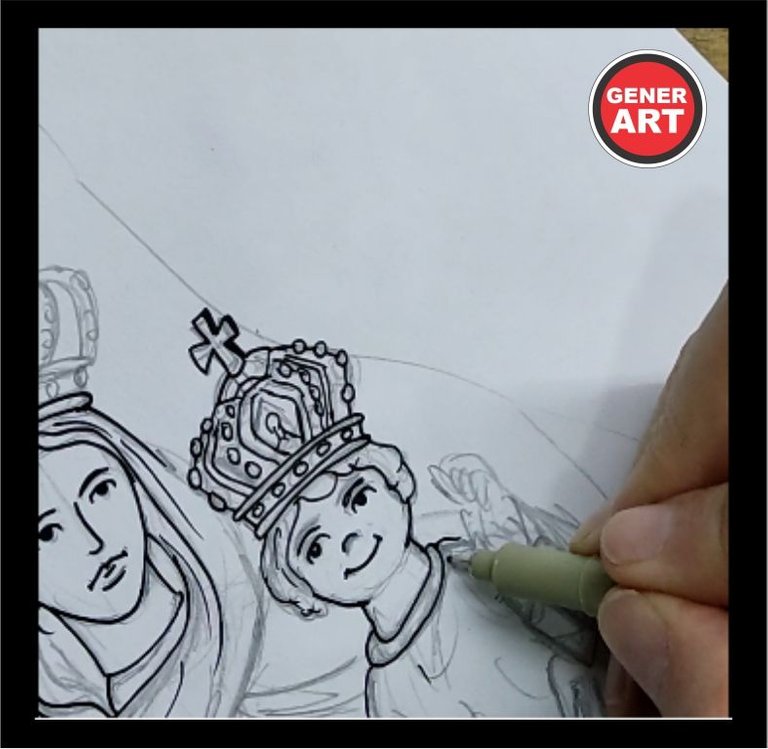 Completado los detalles del boceto viene la parte del entintado, el cual hice con un estilógrafo negro punta fina.
En esta parte no hay opción a equivocarse, hay que ir haciendo los trazos de manera muy segura, firme pero con suavidad, sin afincan mucho el estilógrafo quedará un trazo tembloroso, y este detalle dañaría el dibujo en mi opinión.
Hacer el entintado me tomo una hora y media aproximadamente, no fue un tiempo tan largo si lo comparamos con otros procesos artísticos 🙂 además que disfruto hacerlo.
Les presento la ilustración ya entintada, el próximo paso es borrar con mucho cuidado todo el excedente del grafito del lápiz:
The Inking:
Completing the details of the sketch comes the inking part, which I did with a black fine point stylus.

In this part there is no option to make a mistake, you have to make the lines very safely, firmly but gently, without setting the stylus too much there will be a shaky line, and this detail would damage the drawing in my opinion.

Doing the inking took about an hour and a half, it was not that long if we compare it with other artistic processes 🙂 I also enjoy doing it.

I present the illustration already inked, the next step is to very carefully erase all the excess graphite from the pencil: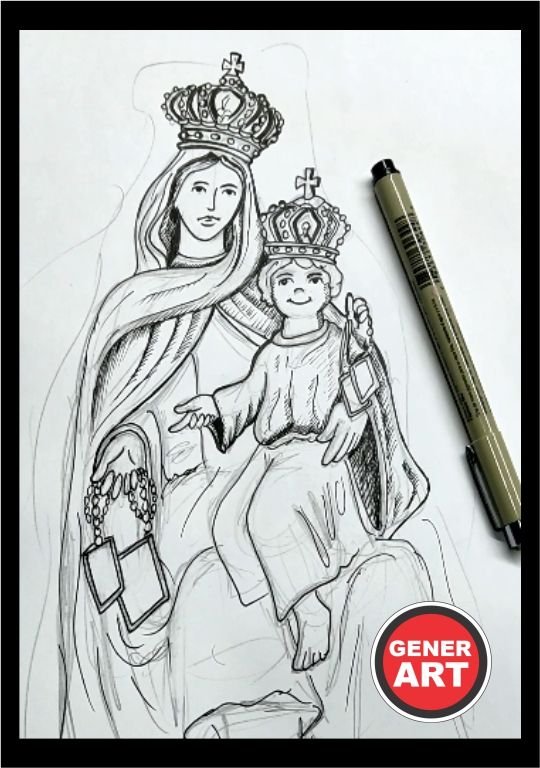 EL COLOREADO EN DIGITAL:
Para hacer el coloreado en digital primero hay que borrar todo lo que sea trazos de lápiz, hay que borrar con mucho cuidado de no dañar la superficie.
Después de haber borrado hay que digitalizar la imagen, esto lo pueden hacer tomándole una foto con un celular o escaneando la imagen. Yo escanee la imagen y la pasé a la computadora para el coloreado en digital con el programa Photoshop.
THE COLORED IN DIGITAL:
To do the coloring in digital, first you have to erase everything that is pencil strokes, you have to erase with great care not to damage the surface.

After erasing, you have to digitize the image, this can be done by taking a photo with a cell phone or by scanning the image. I scanned the image and transferred it to the computer for digital coloring with Photoshop.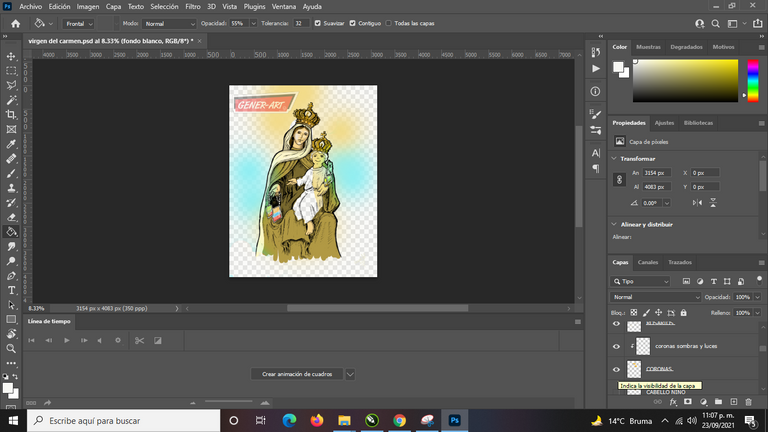 RESULTADO FINAL / Final Result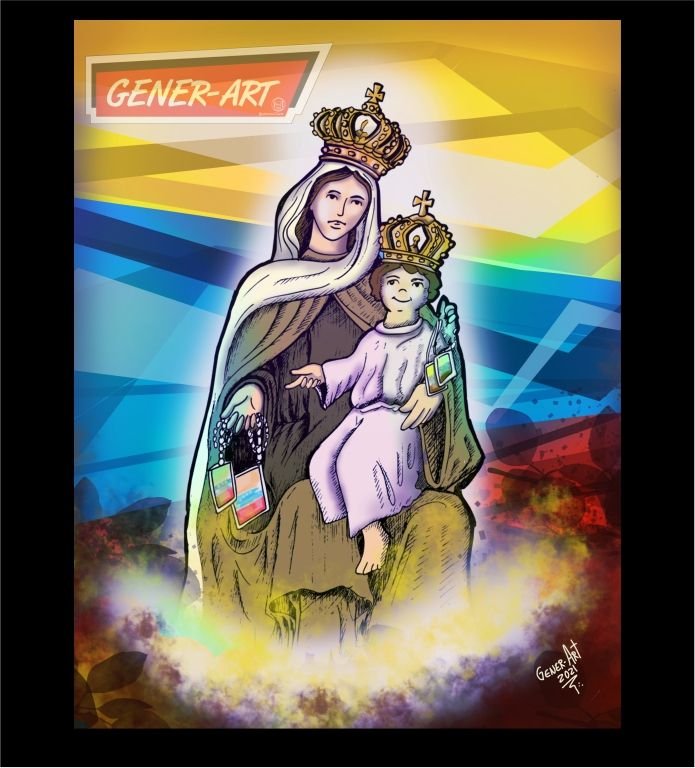 Amigos, a mi me encanta este resultado final coloreado de manera digital, hecho muy a mi estilo personal, con ese toque en el fondo con los colores patrios venezolanos 😍
Si quieres esta ilustración para tu colección sin marca de agua, solo debes contactarme y hacemos un trato, el arte tiene valor 😉
Friends, I love this digitally colored final result, made very much in my personal style, with that touch in the background with the Venezuelan national colors 😍

If you want this illustration for your collection without a watermark, you just have to contact me and we make a deal, art has value 😉
---
The materials used were:

A sheet of white cardstock
School pencil, pencil sharpener and an eraser
Black Stylograph MICRON 05
Black marker medium tip
Technological tools:
-Scanner
-Photoshop
Materiales utilizados:
Una hoja de cartulina blanca
Lápiz escolar, sacapuntas y un borrador
Estilógrafo negro MICRON 05
Marcador negro punta mediana
Herramientas tecnológicas:
---
Es todo por los momentos, espero que sea del agrado de todos ustedes este trabajo, dedicado especialmente a los devotos y seguidores de la Virgen del Carmen. Por favor dejen sus comentarios y opiniones sobre esta publicación y lo que en ella les estoy presentando.
Les dejo mis redes sociales para que me sigan en todas ellas:
It's all for the moment, I hope you all like this work, dedicated especially to the devotees and followers of the Virgen del Carmen. Please leave your comments and opinions about this publication and what I am presenting to you in it.

I leave my social networks so that you can follow me in all of them:
TU APOYO ES MUY IMPORTANTE PARA MÍ
YOUR SUPPORT IS VERY IMPORTANT TO ME

NOS VEMOS EN LA PRÓXIMA PUBLICACIÓN
SEE YOU IN THE NEXT POST

Cortesía de @equipodelta


NOTA: todos los dibujos y pinturas hechos por mí tienen Derecho de Propiedad Intelectual, además tienen una historia ligada únicamente a mi persona y mi entorno, ya sean conocidos, familiares o amigos. Gracias por no plagiar.
---
---