Tribaldex pools are kinda killing it right now...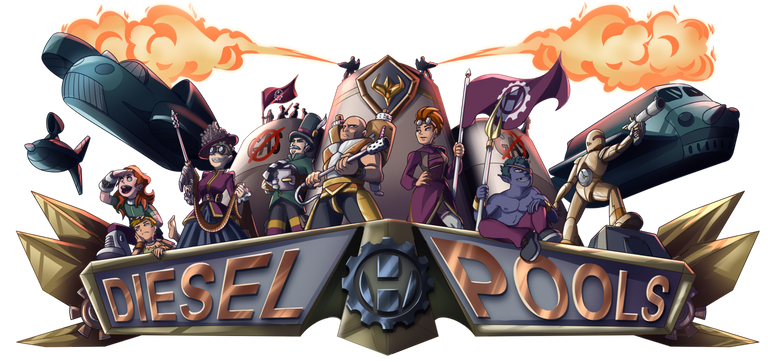 So, hive-engine and tribaldex are one of the best projects around. They're really only surpassed by Splinterlands on chain. There's so much opportunity here to earn, and I'm betting a lot of you don't know about it or aren't maxing out on the opportunity.
Splinterlands got a good head start by users figuring out multiple streams of income
I've often noted that you could play a match and earn. Post it to youtube and earn. Embed that youtube in a hive post and earn. Add some tribe tags to that post and earn. Then use what you've earned to earn more.
There's multiple ways to earn all that start with 1 action and then broadcasting your activity to lots of folks
earning in tribaldex
There's a bunch of ways to earn with tribaldex. First tribaldex is a centralized website owned by steem engine corp which operates a convenient front end to the decentralized backend. The backend itself is a smart contract platform. This setup allows Steem Engine Corp, which is the owner of the front end to have custom views, tools, and services. The backend is public, opensource, and run by some 30+ different servers helping to secure the network and keep it operating.
Generally speaking rewards are moving right along. Here's a look at just this past week in just a handful of trading pairs.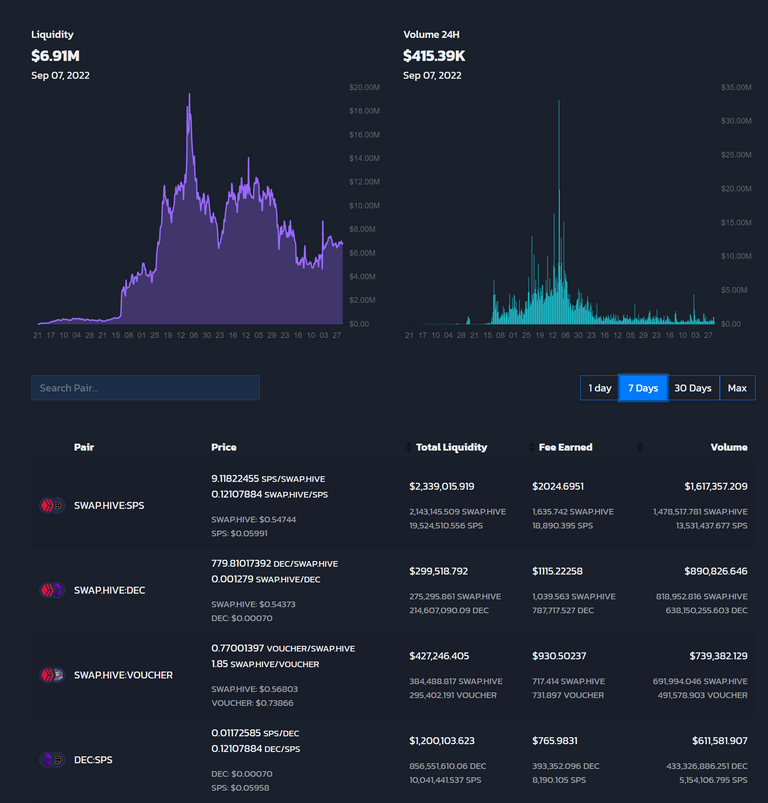 What you're seeing here is that if you put money into a liquidity pool you get rewarded with fees. There is a fee of 0.25% per trade and 100% of that goes to the people that are staking tokens in the liquidity/diesel pool. You don't find that anywhere else. Usually the exchange or service takes a cut or fee, but the tribaldex interface doesn't charge anything.
Ok, but that's not all. Cause if you're doing this right you'll realize that some products like splinterlands incentize you beyond the trading fees to add liquidity.
Here's a snippet on the SPS pools chart in Splinterlands. You can see this account is adding a small amount of liquidity to the DEC/SPS pool and SPS/swap.hive pool. I'm earning 80 SPS and 701 DEC for my actions. I claimed these rewards last night, so this is just a few hours.
So, now I'm getting double income. I'm getting income for trading fees that gather for the tribaldex platform and I'm getting airdrops that are coming my way from the Splinterlands rewards pools for liquidity staking.
Now I'm posting about these transactions and will get hive rewards for doing so.
Compound rewards
The best advice I can give in crypto is do something that you like that provides compound rewards. Each one of these actions is building up my networth and they each go hand in hand. Even the hive I get for this will end up staked, and there's potential to earn from that by hodling and voting.
So, I've had a ton of success on my financial journey by doing some giant financial wheel of compounding my successes after each other.
Buy some cards
battle in splinterlands
earn from splinterlands
post a video on twitter/youtube/tiktok about earning and battling in splinterlands
earn from web 2 views
post that video into a hive post
earn from the hive post
stake the earnings from the hive post
earn curation rewards and hodling rewards from hive
take excess rewards and put them in liquidity pools
get fees when people trade
get rewards from splinterlands for adding to the liquidity pools
blog about the rewards
get rewards about blogging about the rewards, make videos, and take all of that excess revenue and shove it into pools
If you understand this process you'll start small and you'll notice that your rewards grow over time.
There's so much to choose from
With splinterlands rolling out the last 1/3 of chaos legion, tower defense game, riftwatcher, an undisclosed project, Genesis League games, and so much more there's lot of ways for you to participate, blog about your participation, inject liquidity, and then blog about that to help compound everything you're doing.
Buy raman, live on the cheap, compound your earning, and lastly try to time your buying and exits as best as you can based around market opportunities. A good way to test if you're getting a good deal is to look at a long term moving average price. If you're over the average the market is basically expensive. If it's under the average then it's giving you a discount.
That's all for now. Happy hunting out there!
---
---