What the season brought / Lo que trajo la temporada de maíz a mi pueblo (Eng/Esp)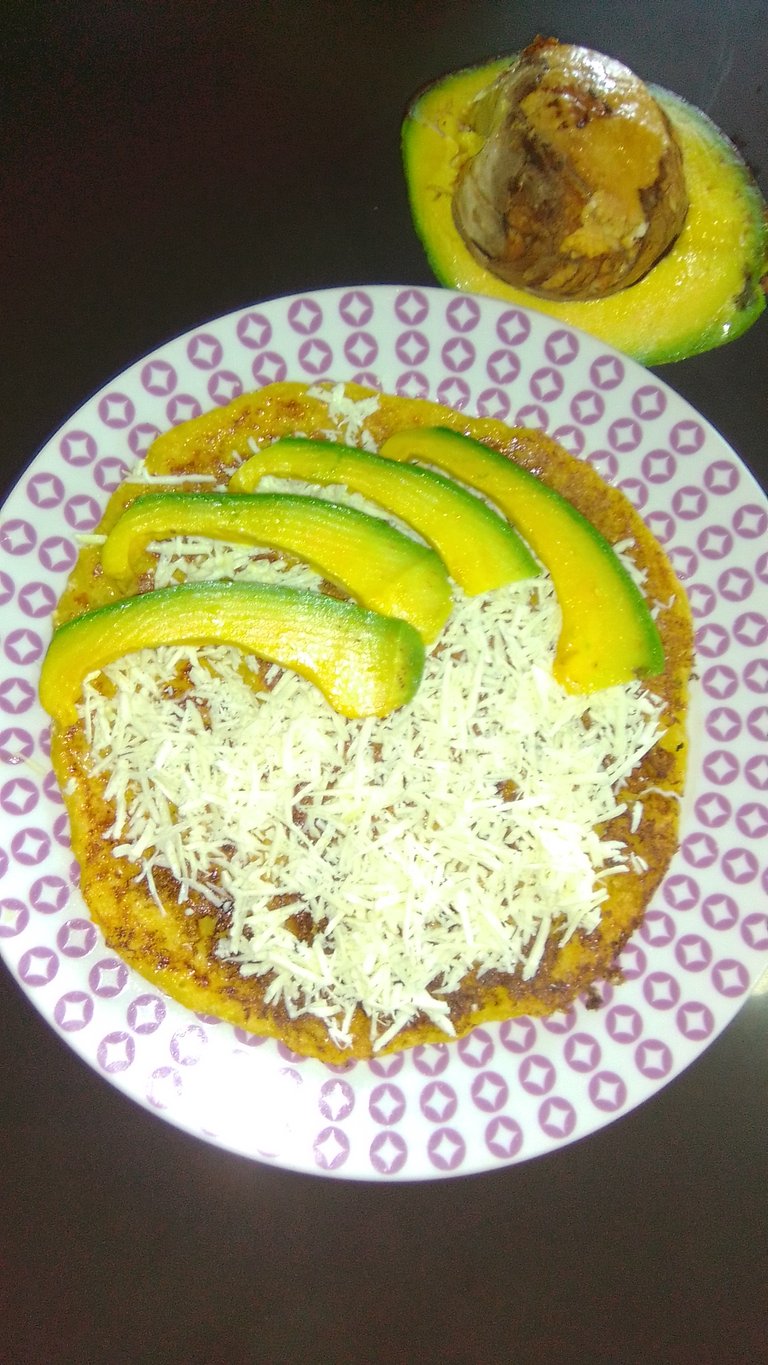 (English)
A delicious cachapa !!!
In Venezuela we are very happy to arrive at this time of the year, because at this time of the year is in full swing what we call the 'safra del maiz' which is the time of the year when a large number of people are dedicated to planting corn, and they do it having in mind the exquisite feast that this produces: "the delicious cachapas de maíz jojoto, or tender corn", as it is better known.
It all starts with the rainy season, because our tropical climate is a bit hard to plant at this time of the year, unless we have the natural irrigation system that is the long awaited rains.
The process of obtaining quality seeds is a very difficult and expensive factor in our country, however, families usually save seeds from previous seasons to sow in future seasons, and many share a little with those who did not have much success in previous seasons (although normally the percentage of eclotion of these seeds is very low, but we always risk our effort).
We also face the infertility of many yards used for planting, where it is almost impossible to achieve a good product without the help of fertilizers or manures.
For example, in the case of my wife and I, we were able to obtain 250 grams of seed, with which we were able to sow some plants in our small patio, but the dream is not in good fertility conditions, and the plants that sprouted did not even reach 30% of the expected quality level.
In the end, the plants that did come up produced some small ears, which we were able to process to enjoy 12 cachapas of baby corn.
This was the process: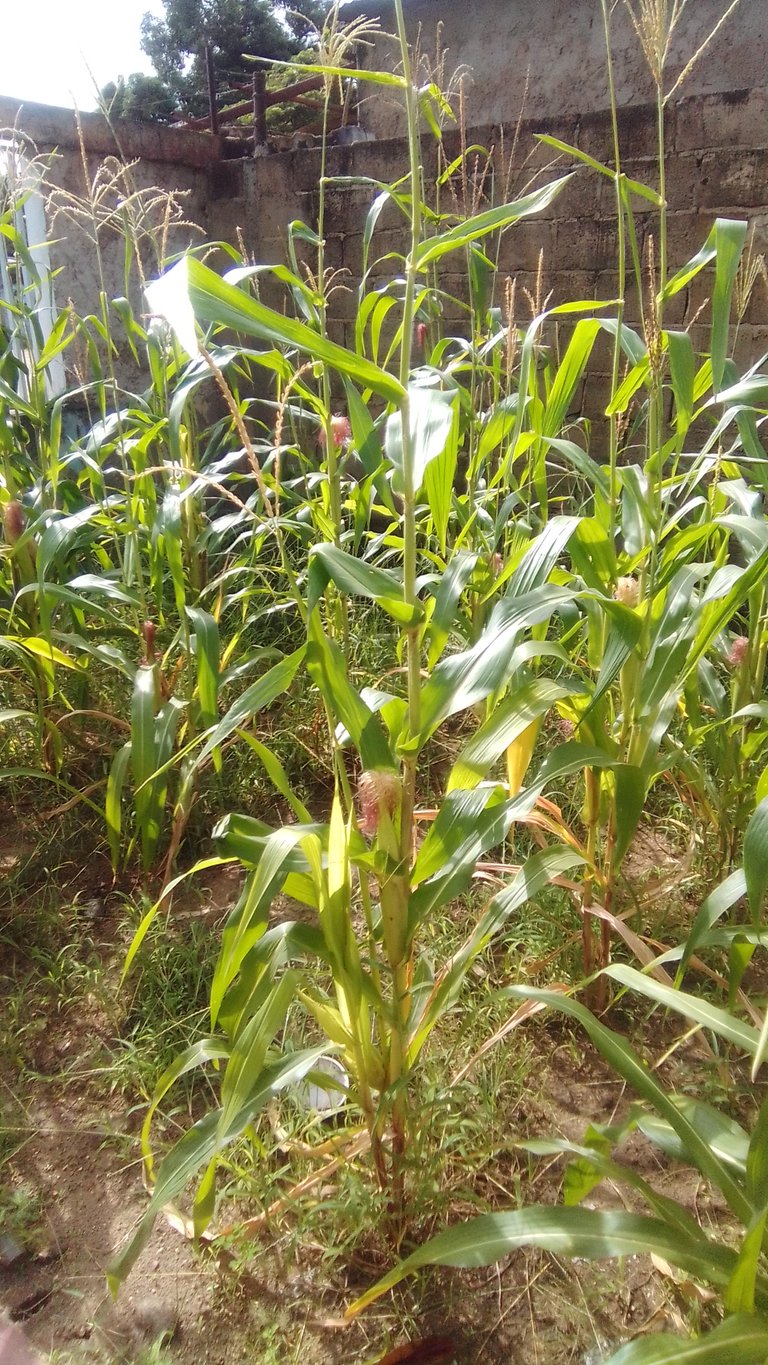 1)- The planting:.
The plants that we see in this image are plants with approximately 2 months of sowing.

2)- Harvesting:
The corncob must be at this point in order to obtain the mixture or 'masa' for the cachapas to have that exquisite flavor that characterizes them.

3)- The cut:.
The kernel must be separated from the 'tuza' as we call the center of the corn, to be able to grind it with a mill or with a blender (as we did).

4)- The milling:.
In this case, we use the help of a food blender, although the traditional way is using a tool that we call 'mill'. And at this point we obtain the desired product.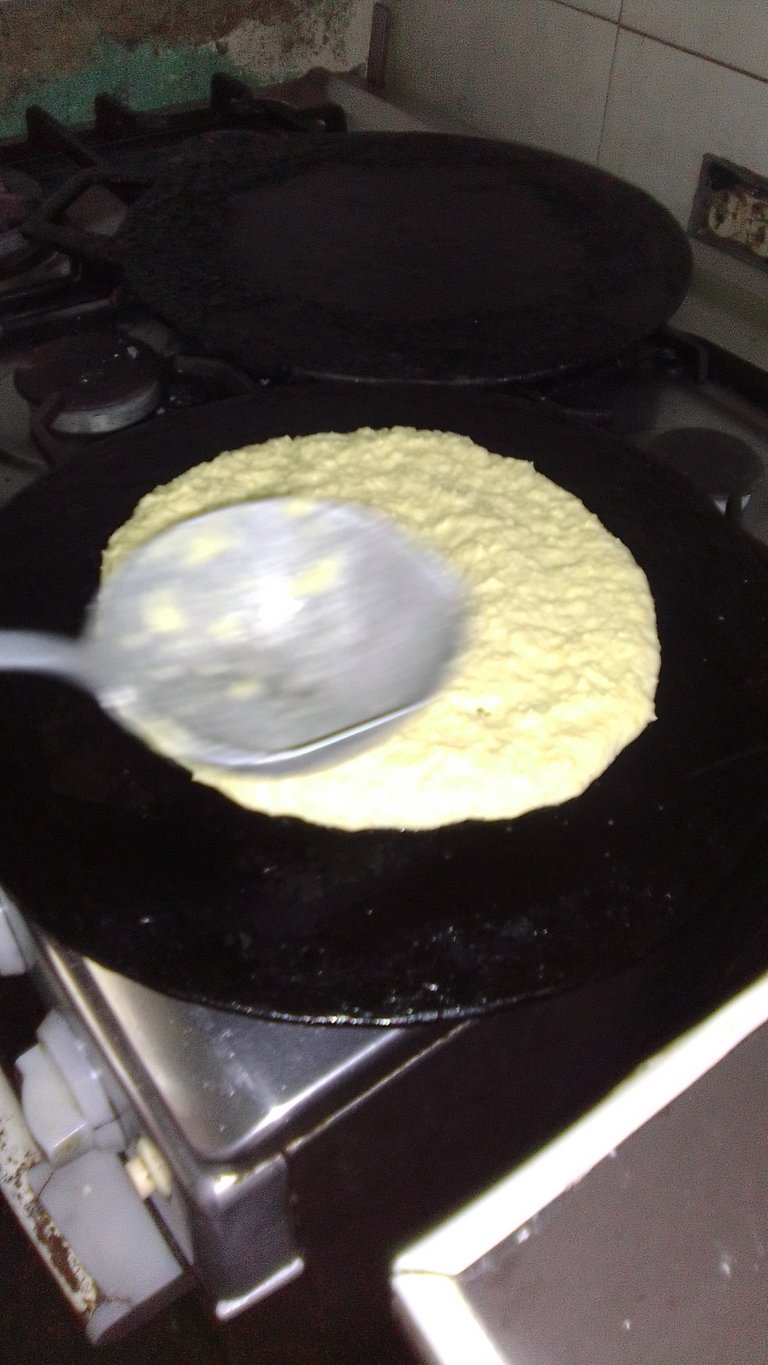 5)- The laying:
This is how we describe the moment in which we deposit the mixture in the 'budare', which is the name we give to a round metal plate that we use for cachapas, arepas and other tortillas.

6)- The flipping:.
This is the most critical moment of the process. To obtain a well prepared cachapa, it is necessary to cook it on both sides, which makes it necessary to flip our weak and premature cachapa with a unique skill, which according to legend, is acquired with many years of experience (just kidding).
My wife managed to master this technique at a very young age (just kidding).
The cooking time takes approximately 4 to 5 minutes.

7)- Presentation or plating ".
When it's time to enjoy, that's when we get more creative. In many parts of our country this dish used to be accompanied with pieces of roasted or fried pork. This varies depending on the economic circumstances. Other toppings for this dish range from white cheese (in all its presentations) chicken stew, avocado, llanera butter (nata de leche) and in some cases, with canned sardines.
In fact, every year, at this time, many Venezuelan households, especially in rural areas of our country, have taken advantage of this holiday to share good family lunches to enjoy the delicious cachapas.
!!! I invite you to try this delicious recipe !!!!
It is easy and very tasty.
Try it!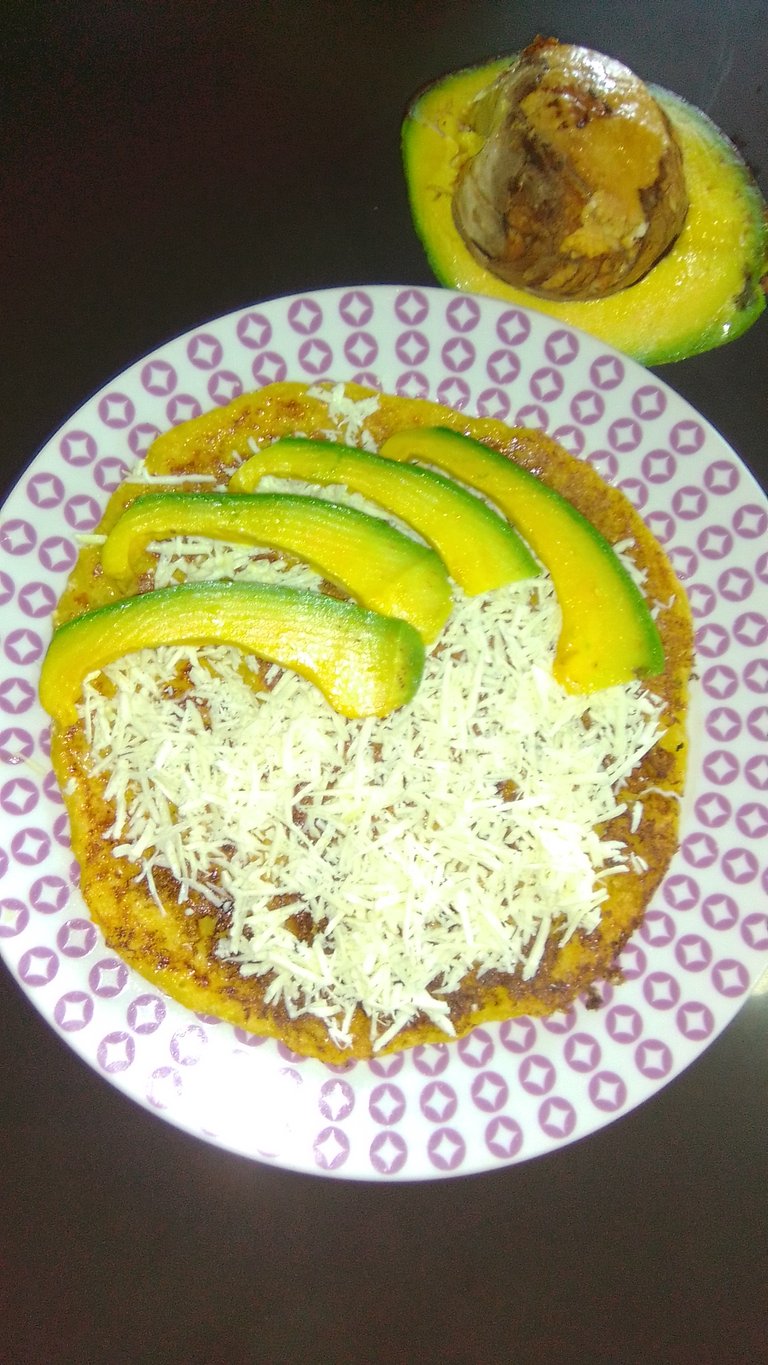 (Español)
Una rica cachapa !!!
En Venezuela nos alegra mucho llegar a esta época del año, porque a esta fecha está en pleno lo que llamamos la 'safra del maiz' que es el momento del año en que una gran cantidad de personas se dedican a sembrar maíz, y lo hacen teniendo en mente el exquisito banquete que esto produce: "las deliciosas cachapas de maíz jojoto, o maíz tierno", cómo se le conoce mejor.
Todo empieza con la temporada de lluvias, porque nuestro clima tropical es algo duro para sembrar en esta época del año, a no ser que contemos con el sistema de riego natural que son las tan esperadas lluvias.
El proceso de obtener semillas de calidad es un factor muy difícil y caro en nuestro país, sin embargo, las familias normalmente guardan semillas de las temporadas anteriores para sembrar en temporadas futuras, y muchos comparten un poco con quiénes no tuvieron mucho éxito en las temporadas anteriores (aunque normalmente el porcentaje de eclocion de estás semillas es muy bajo, pero siempre arriesgamos nuestro esfuerzo).
Tambien nos enfrentamos a la infertilidad de muchos patios usados para la siembra, dónde es casi imposible lograr un buen producto sin la ayuda de fertilizantes o abonos.
Por ejemplo, en el caso de mi esposa y yo, pudimos obtener 250 gramos de semilla, con lo que pudimos sembrar algunas plantas en nuestro pequeño patio, pero el sueño no está en buena condiciones de fertilidad, y las plantas que brotaron no alcanzaron ni si quiera un 30% del nivel de calidad esperado.
Al fin y al cabo, las plantas que salieron produjeron algunas pequeñas mazorcas, las cuales pudimos procesar para poder disfrutar de 12 cachapas de maíz tierno.
Este fue el proceso: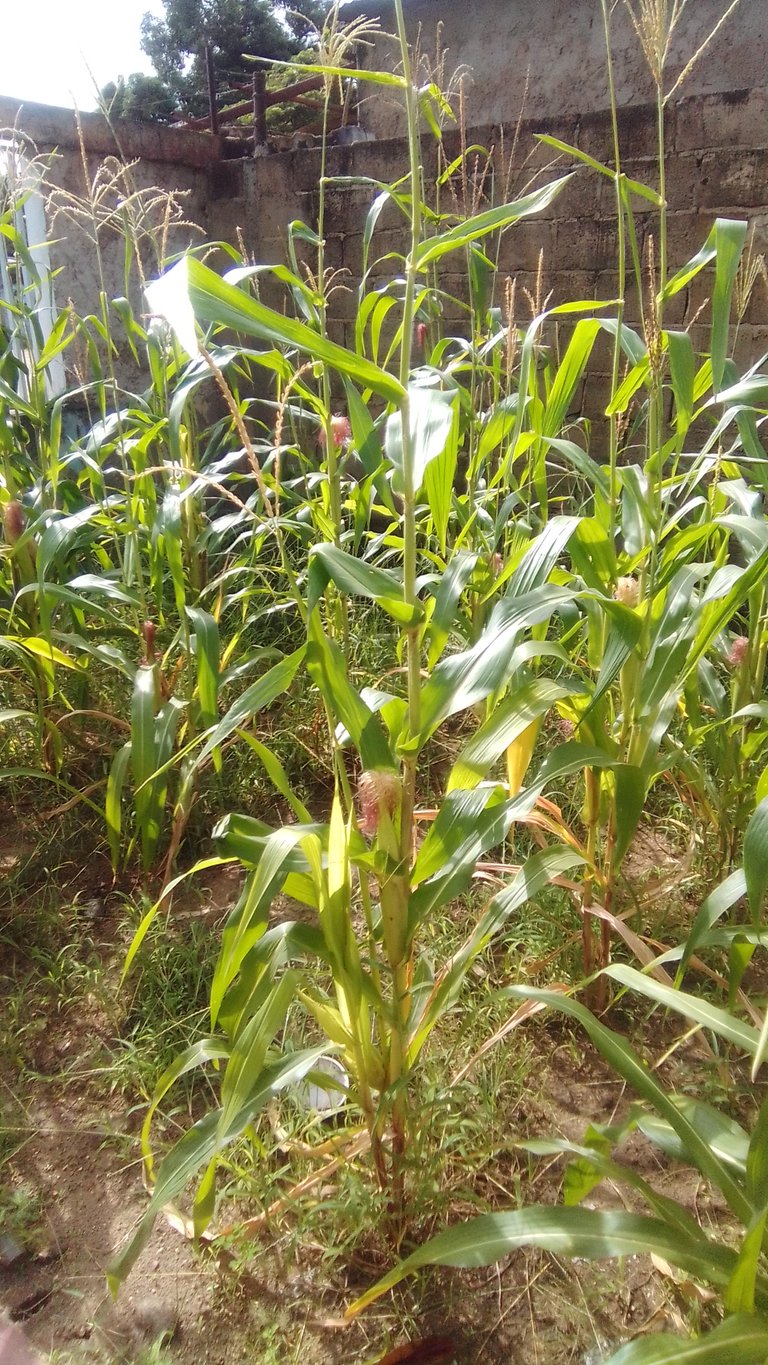 1)- La siembra:
Las plantas que vemos en esta imagen son plantas con aproximadamente 2 meses de sembradas.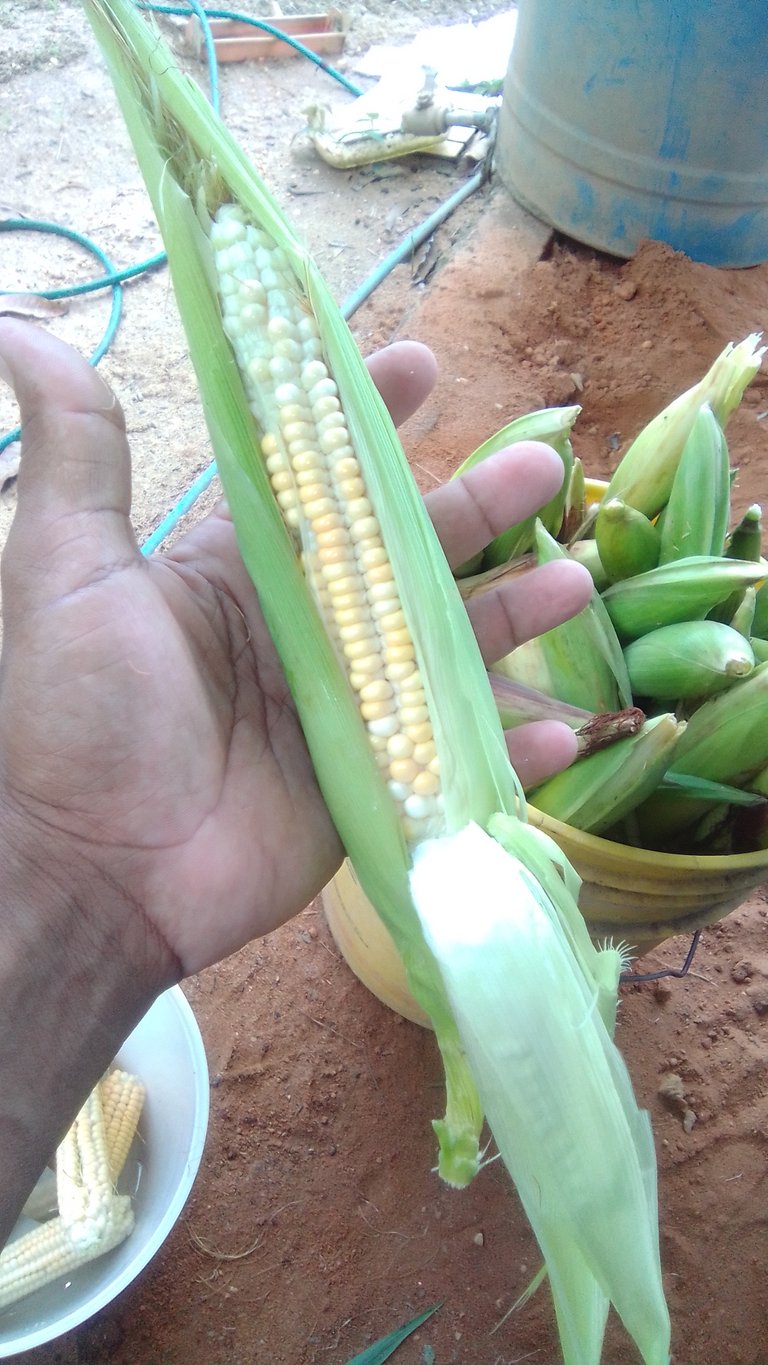 2)- La cosecha:
La mazorca debe estar en este punto para poder obtener la mezcla o 'masa' para que las cachapas tengan ese exquisito sabor que las caracteriza.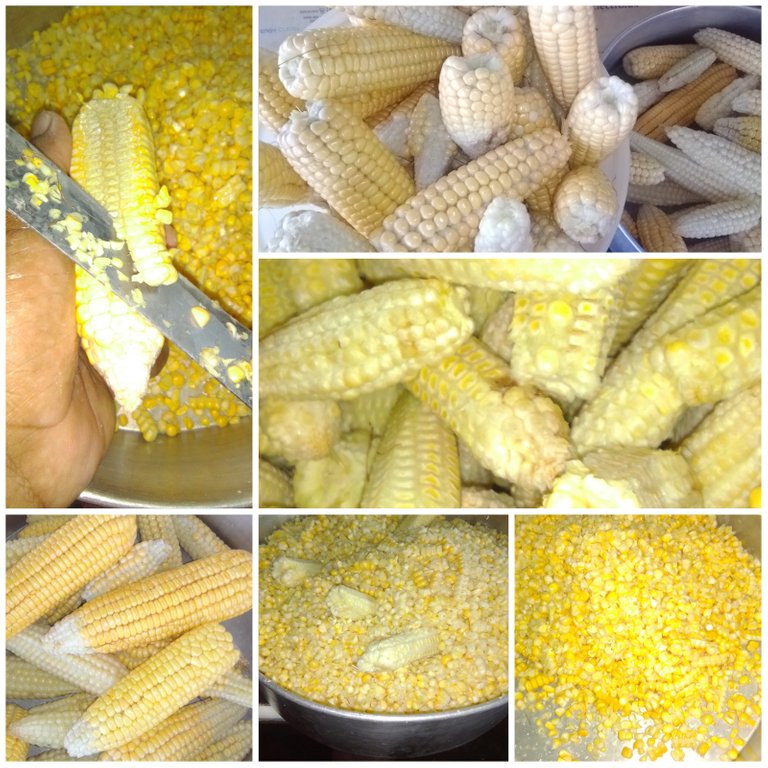 3)- El corte:
El grano debe ser separado de la 'tuza' cómo llamamos al centro del maíz, para poderlo triturar con un molino o con una licuadora (cómo lo hicimos nosotros)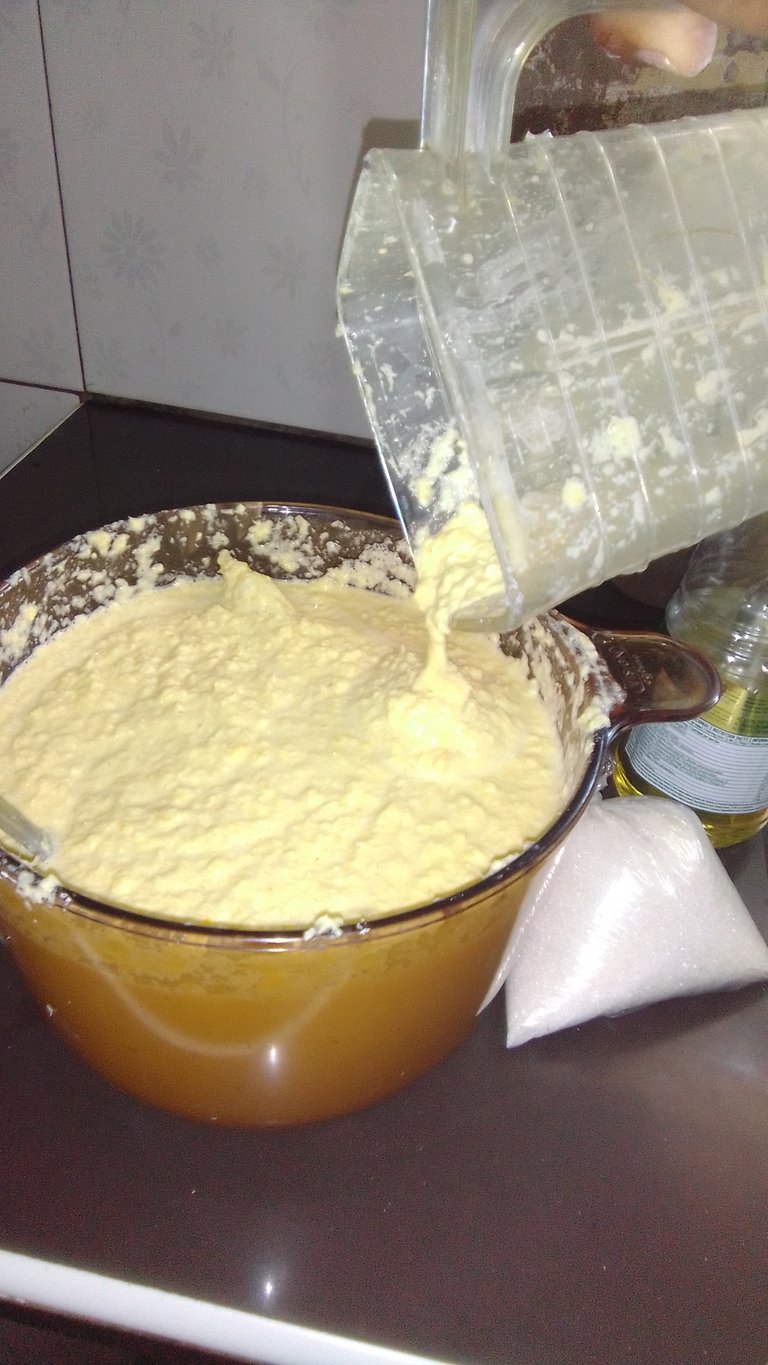 4)- La molienda:
En este caso, usamos la ayuda de una licuadora de alimentos, aunque la manera tradicional es usando una herramienta que llamamos 'molino'. Y en este momento obtenemos el producto deseado.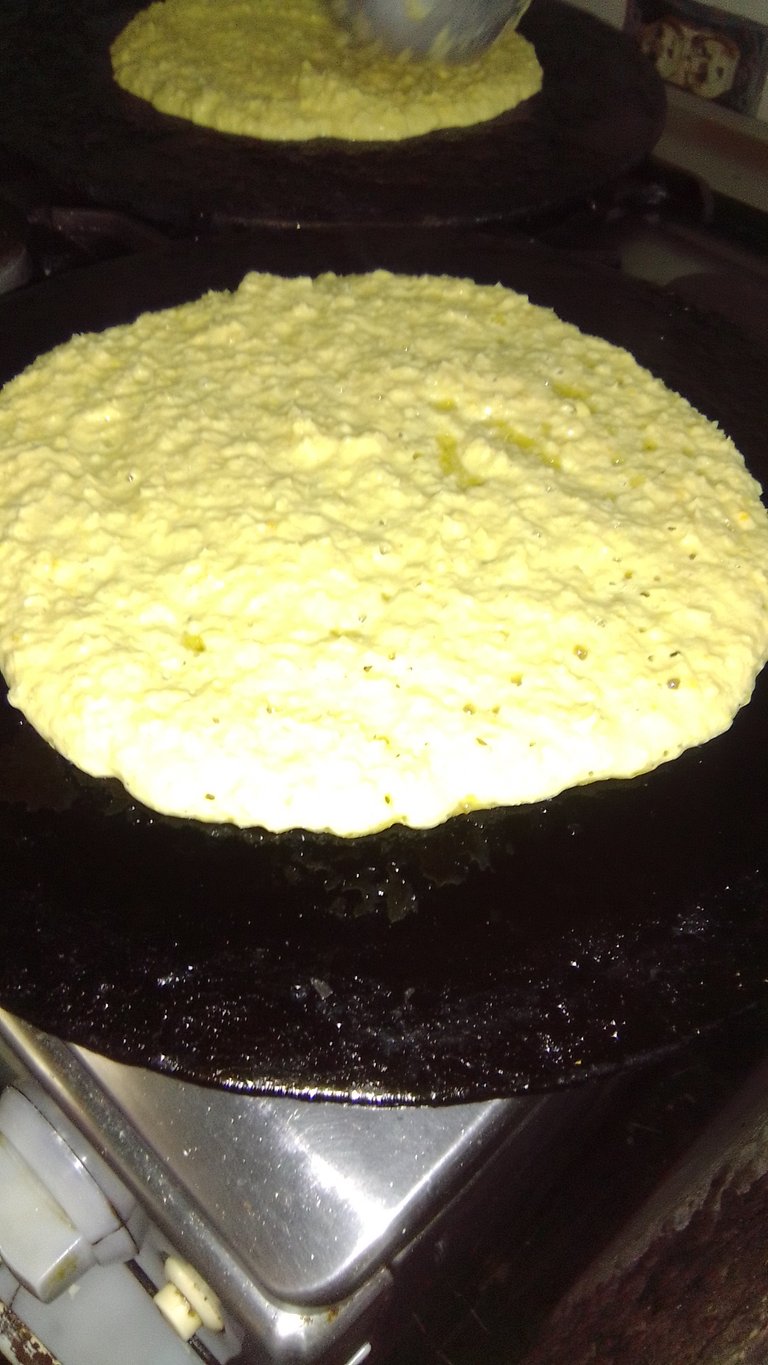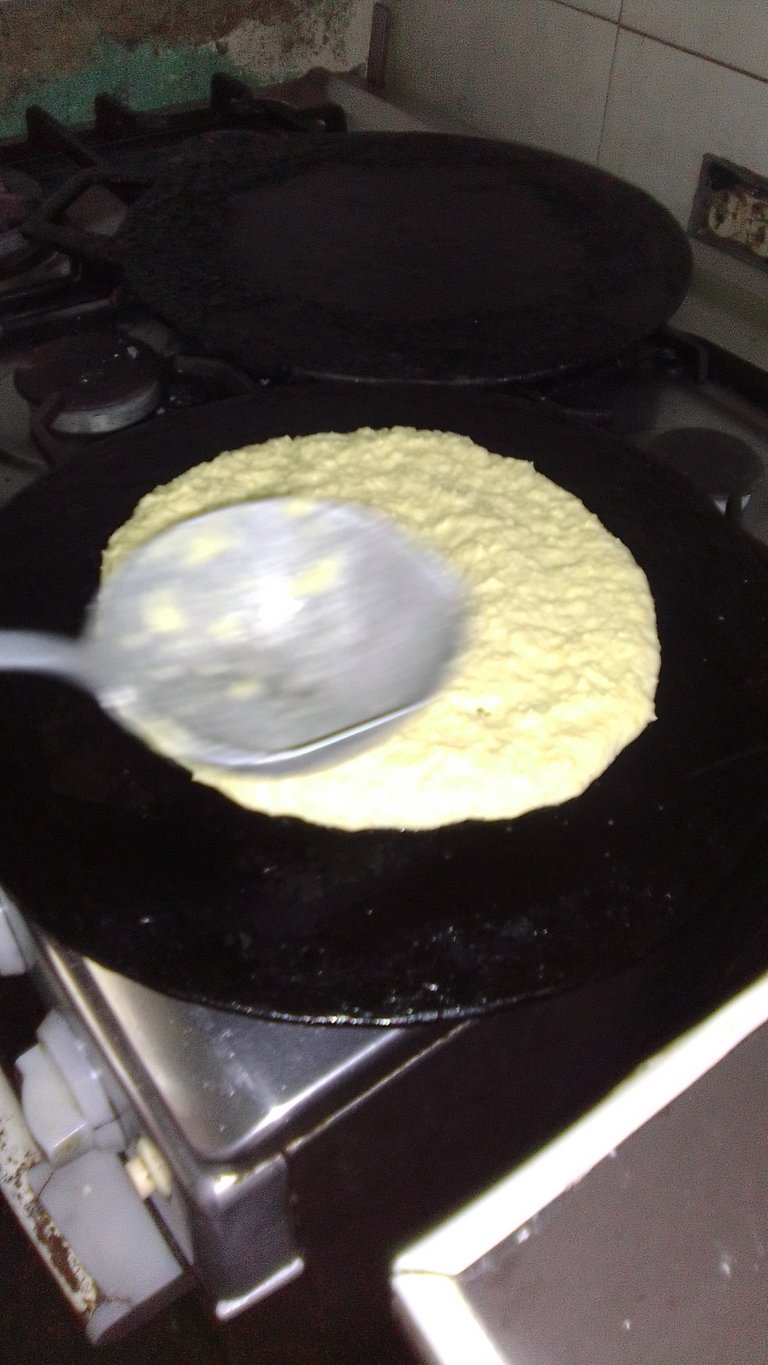 5)- El tendido:
Así describimos el momento en que depositamos la mezcla en el 'budare', que es el nombre que le damos a una plancha metálica de forma redonda que utilizamos tanto para las cachapas cómo las arepas y otras tortillas.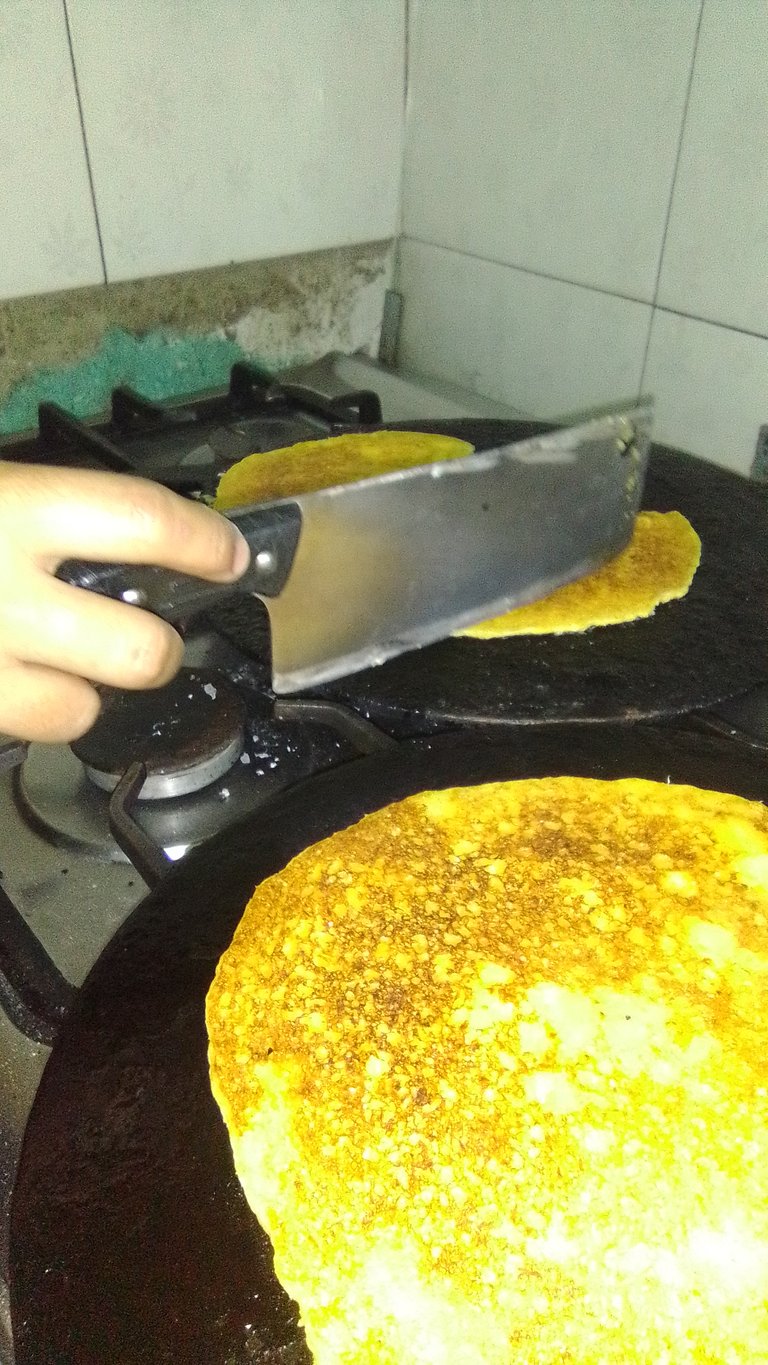 6)- La volteada:
Este es el momento más crítico del proceso. Para obtener una cachapa bien preparada, es necesario cocinarla por ambos lados, lo que hace necesario voltear nuestra débil y prematura cachapa con una destreza única, que según cuenta la leyenda, se adquiere con muchos años de experiencia (es broma)
Mi esposa logro dominar está técnica a muy temprana edad (es broma).
El momento de cocción tarda aproximadamente de 4 a 5 minutos.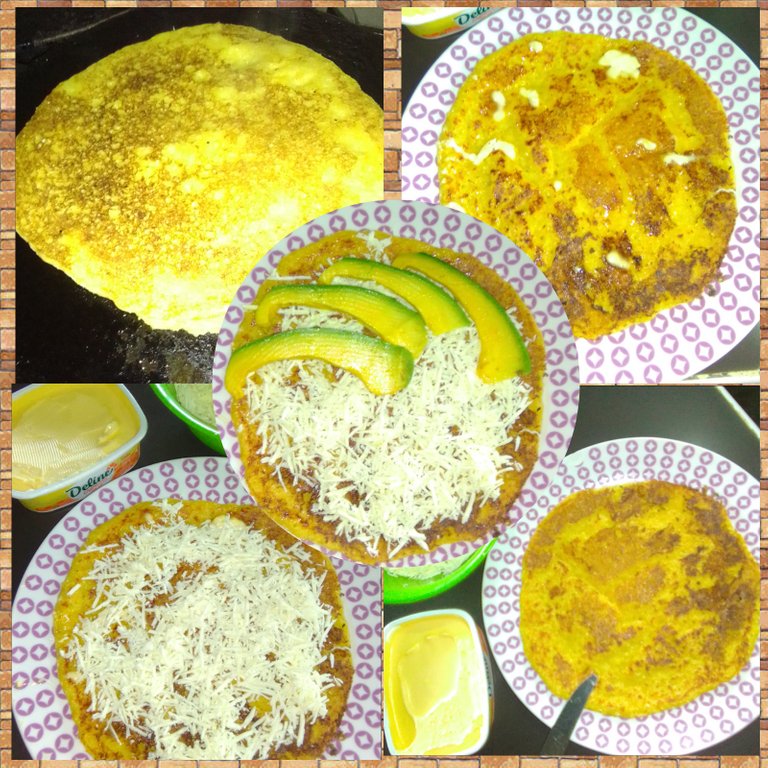 7)- Presentación o emplatado"
Cuando llega el momento de disfrute, es cuando nos ponemos más creativos. En muchas partes de nuestro país se solía acompañar este plato con piezas de carne de cerdo asado o frito. Esto varía dependiendo de las circunstancias económicas. Los demás contornos para este plato van desde queso blanco (en todas sus presentaciones) guiso de pollo, aguacate, mantequilla llanera (nata de leche) y en algunos casos, con sardinas enlatadas.
En realidad, cada año, a esta fecha, muchos hogares venezolanos, sobre todo en las zonas rurales de nuestro país, han aprovechado está safra para compartir de buenos almuerzos en familia para disfrutar de las deliciosas cachapas.
!!! Los invito a que prueben está rica receta !!!
Es fácil y muy sabrosa.
"Pruebenla" !!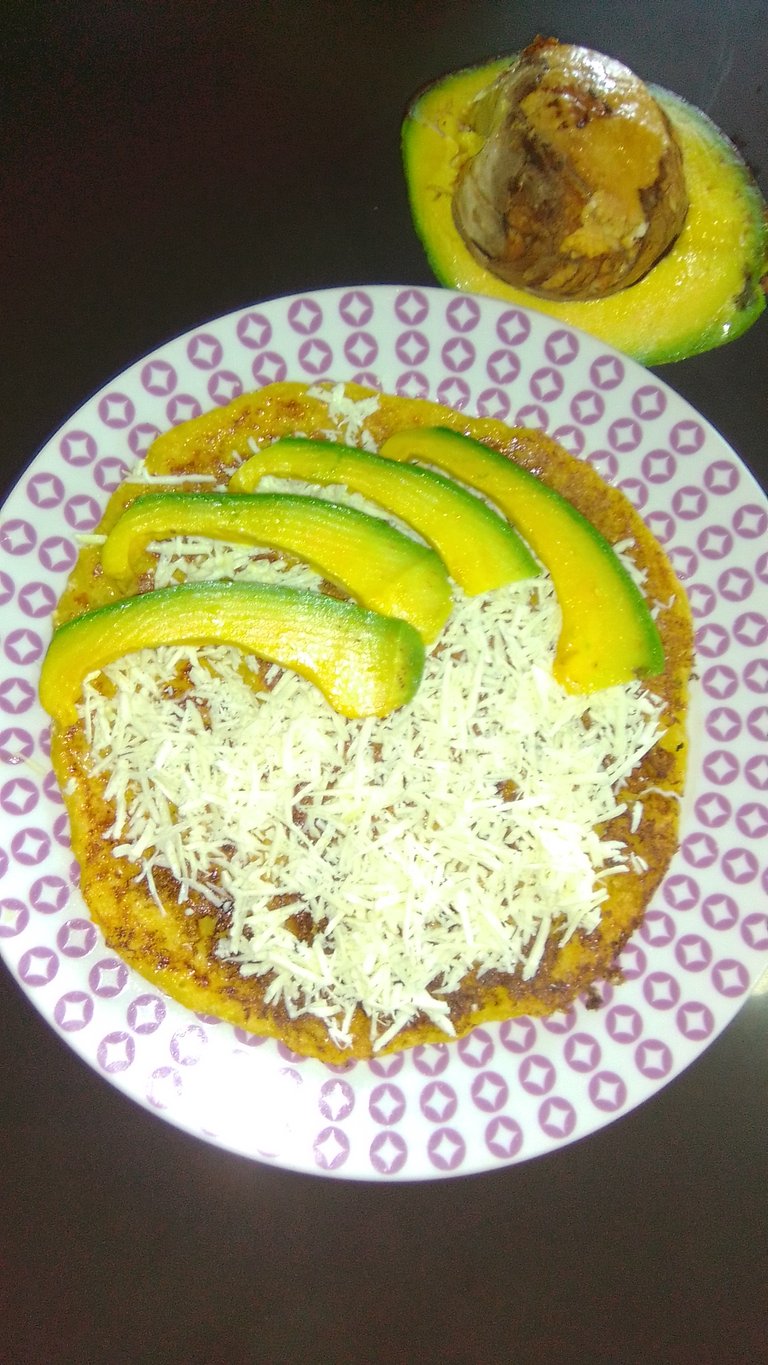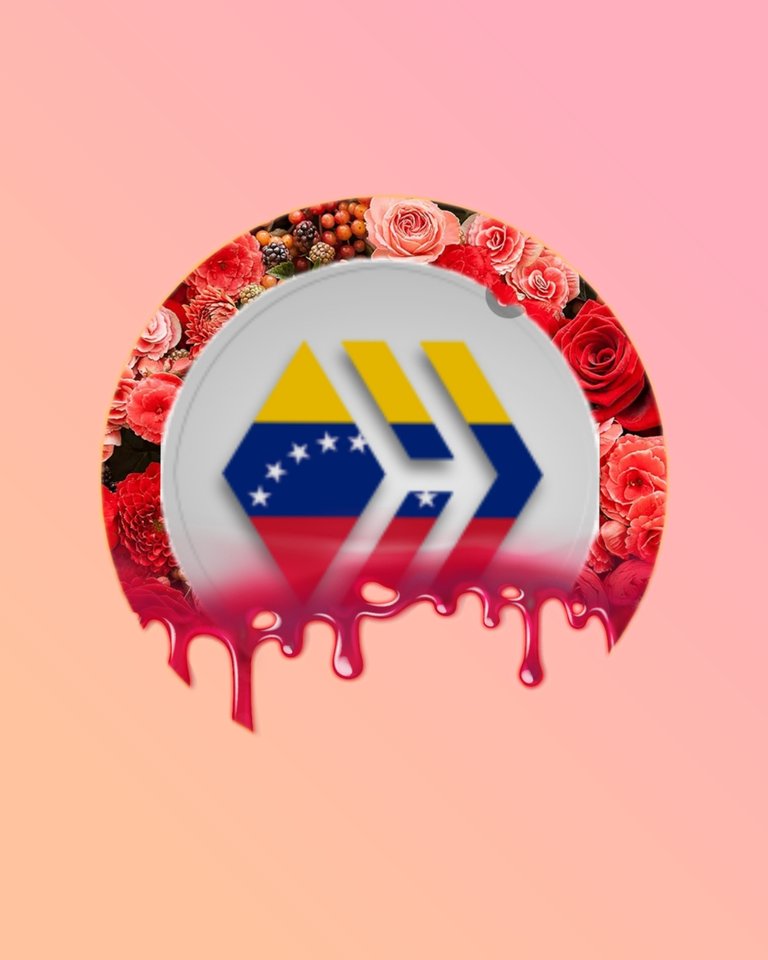 ---
---