[Esp-Eng] 💎Frost Sisters💎 🎨New Drawing🎨 By @afa.hb03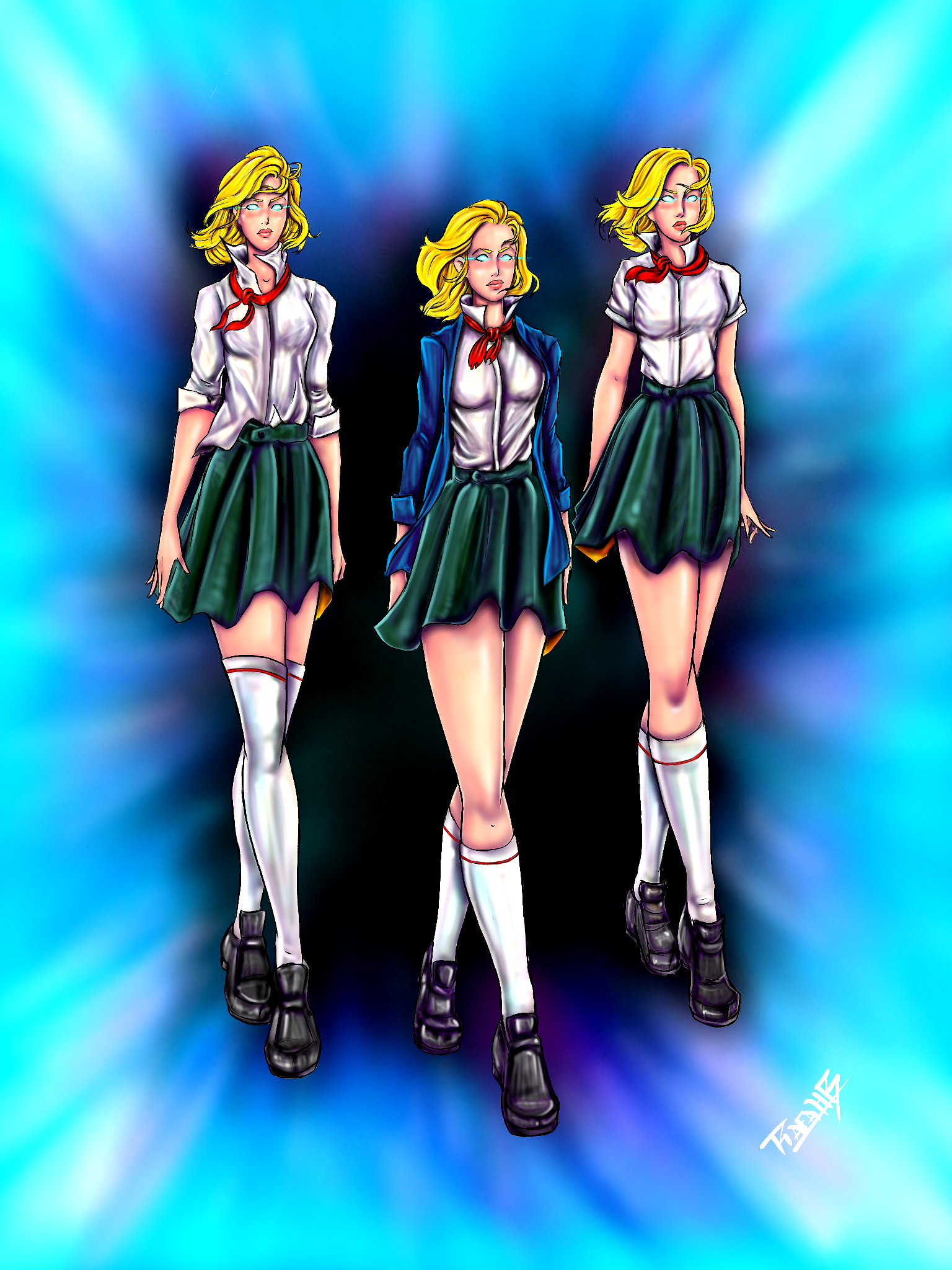 ---
Saludos amigos de #hive y #alienart, espero estén teniendo una gran semana y que está a su vez sea productiva para todos, el día de hoy comparto con ustedes un dibujo de algunas mis mutantes favoritas, las cuales en este caso son hermanas, este a su vez es un dibujo rápidos que realice para plasmar una idea que tenía en mi cabeza, así que tal vez próximamente haga uno mucho más detallado. Como ya habrán visto, este trío que hoy les muestro son las Frost, unas hermanas mutantes, que han sido creadas con la base genética de Emma Frost, una poderosa telépata con la habilidad de hacer su cuerpo de diamante.
Greetings friends of #hive and #alienart, I hope you are having a great week and that this in turn is productive for everyone, today I share with you a drawing of some of my favorite mutants, which in this case are sisters, this in turn is a quick drawing that I made to capture an idea that I had in my head, so maybe soon I will make a much more detailed one. As you may have already seen, this trio that I show you today are the Frost, mutant sisters, who have been created with the genetic base of Emma Frost, a powerful telepath with the ability to make her body diamond.
La primera vez que vi a estos personajes fueron en la serie de Fox "The gifted" en donde Esme ayuda a Eclipse y Polaris a idear un plan y recuperar a varios mutantes (entre ellos los protagonistas) de una base donde experimentarán con ellos, pero en el momento del rescate Esme puso en marcha su propio plan, noqueando a eclipse y usando sus poderes de telequinesis para que los guardias y todo el equipo que trasladaba a los mutantes se empezarán a matar entre ellos, liberando así a sus hermanas y al resto de los mutantes.
The first time I saw these characters were in the Fox series "The gifted" where Esme helps Eclipse and Polaris to devise a plan and recover several mutants (including the protagonists) from a base where they will experiment with them, but at the time of rescue Esme put into action her own plan, knocking out Eclipse and using her telekinesis powers so that the guards and all the equipment that moved the mutants will start killing each other, thus freeing her sisters and the rest of the mutants.

📱𝑷𝒓𝒐𝒈𝒓𝒂𝒎𝒂 𝒖𝒕𝒊𝒍𝒊𝒛𝒂𝒅𝒐📱
📱𝑷𝒓𝒐𝒈𝒓𝒂𝒎 𝒖𝒔𝒆𝒅📱
🖌️Procedimiento🖌️
🖌️Procedure🖌️
Realicé la base con el lápiz digital utilizando un tono azul, para acelerar el proceso copie y pegue la misma base para las dos de atrás.
I made the base with the digital pencil using a blue tone, to speed up the process I copied and pasted the same base for the two back ones.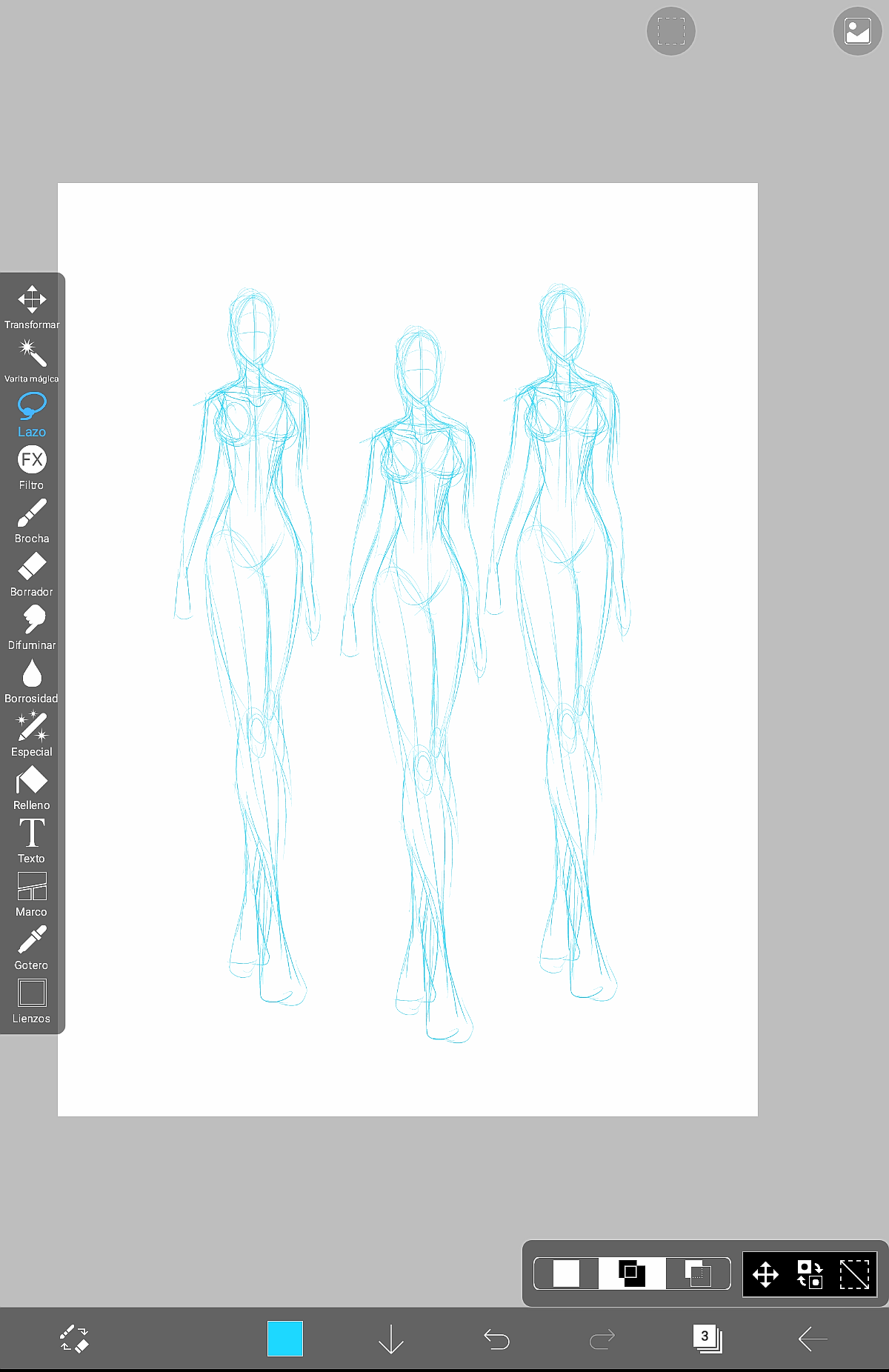 ---
Con el morado empecé a definir a cada una, realizando el mismo vestuario, pero diferente al mismo tiempo.
With the purple I started to define each one, making the same costume, but different at the same time.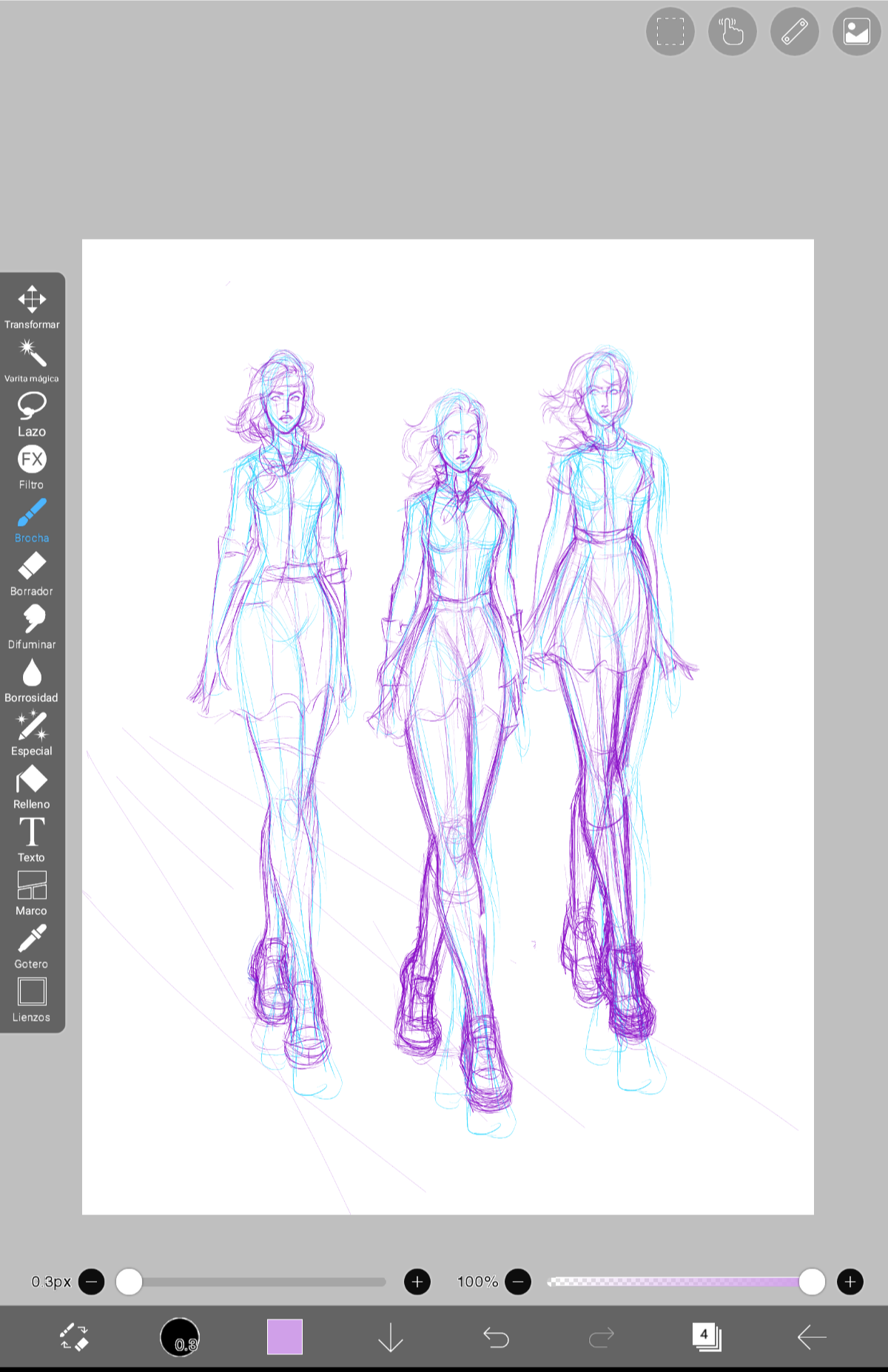 ---
Luego utilicé la pluma de tinta dura (suave) para hacer el trabajo de línea en todo el dibujo, para después eliminar las escalas previamente realizadas.
Then I used the hard ink pen (soft) to do the line work all over the drawing, to then remove the scales previously made.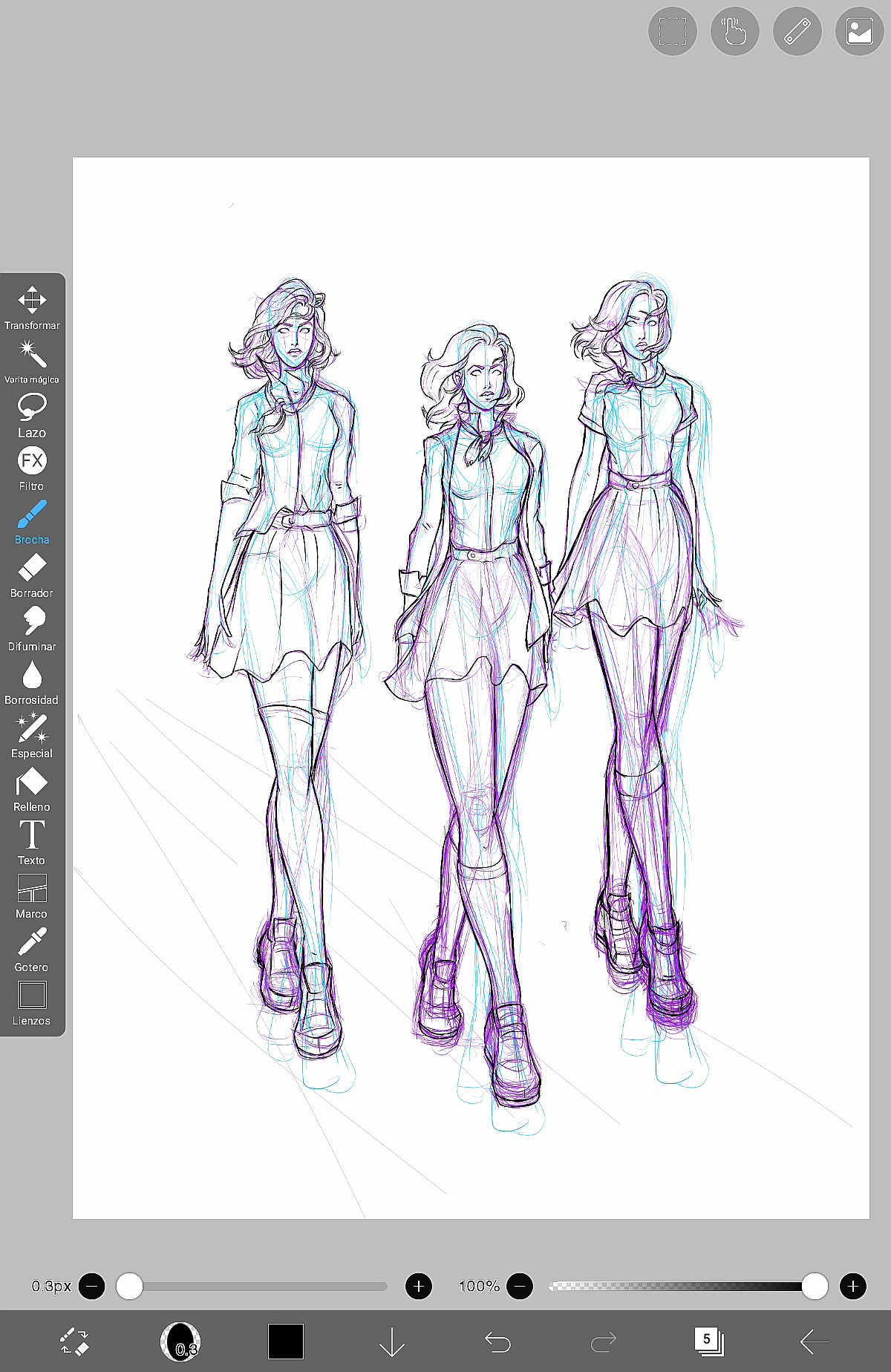 ---
Apliqué la base de color en todo el dibujo, carne para la piel, verde para la falda, niegue para la ropa y medias, rojo para su pañuelo y azul opaco en la chaqueta.
I applied the base color throughout the drawing, flesh for the skin, green for the skirt, black for the clothes and stockings, red for her scarf and opaque blue on the jacket.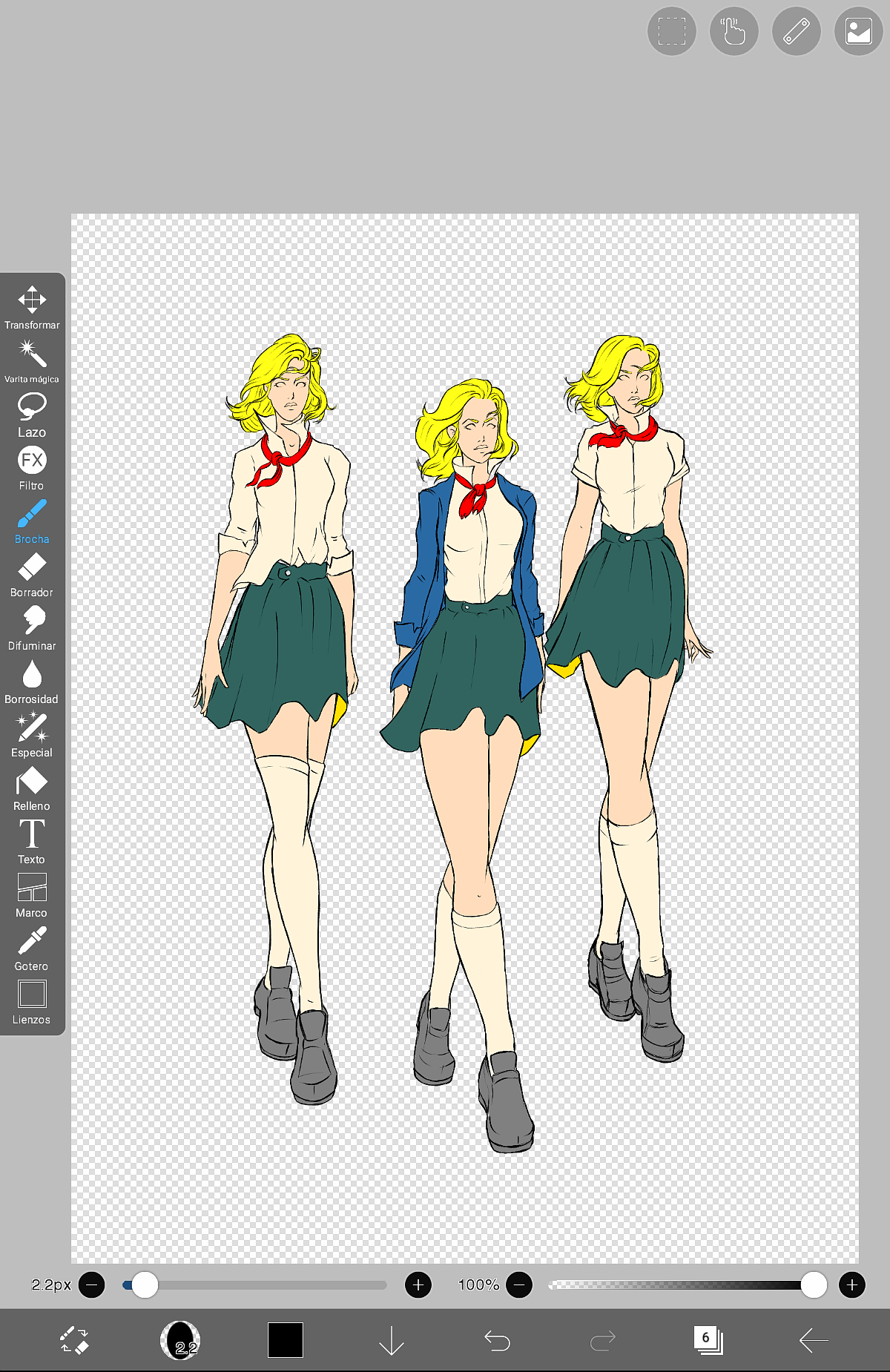 ---
Realicé la capa de sombras con un morado oscuro para dar volumen a todo el dibujo.
I layered the shadows with a dark purple to give volume to the whole drawing.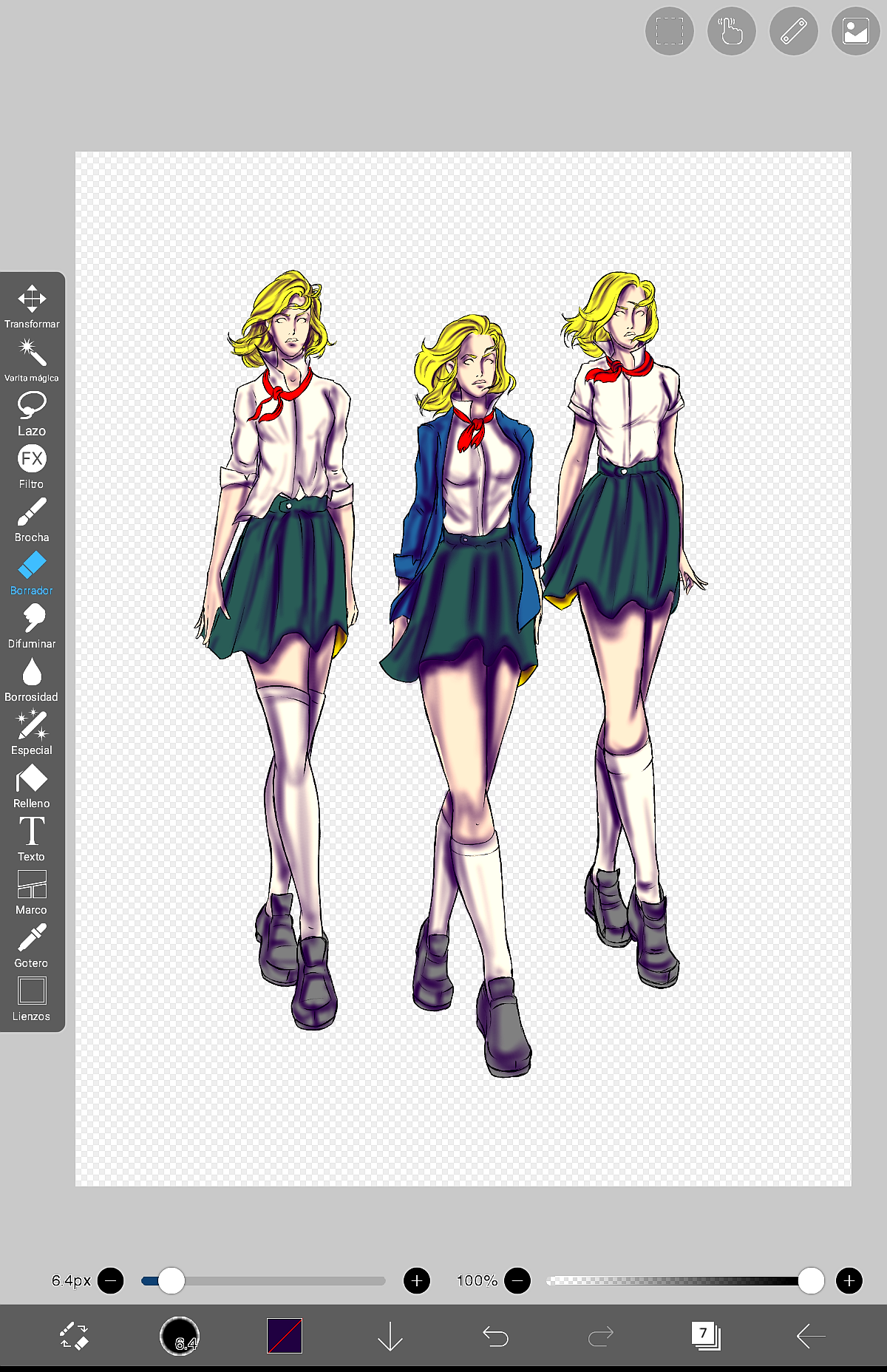 ---
Empecé detallando la vestimenta de cada una,empezando por la camisa y medias y terminando por las faldas y zapatos.
I started detailing the clothing of each one, starting with the shirt and stockings and ending with the skirts and shoes.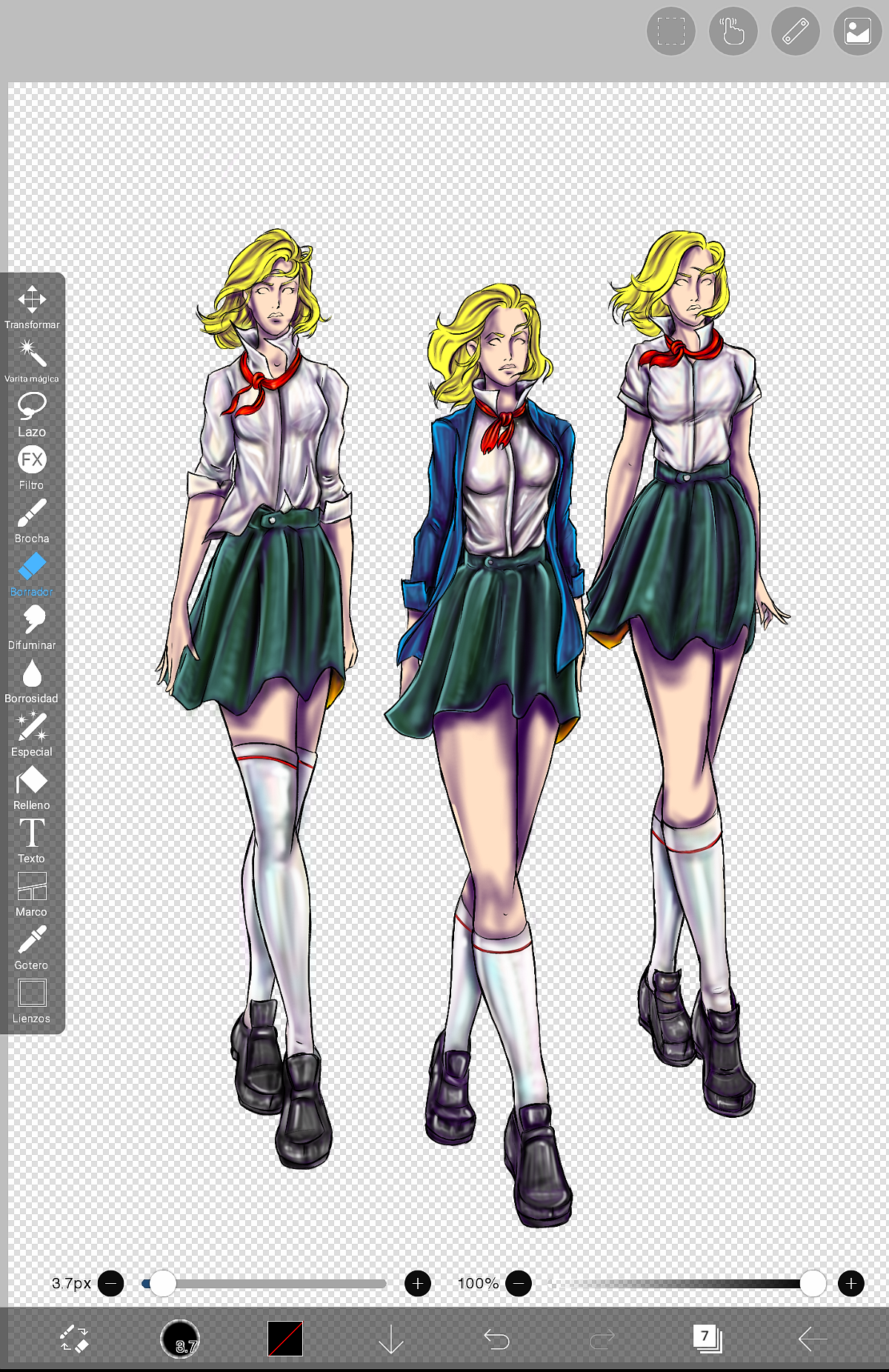 ---
Luego realicé los tonos piel para proceder a detallar el cabello y finalizar con los ojos, usando varios tonos de azul para darles la sensación de brillo.
Then I made the skin tones to proceed to detail the hair and finish with the eyes, using various shades of blue to give them the feeling of brightness.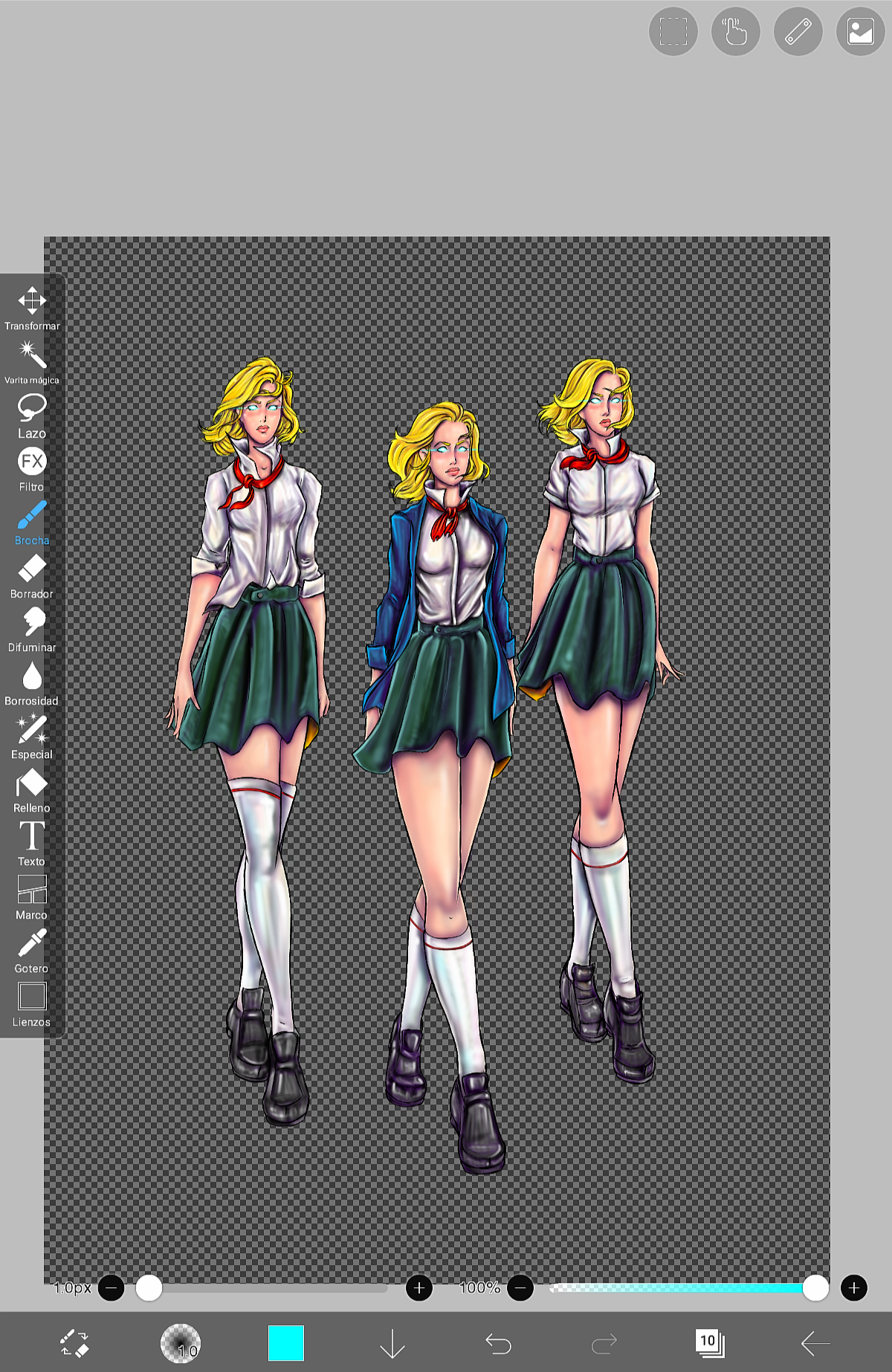 ---
Para el fondo use varios tonos de azul sobre una base de negro, lo que les da un aspecto de que están utilizando sus poderes.
For the background I used various shades of blue on a black base, which gives them a look that they are using their powers.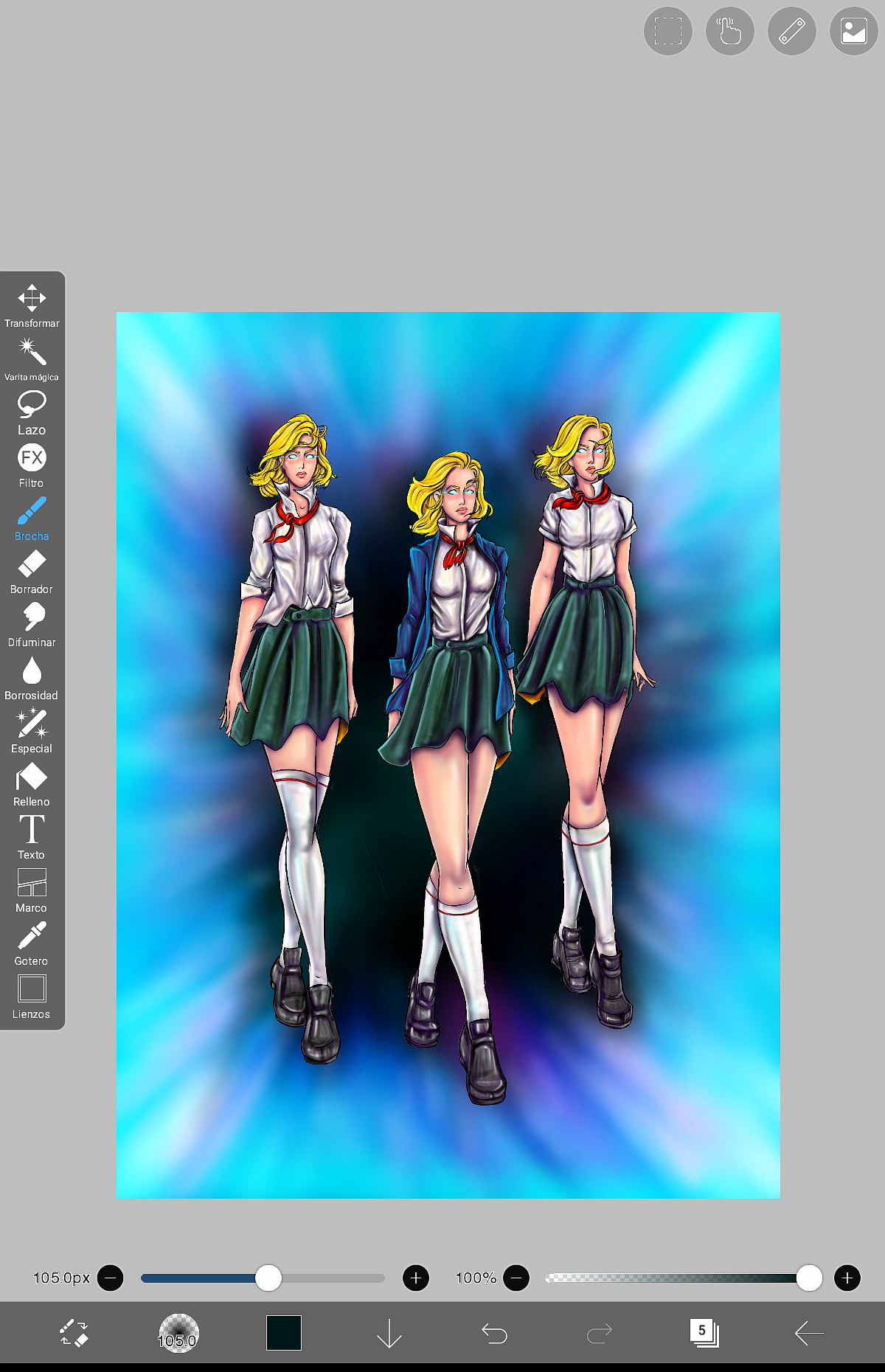 ---

✍🏼 Proceso en digital ✍🏼
✍🏼 Digital process ✍🏼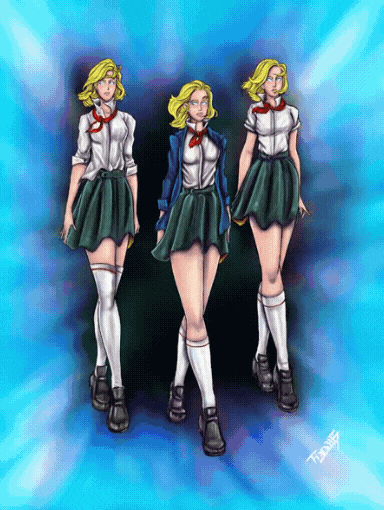 Una de las cosas que adoro cuando explican la habilidad de las Frost es que la denominan "habilidad colmena" ya que ellas pueden comunicarse entre ellas a pesar de la distancia, y juntas su poder de manipular mentes es superior y de más alcance, y sin dudas verlas en la serie fue algo genial, lo malo es que les cancelaron su tercera temporada, la cual se veía que iba a traer más emoción. Usualmente tengo preferencia por personajes que poseen telepatía y telequinesis (como Jean Gray) o poderes similares a estos, aunque también adoro a Blink, y la aparición de ese personaje en "X-Men días del futuro pasado" fue sensacional.
One of the things I love when they explain the Frost's ability is that they call it "hive ability" because they can communicate with each other despite the distance, and together their power to manipulate minds is superior and more far reaching, and no doubt seeing them in the series was great, the bad thing is that they canceled their third season, which looked like it was going to bring more excitement. I usually have a preference for characters with telepathy and telekinesis (like Jean Gray) or similar powers, although I also love Blink, and the appearance of that character in "X-Men days of the future past" was sensational.
Quisiera invitarlos a visitar mi perfil 👉🏼@afa.hb03, donde podrán ver la variedad de diseños e ilustraciones que realizo diariamente.
I would like to invite you to visit my profile 👉🏼@afa.hb03, where you can see the variety of designs and illustrations that I make daily.
✨🌟✨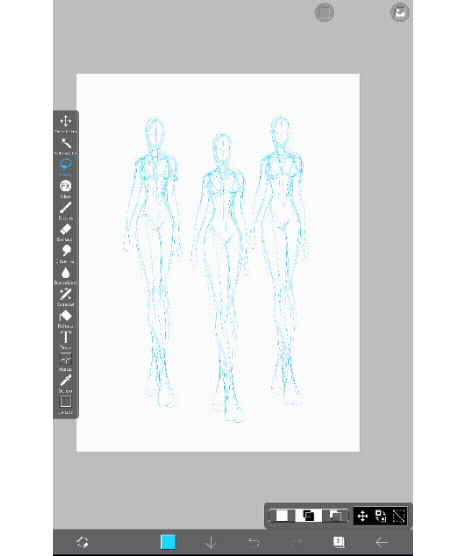 ✨🌟✨
✨🌟✨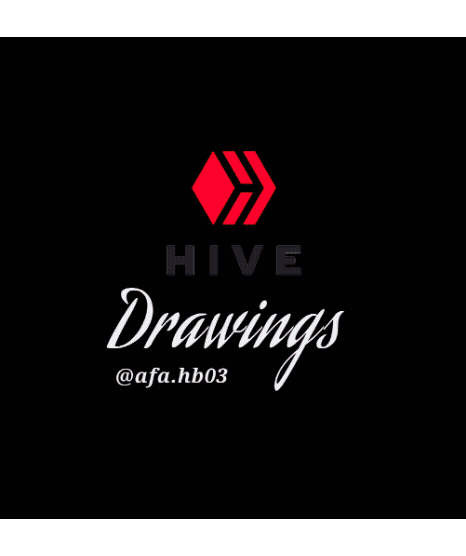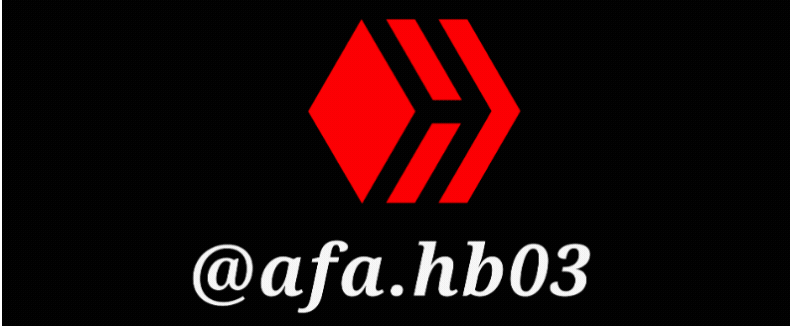 ✨🌟Gracias por leer, espero les guste y hasta una próxima publicación🌟✨
✨🌟Thanks for reading, I hope you like it and see you next time🌟✨
---
---