The Chaos Legion Pre-Sale Is Here: What You Need To Know Before You Buy.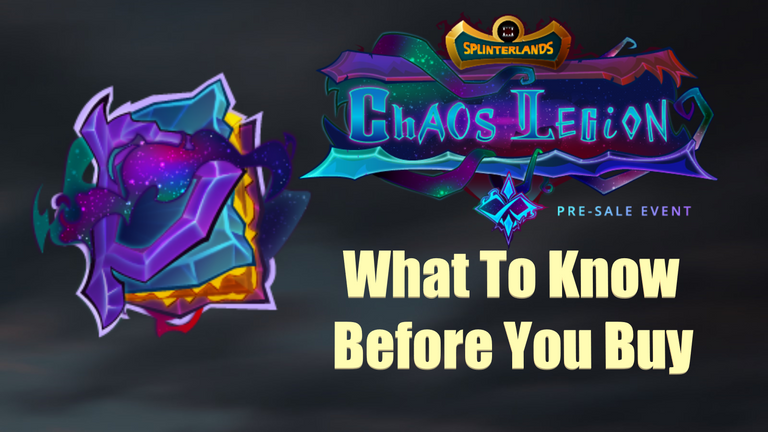 So you've heard that Chaos Legion, the new Splinterlands expansion, is coming soon, and you're excited to participate in the pre-sale. Maybe you're getting ready to pull the trigger and buy some packs. Here's what you need to know first.
Pre-Sale Rewards
By buying packs directly from the Splinterlands shop during the pre-sale event, you qualify for some special bonuses.
Limited-edition promo card: For each Chaos Legion pack you purchase from Splinterlands during the pre-sale period, you gain a 2% chance to receive a special promo card at the end of the pre-sale. Every 50 packs purchased guarantee you receive one copy of that card, and every 1000 packs purchased guarantee you one gold-foil copy. Buying packs in the pre-sale is the only way to obtain this card outside of the secondary market.

Title: Every 1000 packs purchased from Splinterlands during the pre-sale will earn you a "The Legionnaire" title.

Design a legendary summoner: The 6 accounts that purchase the most packs during the pre-sale get the opportunity to help design a new legendary summoner card.

Airdrops: All packs purchased during the pre-sale will be eligible for a chance to receive all 13 upcoming airdropped Chaos Legion cards.
These rewards are the only advantage to buying packs during the pre-sale!
And let me repeat, these rewards are only available by buying Chaos Legion packs within the game itself. No matter how many Chaos Legion packs you buy through the secondary market, you will not qualify for any of the above. Do not buy from the secondary market unless you just want the packs themselves and they are cheaper than the in-game price (and right now, they are nowhere close).
Pre-Sale Prices
The price of a Chaos Legion pack is $4 in the Splinterlands shop, whether purchased during or after the pre-sale. However, during the pre-sale event, there is a 10% discount on all Chaos Legion packs purchased using SPS, reducing the price from $4 to $3.60. On the other hand, pre-sale packs also require a voucher to purchase. During the pre-sale, vouchers are being airdropped daily to each account, proportional to the amount of SPS that account has staked. There is a very limited supply of vouchers, and therefore their price on the secondary market has been extremely high. It is up to you to determine whether the potential value of pre-sale rewards outweighs the cost of any vouchers you would need to purchase.
But I Want My Cards Now!
Chaos Legion packs cannot be opened until the pre-sale is over. If you think that you have already seen Chaos Legion cards in the game, they were probably the new reward cards, which have a Chaos Legion border and icon. Those reward cards have been dropping from loot chests for the past month, and they will not be included in Chaos Legion packs. No one will be able to use cards from the Chaos Legion expansion until after the pre-sale is over.
What If All The Packs Sell Out?
There will be 15 million Chaos Legion packs available in total, and only 1 million are being sold during the pre-sale event. There are additional packs available for buying in bulk, but even if every possible bonus pack was given out, there would still be 13.8 million packs remaining for the general sale. The vast majority of Chaos Legion packs WILL still be available after the pre-sale ends.
Where Can I Find Out More?
This post from last month detailed the pre-sale event, and is a good starting point. I would recommend that all players follow the @splinterlands account and join the Splinterlands discord to stay up-to-date on the pre-sale and all future Splinterlands news.
I hope this article helped you make an informed decision on whether and how to participate in the Chaos Legion pre-sale. Whatever you decide, good luck and have fun!

If you enjoyed this article, please consider giving an upvote, a follow, or even a reblog. Any show of support is appreciated.
Haven't even started playing Splinterlands yet? You must have been pretty bored to read this whole post about a game you've never played. Instead of just reading about Splinterlands, why don't you follow this link and try the game out for yourself?
---
---