THINGS YOU WOULD EAT AND DRINK WHEN YOU VISIT MY HOME TOWN-- LADIES OF HIVE CONTEST #75

I made a mental note that I would participate in this contest organized by ladies of hive but I was constrained due to the fact that I needed to get the image of a drink from my hometown because I could not find it around. I know this contest is past, but I am in love with the topic, hence I am writing mine now.
I hail from Ika North East, Delta State, popularly called South-south region of Nigeria.
My main Village is called Umunede. It is one of the clans of Ika Nation. These clans are subdivided into villages, which at one time was up to 171 villages. More villages must have sprang up, I believe.
The people of Ika land are very hospitable and depending on the village, visitors are treated to special meals.
Talking about Umunede, my home town for example. If you visit, you will hardly know that it is a village you are visiting. You will see men and women looking gorgeously dressed even if not on Sundays. As a people, they love dressing neatly. They are great farmers and most times, they sell some of their produce, eat well and look good. Farming and trading is their main occupation.
Are you visiting my village anytime soon? You will enjoy your visit. Come let me tell you what you will enjoy when you visit in term of what you will eat or drink. 😋😋😋
NOW AS A VISITOR,
You will first be welcomed with kola nuts. It is called "Oge" or "Oji". It could be a red/pinkish and a yellowish color.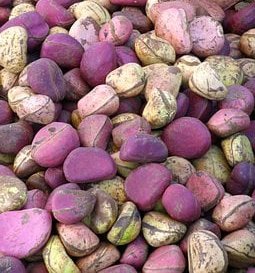 No other nut is used as a substitute for kola nut, even in social and ritual ceremonies. To us, kola nuts symbolizes unity between the giver, the receiver and the sharers around. It also symbolises friendship. The biggest of the kola nuts is used for prayers. The kola nut is in pieces, so when it is opened up, people share it. As they pick their share and chew, they greet saying : " He who brings kola nuts, brings life". Kola nut is the first show of hospitality in my hometown. It is with a kola nut you tell a guest "Welcome to my house". Infact, any ceremony without kola nuts is strange.
The next meal is not actually a meal but a drink.
PALM WINE / UP WINE.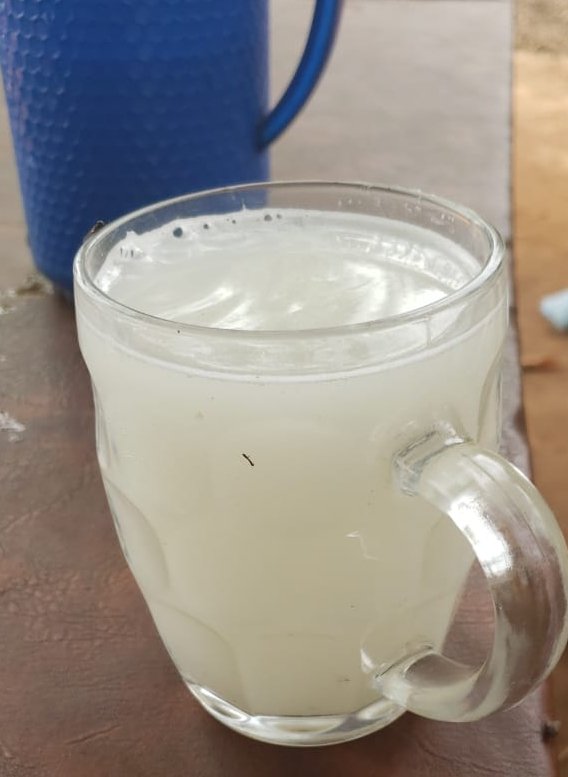 This is a drink used to welcome guests too. It is got or tapped from a palm tree. It is sweet when freshly tapped and goes a bit soar by the next day. It is a compulsory drink in my home town to receive guests along with a schnapp or dry gin. The host, his friends, in-laws or any one he sends to get it, provides it. It is served with cups. The host takes the first drink and others are served according to seniority or social status. Most times, they use fewer cups so that they can share common cups. The sharing of common cups signifies good feeling, solidarity and oneness.
FOOD
The common food in my Village is Fufu and egusi soup.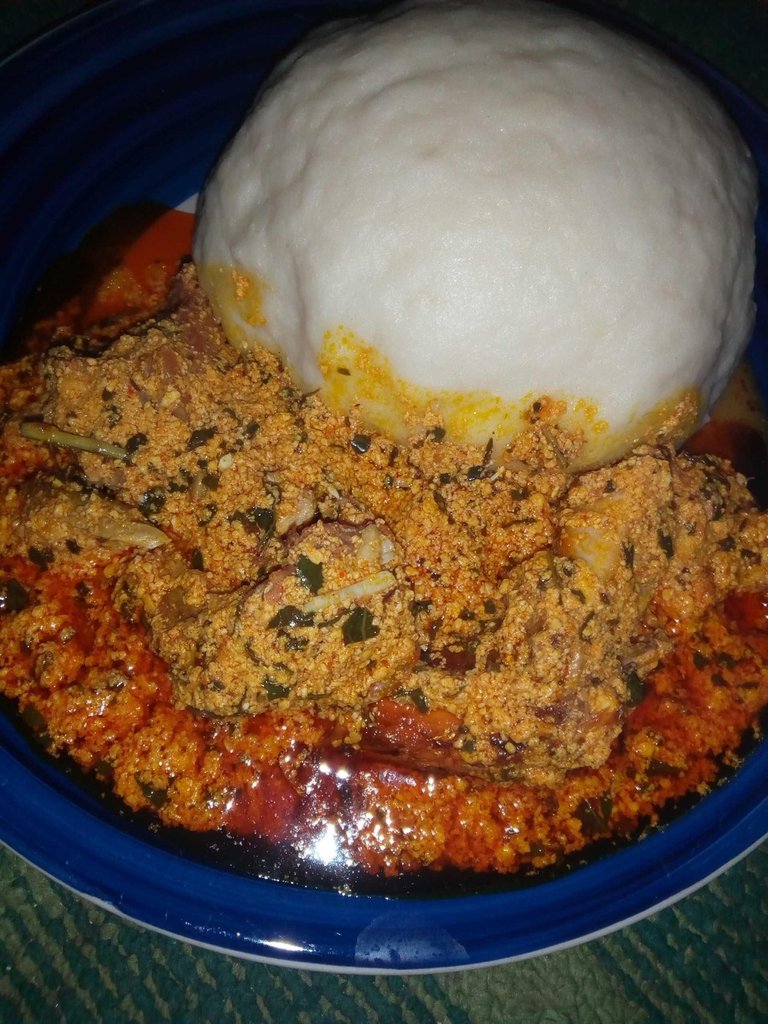 The fufu is made with cassava that has been soaked and filtered. It is then boiled and pounded.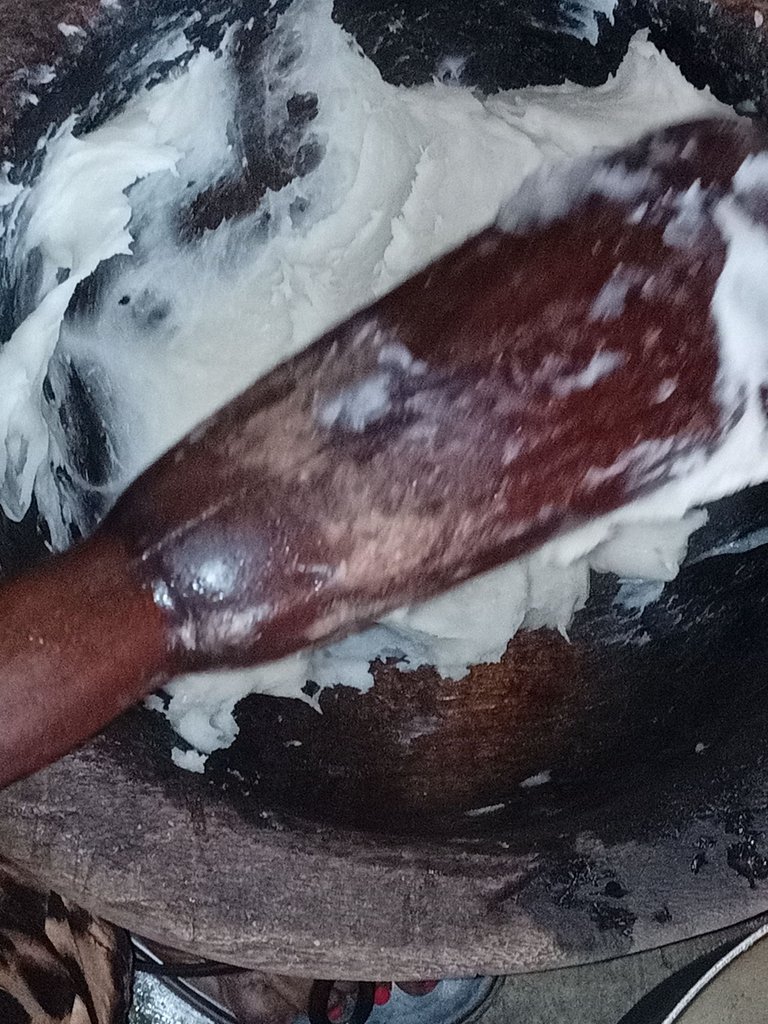 Egusi soup is also known as Melon soup. It is a delicacy used to welcome guests. It is made with stock fish, goat meat, and many other Ingredients that makes it so sumptuous for the visitor and everyone around to enjoy. The egusi soup is eaten with Fufu. Some families add yam to the fufu and pound, while some pound the fufu alone and serve both the soap and fufu separately.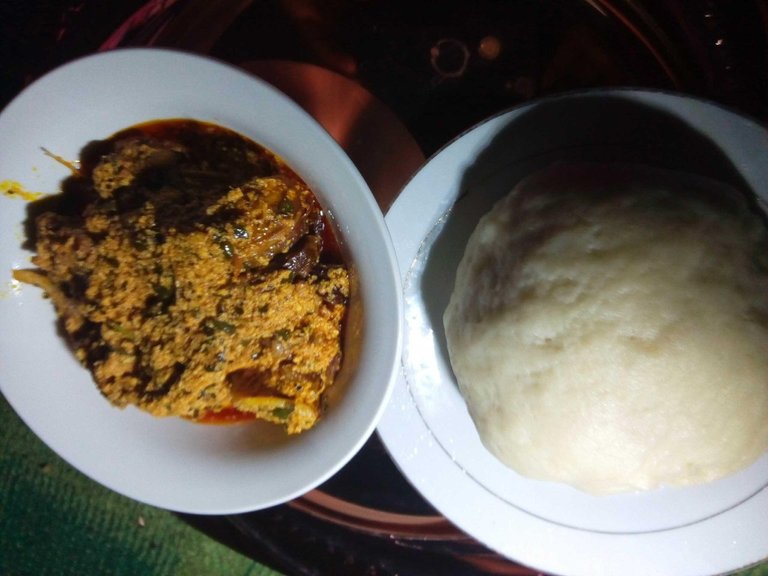 There is more. Our hospitality is not restricted to kola nuts, palm wine and fufu. You can also get coconuts, seedlings to plant when you get home and if possible a fowl. Hahaha. Some cultures in Delta State also present you with money along with the kola nuts. They put money in a plate in front of you as you come, when leaving, you take all the money contributed. Hahaha.
So you see? My place is a wonderful place to visit. When are you coming guys? Hahaha.
Thank you Ladies of hive for this prompt, the contest is over but permit me to use your topic and tag
Palm wine image sent by a relative in the village.
Fufu and egusi soup made and snapped by @adoore-eu. 😋😋😋😋
Thanks for reading.
Yours, Adoore-eu.
---
---