MY FAVORITE GAME AS A CHILD-- LADIES OF HIVE CONTEST #77
This contest reminds me of my childhood and also about one of the games I always play with my kids when they are on holidays or some weekends when we are just having family time. My favorite game is AYO GAME.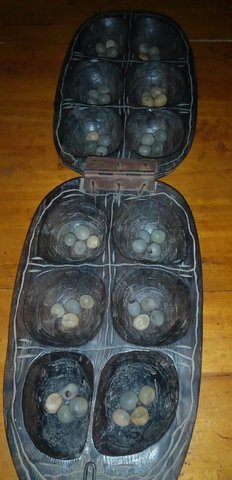 When I was a child, we played Ludo, a card called WHOT, we jumped skipping rope (is that a game as well)? We also played draft. However, but AYO game was one of my best, people hardly win me in AYO game.😂
AYO GAME is played with AYO seeds obtained from AYO plants. It is an indoor game, some played it as outdoor game too. It is a game that keeps the players alert. It fosters a spirit not only of competition but also of tolerance, discipline and co-operation. Haha. Yes this is because you can't play the game without argument. It takes a patient person to allow for explainations on how your opponent is packing out (capturing) the seeds for himself.
HOW AYO GAME IS PLAYED
As you can see from the image, it is played on an AYO board. The AYO board is made of two rows containing 12 holes (houses). Four seeds are put in each hole at the beginning of the game.
When the game begins, one of the players packs all four seeds from a hole of his choice (on his row, of course) and begins to dole out the seeds (i.e he drops one seed each to all the holes.
As he doles out the seeds, if the last seed in his hands falls on a hole that has seeds already, he packs them all again and begins to dole them out again into all the holes.
If any hole on his own row gets back four seeds that the game started with, he captures them for himself (i.e packs them out as his win). But if four seeds appear on his opponent's side, the opponent captures them out.
The game of one player ends when the last seed in his hand falls on an empty hole. He stops and his opponent continues and replicates what he has done as explained above.
Now the interesting part of the game is to be assertive and calculative in such a way that as you dole out your seeds, you do not allow your opponent to earn free four seeds from you, that he captures from his row. Hahaha. This is inevitable anyways but you can still do it in a way that he doesn't earn much from you. Let him play his own game and earn. If he is not smart and calculative as you, he ends up playing in your favor. That can annoy him. Hahaha
As the players dole the seeds and captures, the game comes to an end when it is obvious that the seeds are so few and no matter how they move them round, they can never get four seeds together in a hole to capture. This is when the game ends. The seeds captured by both players are counted. The person with the highest number of captured seeds, wins.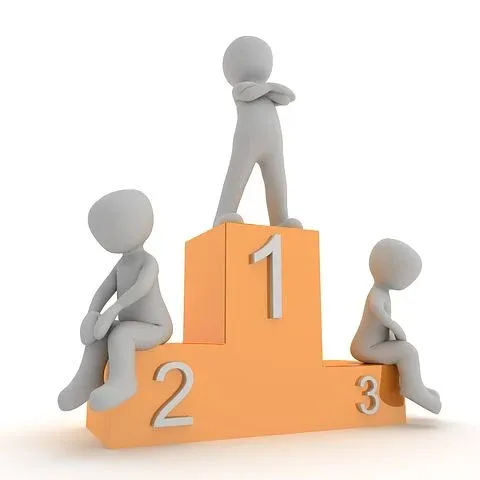 Source
The loser gives way for another player to challenge the winner but if they are just the players around, their scores are recorded in a paper and a second, third, fourth, fifth, sixth rounds are played. Hahaha. Until the loser is tired of losing or the winner becomes scared that with just one more play, the loser might equalize. Hahahaha. This is the part that brings more argument, if you are not disciplined, a mockery made on your loss can cause a fight. 😂😂😂😂😂😂
Thank God schools are going on holidays soon, I should dust the AYO game in my house and get it ready for play. My hubby knows nothing about the AYO game. He is interested but not good at it. This is the time to tease someone close with my expertise in this particular game. Hahaha.
Thanks ladies of hive. I love this contest. Wishing us all, all the best. Hey, beautiful babes of Hive, join in here and let's see your childhood game, this generation kids don't know many of our games of yester years,only video games 😂😂😂. Show us what you played. @princessbusayo , @nkemakonam89 , @zizymena, @iskafan etc let's see your games, girls.
Thanks for reading till the end.
Yours ,
Adoore-eu.
AYO games snapped with my Infinix note 8 phone.
---
---