[Eng-Esp] 🌺🌸🌷 My participation in the "Felt World" contest: Spring cover for my cell phone | Mi participación en el concurso "Mundo de Fieltro" Funda primavera para mi celular 🌺🌸🌷
Greetings, dear community, I hope you are well charged with the best energies. Today I share with you the development of a spring cover for my cell phone, a creative project to participate in the felt world contest.
Felt is a wonderful material with which we can make a large number of accessories such as decorating hair clips, headbands, educational material, personalizing our clothing and much more.
Saludos apreciada comunidad, espero que se encuentren bien cargados de las mejores energías. Hoy les comparto la elaboración de una funda primavera para mi celular, un proyecto creativo para participar en el concurso mundo de fieltro.

El fieltro es un material maravilloso con el cual podemos hacer gran cantidad de accesorios como decorar ganchetas para el cabello, cintillos, material educativo, personalizar nuestras prendas de vestir y mucho más.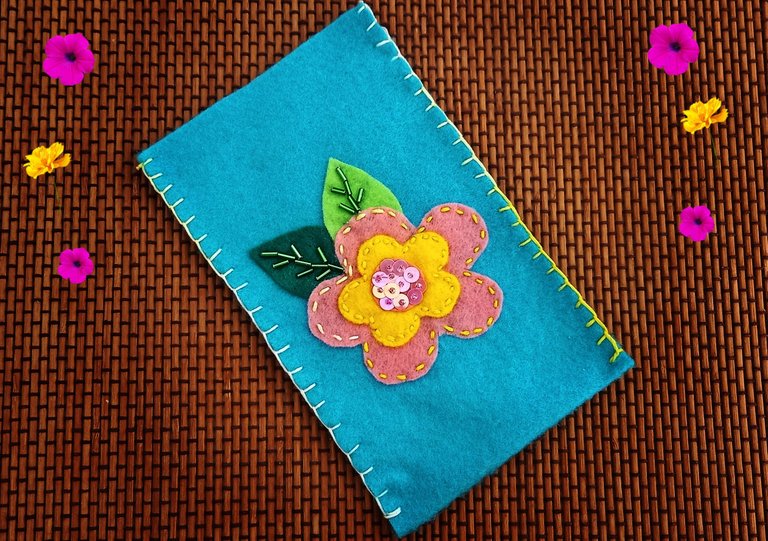 ---
Materials:
Felt of different colors
Needle for rhinestones
Embroidery needle
Sequins
Pink seed beads
Green eel
Pins
Measuring tape
Scissor
Flower and leaf molds
Materiales:
Fieltro de diferentes colores
Aguja para pedrería
Aguja para bordar
Lentejuelas
Mostacillas rosadas
Canutillos verdes
Alfileres
Cinta métrica
Tijera
Moldes de flores y hoja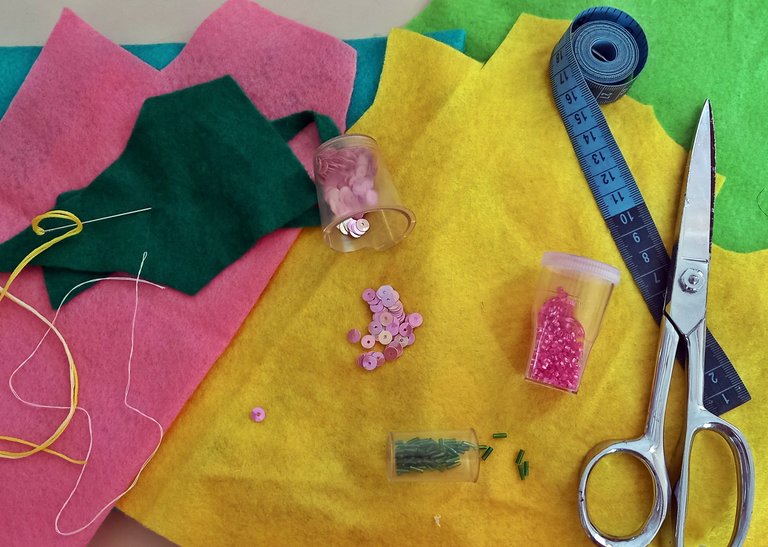 ---
Elaboration process/ Proceso de elaboración:
🌺 To make the base of the case, first I took all the measurements from my cell phone, then I cut a piece 11 cm wide by 36 cm long, wide enough to be able to remove the cell phone easily.
🌺 Para hacer la base de la funda primero le tomé todas las medidas a mi celular, luego recorté una pieza de 11 cm de ancho por 36 cm de largo, lo suficiente amplia para poder sacar el celular con facilidad.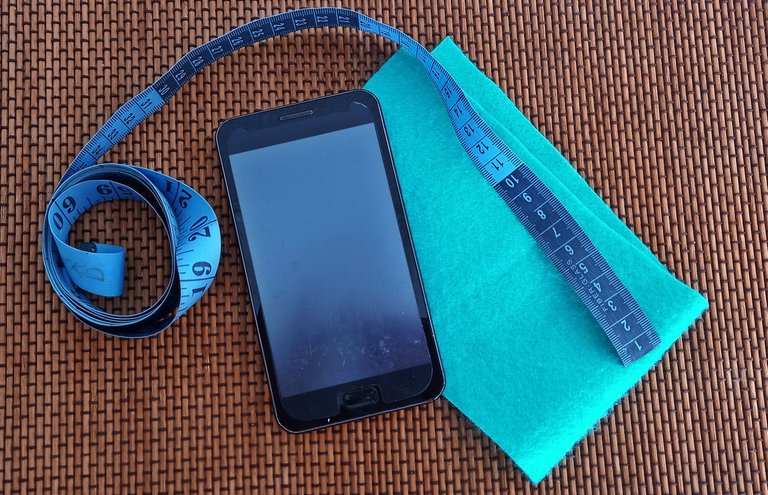 ---
🌺 I transferred the molds of the flowers and the leaves for the felt, for the flowers I used pink and yellow because I liked the idea that it was two layers of different colors and the leaves of different shades of green.
🌺 Traspasé los moldes de las flores y las hojas para el fieltro, para las flores utilicé rosado y amarillo porque me gustó la idea que fuera de dos capas de diferentes colores y, las hojas de diferentes tonos de verde.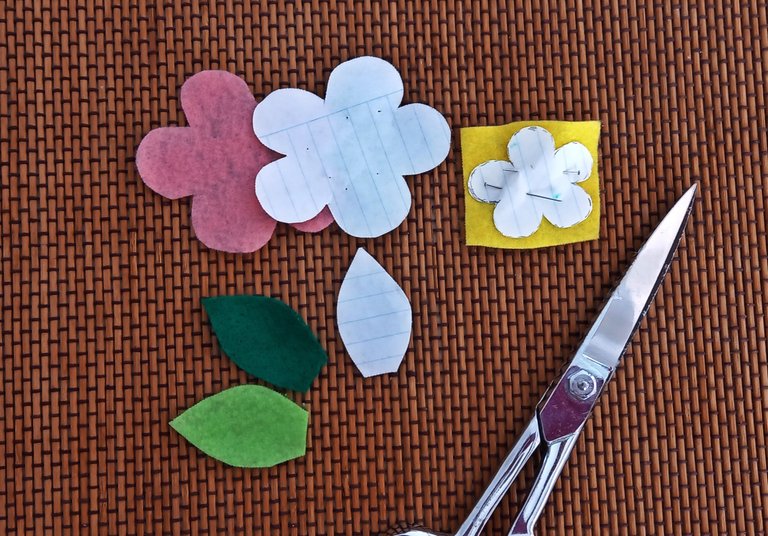 ---
🌺 I embroidered the leaves with green beads to simulate the veins, this also served to fix them to the sheath, for this step I used the needle for rhinestones since the beads and beads have very small holes.
🌺 Bordé las hojas con canutillos verdes para simular las venitas, esto también me sirvió para fijarlas a la funda, para este paso utilicé la aguja para pedrería ya que los canutillos y mostacillas tienen unos orificios muy pequeños.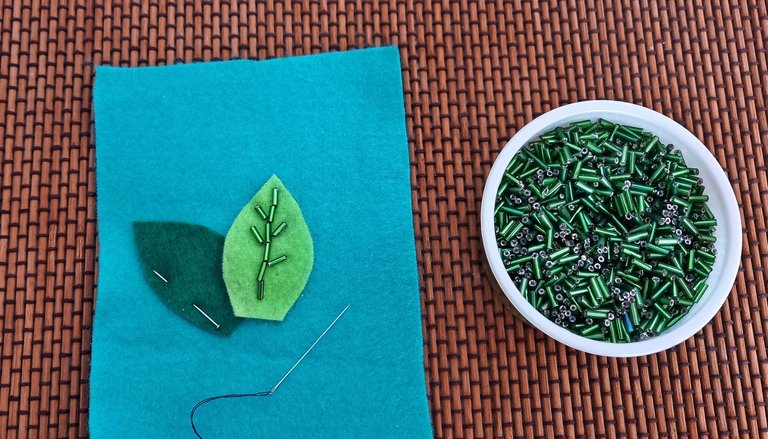 ---
🌺 I embroidered the center of the flower with iridescent pink sequins, to do so I started from the outside to the inside to mark the circle well.
🌺 El centro de la flor lo bordé con lentejuelas rosadas tornasol, para hacerlo comencé desde la parte de afuera hacia adentro para marcar bien el círculo.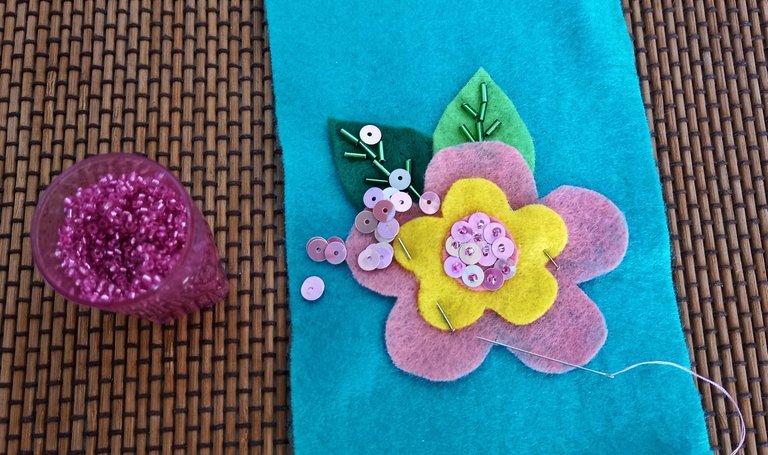 ---
🌺 After fixing the center of the flower, I embroidered the outline with nuanced yellow embroidery thread, using a simple stitch called backstitch.
🌺 Luego de fijar el centro de la flor, le bordé el contorno con hilo de bordar color amarillo matizado, utilizando una puntada sencilla llamada pespunte o corriente.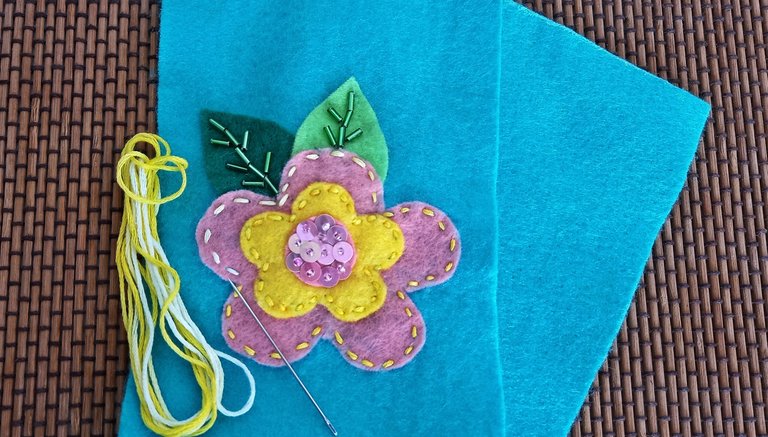 ---
🌺 I joined the sides with a satin stitch, but if you want you can also do them with a sewing machine.
🌺 Uní los laterales con puntada festón, pero si deseas también los puedes hacer con máquina de coser.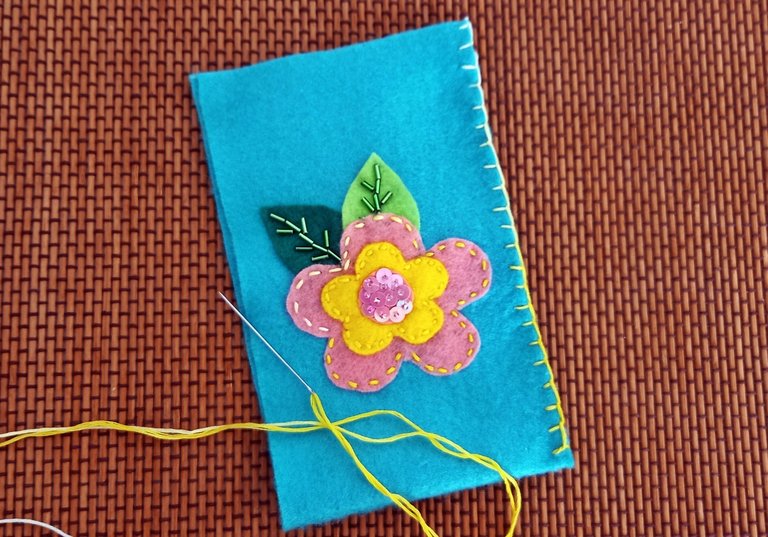 ---
The new spring cover is ready! / ¡Lista la nueva funda primavera!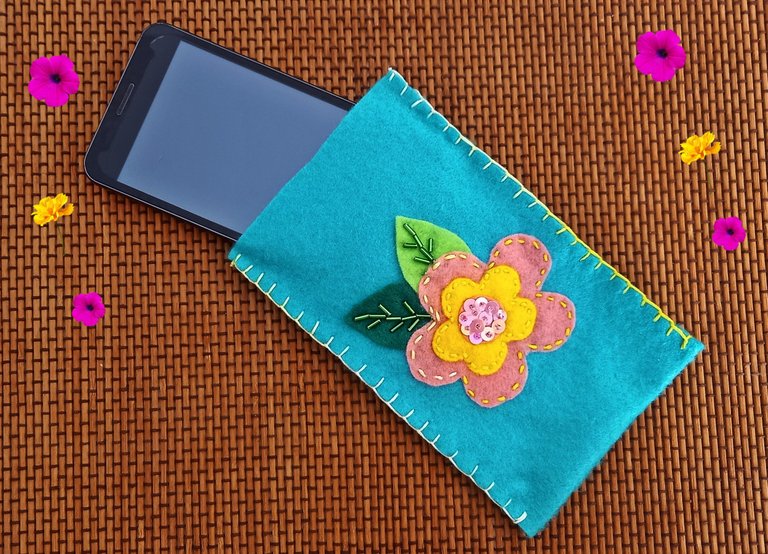 If you want to participate you can see the rules of the contest in the following link:"Felt World"
Si deseas participar puedes ver las reglas del concurso en el siguien link: "Mundo de Fieltro"
---
Thanks for joining me, until the next tutorial ...🌺😉🌸
Gracias por acompañarme, hasta el próximo tutorial…🌺😉🌸
---
Las fotografías son de mi autoría con mi celular Samsung Galaxy A12 / Editadas en PhotoScape

---
---