[Eng- Esp] 🍏🍂 🍎 An old cloth for a new tablecloth | Una vieja tela para un nuevo mantel 🍎🍂🍏
Greetings, dear community, I hope you had a beautiful weekend and that you have many illusions to face the new challenges of this week.
Saludos apreciada comunidad, espero que hayan pasado un hermoso fin de semana y que tengan muchas ilusiones para enfrentar los nuevos retos de esta semana.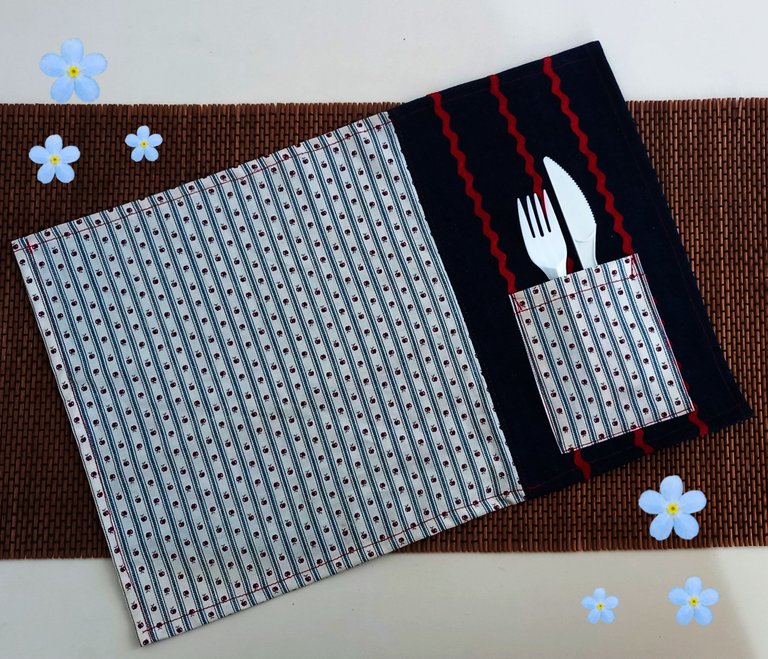 This weekend I was ordering many things at home, to take out the Christmas decorations and I entertained myself for a while looking at some old fabrics that I have in my trunk, you know that I am a fan of buying fabrics and haberdashery whenever I can, Even if I don't have a project planned, I always say that at some point the inspiration will come out to use them or maybe even the fabrics themselves will somehow tell me what to do with them.
For today's project I used an old TV with an apple print, which I had originally bought to make a country-type blouse; But now I got excited about making an individual tablecloth and, I think it will be enough for me to later make a blouse combining it with another one since it will not be enough, well time will tell what to do with the rest of the fabric. Ah! I almost forgot to tell you that I have kept the apple fabric for almost fifteen years.
Este fin de semana estuve ordenando muchas cosas en casa, para sacar los adornos de navidad y me entretuve un rato viendo algunas viejas telas que tengo en mi baúl, ya saben que soy una aficionada de comprar telas y artículos de mercería cada vez que puedo, aunque no tenga planificado algún proyecto siempre digo que en algún momento saldrá la inspiración para utilizarlos o quizás hasta las mismas telas de alguna manera me digan qué hacer con ellas.
Para el proyecto de hoy utilicé una vieja tele con un estampado de manzanitas, la cual originalmente la había comprado para hacerme una blusa tipo country; pero ahora me entusiasmé en elaborar un mantel individual y, creo que me alcanzará para luego hacerme una blusa combinándola con otra ya que no me alcanzará, bueno el tiempo dirá que hacer con el restante de la tela. ¡Ah! Casi se me olvida contarles,la tela de manzanitas la tengo guardada hace casi quince años.
---
Materials:
Printed cloth
Denim fabric
Zigzag tape
Thread
Sewing machine
Pins
Scissor
Materiales:
Tela estampada
Tela de mezclilla
Cinta zigzag
Hilo
Máquina de coser
Alfileres
Tijera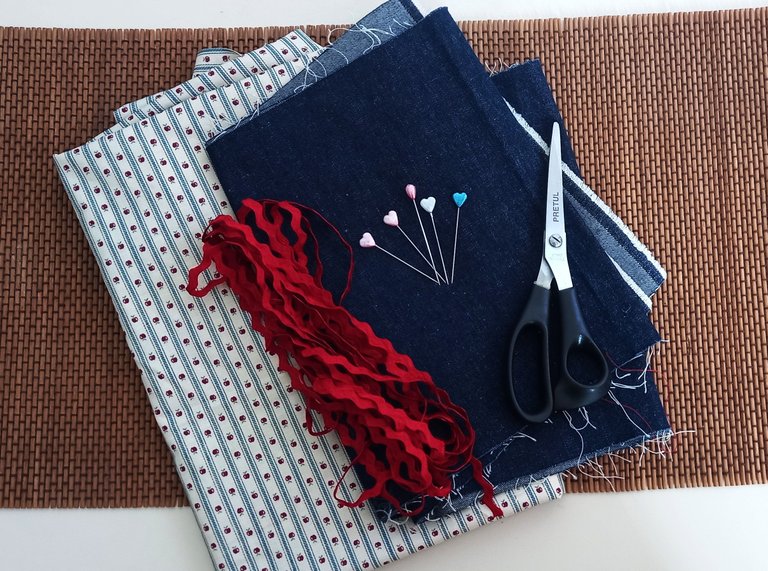 ---
Creative process / Proceso creativo:
🍎 I loved the idea of ​​combining the chamomile print with denim fabric, it seemed to me that they made a perfect match and so the tablecloth would not have a single shade, so cut two pieces of different sizes with each fabric.
🍎 Me encantó la idea de combinar el estampado de manzanitas con tela de mezclilla, me pareció que hacían una pareja perfecta y así el mantel no tendría de una sola tonalidad, entonces corte dos piezas de diferentes tamaños con cada tela.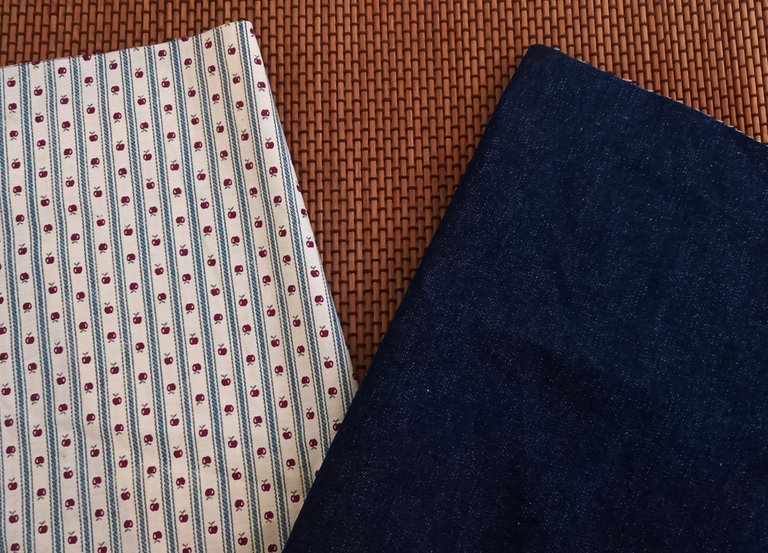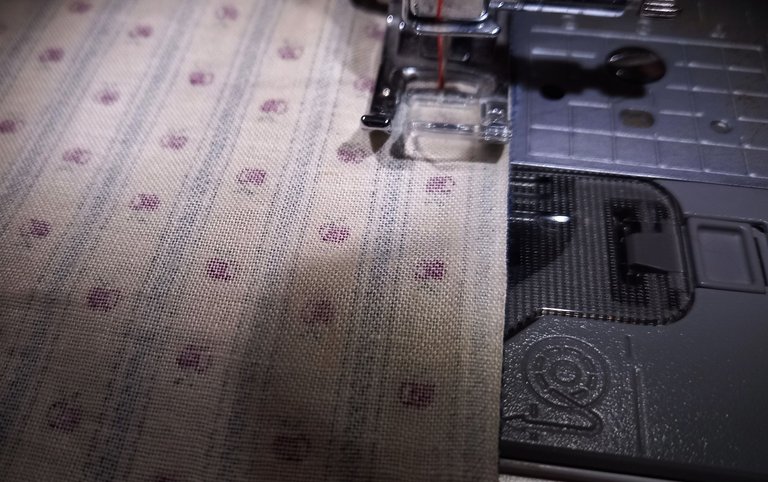 ---
🍎 To break a bit with the blue I placed a red straining zigzag ribbon, which also combines with the apples, I think it gives a special touch to the tablecloth, I also used red thread to sew the entire tablecloth and thus continue with the same tone.
🍎 Para romper un poco con el azul le coloqué una cinta zigzag de colar rojo, la cual también combina con las manzanas, pienso que le da un toque especial al mantel, también utilicé hilo rojo para coser todo el mantel y así seguir con la misma tonalidad.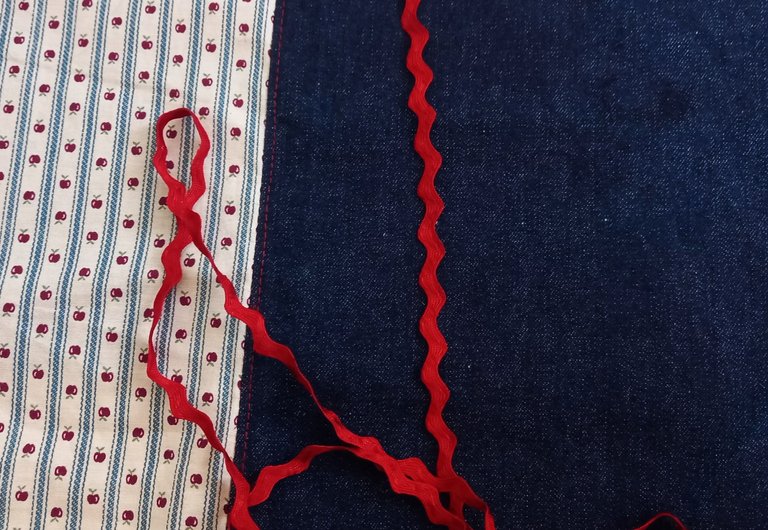 ---
🍎 Another detail that I loved to put in was a small pocket for the cutlery, which I ironed before sewing so that the seams would be neat, the iron is also a good friend of the seamstresses.😊
🍎 Otro detalle que me encantó colocarle fue un pequeño bolsillo para los cubiertos, el cual planché antes de coser para que las costuras me quedaran prolijas, la plancha también es una buena amiga de las costureras.😊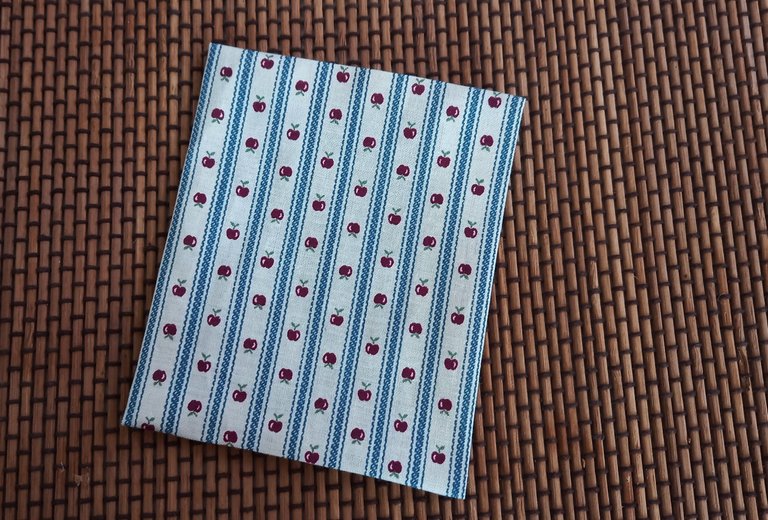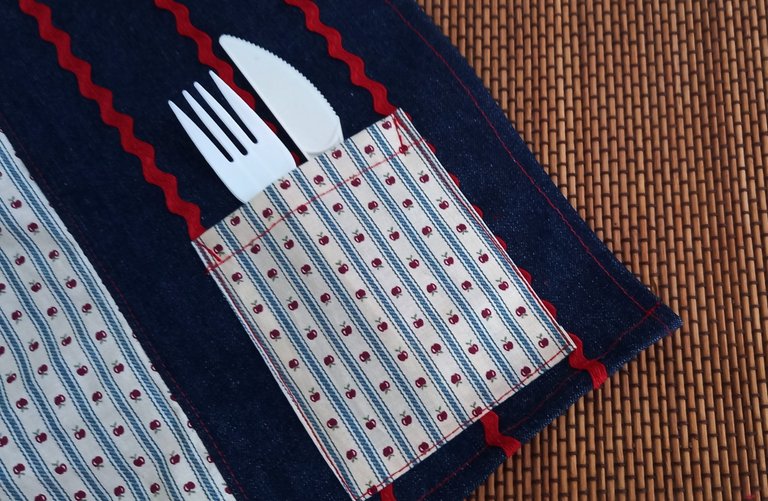 ---
🍎 Ready the beautiful tablecloth, most likely I will give it to one of my friends for this Christmas, I think nothing is coincidence when I had finished sewing the tablecloth, my friend Amanda passed by the house, so I practically already had the card. gift has his name on it.
🍎 Listo el lindo mantel, lo más probable es que se lo regale a unas de mis amigas para esta navidad, creo que nada es casualidad cuando había terminado de coser el mantel, pasó por la casa mi amiga Amanda, así que ya prácticamente la tarjeta de regalo tiene su nombre.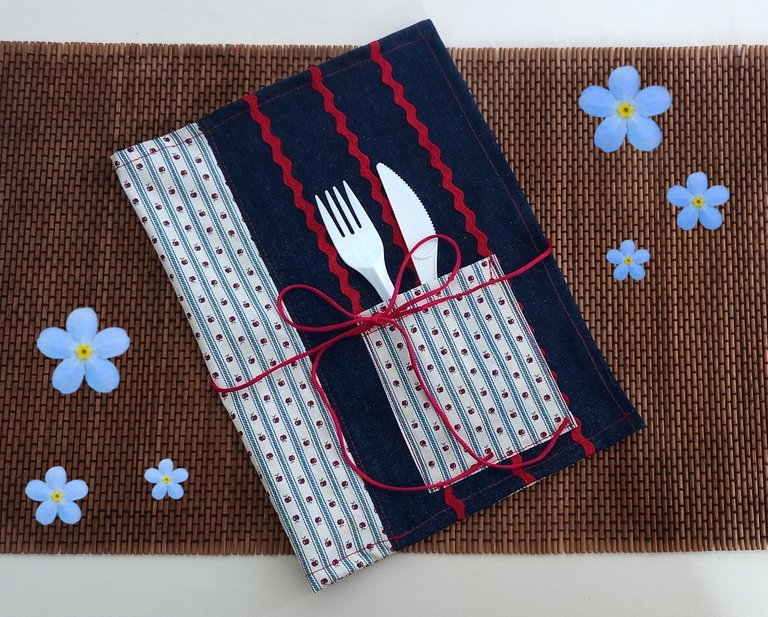 Thanks for joining me. Let's keep loving, dreaming and creating.💝😉💖
Gracias por acompañarme. Mantengámonos amando, soñando y creando.💝😉💖
---
Las fotografías son de mi autoría con mi celular Samsung Galaxy A12 / Editadas en PhotoScape

---
---