Mi Serie de TV Favorita: Naruto Shippuden / My Favorite TV Series: Naruto Shippuden (ES/ENG)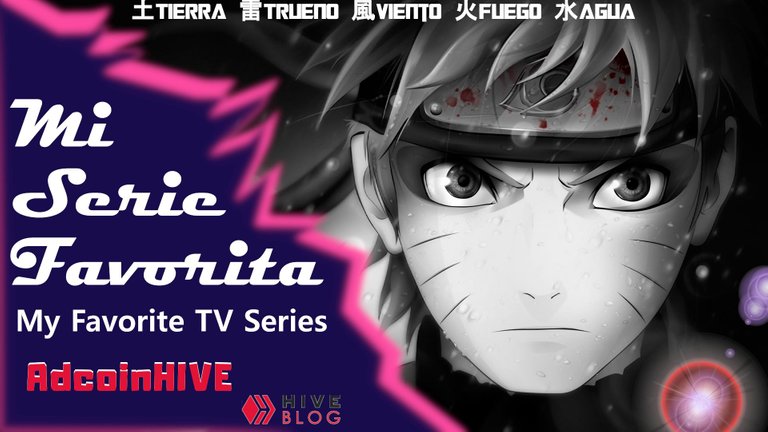 Mi Serie Favorita / My Favorite Series: Naruto Shippuden
Una Vision General de la Historia/ A general view of history
Español
Cuenta la historia de un joven humilde, aparentemente sin gracia y sin talentos, alguien no provenía de una familia influyente. Luchando por ser una persona respetada en un mundo de ninjas que luchan por mantener la paz en sus aldeas, donde cualquier provocación podía desatar nuevamente la violencia, la muerte y destrucción.
Esta es una historia animada, pero si estas pensando que es la común comiquita o caricatura infantil, tienes que seguir leyendo.
La historia se ubica en una época feudal, con naciones organizadas en aldeas, con una organización política desarrollada. Cada país, estaba integrado por una o mas aldeas, dependiendo del tamaño del país. Los países son gobernados por Señores Feudales, un cargo políticamente compartido con los jefes de aldeas o Hokages.
Los Hokages, eran lideres militares y sociales a cargo de la aldea. Se encargaban de la educación y entrenamiento de los ninjas desde temprana edad, así como la asignación de misiones que eran pagadas por otros países con menor poder militar. Ademas el Hokage es encargado de la mediación internacional, mientras el Señor feudal tiene una visión mas comercial en la producción de alimentos y bebidas, el intercambio de productos y eran los custodios de las riquezas de su país.
English
It tells the story of a humble, seemingly graceless and untalented young man, someone who did not come from an influential family. Struggling to be a respected person in a world of ninjas struggling to keep the peace in their villages, where any provocation could again unleash violence, death and destruction.
This is an animated story, but if you're thinking it's the usual children's cartoon, you need to keep reading.
The story is set in a feudal era, with nations organized in villages, with a developed political organization. Each country was made up of one or more villages, depending on the size of the country. The countries are governed by Feudal Lords, a position politically shared with the heads of villages or Hokages.
The Hokages were military and social leaders in charge of the village. They were in charge of the education and training of ninjas from an early age, as well as the assignment of missions that were paid by other countries with less military power. In addition the Hokage is in charge of international mediation, while the feudal lord has a more commercial vision in the production of food and beverages, the exchange of products and were the custodians of the wealth of their country.
---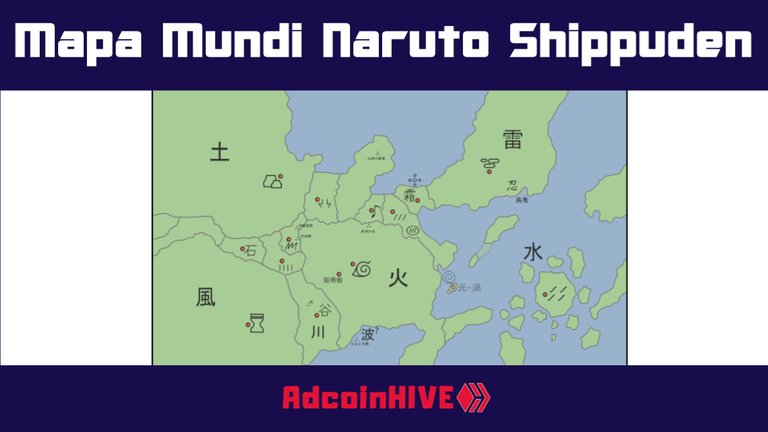 Mapa Naruto - wikipedia
Existen 5 Grandes Naciones Ninja:
El país del fuego - Aldea Oculta de la Hoja.

El país del Rayo - Aldea Oculta de la Nube.

El país del Viento - Aldea Oculta de la Arena.

El país de la Tierra - Aldea Oculta de la Roca.

El país del Agua - Aldea Oculta de la Niebla.
En esta serie viviremos las luchas y los sacrificios de los personajes por transcender a la vida que les ha tocado vivir, cada personaje sufre condiciones distintas y tratan de dar lo mejor de si. Veremos choques de fuertes emociones, el odio, el rechazo, la discriminación. Mientras que se establecen grandes lazos como la amistad, el amor, el sacrificio, la bondad y la superación.
There are 5 Great Ninja Nations:

.
The Country of Fire - Hidden Village of the Leaf.

The country of Lightning - Hidden Village of the Cloud.

The country of Wind - Hidden Village of Sand.

The country of the Earth - Hidden Village of the Rock.

The Land of Water - Hidden Village of the Mist.
In this series we will live the struggles and sacrifices of the characters to transcend the life they have to live, each character suffers different conditions and try to do their best. We will see clashes of strong emotions, hatred, rejection, discrimination. While great bonds such as friendship, love, sacrifice, kindness and overcoming are established.
---
---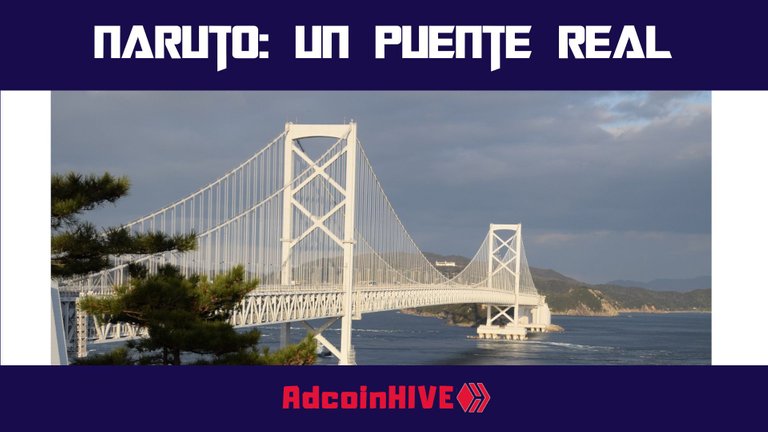 Puente Ciudad Japonesa de Naruto
Dato Curioso: Una Ciudad Real
El nombre de Naruto, proviene de una ciudad real en el actual japón. Y en esta ciudad existe un gran puente, llamado el puente Naruto.
Naruto es una ciudad localizada en la prefectura de Tokushima, Japón. En junio de 2019 tenía una población estimada de 56.222 habitantes y una densidad de población de 414 personas por km². Su área total es de 135,66 km².
Esta serie tiene una riqueza histórica increíble, tanto los edificios, la cultura y hasta la comida esta basada en la época feudal japonesa de entre los años 1185 y 1603.
Fun Fact: A Real City

.
The name Naruto, comes from a real city in present-day Japan. And in this city there is a large bridge, called the Naruto Bridge.
Original Wikipedia article: https://es.wikipedia.org/wiki/Naruto_(Tokushima)
Naruto is a city located in Tokushima Prefecture, Japan. As of June 2019, it had an estimated population of 56,222 and a population density of 414 people per km².Its total area is 135.66 km².
This series has an incredible wealth of history, both the buildings, culture and even the food is based on the Japanese feudal era from between the years 1185 and 1603.
---
---
Lo que me gusta de Naruto Shippuden
Lo que mas me gusta de la serie, es que cualquier persona se puede identificar con alguno de los personajes, ya que existen tantas diferencias, algunos son mas destacados, vienen de mejores familias, y luchan por darse un lugar en esas situaciones difíciles. Otros por su parte tienen orígenes mas humildes, no tienen una familia, y luchan por ganarse una posición de respeto y aceptación entre los demás.
En la vida real somos protagonistas de nuestros propios conflictos personales, familiares y sociales. En la serie descubrimos como las fortalezas propias de cada persona como la voluntad, el esfuerzo, el estudio y la perseverancia pueden llevarte a superar tus limitaciones.
Naruto, no tenia padres, ni respeto, o aceptación de parte de sus compañeros y de las demás familias de la aldea, era una especie de exiliado dentro de su propia tierra. Al principio quiso convertirse en un renegado, fingir que el respeto, la aceptación no de esas personas no era importante, solo se divertía haciendo travesuras por toda la aldea.
Pero en su interior, naruto sabia que como personas necesitamos siempre alguien que nos tienda la mano, que nos de una palmada en la espalda, que te diga buen trabajo, que te demuestren respeto, afecto, y consideración.
Aunque el personaje principal es Naruto, mi favorito es Rock Lee, un compañero de clases de naruto, que tampoco tenia padres, ademas dentro de la historia era algo asi como una persona discapacitada. Puesto que no podía hacer Nin-jutsu(Técnicas Especiales Ninjas basadas en Chakra) y en un mundo de ninjas no poder hacer ninjutsu era como ser discapacitado, carecía de esa capacidad. Sin embargo, el nunca se dio por vencido, a pesar de no tener la capacidad de usar estas técnicas, se dedico toda la vida a fortalecer su cuerpo y su mente, logrando obtener una fuerza física tan poderosa que ya no era necesario para el usar nin-jutsu.
Rock Lee, sufrió mucho y tuvo que hacer muchos sacrificios, pero finalmente pudo sonreír, cuando se convirtió en una persona respetada y elogiada gracias a sus esfuerzos, entonces le aceptaron como un verdadero Ninja.
What I like about Naruto Shippuden

.
What I like most about the series, is that anyone can identify with any of the characters, since there are so many differences, some are more prominent, come from better families, and struggle to give themselves a place in those difficult situations. Others have humbler origins, do not have a family, and struggle to gain a position of respect and acceptance among others.
In real life we are the protagonists of our own personal, family and social conflicts. In the series we discover how each person's own strengths such as willpower, effort, study and perseverance can lead you to overcome your limitations.
Naruto, who had no parents, no respect or acceptance from his peers and the other families in the village, was a kind of exile in his own land. At first he wanted to become a renegade, pretending that the respect, the acceptance of those people was not important, just having fun playing pranks all over the village.
But deep inside, Naruto knew that as people we always need someone to reach out to us, to pat us on the back, to tell you good job, to show you respect, affection, and consideration.
Although the main character is Naruto, my favorite is Rock Lee, a classmate of Naruto's, who also didn't have parents, and in the story he was something like a handicapped person. Since he couldn't do Nin-jutsu (Special Ninja Techniques based on Chakra) and in a world of ninjas not being able to do ninjutsu was like being handicapped, he lacked that ability. However, he never gave up, despite not having the ability to use these techniques, he dedicated his whole life to strengthen his body and mind, achieving such a powerful physical strength that it was no longer necessary for him to use nin-jutsu.
Rock Lee, suffered a lot and had to make many sacrifices, but finally he could smile, when he became a respected and praised person thanks to his efforts, then he was accepted as a true Ninja.
---
---
Lo que aprendí de la Serie:
De Naruto aprendí, que si nos encerramos en nuestros problemas y no vemos a otros que tambien sufren, no tendremos la fuerza para sobrepasar nuestros limites. Esto es empatía y bondad para quienes nos rodean.
Aprendí, que aunque no tengas talento, si te esfuerzas y tienes determinación, puedes lograr lo que te propongas.
Ademas, me enseño a tener convicción, honor y fuerza para sobreponerme ante las caídas.
What I learned from the series:

.
From Naruto I learned, that if we shut ourselves up in our problems and don't see others who are also suffering, we won't have the strength to push our limits. This is empathy and kindness for those around us.
I learned that even if you don't have talent, if you are determined and hard working, you can achieve whatever you set your mind to.
It also taught me to have conviction, honor and strength to overcome my downfalls.
---
---
Compartir
Esta es una serie para compartirla en familia, importante para conversar con nuestros hijos sobre valores, trabajo en equipo, honestidad, superación. Considero que la riqueza moral de la serie es amplia.
Ademas se van a divertir mucho con escenas de acción, batallas y muchas escenas divertidas, se van a reír mucho con las ocurrencias de los personajes.
Share

.
This is a series to share as a family, important to talk with our children about values, teamwork, honesty, self-improvement. I consider that the moral richness of the series is wide.
They will also have a lot of fun with action scenes, battles and many funny scenes, they will laugh a lot with the occurrences of the characters.
---
Gracias por leerme!
Si has llegado hasta este punto y les ha gustado mis impresiones y aprendizaje sobre esta serie, entonces les agradezco mucho por su amabilidad en tomarse el tiempo, y espero que podamos seguir compartiendo dentro de la gran comunidad de Hive.
Thank you for reading me!
If you have made it this far and liked my impressions and learning about this series, then I thank you very much for your kindness in taking the time, and I hope we can continue to share within the greater Hive community.
---
---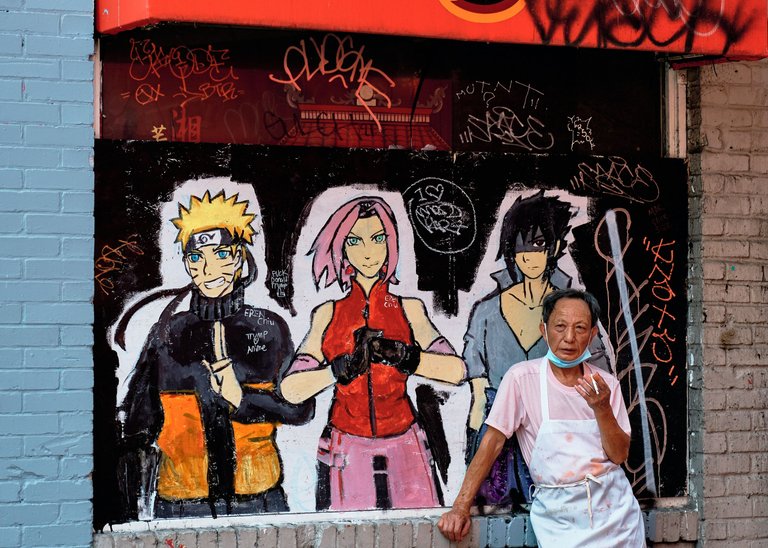 Mural Chinatown: Foto de Zane Lindsay en Pexels
Chinatown EEUU: Google Maps
Mural de Naruto en El Distrito Internacional de Chinatown
Naruto es una de las series animada o #anime mas famosas de los ultimos tiempos, ha recorrido el mundo atrayendo millones de seguidores a nivel mundial, actualmente la serie sigue en emision, narrando las aventuras de Boruto, el hijo de naruto.
El Distrito Internacional de Chinatown es un bullicioso centro para las comunidades asiático-americanas de Seattle. Casas de fideos, puestos de sushi, restaurantes de dim sum y bares de karaoke se mezclan con tiendas de regalos y mercados que venden productos importados.
Naruto Mural in Chinatown's International District

.
Naruto is one of the most famous animated or #anime series of recent times, it has traveled the world attracting millions of fans worldwide, currently the series is still on air, narrating the adventures of Boruto, naruto's son.
The Chinatown International District is a bustling hub for Seattle's Asian American communities. Noodle houses, sushi stands, dim sum restaurants and karaoke bars mingle with gift stores and markets selling imported goods.
---
---
Autor: AdcoinHive
Comunidad: #Undergroundm
---
---