Bought More Insurances for Family Members
Had a recent chat with my life insurance agent about some changes I want from my policy. I wanted to add two more policies on top of my existing ones. It wasn't a difficult chat, I buy more of their stuff and they earn more from commissions, that's life. What did spark my interest was the small talk prior to getting down to business.
Technically I didn't buy an insurance for myself but for some family members who are expected to be needing it a few decades from now. Being the most financially literate in the family means having the most social responsibility to spare the others from a difficult financial situation later on. Besides, I think of it as a shrewd deal considering I'm expected to pay the bulk of the expenses when something unfortunate does happen to them.
While the expenses in the short term sucks, my future self would probably be thanking me right now for bothering. Health care is costly, dropping dead isn't the end of the problem, and maintaining a respectable quality of life while getting old has it's costs. On top of this I also plan on setting up some crypto wallets for them for added measure.
My insurance agent talked about the local Philippine Stock Exchange, the Russian invasion, and crypto trading. They weren't invested in crypto because it was unregulated. Now I practiced this several times in the mirror not to reflexively raise an eye brow at such remarks. Forget about the returns I generated from bothering with crypto for the past years being more than what I earn from stocks for the same amount, none of those matter to this financial expert.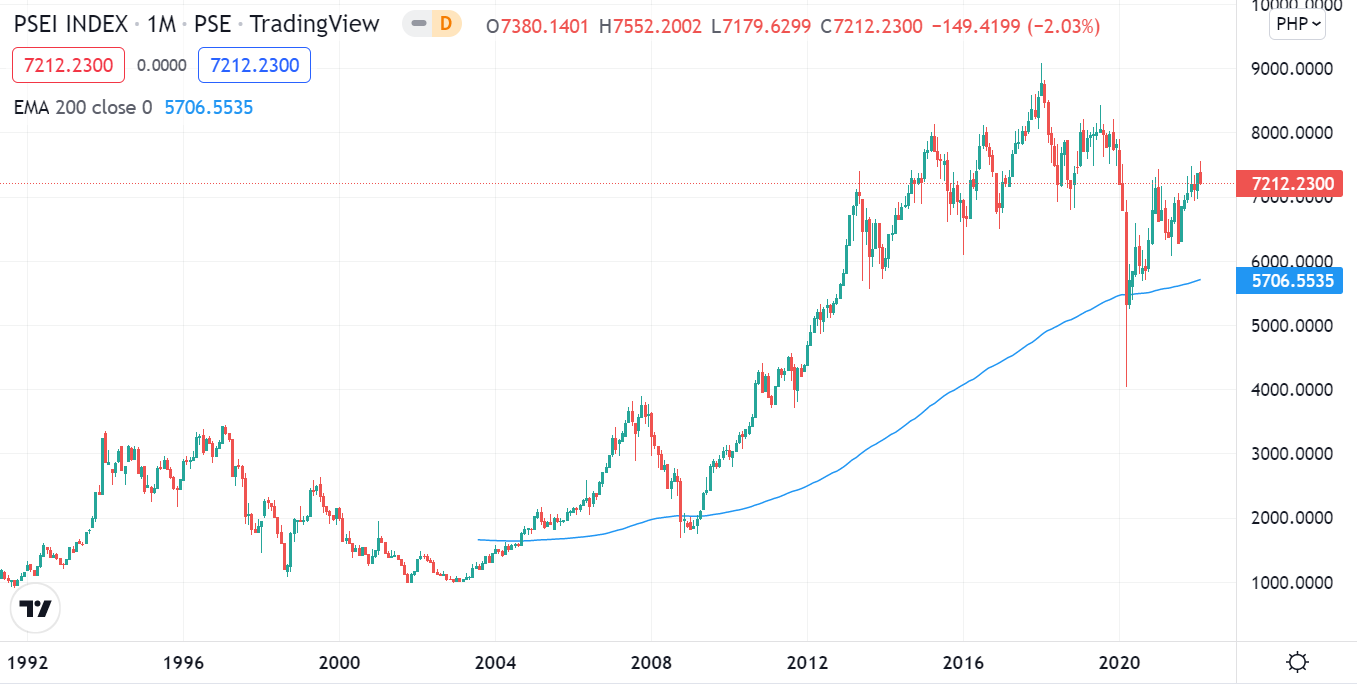 This is a chart (monthly) showing the 7.2% drop today. The large drop was back in March 2020 where the pandemic was just getting started and then the market slowly went up to a slow recovery. It's a turbulent time to be in the market right now because of the elections, a 6-year trend of poor economic growth even prior to pandemic, and the global events that also influence the influx of foreign investments. Around the time the pandemic hit, the Philippine Stock Exchange had a slow crawl to where it is now while crypto's BTC was pumping to all time highs.
None of this is financial advice of course but I don't see any harm trying to study both markets and picking out which one you want to bet on.
I appreciate the difference in perspective though. If you're someone who is at the top of their game earning several figures like it's pocket change in stuff related to traditional finance, it's probably difficult to take crypto seriously as an investment given how the tech has been screaming decentralization and lack of security to things they are familiar with. At the back of my head, I doubt this guy would entertain being onboarded on Hive so that settles that.
But I do like his spirit and advocacy for financial literacy for everyone. He was selling me products but was vocal which ones weren't going to give me the best yields so that's more than enough to win me over. It's the same person that inspired me to become financially literate in traditional finance and apply some of the concepts on crypto.
The problem with I have with crypto-enthusiasts and those grounded with traditional finance is a group think where one side thinks their side is the winning side. Having friends who are firm believers at opposite sides of the spectrum can have enlightening discussions. At the end of the day it's still just going to be your call where to park your money for retirement and wealth building.
If you made it this far reading, thank you for your time.
Posted Using LeoFinance Beta
---
---