Using Manifestation Techniques To Archive Financial Goals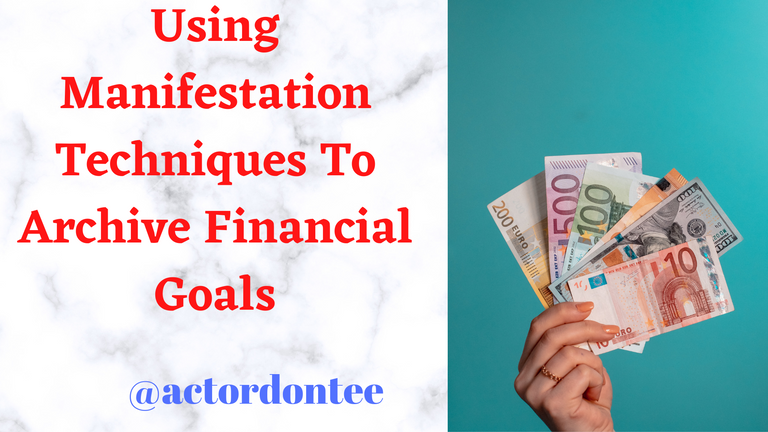 [Source](Designed on Canva)
I'm delighted to be here and this is my first posting in this wonderful community. I will discuss manifestation techniques, I hope you all enjoy it.
Some prosperous individuals share their financial success, accomplishing employment, and relationship fulfilment to manifestation.
The main idea of manifestation is to attract things that are compatible with your thought, behaviour and self-beliefs.
In reality, your world is a product of your thoughts and beliefs. You will experience struggles and difficulties in life if you have a negative perspective and concentrate on the barriers. You will achieve your goals if you put your attention on being positive and have faith in your ability to manifest them.

Possessing the appropriate attitude is very important to manifesting money. Consider your mindset as the general view you have toward the action of attracting money. Is your mind anxious, self-centred, or attracting unnecessary expenses to attract money?
As an example, some people support "fast money strategies" like betting, Ponzi schemes, etc. They have little faith in the process of long-term investment.
At my university, I have a friend who firmly believes in the fast money process. As a result, he gambles more frequently. He can spend his last bit of money to place a bet. Occasionally, he succeeds, but not often. He can sell his properties to make money if he runs out of funds. He struggles to earn more money; this kind of person needs to change their basic ideas relating to money.
     Don't give money the power to 
     control you 

You cannot consider money to be a source of power if you wish to manifest money.
This error happens frequently.
Wealth, abundance, or happiness cannot be purchased with money. It is powerless to help you. All of the power comes from you; money merely sits there.
If you believe that having more money will give you any greater power, think again.
You are commanding money to enter your real life when you manifest it. Only if you use your actual power, then money will be forced to submit to you. Giving your power to money gives it the authority to refuse your requests.

In conclusion, work up to larger sums of money by manifesting smaller amounts first. Consider as a number you want to raise; but, don't raise higher sums by assuming they will be more challenging to achieve.
Money manifestation is an interesting challenge. You can accomplish it if you approach it by,
possessing the appropriate attitude about money, basic ideas relating to money, and don't allow money to have any power over you.
Thank You All For Reading!!
---
---