The Power of Clarity: Navigating Towards Your Dreams

What I'm sharing with you today is the second part of the series I started two weeks ago about our Dreams. If you didn't read the first part, take a pause now and go to the following link to read it 👉 Own Your Dreams! and then continue reading this article. Ready? Let's continue!
Lo que les comparto hoy es la segunda parte de la serie que comencé hace dos semanas en cuanto a nuestros sueños. Si no leyeron la primera parte, hagan una pausa ahora y vayan al siguiente enlace para leerla 👉 Sé dueño de tus sueños y después continúen leyendo este artículo. ¿Listos? ¡Continuemos!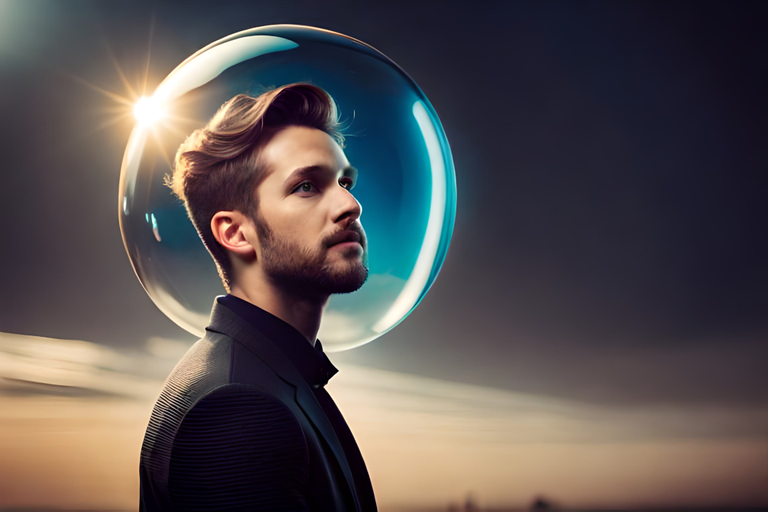 I created this Image with 👉 BlueWillow AI on Discord
---
Without clear and well-defined goals, it will be very difficult to achieve our dreams. Having clarity in life is just as important as the cornerstone in a building; it's like a light that guides us in the darkness and an inner strength that propels us with purpose and determination.
Sin metas claras y bien definidas, será muy difícil realizar nuestros sueños. Tener claridad en la vida es igual de importante que la piedra angular en un edificio, es como una luz que guía en la oscuridad y una fuerza interior que nos impulsa con propósito y determinación.
Clarity is necessary for our dreams or goals to become something specific and not remain a general idea. Clearly defining our aspirations sets in motion a process of precision. This, as a result, helps us transform our intentions from vague wishes into reality. For example, instead of saying, I want to lose weight, it would be better to say, Over the next six months, I will lose 10 kilos.
La claridad es necesaria para que nuestros sueños o metas se conviertan en algo específico y no se queden en una idea general. Definir claramente nuestras aspiraciones pone en movimiento un proceso de precisión. Esto, como consecuencia, nos ayuda para que nuestras intenciones dejen de ser deseos vagos y se conviertan en realidad. Por ejemplo, en lugar de decir, "Quiero bajar de peso", sería mejor decir "Durante los próximos seis meses bajaré 10 kilos".

---

Image designed by @irisworld
REMINDER. You are invited to join Life Talk Live every WEDNESDAY at 19:00 hours, Berlin time on 👉 the Ecency server in Discord For more information visit the following link 👉 Life Talk Live: Empower Your Values So, mark your calendars, and remember to adjust the time to your local time zone.⏰

---
The process of defining or clarifying our dreams requires a lot of effort. That's why I'm constantly encouraging you to cultivate the habit of introspection. Asking ourselves regularly deep and relevant questions will help us in this process. For instance, Am I staying true to my values in my daily decisions? What should I do today to get closer to my goals? Am I dedicating the necessary time to what truly makes me feel fulfilled? Remember, it's the habit of self-reflection where your dreams begin to take shape.
El proceso de definir o aclarar nuestros sueños requiere mucho esfuerzo. Es ese el motivo por el cual constantemente les estoy animando a cultivar el hábito de la introspección. Hacernos preguntas profundas y relevantes continuamente nos ayuda en este proceso. Por ejemplo, ¿estoy siendo fiel a mis valores en mis decisiones diarias? ¿Qué debo hacer hoy para acercarme a mis metas? ¿Estoy dedicando el tiempo necesario a lo que realmente me hace sentir pleno? Recuerda, es el hábito de la auto-reflexión donde tus sueños comienzan a tomar forma.
A crystal-clear dream helps us naturally align our priorities and capabilities to discern between distractions and what truly adds value to our lives. In a very practical sense, it simplifies our decision-making and, therefore, facilitates our progress. On the contrary, going through life with undefined dreams is akin to sailing a boat without a compass. Today, I would like to encourage you to put effort into clearly defining your dreams so that your aspirations can become reality.
Un sueño cristalino nos ayuda a alinear de forma natural nuestras prioridades y capacidades para discernir entre distracciones y lo que realmente añade valor a nuestras vidas. En una forma muy práctica de hablar, simplifica nuestra toma de decisiones y, por lo tanto, facilita nuestro progreso. Por el contrario, ir por la vida con sueños no bien definidos es similar a navegar en un barco sin brújula. Hoy te animo a que te esfuerces en definir claramente tus sueños para que así tus aspiraciones se conviertan en realidad.

---
If you want to learn more about my coaching services 👉 ACGalarza

---
If you want to be tagged every time I post a new episode of Life Talk, you don't have to do anything. Thank you for your support!😊
@dreemsteem, @brittandjosie, @sekani, @deraaa, @marbrym, @stdd, @idksamad78699, @mypathtofire, @defluenced, @palomap3, @ijohnsen, @geelocks, @salicj, @samsmith1971, @jane1289, @amberkashif, @cescajove, @dayadam, @penderis, @foxkoit, @melinda010100, @kenechukwu97, @bluefinstudios, @sacra97, @allentaylor, @gr33nsquad, @gr33nm4ster, @omarrojas, @weone, @funshee, @fredaig, @hafiz34, @beeber, @mosiano12, @rafzat, @ismartboy, @manclar, @werkseber, @stevewealth
---
---