My Singer machine is no longer alone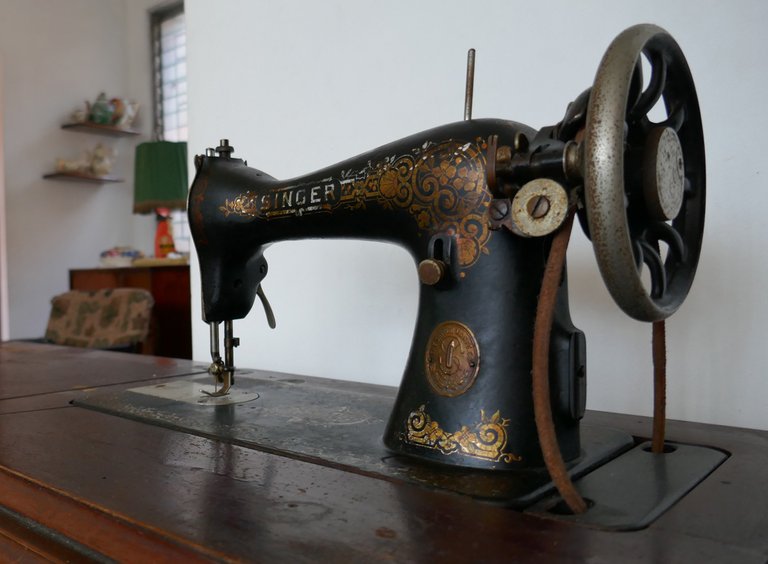 If anything accompanied my childhood, it was this Singer sewing machine. A gift from my grandfather Antonio to my mother before 1965, which was the year I was born.
The clothes of everyone at home were stitched and mended with this machine, which has as its home, a wooden piece of furniture where at the end of its use, we put it in a compartment and its cover.
As a child, every time I saw it open and in use, I liked to move up and down its rectangular cast metal pedal. It reminded me of the movement of the little boats I used to ride in the old Coney Island, the best amusement park that Cuba had, founded before 1959 in Havana. Well, by moving that pedal, I sometimes spoiled the work that was already assembled.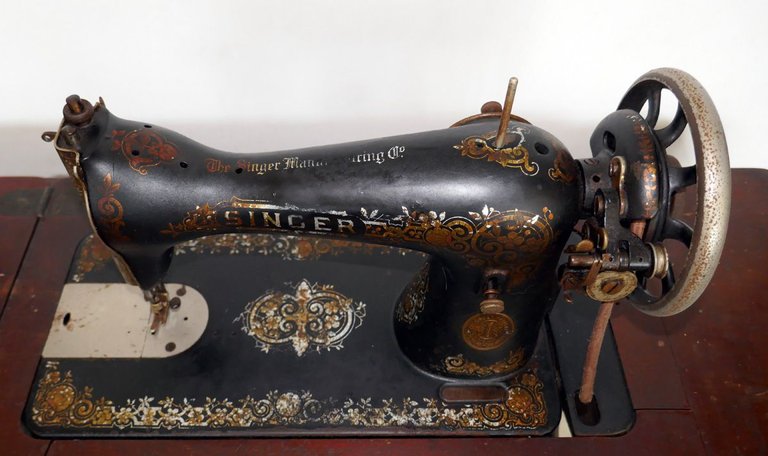 My mother tried to learn how to use it, but she didn't have the art or the time to mend our clothes. She called Teodora for that. She was my father's aunt, an expert in cutting and sewing, who visited us several times a year from Camagüey.
As the years went by, the poor Singer, was in total depression, isolated in a corner of my house. Humidity and time took care of removing its original paint and rust was embracing its metal. Termites, in turn, began to devour its furniture.
What is the genesis of this brand?
Created by Isaac Merritt Singer, actor and inventor, born in New York, USA. With a well-flowered history on an emotional level. In 1851, he founded the Singer Sewing Machine Company, where he knew how to position his brand as the most practical, fast and ideal for domestic use; giving the possibility of being paid in installments by customers.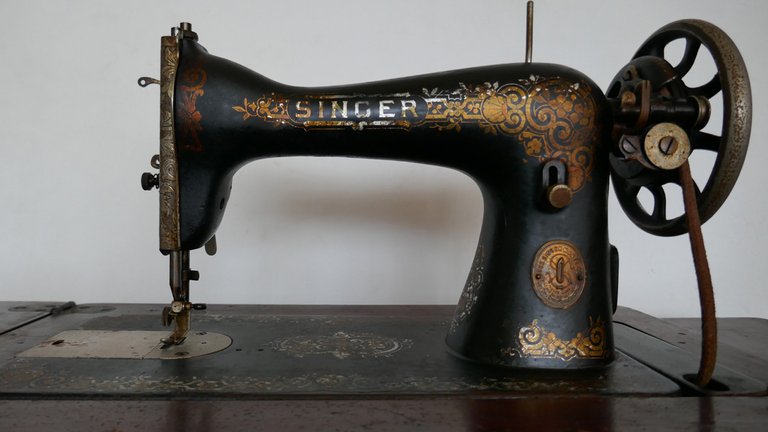 One day, when I came home from a spell abroad, I found that my mother had given it for sale to a woman who lived nearby, and who had promised to pay her in a few days.
The price set was very low. I didn't like the idea, because I felt that sewing machine as part of my family. It was at home, even before I took my first breath. Besides, the clothes we used to wear had the traces of her stitches on them.
Knowing that this person had worked on it and had never paid for it, I went to get it back, despite his displeasure.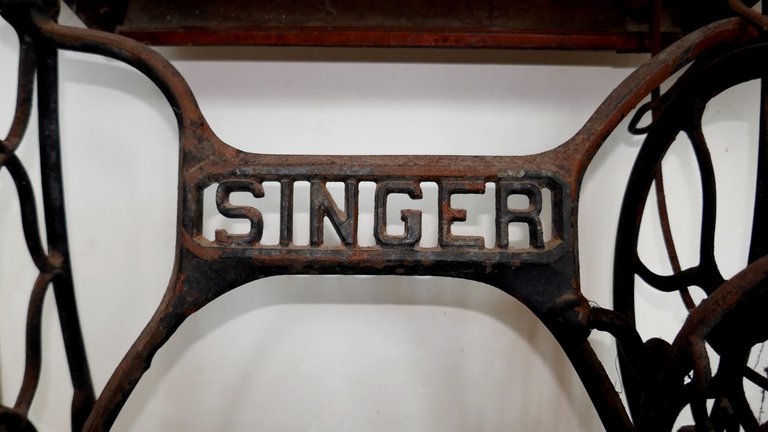 I decided that this object, which treasured a beautiful history, could not be alone at home. I started looking for other machines as soon as possible; and I will also tell you about them in this post.
I will show you the other three machines I bought. Here they are:
Prima Donna
One afternoon, walking my dog in the park, I found in one of its corners, and under the shade of a tree, a person who had the machine on sale, at a ridiculous price. I told him to give me a few minutes, and after finishing the walk with my pet, my Singer machine was no longer alone.
I immediately started to investigate, and learned that Prima Donna, is an English brand, built by the Whight & Mann company in 1859 or 1860. They were also in the importing and trading business.
The machine is sturdy, with a weight that reflects the quality of the metal used, with their brand stamped large on the metal, covering the needle mechanism. But with a very captivating history.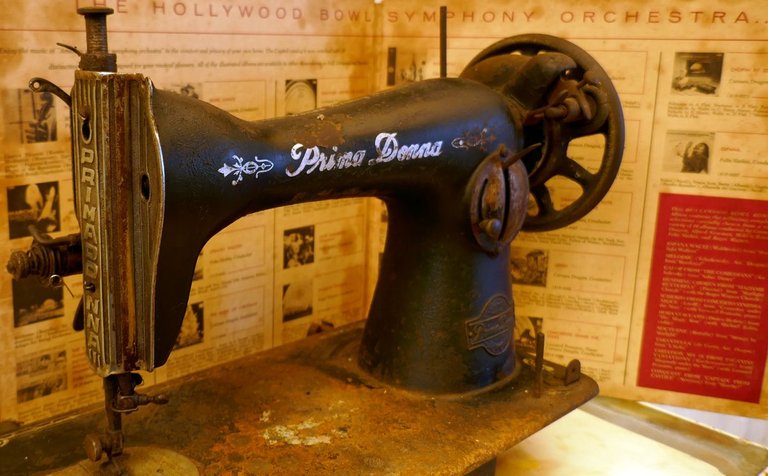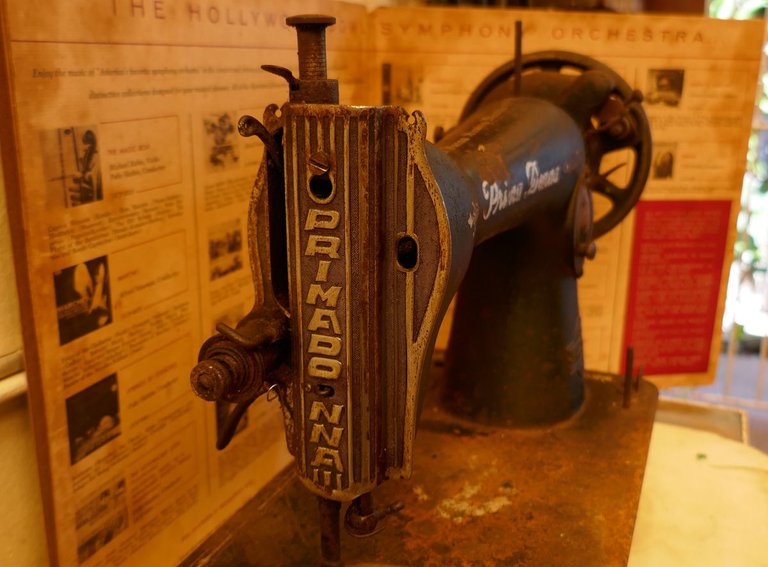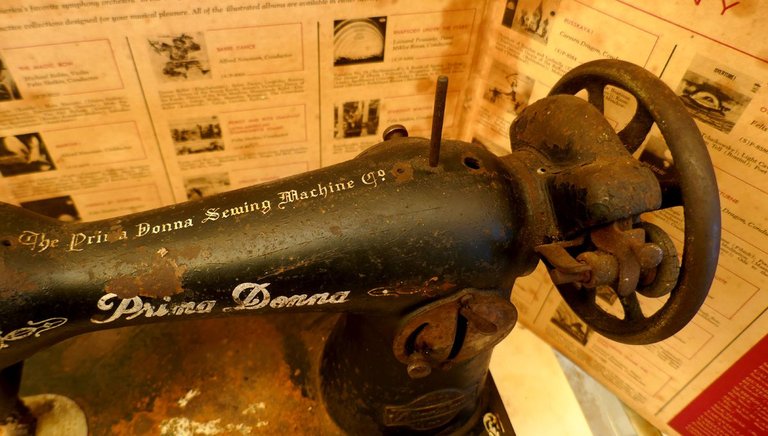 Ideal
This beautiful little sewing machine, I bought it from a person who sold antiques in the Habana Vieja. When I saw it I loved its size, something different from what we usually see.
It is made of matte silver steel, with a narrow bow that serves as a grip and gives it good weight.
I was surprised to learn later that it was the model A, the first to be made in London by Leslie Salter's patent in 1910. Founding in 1921, the Ideal Sewing Machine Company Limited, which lasted only 4 years.
Machine that gave its stitches in chain stitch, using a mechanism known as Walking Foot for the dragging of the fabric.
Its 26 cm metal case, 14.5 cm wide and 16.5 cm high, reflects the quality that was put into this model. Something that makes it a coveted piece among collectors.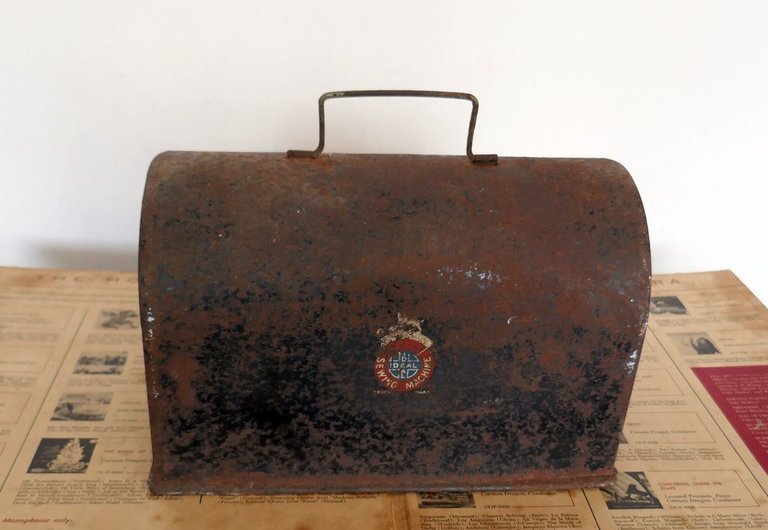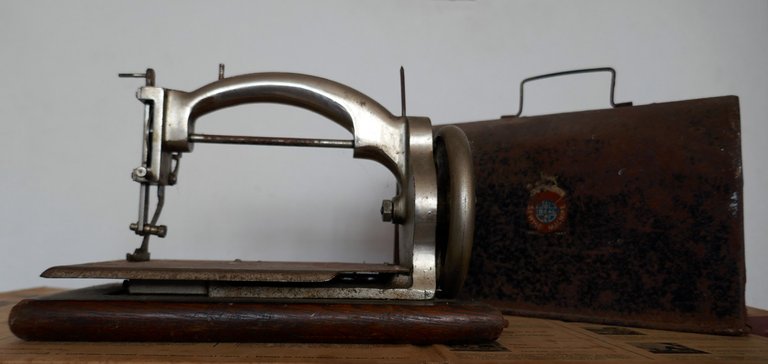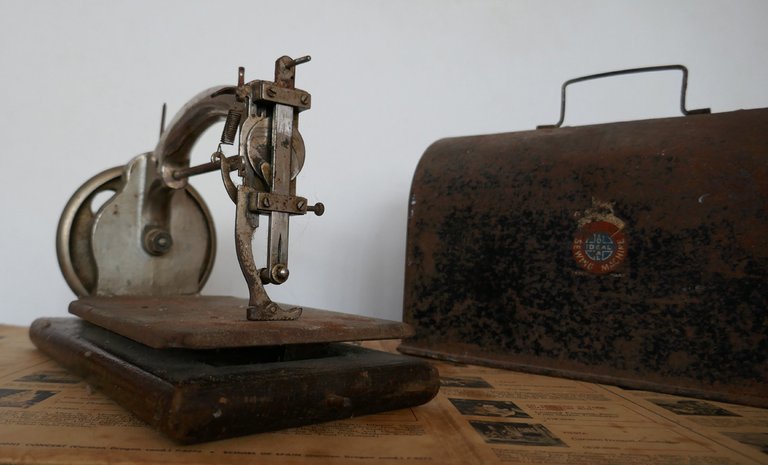 Casige No.7 or Westfalia: Toy Sewing Machine
Also bought from the same person who sold me the model described above. Smaller in size than the previous one; hence they were part of some models that were manufactured and grouped under the name Toy Sewing Machines.
This machine was created in Germany by the company Casige at the beginning of the 20th century. They manufactured several models, but this one in particular was very requested and sought after, for having its internal gearing made of metal and not fiber.
Its size is 22 cm long, 12 cm wide and 21 cm high.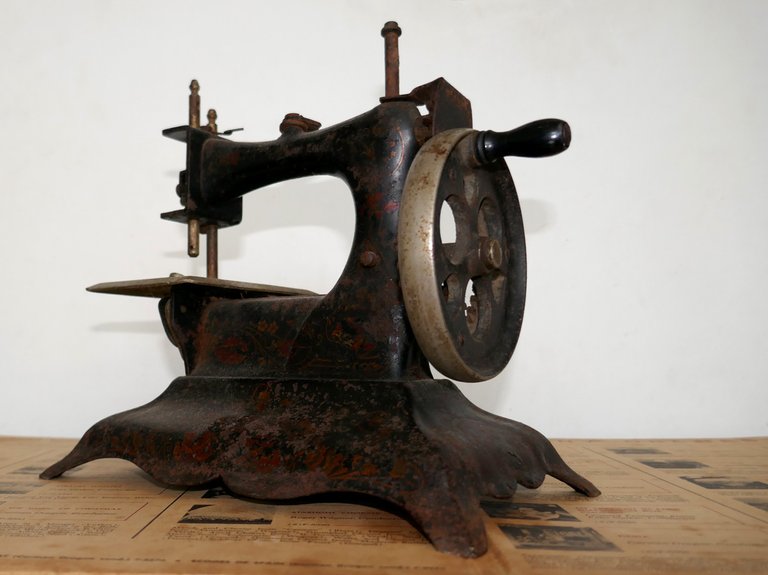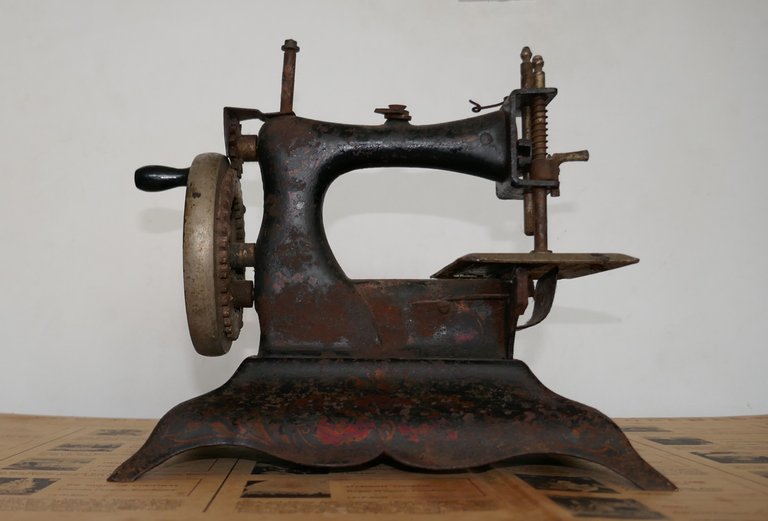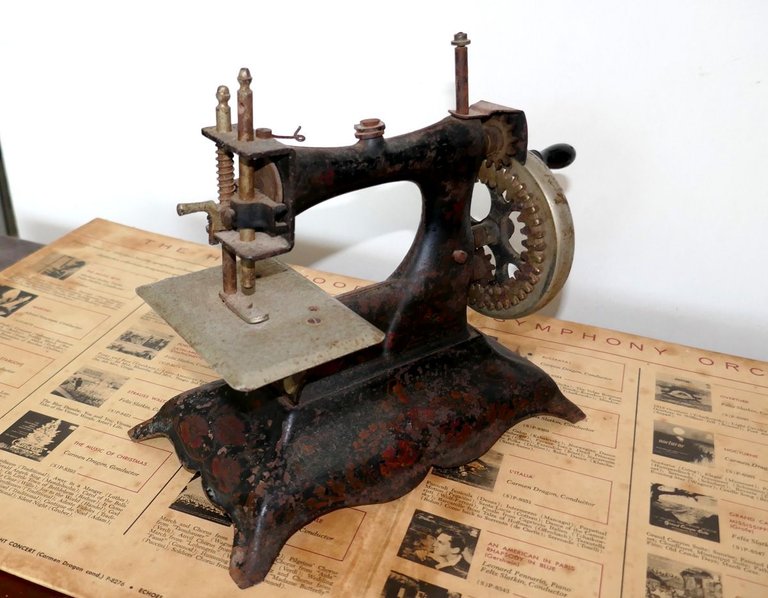 Below you can see my Singer machine with its wooden cabinet.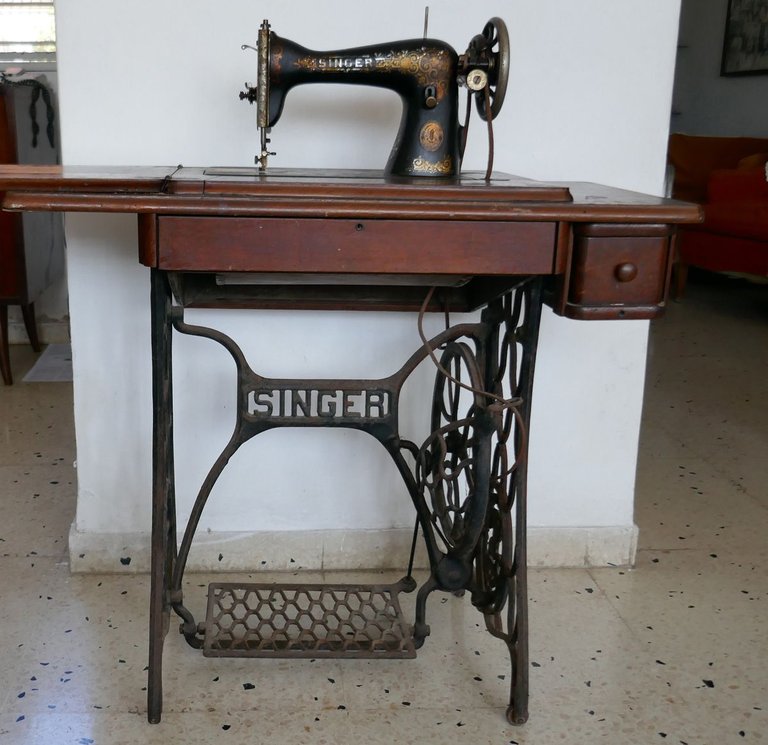 Through the internet, a person was selling a Singer base of another model, and I converted it into a table, using a beige colored marble base.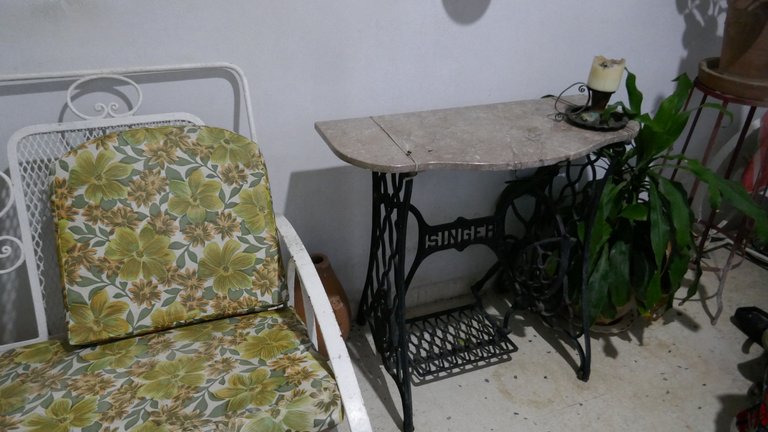 If you look at the picture, the marble is reinforced with cords on both sides. It detracts from the aesthetics, but there is a reason.
My mother, who was 84 years old, used to lose her balance. One afternoon she fell on the table, since that terrace was her favorite place. When she fell, she dislodged the marble that was glued to the iron structure.
That was the fast track I used to fix it. Mommy passed away a year ago, and I preferred to leave it that way, considering that my father, now 95 years old, can also fall.
Well, friends. Thanks to those of you who read me. I wish you a nice start to the week.

Own photos. Camera: Panasonic Lumix model DMC-ZS100
Text divider. Free use from @eve66
Original text by Andrés Brunet
Thank you for reading
Welcome your comments
Infinite greetings!
---
---