[ENG-ESP] Super efficient buildings IV -- Edificios súper eficientes IV
If we talk about the most sustainable buildings, we cannot leave out the "Sun Moon Mansion", the Chinese building located in the province of "Shangdong".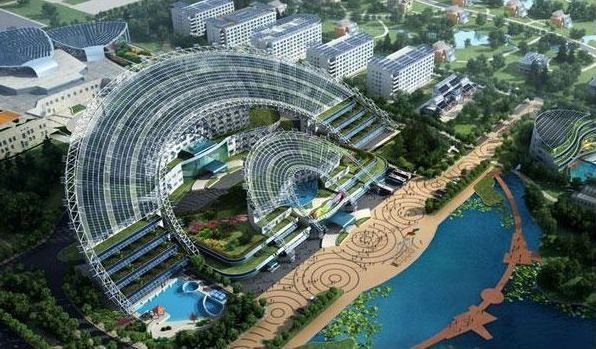 LINK
We can say that to date it is one of the most efficient buildings in the world and it is also the largest building with a solar roof, "IN THE WORLD" since it has about 15,240 thousand m2 of solar panels. Inside the building we can find a hotel, a scientific research center, a shopping center, etc. The total area of ​​this majestic building is 75 thousand m2.
This is called "The solar building" because it is also similar to an old solar clock, thanks to the fact that it has insulation in ceilings and walls, it allows an energy saving of more than 30%.
---
ESP
---
https://инженер.bg/var/tinymce/upload/2018/sun-moon-2.jpg
LINK
Si hablamos de los edificios mas sostenibles no podemos dejar fuera al "Sun Moon Mansion", el edificio chino ubicado en la provincia de "Shangdong".
Podemos decir que hasta la actualidad es uno de los edificios mas eficientes que existen en el mundo y también es el mayor edificio con techo solar, "DEL MUNDO" ya que posee unos 15.240 mil m2 de paneles solares. Dentro del edificio podemos encontrar un hotel, un centro de investigaciones científicas, un centro comercial, etc. La superficie total de este majestoso edificio es de 75 mil m2.
A este lo llaman "El edificio solar" ya que también es por su diseño parecido a un antiguo reloj solar, gracias a que posee aislamiento en techos y paredes permite un ahorro de energía de mas del 30%.
Gracias por pasar.
---
---