ENG/ESP Recordar es vivir | To remember is to live
| Hola amigos, hoy recordé a esos amigos que ya no están aquí, no porque les haya pasado algo malo, sino porque así como los conocí aquí en Colombia, muchos de ellos regresaron a Venezuela para rehacer sus vidas allá. Bienvenidos a una parte más humana de mí. | Hello friends, today I remembered those friends who are no longer here, not because something bad happened to them, but because just as I met them here in Colombia, many of them returned to Venezuela to rebuild their lives there. Welcome to a more human part of me. |
| --- | --- |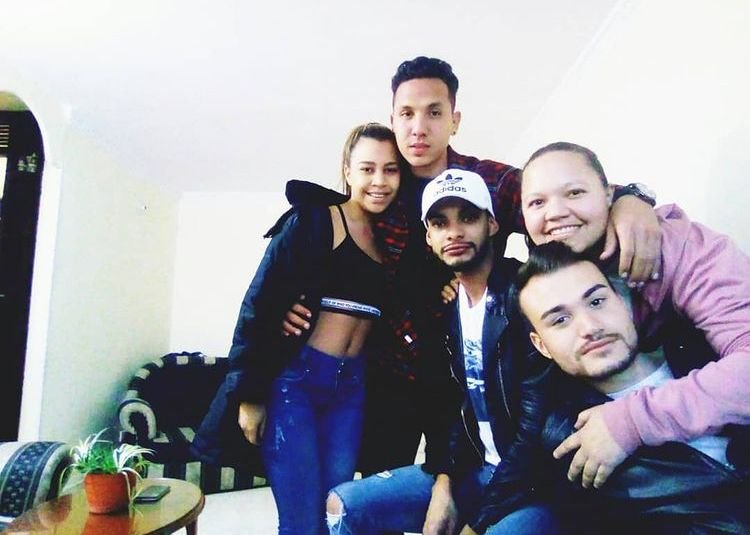 Cuando llegué sólo tenía compañeros y conocidos, pero no había estrechado lazos con nadie hasta que nos reencontramos con nuestro primo, porque yo vivía con mi primo @nisidc cuando nos reencontramos fue genial, pudimos conocer a gente de su entorno y de alguna manera empezamos a tener un vínculo con ellos, pasamos las navidades juntos y cuando coincidíamos en días libres, nos veíamos. Era una forma de pasar el rato y salir de la rutina.
When I arrived I had only colleagues and acquaintances, but I had not bonded with anyone until we met again with our cousin, because I lived with my cousin @nisidc when we met again it was great, we could meet people from their environment and somehow we began to have a bond with them, we spent Christmas together and when we coincided on days off, we saw each other. It was a way to hang out and get out of the routine.
| | |
| --- | --- |
| Luego empecé a conocer gente que hasta el día de hoy se han convertido en mis hermanos, este par. Los conocí a los dos en diferentes lugares pero somos los más rumberos y buena onda que te puedes encontrar, los tres juntos nos hemos aventurado a muchas rumbas. pero también es bueno conseguir gente que sea como tú y formar una amistad dentro y fuera de las rumbas, ahora uno de ellos está en Venezuela y el otro sigue saliendo conmigo cada dos fines de semana, valoro la amistad que ha surgido desde que estoy en este país. | Then I started to meet people who to this day have become my brothers, this pair. I met them both in different places but we are the most rumberos and good vibes that you can find, the three of us together have ventured to many rumbas, but it is also good to get people who are like you and form a friendship inside and outside the rumbas, now one of them is in Venezuela and the other still goes out with me every other weekend, I value the friendship that has arisen since I am in this country. |
| --- | --- |
| | |
| --- | --- |
Así que se me unieron más personas, aunque ya tengo unos tres años de vida, sigo manteniendo mis amistades como personas contadas, porque no todos tienen el privilegio de darte una amistad sincera, hay quienes solo están por rumbas, otros que solo están de paso y otros que a pesar de la distancia se quedan. Siempre ofrezco una amistad sincera porque valoro a cada persona que entra a formar parte de mi vida.
So I was joined by more people, although I already have about three years of life, I still keep my friendships as people counted, because not everyone has the privilege of giving you a sincere friendship, there are those who are only for rumbas, others who are just passing through and others who despite the distance stay. I always offer a sincere friendship because I value each person who becomes part of my life.
Aquí he reído, he llorado por extrañar a mi familia, la distancia nos hace fuertes pero vulnerables a las personas importantes, mi familia es la base de lo que soy y el tenerlos lejos siempre me mantiene con un vacío en el corazón. Por eso, trabajo para conseguir mi estabilidad económica y poder viajar a mi país natal Venezuela, y compartir fechas importantes con mis seres queridos, Me veo viviendo aquí a largo plazo pero no me veo desligado de mi gente en mi tierra natal, por lo que el trabajo cada día es más duro,hay momentos en los que me siento cansado pero sigo sacando la energía necesaria para seguir hacia la meta que me he propuesto.
English version
Here I have laughed, I have cried for missing my family, the distance makes us strong but vulnerable to important people, my family is the basis of who I am and having them away always keeps me with an emptiness in my heart. I see myself living here in the long term but I do not see myself detached from my people in my homeland, so the work every day is harder, there are times when I feel tired but I still get the energy to continue towards the goal that I have set for myself.
| Y termino mi foto con las dos personas con las que he compartido más bellos momentos, mis primos. La familia siempre será lo mejor que tendremos para apoyarnos aunque a veces no sea como esperamos, en ellos conseguí apoyo, amistad, risas y los mejores momentos. Aunque ya no vivimos juntos como el año pasado, sigo llevando conmigo esos recuerdos que los tres tenemos en común con nuestras aventuras, los extraño... así como extraño a toda mi familia que está en mi país, esta fue la forma que encontré para desahogarme, recordando los buenos momentos que están plasmados en estas fotos, todas son mías, espero que les gusten y gracias por leerme. | And I end my photo with the two people with whom I have shared more beautiful moments, my cousins. Family will always be the best thing we will have to support us even if sometimes it is not as we expect, in them I managed to get support, friendship, laughter and the best moments. Even though we no longer live together as we did last year, I still carry with me those memories that the three of us have in common with our adventures, I miss them... just as I miss all my family that are in my country, this was the way I found to let off steam, remembering the good times that are captured in these photos, all of them are my own, I hope you like them and thank you for reading me. |
| --- | --- |
| The translator used in this post is DeepL | El traductor utilizado en este post es DeepL |
| --- | --- |
---
---