A surprising harmony occurred in my house [Eng-spa]
ENGLISH VERSION
Happy afternoon, friends of Hive. I sincerely hope you are well. Today I want to share a beautiful story that took place between the pets in my house. I hope you like it.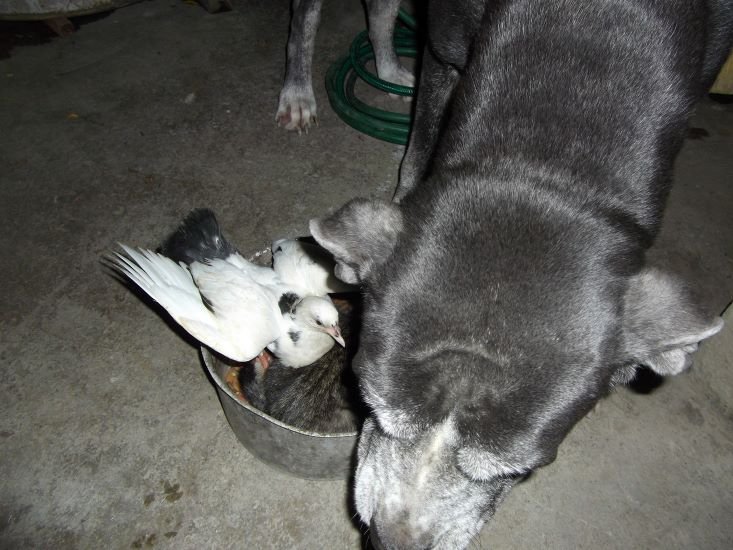 My family consists of six people. My parents and four children. When we were all living at home, a challenge presented itself. My brother Gregory had a Neapolitan Mastiff as a pet, whom he named "Little One." She was the queen of the house. But I had to take care of a kitten, with whom I became so attached that I adopted him as my pet and named him "Favi". My mother, on the other hand, took a liking to an orphan pigeon and adopted him. She named him "Ponfiro".
How were we going to keep these three little animals from fighting? Fortunately, "Pequeña" was a very docile dog, she had no problem sharing her territory, nor her food. "Favi" and "Ponfiro" adapted very quickly to living with "Pequeña", from then on we could be eyewitnesses of a surprising and harmonious coexistence.

Let's take a step-by-step look at what happened at lunchtime.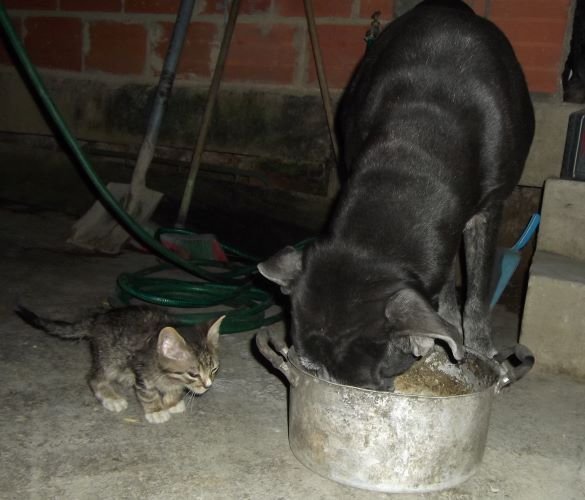 Favi approached little by little, until he was able to get into the food bowl. Pequeña welcomed him hospitably.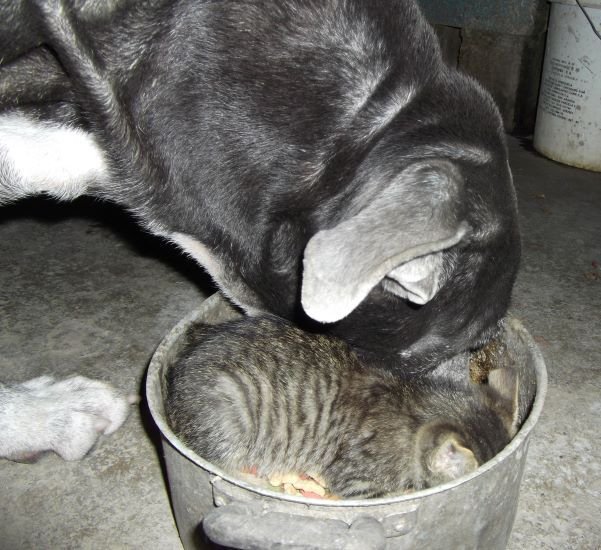 Surprisingly, they both ate together. Sometimes, we were afraid, because as Favi could fit in Pequeña's mouth, we thought that at any moment he could hurt him. But that never happened. Pequeña was very kind to share her food with Favi. Ponfiro, on the other hand, was also joining in. We don't know why they all wanted to eat the same food, each one had his bowl and his food, but when it was time to eat Pequeña's food, our other two pets craved for it and Pequeña received it.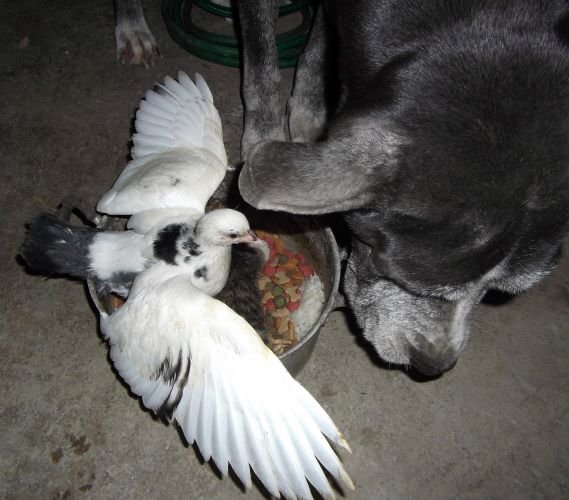 This act was repeated daily. The truth is that we were fortunate to have such an outstanding bond between our pets. It was an endearing friendship. Favi grew up and was always by Pequeña's side, so much so, that they even slept together.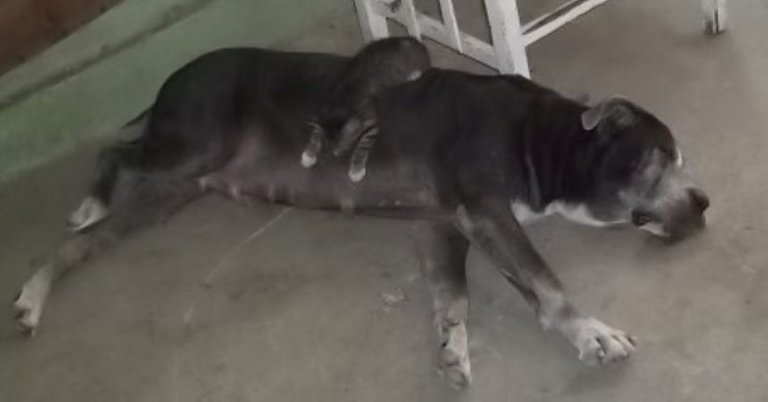 Ponfiro slept in his little cage, but Pequeña and Favi never stopped sleeping together. When Pequeña was breathing, Favi climbed up and down on her belly; she was his living rocking chair. Although, sometimes they were cuddled together.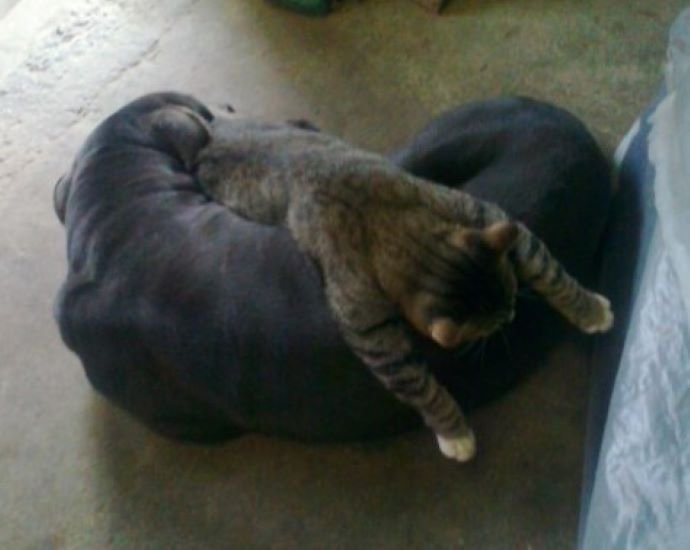 All our family and friends were stunned by so much love. It has been six years since Pequeña passed away and we still remember her as the noblest pet we have ever had. Favi and Ponfiro also passed away, but they enjoyed a very close friendship with the queen of the house. These pets broke paradigms, so much so, that they threw away the popular saying: "They fight like cats and dogs". They left us a great lesson of friendship and brotherhood.

VERSION ESPAÑOL
Feliz tarde, amigos de Hive. De corazón espero que se encuentren bien. Hoy quiero compartir una bella historia que se llevó a cabo entre las mascotas de mi casa. Espero que les guste.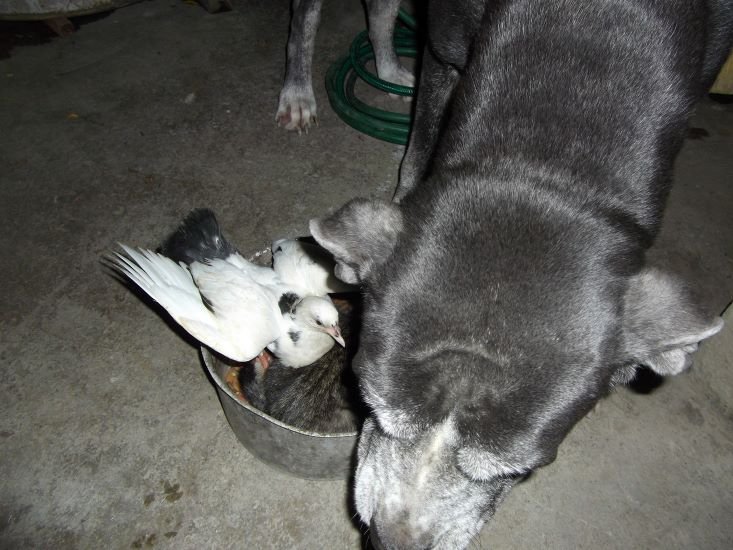 Mi familia está conformada por seis personas. Mis padres y cuatro hijos. Cuando todos vivíamos en casa, se presentó un desafío. Mi hermano Gregory tenía como mascota a una mastin napolitano, a quien llamó "Pequeña". Era la reina de la casa. Pero me tocó cuidar un gatito, con quien me encariñé tanto, que lo adopté como mi mascota y lo llamé "Favi". Por orta parte, mi mamá, se encariñó con un pichón huérfano y lo adoptó. A este lo llamó "Ponfiro".
¿Cómo íbamos a hacer con estos tres animalitos para que no pelearan? Afortunadamente, "Pequeña" era una perra muy dócil, no tenía problemas en compartir su territorio, ni tampoco su comida. "Favi" y "Ponfiro" se adaptaron muy rápido a la convivencia con "Pequeña", a partir de ese entonces pudimos ser testigos oculares de una sorprendente y armoniosa convivencia.

Veamos paso a paso lo que pasaba a la hora de comer.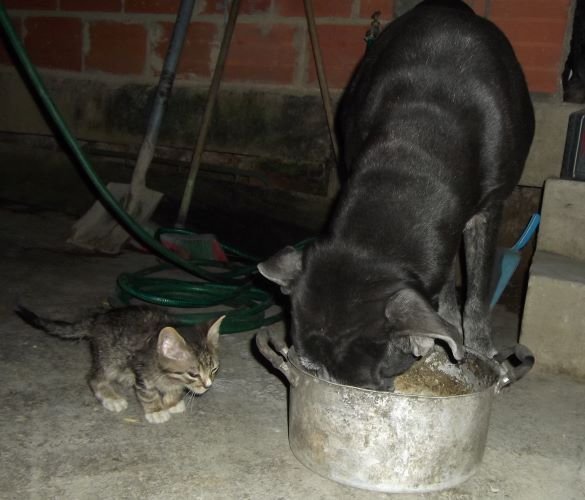 Favi se acercaba poco a poco, hasta que llegaba a introducirse en el recipiente de comida. Pequeña lo recibía hospitalariamente.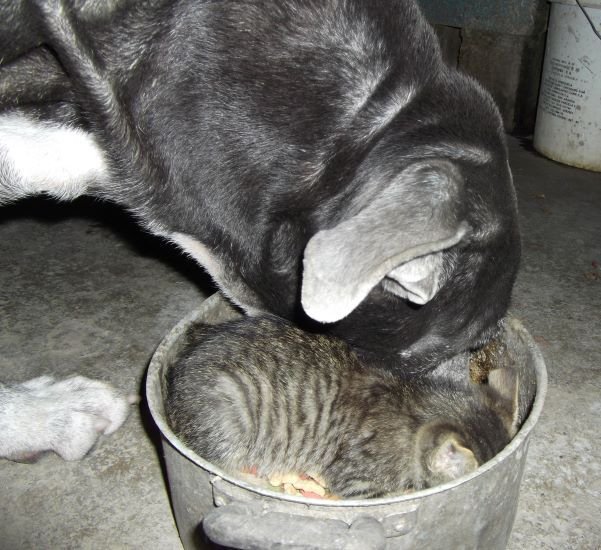 De manera sorprendente, ambos comían juntos. A veces, sentíamos miedo, porque como Favi cabía en la boca de Pequeña, llegamos a pensar que en cualquier momento lo podía lastimar. Pero eso jamás ocurrió. Pequeña era muy bondadosa al compartir su comida con Favi. Por otra parte, Ponfiro, también se incorporaba. No sabemos porque todos querían comer de la misma comida, cada uno tenía su recipiente y su comida, pero a la hora de comer de Pequeña, nuestras otras dos mascotas se antojaban y Pequeña los recibía.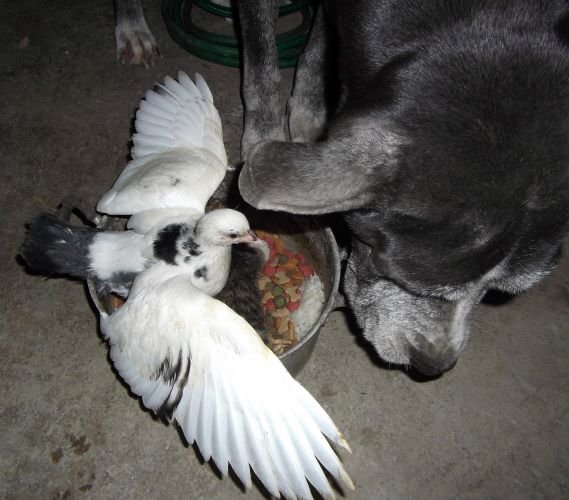 Este acto se repetía a diario. La verdad es que fue un privilegio ver una unión tan sobresaliente entre nuestras mascotas. Era una amistad entrañable. Favi fue creciendo y siempre estuvo al lado de Pequeña, tanto así, que hasta dormían juntos.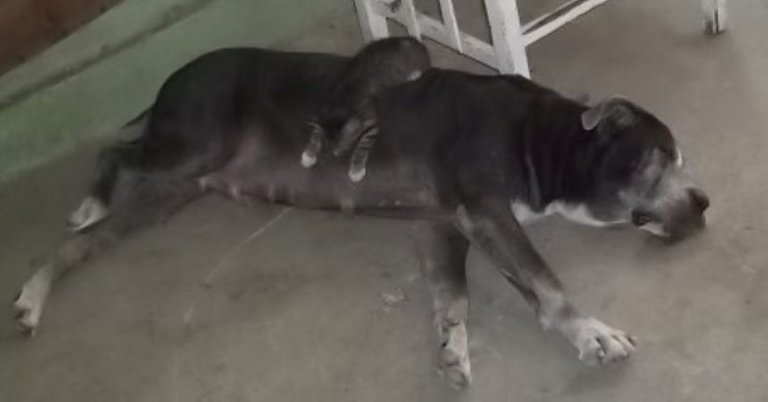 Ponfiro dormía en su jaulita, pero Pequeña y Favi jamás dejaron de dormir juntos. Cuando pequeña respiraba, Favi subía y bajaba sobre la barriga de ella; era su mecedora viviente. Aunque, en ocasiones estaban abrazados.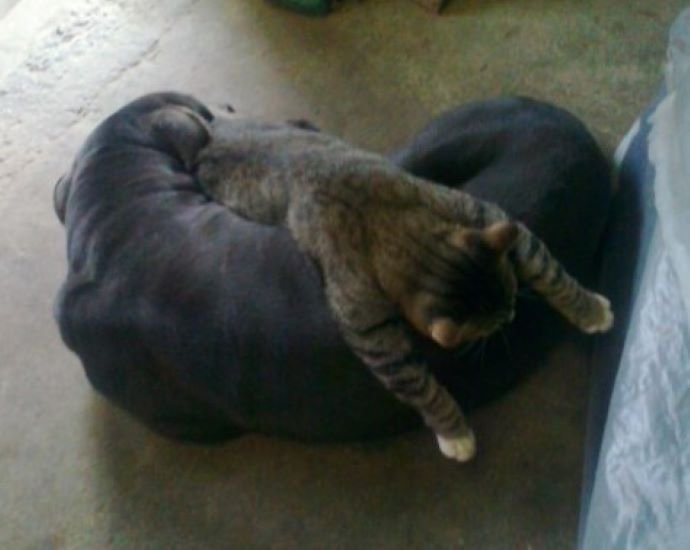 Todos nuestros familiares y amigos se quedaban atónitos ante tanto amor. Ya hace seis años que Pequeña falleció y aún la recordamos como la mascota más noble que hemos tenido. Favi y Ponfiro también fallecieron, pero disfrutaron de una amistad muy estrecha con la reina de la casa. Estas mascotas rompieron paradigmas, tanto así, que echaron por la borda el dicho popular que dice: "Pelean como perros y gatos". Nos dejaron una gran lección de amistad y hermandad.

Todas las fotos son de mi propiedad, tomadas del álbum familiar.
All photos are my own, taken from the family album.

---
---