Travis Scott - TavisStock Astrofest full performance ( with Annotated Timestamps)

AstralWorld - Travis Scott TavisStock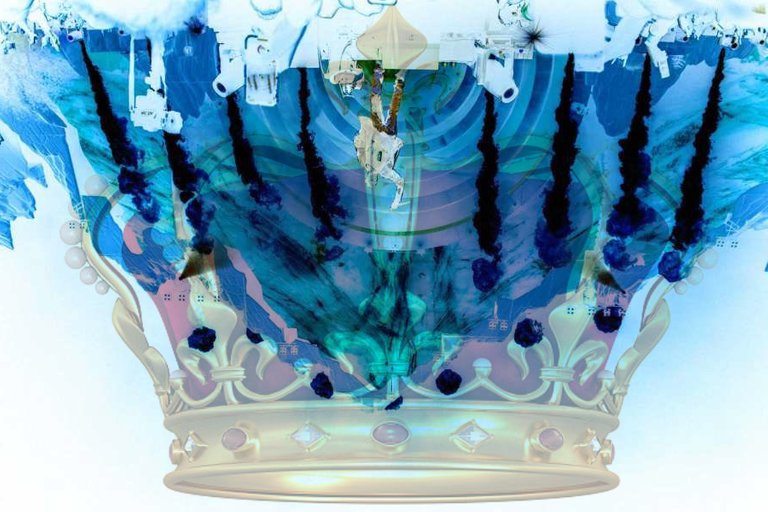 ASTROWorld - Travis Scott - NRG Staduim Houston, TX, USA - 5th November 2021
Introduction depicts the birth of Fire, Prometheus, The Phoenix Resurrecting From The Ashes. Theres a strange introductory synthesizer one should spectrum-analyze the frequencies of.
This is a photo taken day prior to the concert, showing the immense amount of lasers and lighting hardware being set up for T Scott's installation performance ritual
Not sure of the time stamp for the below images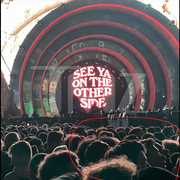 Timestamp & Description
Screenshot
2min - searching blue eye
3m 33s - Sound FX of an eagle - the scream of the Phoenix
4min - Apolcalyptic, Volcano, Doom
4m 30s - Sound FX of a massive Thunderclap
4m 50s - "Point to the Muthafuckin' Sky!"
5m 07s - strange balloon floats up from the main stage or front crowds. Zeppelin-shaped.
6m 50s - Sound FX of an eagle - the scream of the Phoenix
7min - Intensely patterned & bright strobing of visuals. Epileptic
8min - Significance of the mountain silhouette and growing rocks (Bungle Bungle)
10min - Literal Vortex; sickening, dizzying
11min - PURPLE Ultraviolet coloured light theme commences
13m 19s - Back of Trav Scott's sweater - Blue Eye depicted in a painterly, graphic style. Similar to the very first eye depicted in staged visuals with a bullseye & dart.
Red stick figures are reminiscent to those on stop signs & pedestrian crossings
14m50s - camera pans back for a crowd shot, 1st crowd shot showing the crowd not excited or hyped. There's a faint male "stop it! stop it!"
15m33s - SAM arrays being fired depicted inside the mountain staged visuals. Some sort of war.
16m33s - Red eye, extremely disorientating background. Meticulously filtered, super auto-tuned voice.
17m18s - halo of stars at the mouth of the vortex, reminiscent of the Paramount Pictures logo?
17m30s - Trav Scott appears to look confused, unsure, waiting or trying to remember.
17m50s - looks like a code (barcode, QR Code, microchip, map)
18m30s - Audience Tweet: "words can't explain the awesome energy tonight!"



Interior of the LHC? (Large Hadron Collider)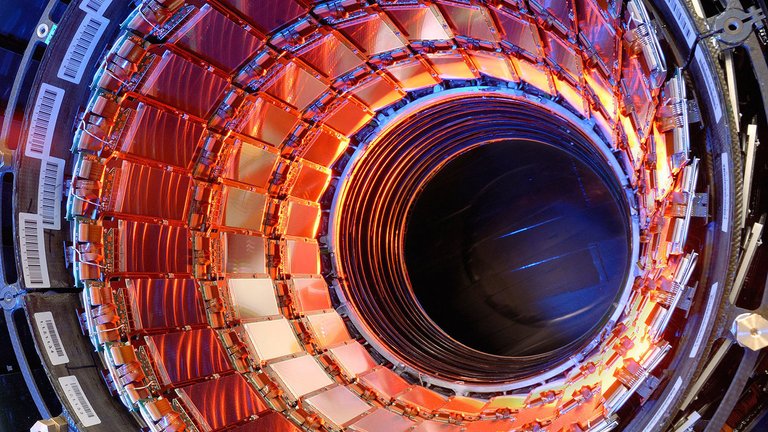 | Timestamp & Description | Screenshot |
| --- | --- |
| 19m30s - Stage graphic depicting being on fire & singing. Epileptic probe strobe | |
| 20m10s - Top and Edges of the Mountain stage light up in the near dark of the stage, pairs of flickering lights, eye flashing in tandem | |
| 20m46s - 2nd crowd shot, definitely hearing some distressed voices from the crowd | |
| 21m11s - Trav is livestreamed nodding and smiling while an unseen girl screams (not screaming in an excited, fan-like way) | |
| 21m42s - "Fuck You to the Sky!!" | |
| 22m25s - depicting Lawnmower Man? Ludivoco Technique? | |
| 23m - Face, Cityscape | |
| 23m40s - 3rd crowd shot, crowd member in dense crowd with a hand-made placard "Will We Survive?" | |
| 24m 40s - asks for "Mike Brown's" help | |
| 25m50s - strange shreiking? | |
| 26m 27s - Sound FX? "chk-a-chk-ah" | |
| 27m10s - Scott's shitting brown and tan stained, painted jeans | |
| 27m53s - crowd looks rammed, crushed, stuck | |
| 28m20s - "warmin' up? Flexin'? " Getting ready for the Money Shot | |
| 28m45s - very auto-tuned / filtered / phased mic input, first camera pan over shot of medical incident in the crowd | |
| 30m38s - "Finger to the Sky!" | |
| 30m46s - "2 Hands to the Sky" | |
| 31m12s - stage visuals depicting colours and patterns; biological sludge, pollution, oil, tar, colour of cigarette packets | |
| 31m40s - 2 rappers jump into the front crowd | |
| Timestamp & Description | Screenshot |
| --- | --- |
| 32m20s - Hobbiton, Rabbit Hole, Portal, from day to night, sun to full moon | |
| 33min - Sound FX 2x bullet shots, plenty of distressed screams from Audience | |
| 33m55s - Looney Tunes - "That's All Folks" burning mountain, burning mouth and tunnels | |
| 34m07s - Looks very Hot, what appears to be heatwaves (heat shimmers?) wavering, enamating down the middle of the stage? | |
| 34m33s - definite wavy blurry distortion / heat shimmer? | |
| 35min - Will We Survive? | |
| 35m30s - Scott's Black, Leatherlike Gloves: executioner's gloves? | |
| 36min - Hell Caverns, inner hellscapes | |
| 36m15s - specific vocals are being precisely sung, specific vocal effects | |
| 37m25s - screams and yells of confusion heard? | |
| 37m50s - purple ultra-violet saturated stage lighting returns | |
| 38m05s - Hyper-psychedelic, pyramideye | |
| 38m11s - extremely disorientating | |
| 38m48s - all shots of the crowd looking incoherent, blurry, heavily affected | |
| 39m15s - definitively disorientating | |
| 39m30s - Burning Red Evil Eye | |
| 39m53s - Extremely triggering of Epilepsy | |
| 41m40s - pyramid constructed with negative space, crowd shot fucked, can't dance? | |
| 42min - Specific vocal notes hit, specific vocal FX and Autotune used, another passed out Audience Member | |
| Timestamp & Description | Screenshot |
| --- | --- |
| 42m50s - slow panning overhead crowd shot, looks hellish | |
| 44m30s = Blue Butterfly, all crowd shots from inside the audience perspective are shot through tiny, fish-eye lens cameras? | |
| 46min - spinning, strobing, panning, flashing | |
| 46m40s - Guys on stage, white/grey haired guy at mixing console? 2x Hooded Figures | |
| 46m41s - 2x Hooded Figures also wearing face masks? | |
| 46m55s - Sound FX another eagle / Phoenix scream? | |
| 47m35s - Green; Alien Green, Nuclear Green, Toxic Green, cactus green | |
| 48m15s - looked like a snow capped Mount Everest panorama? Again, Paramount Pictures Logo? | |
| 49m33s - Scott points and yells into the crowd "Hold on, Hold on" | |
| 50m50s "Don't you Open Up That Window" | |
| 51min - another fish-eye lens filmed moshpit | |
| 51m40s - huge crowd shot - from back view shows 4x Large LCDs in crowd (presumably at the rear of the cordoned off VIP area) | |
| 52m25s - 2x hands in the sky. Demonic undervoice or Reverb. "Anything / Everything can happen in Tonight's Show" | |
| 53m33s - absolutely, viciously Epileptic | |
| 54m26s - Drake comes out, looking like a rogue veteran Deer Hunter, Killer, ex-vietnam vet | |
| 59m51s - Drake is wearing a white t-shirt, flowery knight's templar cross on RH shoulder, inverted pentagram shirt | |
| 1h33s - Black and White Templar Cross | |
| 1hr37s - | |
| 1h1m - Extreme Epilepsy | |
| Timestamp & Description | Screenshot |
| --- | --- |
| 1h1m13s - Extreme Disorientation, Washing Machine | |
| 1h1m56s - extreme | |
| 1h4m32s - (human eye appears) | |
| 1hr5m05s - (demonic, demonic possesion) | |
| 1h5m45s - (quiet first scream, loud demonic scream at 2-3 seconds after) | |
| Extremely violent, epilepsy-inducing graphics | |
| 1h8m33s - Gotthard Tunnel | |
| 1h9m - Dark Hand, Invisible Hand "You Read My Mind" | |
| 2x Hands, Clairvoyant, Crystal Ball, Scrying | |
| 1h11m0s - bow-legged, like trying to keep steady on a boat | |
---
---
---
---